Abstract
Zinc pollution impairs neural processes and protein function and also effects calcium-related transcriptional regulation and enzyme activity. In this study, we investigated pathways that potentially respond to calcium signaling under Zn2+ stress. Specifically we measured relative expressions of GeCNAα, GeCNB, GeMT, GeTNF-α, GeIL-1β, and GeHsp90 in gills, livers, and kidneys of the indicator species Gymnocypris eckloni and found wide variation in their expression between tissues during the course of Zn2+ exposure. Notably, GeCNAα, GeCNB, GeTNF-α, GeIL-1β, and GeMT were rapidly and strongly up-regulated in gills; GeIL-1β and GeHsp90 transcription was quickly induced in kidneys; and GeCNB, GeTNF-α, GeIL-1β, and GeHsp90 were most rapidly up-regulated in livers. GeCNAα and GeMT showed a contrasting late transcriptional up-regulation. These results suggest independent branches for chelation and immune responses during self-protection against Zn2+ toxicity, and the immune response appears to be faster than metal chelation.
Access options
Buy single article
Instant access to the full article PDF.
USD 39.95
Price includes VAT (USA)
Tax calculation will be finalised during checkout.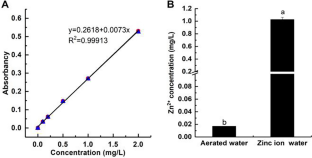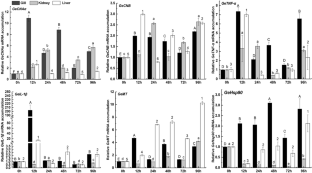 References
Abah J, Ubwa ST, Onyejefu DI et al (2013) Assessment of some trace metals content of oreochromis niloticus obtained from river Okpokwu, Apa Benue State. Nigeria Res Chem Sci 3:70–75

Acolas ML, Davail B, Gonzalez P et al (2020) Health indicators and contaminant levels of a critically endangered species in the Gironde estuary, the European sturgeon. Environ Sci Pollut Res Int 27(4):3726–3745

Aramburu J, Heitman J, Crabtree GR (2004) Calcineurin: a central controller of signalling in eukaryotes. Embo Rep 5:343–348

Baba Y, Hirukawa N, Tanohira N et al (2003) Structure-based design of a highly selective catalytic site-directed inhibitor of Ser/Thr protein phosphatase 2B (calcineurin). Am Chem Soc 125:9740–9749

Buchholz M, Schatz A, Wagner M et al (2006) Overexpression of c-myc in pancreatic cancer caused by ectopic activation of NFATc1 and the Ca2+/calcineurin signaling pathway. Embo 25:3714–3724

Buttini M, Limonta S, Luyten M et al (1995) Distribution of calcineurin A isoenzyme mRNAs in rat thymus and kidney. Histochem 27:291–299

Coyle P, Philcox JC, Carey LC et al (2002) Metallothionein: the multipurpose protein. Cell Mol Life Sci 59:627–647

Dan XM, Zhang TW, Li YW, Li AX (2013) Immune responses and immune-related gene expression profile in orange-spotted grouper after immunization with cryptocaryon irritans vaccine. Fish Shellfish Immunol 34:885–891

Deng W, Wang Y, Liu Z (2014) HemI: a toolkit for illustrating heatmaps. PLoS ONE 9:e111988

Gooch JL (2006) An emerging role for calcineurin Aalpha in the development and function of the kidney. Am Physiol Renal Physiol 290:769–776

Greenblatt MB, Aliprantis A, Hu B et al (2010) Calcineurin regulates innate antifungal immunity in neutrophils. Exp Med 207:923–931

Guan Q, Wang L, Pan B et al (2016) Distribution features and controls of heavy metals in surface sediments from the riverbed of the Ningxia-Inner Mongolian reaches, Yellow River, China. Chemosphere 144(2):29–42

Hayden MS, Ghosh S (2004) Signaling to NF-kappaB. Genes Dev 18:2195–2224

Herbst S, Shah A, Moya MM et al (2015) Phagocytosis-dependent activation of a TLR9-BTK-calcineurin-NFAT pathway coordinates innate immunity to Aspergillus fumigatus. Embo Mol Med 7:240–258

Hogan PG, Chen L, Nardone J, et al (2003) Transcriptional regulation by calcium, calcineurin, and NFAT. Genes Dev 17:2205–2232

Hussain J, Husain I, Arif M et al (2016) Studies on heavy metal contamination in Godavari river basin. Appl Water Sci 7:4539–4548

Jarića I, Višnjić-Jeftić Ž, Cvijanović G et al (2011) Determination of differential heavy metal and trace element accumulation in liver, gills, intestine and muscle of starlet (Acipenser ruthenus) from the Danube River in Serbia by ICP-OES. Microchem J 98:77–81

Jia Y, Wang L, Qu Z et al (2017) Effects on heavy metal accumulation in freshwater fishes: species, tissues, and sizes. Environ Sci Pollut Res Int 24:9379–9386

Jiang H, Xiong F, Kong S et al (1997) Distinct tissue and cellular distribution of two major isoforms of calcineurin. Mol Immunol 34:663–669

Kumar N, Krishnani KK, Singh NP (2018) Effect of dietary zinc-nanoparticles on growth performance, anti-oxidative and immunological status of fish reared under. Biol Trace Elem Res 186:267–278

Lawrence MC, Naziruddin B, Levy MF et al (2011) Calcineurin/nuclear factor of activated T cells and MAPK signaling induce TNF-alpha gene expression in pancreatic islet endocrine cells. J Biol Chem 286:1025–1036

Li C, Liang J, Ma Z et al (2010) Calcineurin mediates the immune response of hemocytes through NF-κB signaling pathway in pearl oyster (Pinctada fucata). Fish Shellfish Immunol 28:253–260

Li H, Rao A, Hogan PG (2011) Interaction of calcineurin with substrates and targeting proteins. Trends Cell Biol 21:91–103

Ling XB, Wei HW, Wang J et al (2016) Mammalian metallothionein-2A and oxidative stress. Int J Mol Sci 17:1483

Pang Z, Junkins RD, MacNeil AJ et al (2017) The calcineurin-NFAT axis contributes to host defense during Pseudomonas aeruginosa lung infection. Leukoc Biol 102:1461–1469

Rosli M, Samat SB, Yasir MS (2018) Analysis of heavy metal accumulation in fish from the coastal waters of Terengganu, Malaysia. American Institute of Physics Conference Series

Rusnak F, Mertz P (2000) Calcineurin: form and function. Physiol Rev 80:1483–1521

Schmittgen TD, Livak KJ (2008) Analyzing real-time PCR data by the comparative C(T) method. Nat Protoc 3:1101–1108

Shi L, Zhang Z, Fang S et al (2009) Heat shock protein 90 (Hsp90) regulates the stability of transforming growth factor beta-activated kinase 1 (TAK1) in interleukin-1beta-induced cell signaling. Mol Immunol 46(4):541–550

Singh N, Gupta VK, Kumar A et al (2017) Synergistic effects of heavy metals and pesticides in living systems. Front Chem 5:70

Soni H, Adebiyi A (2016) TRPC6 channel activation promotes neonatal glomerular mesangial cell apoptosis via calcineurin/NFAT and FasL/Fas signaling pathways. Sci Rep 6:29041

Sultana T, Siddique A, Sultana S et al (2017) Fish scales as a non-lethal tool of the toxicity of wastewater from the River Chenab. Environ Sci Pollut Res Int 24:2464–2475

Thit A, Skjolding LM, Selck H, Sturve J (2017) Effects of copper oxide nanoparticles and copper ions to zebrafish (Danio rerio) cells, embryos and fry. Toxicol in Vitro 45:89–100

Tosello V, Bordin F, Yu J et al (2016) Calcineurin and GSK-3 inhibition sensitizes T-cell acute lymphoblastic leukemia cells to apoptosis through X-linked inhibitor of apoptosis protein degradation. Leukemia 30:812–822

Trushin SA, Pennington KN, Algeciras-Schimnich A et al (1999) Protein kinase C and calcineurin synergize to activate IkappaB kinase and NF-kappaB in T lymphocytes. Biol Chem 274:22923–22931

Voigt CL, da Silva CP, Doria HB et al (2014) Bioconcentration and bioaccumulation of metal in freshwater Neotropical fish Geophagus brasiliensis. Environ Sci Pollut Res Int 22:8242–8252

Wang S, Cao Z, Lan D et al (2008a) Concentration distribution and assessment of several heavy metals in sediments of west-four Pearl River Estuary. Environ Geol 55(5):963–975

Wang YL, Wang Y, Tong L et al (2008b) Overexpression of calcineurin B subunit (CnB) enhances the oncogenic potential of HEK293 cells. Cancer Sci 99:1100–1108

Wang X, Bi Y, Xue L et al (2015) The calcineurin-NFAT axis controls allograft immunity in myeloid-derived suppressor cells through reprogramming T cell differentiation. Mol Cell Biol 35:598–609

Xiao X, Li M, Wang K et al (2011) Characterization of large yellow croaker (Pseudosciaena crocea) β-actin promoter supports β-actin gene as an internal control for gene expression modulation and its potential application in transgenic studies in fish. Fish Shellfish Immunol 30:1072–1079

Yang J, Meng XZ, Duan YP et al (2014) Spatial distributions and sources of heavy metals in sediment from public park in Shanghai, the Yangtze River Delta. Appl Geochem 44:54–60

Zaremba A, Miller DS, Fricker G (2017) Zinc chloride rapidly stimulates efflux transporters in renal proximal tubules of killifish (Fundulus heteroclitus). Toxicol Appl Pharmacol 334:88–89

Zheng JL, Zhu QL, Wu CW et al (2016) Zinc acclimation mitigated high zinc induced oxidative stress by enhancing antioxidant defenses in large yellow croaker Pseudosciaena crocea. Aquat Toxicol 172:21–29
Acknowledgements
This research was financially supported by grants from the National Natural Science Foundation of China (NSFC, 31460700). Authors express their gratitude to Mr. Wang Zhengang and Mr. Lu Baojun from the Fisheries Environmental Monitoring Station (Xining, China) for their support in the collection and transport of specimens.
Additional information
Publisher's Note
Springer Nature remains neutral with regard to jurisdictional claims in published maps and institutional affiliations.
About this article
Cite this article
Li, C., Ran, F., Li, Z. et al. Calcineurin Immune Signaling in Response to Zinc Challenge in the Naked Carp Gymnocypris eckloni. Bull Environ Contam Toxicol 106, 792–798 (2021). https://doi.org/10.1007/s00128-021-03178-8
Received:

Accepted:

Published:

Issue Date:
Keywords
Calcineurin

Heavy-metal toxicity

Zinc pollution

Gymnocypris eckloni