Abstract
The copepod Acartia tonsa was standardized as model organism in acute toxicity bioassays due to its key position in coastal food chains and high sensitivity. Once bioassays are performed according to a protocol their results may become tools for the protection of aquatic ecosystems. However, there are divergences in bioassays methods using A. tonsa. This study aimed to investigate: (i) the need for acclimation of A. tonsa collected from the environment for use in acute toxicological bioassays; and (ii) differences in sensitivity between copepods collected from the environment and laboratory-grown copepods. Laboratory-grown copepods are more sensitive to SDS than A. tonsa from the environment. The acclimation time of 30 h helped organisms to recover from stress of collection/handling and changing environment/conditions. Therefore, laboratory-grown copepods showed to be more sensitive than organisms from environment; and for ecotoxicological bioassays acclimating A. tonsa collected from the environment for 30 h can be adopted.
Access options
Buy single article
Instant access to the full article PDF.
USD 39.95
Price includes VAT (USA)
Tax calculation will be finalised during checkout.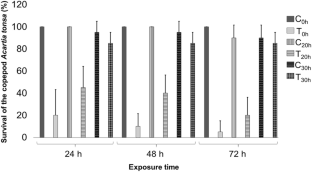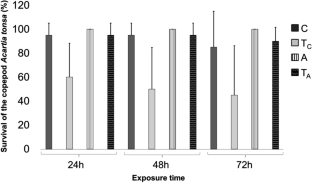 References
ABNT NBR 16723 - Associação Brasileira de Normas Técnicas (2020) Ecotoxicologia aquática - Método de ensaio com copépodos marinhos (Copepoda, Crustacea). Associação Brasileira de Normas Técnicas, Rio de Janeiro

Alajmi F, Zeng C, Jerry DR (2015) Domestication as a novel approach for improving the cultivation of Calanoid copepods: A case study with Parvocalanus crassirostris. Plos One 10:e0133269

Albert A, Anderson JA (1984) On the existence of maximum likelihood estimates in logistic regression models. Biometrika 71:1–10

Chow-Fraser P (1986) Effect of collection and acclimation period on grazing rates of limnetic zooplankton. Hydrobiologia 137:203–210

ECHA -European Chemicals Agency (2020) Sodium dodecyl sulphate - Registration Dossier - ECHA. . Accessed 29 Sep 2020

Environment Canada (2007) Biological test method: test for measuring the inhibition of growth using the freshwater macrophyte. In: Lemna minor. Environment Canada, Ottawa

Finiguerra MB, Dam HG, Avery DE, Burris Z (2013) Sex-specific tolerance to starvation in the copepod Acartia tonsa. J Exp Mar Biol Ecol 446:17–21

Garcia M, Odebrecht C (2008) Morphology and ecology of the planktonic diatom Palmerina hardmaniana (Greville) Hasle in southern Brazil. Biota Neotrop 8:85–90

Hollister TA, Ward GS, Parrish PR (1980) Acute toxicity of a #6 fuel oil to marine organisms. Bull Environ Contam Toxicol 24:656–661

Hothorn T, Bretz F, Westfall P (2008) Simultaneous inference in general parametric models. Biom J 50:346–363

Ihara PM, Pinho GLL, Fillmann G (2010) Avaliação do copépodo Acartia tonsa (Dana, 1849) como organismo-teste para ensaios de toxicidade crônica. J Braz Soc Ecotoxicol 5:27–32

ISO 14669 - International Organization for Standardization (1999) Water quality - Determination of acute lethal toxicity to marine copepods (Copepoda, Crustacea). International Organization for Standardization, Geneva

Klerks PL, Weis JS (1987) Genetic adaptation to heavy metals in aquatic organisms: a review. Environ Pollut 45:173–205

Kwok KWH, Leung KMY, Bao VWW, Lee J-S (2008) Copper toxicity in the marine copepod Tigropus japonicus: low variability and high reproducibility of repeated acute and life-cycle tests. Mar Pollut Bull 57:632–636

Lacy RC (1987) Loss of genetic diversity from managed populations: interacting effects of drift, mutation, immigration, selection, and population subdivision. Conserv Biol 1:143–158

Lance J (1963) The salinity tolerance of some estuarine planktonic copepods. Limnol Oceanogr 8:440–449

Lance J (1965) Respiration and osmotic behaviour of the copepod Acartia tonsa in diluted sea water. Comp Biochem Physiol 14:155–165

Latimer DL, Brooks AS, Beeton AM (1975) Toxicity of 30-minute exposures of residual chlorine to the copepods Limnocalanus macrurus and Cyclops bicuspidatus thomasi. J Fish Res Bd Can 32:2495–2501

Lenth RV (2016) Least-Squares means: the R package lsmeans. J Stat Softw 69:1–33

Lopes LF, de P, Agostini, Muxagata VO E (2018) Could some procedures commonly used in bioassays with the copepod Acartia tonsa Dana 1849 distort results? Ecotoxicol Environ Saf 150:353–365

Lugo A, Bravo-Inclán LA, Alcocer J et al (1998) Effect on the planktonic community of the chemical program used to control water hyacinth (Eichhornia crassipes) in Guadalupe Dam, Mexico. Aquat Ecosyst Health 1:333–343

Moermond CTA, Kase R, Korkaric M, Ågerstrand M (2016) CRED: Criteria for reporting and evaluating ecotoxicity data. Environ Toxicol Chem 35:1297–1309

Nipper MG, Badaró-Pedroso C, José VF, Melo SLR (1993) Toxicity testing with coastal species of Southeastern Brazil. Mysids and copepods. Bull Environ Contam Toxicol 51:99–106

Noskov YuA (2011) Comparative sensitivity of the several zooplankton species (Cladocera, Copepoda) to sumicidine-alpha insecticide. Contemp Probl Ecol 4:373

OECD - Organization for Economic Cooperation and Development (2007) Validation report of the full life-cycle test with the harpacticoid copepods Nitocra Spinipes and Amphiascus tenuiremis and the calanoid copepod Acartia tonsa-Phase 1. Organization for Economic Cooperation and Development, Brussels

OECD- Organization for Economic Cooperation and Development (2006) Summary of considerations in the report from the OECD expert groups on short term and long term toxicology, Paris

R Core Team (2020) R: a language and environment for statistical computing. R Foundation for Statistical Computing, Vienna

Silva P de SR da, Neves LP das, Bemvenuti CE (2008) Temporal variation of sandy beach macrofauna at two sites with distinct environmental conditions on Cassino Beach, extreme southern Brazil. Braz J oceanogr 56:257–270

Sosnowski SL, Gentile JH (1978) Toxicological comparison of natural and cultured populations of Acartia tonsa to cadmium, copper, and mercury. J Fish Res Bd Can 35:1366–1369

Sosnowski SL, Germond DJ, Gentile JH (1979) The effect of nutrition on the response of field populations of the calanoid copepod Acartia tonsa to copper. Wat Res 13:449–452

Sun PY, Foley HB, Bao VWW et al (2015) Variation in tolerance to common marine pollutants among different populations in two species of the marine copepod Tigriopus. Environ Sci Pollut Res 22:16143–16152

Tiselius P, Hansen B, Jonsson P et al (1995) Can we use laboratory-reared copepods for experiments? A comparison of feeding behaviour and reproduction between a field and a laboratory population of Acartia tonsa. ICES J Mar Sci 52:369–376

US EPA - United States Environmental Protection Agency (1976) Acute toxicity of certain pesticides to Acartia tonsa Dana. U.S. Environmental Protection Agency, Rhode Island

US EPA - United States Environmental Protection Agency (2020) EPI Suite™ - Estimation Program Interface v4.11. . Accessed 29 Sep 2020
Acknowledgements
We want to thank the Phytoplankton and Microorganism, the CONECO laboratories, and the EMA, all from the Federal University of Rio Grande. We also acknowledge the aid of Dr. Grasiela Lopes Leão Pinho, Dr. Paul Gerhard Kinas, Dr. Renato Mitsuo, and Dr.Paulo José Duarte-Neto on an earlier version of this manuscript.
Funding
This study was funded by Conselho Nacional de Desenvolvimento Científico e Tecnológico (CNPq) granting scholarships to L.F.P.L (M.Sc. – 132549/2015-8).
Ethics declarations
Conflict of Interest
The authors declare that they have no conflict of interest.
Additional information
Publisher's note
Springer Nature remains neutral with regard to jurisdictional claims in published maps and institutional affiliations.
Since this paper does not fall fully within the Aims and Scope of BECT, due to the lack of confirmation of nominal concentrations analytically, it was decided that it should be accepted as a "Concept Note" since it contained some appealing data for our readership. Interestingly, this paper highlights the difference in the sensitivity between A. tonsa collected from the environment and laboratory grown copepods used in aquatic bioassays and the importance of acclimating the collected copepods before exposure. These data further verify the usefulness of using natural populations to confirm if laboratory-based cultures are representative of organisms from the environment.
About this article
Cite this article
Lopes, L.F.P., Agostini, V.O., Moreira, R.A. et al. Acartia tonsa Dana 1849 as a Model Organism: Considerations on Acclimation in Ecotoxicological Assays. Bull Environ Contam Toxicol 106, 734–739 (2021). https://doi.org/10.1007/s00128-021-03175-x
Received:

Accepted:

Published:

Issue Date:
Keywords
Acclimation

Bioassay

Copepod

Acute toxicity

Ecotoxicology