Abstract
Fish are widely used as model organisms for the assessment of the quality of aquatic environment and can therefore serve as bio-indicators of environmental contamination. The current research investigates the eco-physiological damage to fishes in Suez Canal for enhancing the biomonitoring of this area through the biochemical investigation, were estimated in the gills, kidney and liver of Mullet, (Crenimugil crenilabis) from Suez Canal, Egypt. This area gets a lot of wastes discharged from several industries, and it is considered as the main routes of many tankers. Crenimugil crenilabis weigh up approximately 350–600 g were fished from Nabq Managed Resource Protected Area as a control area and Suez Canal as a polluted area. Compared with control, a significant changing in the biochemical analysis results, shows that there was an initiation of oxidative stress in the tissue of Mullet from the Suez Canal which indicating the contamination status of this area.
Access options
Buy single article
Instant access to the full article PDF.
USD 39.95
Price includes VAT (USA)
Tax calculation will be finalised during checkout.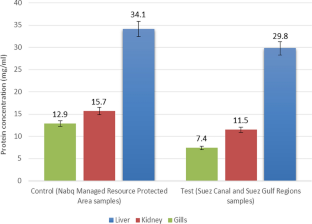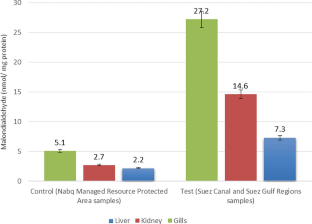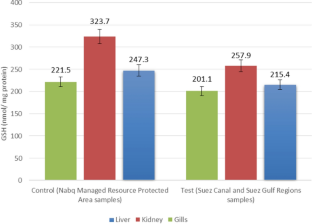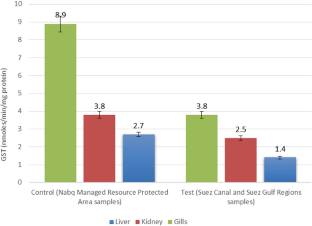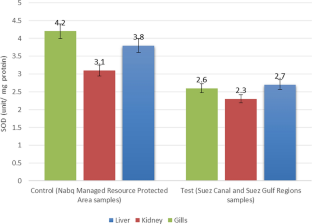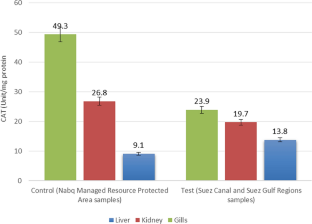 References
Mohamed AN, Ali MA, Bakhoum AS, Abdel-Kader HH, Ahmed AM (2019) Monitoring of oxidative stress biomarkers and toxicity of lead and mercury in catfish of Lake Mariout, Egypt: the role of meso-2, 3-dimercaptosuccinic acid (DMSA). Egypt J Aqua Biol Fisher 23(2):165–182

Saleh AH, El-Shahat MR (2020) Accumulation of chromium in Lemna minor under the effect of pH and EDTA variation and assessment of the treatment impact on Nile tilapia (Oreochromis niloticus). Egypt J Aqua Biol Fisher 24(2):177–194

Shaheen AA, Zahem MR (2020) Ameliorative effect of propolis and nanopropolis supplementation against oxidative stress induced by Microcystis aeruginosa in Oreochromis niloticus. Egypt J Aqua Biol Fisher 24(1):573–582

Ada FB, Ekpenyong E, Bayim PR (2012) Heavy metal concentration in some fishes (Chrysichthys nigrodigitatus, Clarias gariepinus and Oreochromis niloticus) in the Great Kwa River, Cross River State, Nigeria. Global Adv Res J Environ Sci Toxicol 1(7):183–189

Alloway B, Ayres DC (1997) Chemical principles of environmental pollution. CRC Press, Boca Raton

Alves SRC, Severino PC, Ibbotson DP, da Silva AZ, Lopes FRAS, Sáenz LA, Bainy ACD (2002) Effects of furadan in the brown mussel Perna perna and in the mangrove oyster Crassostrea rhizophorae. Marine Environmental Research 54(3–5):241–245

Arojojoye OA, Adeosun AM (2016) Effect of environmental pollution on oxidative stress biomarkers in African cat fish (Clarias gariepinus) from Asejire River in Oyo State, Nigeria. J Environ Occup Health 5(4):71–76

Australian and New Zealand Environment and Conservation Council, National Health and Medical Research Council (Australia), Medical Research Council (1992) Australian and New Zealand guidelines for the assessment and management of contaminated sites. Australian and New Zealand Environment and Conservation Council, National ….

Awoyemi OM, Bawa-Allah KA, Otitoloju AA (2014) Accumulation and anti-oxidant enzymes as biomarkers of heavy metal exposure in Clarias gariepinus and Oreochromis niloticus. Appl Ecol Environ Sci 2(5):114–122

Barrick DE, Lipa BJ (1985) Mapping surface currents. Sea Technol 26:43–48

Batista MTO, Rodrigues Junior E, Feijó-Oliveira M, Ribeiro AC, Rodrigues E, Suda CNK, Vani GS (2014) Tissue levels of the antioxidant enzymes superoxide dismutase and catalase in fish Astyanax bimaculatus from the Una River Basin. Rev Ambiente Água 9(4):621–631

Borković SS, Pavlović SZ, Kovačević TB, Štajn AŠ, Petrović VM, Saičić ZS (2008) Antioxidant defence enzyme activities in hepatopancreas, gills and muscle of Spiny cheek crayfish (Orconectes limosus) from the River Danube. Comp Biochem Physiol C Toxicol Pharmacol 147(1):122–128

Classics Steel RGD, Torrie JH (1960) Principles and procedures of statistics. McGraw, New York

Cramer D (2003) Advanced quantitative data analysis. McGraw-Hill Education, UK

Dar MA, Belal AA, Madkour AG (2018) The differential abilities of some molluscs to accumulate heavy metals within their shells in the Timsah and the Great Bitter lakes, Suez Canal, Egypt. Egypt J Aqua Res 44(4):291–298

Doherty VF, Ogunkuade OO, Kanife UC (2010) Biomarkers of oxidative stress and heavy metal levels as indicators of environmental pollution in some selected fishes in Lagos, Nigeria. Am-Euras J Agric Environ Sci 7(3):359–365

El-Moselhy KMI (1996) Response of fish to metal pollution along the Egyptian coast. Ph. D. Thesis,Tanta University.

El-Moselhy KM (1993) Studies on the heavy metals level in some economic fishes in the Suez Gulf. M. Sc. Thesis, Fac. Sci. El-Mansoura University.

El-Moselhy KhM, El-Samra MI, Abd El-Azim H (2005) Concentration of nine heavy metals in Suez Canal waters, Egypt. Egypt J Aquat Res 31(2):145–165

El-Moselhy KM, Gabal MN (2004) Trace metals in water, sediments and marine organisms from the northern part of the Gulf of Suez, Red Sea. J Mar Syst 46(1–4):39–46

El-Sayed E-S, Khater Z, El-Ayyat M, Nasr E-S (2011) Assessment of heavy metals in water, sediment and fish tissues, from, Sharkia province, Egypt. Egypt J Aqua Biol Fisher 15(2):125–144

El Samra MI, El Deeb KZ, Askar AI, Wahby SD, El Shazly MSH (1983) Preliminary study of petroleum hydrocarbon pollution along the Suez Canal. Bull Nat Inst Oceanogr & Fish 9:97–101

Farombi EO, Adelowo OA, Ajimoko YR (2007) Biomarkers of oxidative stress and heavy metal levels as indicators of environmental pollution in African cat fish (Clarias gariepinus) from Nigeria Ogun River. Int J Environ Res Public Health 4(2):158–165

Fontana L, Moreira E, Torres MI, Fernández I, Ríos A, de Medina FS, Gil A (1998) Dietary nucleotides correct plasma and liver microsomal fatty acid alterations in rats with liver cirrhosis induced by oral intake of thioacetamide. J Hepatol 28(4):662–669

Gornall AG, Bardawill CJ, David MM (1949) Determination of serum proteins by means of the biuret reaction. J Biol Chem 177(2):751–766

Grasby S (2004) World water resources at the beginning of the 21st century. Geosci Can 31(3):138–139

Habig WH, Pabst MJ, Jakoby WB (1974) Glutathione S-transferases the first enzymatic step in mercapturic acid formation. J Biol Chem 249(22):7130–7139

Hamed A, Mohamedein LI, El-Sawy MA (2012) Physiochemical analysis and speciation of heavy metals in wastewater and sediment samples from the Suez province in Egypt. J Environ Chem Ecotoxicol 4(12):222–228

Helmer R, Hespanhol I (1997) Water pollution control: a guide to the use of water quality management principles. CRC Press, Boca Raton

Huang DJ, Zhang YM, Song G, Long J, Liu JH, Ji WH (2007) Contaminants-induced oxidative damage on the carp Cyprinus carpio collected from the upper Yellow River, China. Environ Monit Assess 128(1–3):483–488

Ibrahim M (2017) The therapeutic role of vitamin E or zinc and their mixture supplementation on some heavy metals-induced testicular functions injuries in male rats. Int J Adv Res 5(10):1833–1845

Johnston P, Bakker N, Brigden K, Santillo D (2002) Evaluation of trace metal contamination from the Baia Sprie mine tailings impoundment, Romania. Greenpeace Research Laboratories, Technical Note, 5

Jollow DJ, Mitchell JR, Zampaglione N, Gillette JR (1974) Bromobenzene-induced liver necrosis protective role of glutathione and evidence for 3,4-bromobenzene oxide as the hepatotoxic metabolite. Pharmacology 11(3):151–169

Kappus H (1985) Lipid peroxidation: mechanisms, analysis, enzymology and biological relevance. Oxidative Stress 273.

Kennedy CJ, Farrell AP (2008) Immunological alterations in juvenile Pacific herring, Clupea pallasi, exposed to aqueous hydrocarbons derived from crude oil. Environ Pollut 153(3):638–648

Khalil MT, Gad NS, Ahmed NAM, Mostafa S-D (2017) Antioxidant defense system alternations in fish as a bio-indicator of environmental pollution. Egypt J Aqua Biol Fisher 21(3):11–28

Khater ZZK, Khater ZZK (2018) Assessment of some pesticides in water, sediment, Clarias gariepinus and Procambarus clarkii from two localities at Muweis canal, Zagazig, Egypt. Egypt J Aqua Biol Fisher 22(4):153–166

Kumar SV, Pascal LF, Tennyson S, Pandeeswari M, Dhinamala K, Persis D, Raveen R, Arivoli S, Meeran M (2018) Changes in the biochemical profile of Anabas testudineus Bloch 1792 on exposure to aquatic toxicants of Buckingham canal. Chennai, Tamil Nadu, India

Lauterburg BH, Smith CV, Hughes H, Mitchell JR (1982) Determinants of hepatic glutathione turnover: toxicological significance. Trends Pharmacol Sci 3:245–248

Livingstone DR (2001) Contaminant-stimulated reactive oxygen species production and oxidative damage in aquatic organisms. Mar Pollut Bull 42(8):656–666

Lucchetti A, Kholeif SEA, Mahmoud HH, Notti E (2016) Towards sustainable fisheries management in emerging markets: an overview of properties, gaps and opportunities in Egypt. Marine Policy 72:1–10

Lushchak VI (2011) Adaptive response to oxidative stress: bacteria, fungi, plants and animals. Comp Biochem Physiol C Toxicol Pharmacol 153(2):175–190

Sabrah M, El-Ganainy A, Heneish R (2019) Population biology and dynamics of fringelip mullet Crenimugil crenilabis, Forsskål, 1775 from Southern Red Sea Egypt. Egypt J Aqua Biol Fisher 23(3):117–125

Magwere T, Naik YS, Hasler JA (1997) Effects of chloroquine treatment on antioxidant enzymes in rat liver and kidney. Free Radical Biol Med 22(1–2):321–327

Mekkawy IAA, Mahmoud UM, Wassif ET, Naguib M (2011) Effects of cadmium on some haematological and biochemical characteristics of Oreochromis niloticus (Linnaeus, 1758) dietary supplemented with tomato paste and vitamin E. Fish Physiol Biochem 37(1):71–84

Neff JM (1988) Composition and fate of petroleum and spill-treating agents in the marine environment. Synthesis of effects of oil on marine mammals.

Novotny V (1996) Integrated water quality management. Water Sci Technol 33(4–5):1–7

Ololade IA, Oginni O (2010) Toxic stress and hematological effects of nickel on African catfish, Clarias gariepinus, fingerlings. J Environ Chem Ecotoxicol 2(2):14–19

Quigley D, Hornafius JS, Luyendyk BP, Francis RD, Bartsch EC (1996) Temporal variation in the spatial distribution of natural marine hydrocarbon seeps in the northern Santa Barbara Channel, California. In: Proceedings of the annual meeting of the American Geophysical Union.

Sabrah M (2015) An overview on the fisheries population of Arabian scad, Trachurus indicus Nekrasov, 1966 (F: Carangidae) caught by two different fishing methods from the Gulf of Suez, Red Sea, Egypt. Egypt J Aqua Biol Fisher 19(2):137–148

Saglam D, Atli G, Dogan Z, Baysoy E, Gurler C, Eroglu A, Canli M (2014) Response of the antioxidant system of freshwater fish (Oreochromis niloticus) exposed to metals (Cd, Cu) in differing hardness. Turk J Fisher Aqua Sci 14(1):43–52

Sanchez W, Ait-Aissa S, Palluel O, Ditche J-M, Porcher J-M (2007) Preliminary investigation of multi-biomarker responses in three-spined stickleback (Gasterosteus aculeatus L.) sampled in contaminated streams. Ecotoxicology 16(2):279–287

Sinha AK (1972) Colorimetric assay of catalase. Anal Biochem 47(2):389–394

Soliman GF, Abd El-Wahab AM, El-Shazly MS, Mohamed AM, El-Shamy IZ, El-Ghamry M, Noufel MN, Gerges MA, Mousa AA, Beltagy AI (2001) Vulnerability assessment of the coastal area in the southern part of the Suez Canal due to global warming and accelerated sea level rise. Mar Sci 12(1)

Abbas WT, Authman MN, Darwish DA, Kenawy AM, Abumourad IMK, Ibrahim TB (2019) Cadmium toxicity-induced oxidative stress and genotoxic effects on Nile tilapia (Oreochromis niloticus L.) fish: the protective role of fenugreek (Trigonella foenum-graecum) Seeds. Egypt J Aqua Biol Fisher 23(5):193–215.

Ueno Y, Kizaki M, Nakagiri R, Kamiya T, Sumi H, Osawa T (2002) Dietary glutathione protects rats from diabetic nephropathy and neuropathy. J Nutr 132(5):897–900

Varshney R, Kale RK (1990) Effects of calmodulin antagonists on radiation-induced lipid peroxidation in microsomes. Int J Radiat Biol 58(5):733–743

Wilhelm Filho D, Torres MA, Tribess TB, Pedrosa RC, Soares CHL (2001) Influence of season and pollution on the antioxidant defenses of the cichlid fish acará (Geophagus brasiliensis). Braz J Med Biol Res 34(6):719–726

Yildirim NC, Benzer F, Danabas D (2011) Evaluation of environmental pollution at Munzur River of Tunceli applying oxidative stress biomarkers in Capoeta trutta (Heckel, 1843). J Anim Plant Sci 21(1):66

Zaghloul GYH (2015) Organic and inorganic pollutants in Suez Canal. PhD Thesis, Fac. Sci.(Girls Br.), Al Azhar Univ

Zaki MS, Authman MMN, Ata NS, Abdelzaher MF, Hammam AM (2014) Effects of environmental oil spills on commercial fish and shellfish in Suez Canal and Suez Gulf regions. Life Sci J 11(2):269–274

Zhang J, Shen H, Wang X, Wu J, Xue Y (2004) Effects of chronic exposure of 2,4-dichlorophenol on the antioxidant system in liver of freshwater fish Carassius auratus. Chemosphere 55(2):167–174
Acknowledgments
The authors declare that they have no funding for the work reported in this paper.
Additional information
Publisher's Note
Springer Nature remains neutral with regard to jurisdictional claims in published maps and institutional affiliations.
About this article
Cite this article
Ibrahim, M.A., Mosaad, R.M. Effect of Environmental Contaminants on Antioxidant Defense System in Fringe‐Lip Mullet (Crenimugil crenilabis) from Suez Canal, Egypt. Bull Environ Contam Toxicol 106, 779–785 (2021). https://doi.org/10.1007/s00128-021-03153-3
Received:

Accepted:

Published:

Issue Date:
Keywords
Crenimugil crenilabis

Suez Canal

Oxidative stress

Environmental contaminants

Biomonitoring