Abstract
The effects of potassium bromate (KBrO3), sodium bromate (NaBrO3), and potassium bromide (KBr) on the sexual reproduction of the rotifer Brachionus calyciflorus were studied by 2-d population growth, 4-d sexual reproduction, and 7-d resting egg production tests. The results showed that low concentrations of bromate promote 2-d and 4-d rotifer population growth, while high concentrations limit it. Bromate stress significantly affected parameters of rotifer sexual reproduction, including the ratio of mictic to amictic females, the mictic rate of rotifers, and the fertilization rate of mictic females. KBrO3 at 0.001, 0.01, 1, and 10 mg/L, NaBrO3 at 1 and 10 mg/L, and KBr at 100 and 200 mg/L significantly increased resting egg production, while KBrO3 at 100 and 200 mg/L, and NaBrO3 at 200 mg/L significantly decreased it. Resting egg production appears to provide a sensitive endpoint in evaluating the effect of bromate on rotifer sexual reproduction.
Access options
Buy single article
Instant access to the full article PDF.
USD 39.95
Price includes VAT (USA)
Tax calculation will be finalised during checkout.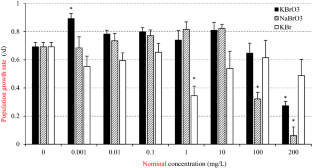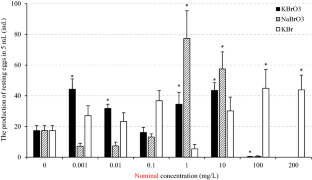 References
Ahmad MK, Khan AA, Ali SN, Mahmood R (2015) Chemoprotective effect of taurine on potassium bromate-induced DNA damage, DNA protein cross-linking and oxidative stress in rat intestine. PLoS ONE 10(3):e0119137

Campillo S, Eduardo M, García-Roger, María José C, Manuel S (2011) Local adaptation in rotifer populations. Evol Ecol 25(4):933–947

Chen JQ, Wang ZL, Li GP, Guo RX (2014) The swimming speed alteration of two freshwater rotifers Brachionus calyciflorus and Asplanchna brightwelli under dimethoate stress. Chemosphere 95:256–260

Dahms HU, Hagiwara A, Lee JS (2011) Ecotoxicology, ecophysiology, and mechanistic studies with rotifers. Aquat Toxicol 101(1):1–12

Dias JD, Bonecker CC, Miracle MR (2014) The rotifer community and its functional role in lakes of a neotropical floodplain. Int Rev Hydrobiol 99:72–83

Fisher D, Yonkos L, Ziegler G, Friedel E, Burton D (2014) Acute and chronic toxicity of selected disinfection byproducts to Daphnia magna, Cyprinodon variegatus, and Isochrysis galbana. Water Res 55:233–244

Forbes VE (2000) Is hormesis an evolutionary expectation? Funct Ecol 14:12–24

GB/T 5750.10-2006 (2007) Standard examination method for drinking water—disinfection by-product parameters. Standards Press of China, Beijing, p 27 (in Chinese)

Genuino HC, Espino MPB (2012) Occurrence and sources of bromate in chlorinated tap drinking water in Metropolitan Manila, Philippines. Arch Environ Contam Toxicol 62(3):369–379

Huang L, Xi YL, Xu XP, Wen XL (2012) Responses in population growth and reproduction of the freshwater rotifer Brachionus calyciflorus to microcystin-LR at different temperatures. Ann Limnol Int J Lim 48:383–390

Ke LX, Xi YL, Zha CW, Dong LL (2009) Effects of three organophosphorus pesticides on population growth and sexual reproduction of rotifer Brachionus calyciflorus Pallas. Acta Ecol Sin 29:182–185

Kemsley J (2007) Bromate in Los Angeles water. Chem Eng News 85(52):9

Lakhian V, Dickson-Anderson SE (2020) Reduction of bromate and chlorate contaminants in water using aqueous phase corona discharge. Chemosphere 255:126864

Li S, Zhu H, Xia Y, Yu M, Liu K, Ye Z, Chen Y (1959) The mass culture of unicellular green algae. Acta Hydrob Sin 4:462–472 (in Chinese)

Lv LL, Snell TW, Yang JX, Li SG, Zhu WG (2010) Effects of fenitrothion on life history parameters of the rotifer Brachionus calyciflorus. J Freshw Ecol 25(4):589–598

Marcial HS, Hagiwara A, Snell TW (2005) Effect of some pesticides on reproduction of rotifer Brachionus plicatilis Müller. Hydrobiologia 546:569–575

Preston BL, Snell TW (2001) Full life-cycle toxicity assessment using rotifer resting egg production: implications for ecological risk assessment. Environ Pollut 114:399–406

Radix P, Severin G, Schramm KW, Kettrup A (2002) Reproduction disturbances of Brachionus calyciflorus (rotifer) for the screening of environmental endocrine disrupters. Chemosphere 47(10):1097–1101

Raúl C, Kim UJ, Kannan K (2019) Occurrence and human exposure to bromate via drinking water, fruits and vegetables in Chile. Chemosphere 228:444–450

Rico-Màrtinez R, Arzate-Cardenas MA, Alvarado-Flores J, Pèrez Legaspi IA, Santos-Medrano GE (2016) Rotifers as models for ecotoxicology and genotoxicology. In: Larramendy M (ed) Invertebrates-experimental models in toxicity screening, chapter:4. InTech-Open Acces Publishers, Rijeka, p 57

Serra M, King CE (1999) Optimal rates of bisexual reproduction in cyclical parthenogens with density-dependent growth. J Evol Biol 12:263–271

Snell TW, Moffat BD (1992) A 2-d Life cycle test with the rotifer Brachionus calyciflorus. Environ Toxicol Chem 11:1249–1257

Soltermann F, Abegglen C, Tschui M, Stahel S, von Gunten U (2017) Options and limitations for bromate control during ozonation of wastewater. Water Res 116:76–85

Stasiak M, Lewiński A, Karbownik-Lewińska M (2009) Relationship between toxic effects of potassium bromate and endocrine glands. Endokrynol Pol 60(1):40–50

Sun YF, Hou X, Xue XY, Zhang L, Zhu XX, Huang Y, Chen YF, Yang Z (2017) Trade-off between reproduction and lifespan of the rotifer Brachionus plicatilis under different food conditions. Sci Rep 7:15370

Tian J, Liu LL, Han YJ, Yang YH, Jin SC, Yang JX (2017) Effects of testosterone and flutamide on reproduction in Brachionus calyciflorus. Sci Rep 7:6569

USEPA (1985) Methods for measuring the acute toxicity of effluents to freshwater and marine organisms. In: Peltier WH, Weber CI (eds) EPA/600/4-85/013. US Environment Protect Agency, Washington DC, p 216

USEPA (2010) Technical overview of ecological risk assessment, analysis phase: Ecological effects characterization. U.S. Environmental Protection Agency. Environmental Effects Website. http://www.epa.gov/oppefed1/ecorisk_ders/toera_analysis_eco.htm#Ecotox. Accessed 8 Jan 2014

von Gunten U (2003) Ozonation of drinking water: part II. Disinfection and by-product formation in presence of bromide, iodide or chlorine. Water Res 37(7):1469–1487

Wang YJ, Niu JF, Zhang LL, Shi JH (2014) Toxicity assessment of perfluorinated carboxylic acids (PFCAs) towards the rotifer Brachionus calyciflorus. Sci Total Environ 491–492:266–270

Wang ZW, Liu DM, Zhang WJ, Cui FY (2016) Acute toxic effects of bromate on aquatic organisms. Environ Sci 37(2):756–764 (in Chinese)

Wu Q, Zhang T, Sun HW, Kannan K (2010) Perchlorate in tap water, groundwater, surface waters, and bottled water from China and its association with other inorganic anions and with disinfection byproducts. Arch Environ Contam Toxicol 58:543–550

Wu QY, Zhou YT, Li WX, Zhang XR, Du Y, Hu HY (2019) Underestimated risk from ozonation of wastewater containing bromide: both organic byproducts and bromate contributed to the toxicity increase. Water Res 162:43–52

Xi YL, Chu ZX, Xu XP (2007) Effect of four organochlorine pesticides on the reproduction of freshwater rotifer Brachionus calyciflorus Pallas. Environ Toxicol Chem 26:1695–1699

Xu XP, Xi YL, Huang L, Xiang XL (2015) Effects of multi-metal (Cu, Zn, Cd, Cr, and Mn) mixtures on the reproduction of freshwater rotifer Brachionus calyciflorus. Bull Environ Contam Toxicol 95(6):714–720

Zhang LL, Niu JF, Wang YJ, Shi JH, Huang QG (2014) Chronic effects of PFOA and PFOS on sexual reproduction of freshwater rotifer Brachionus calyciflorus. Chemosphere 114:114–120

Zhang LL, Niu JF, Wang YJ (2016) Full life-cycle toxicity assessment on triclosan using rotifer Brachionus calyciflorus. Ecotoxicol Environ Saf 127:30–35
Acknowledgements
This work was supported by the National Natural Science Foundation of China (51978001), the Anhui Province Natural Science Foundation (1808085ME133), the Excellent Youth Talent Support Project of High Education of Anhui Province (gxyq2018023), the Project Funding for Young and Middle-aged Top Talents of Anhui Polytechnic University (2017), and the Key Project of Natural Science Research in Anhui Province (KJ2019A0153).
Additional information
Publisher's note
Springer Nature remains neutral with regard to jurisdictional claims in published maps and institutional affiliations.
About this article
Cite this article
Xu, X., Chen, T., Xie, A. et al. Chronic Effects of Bromate on Sexual Reproduction of Freshwater Rotifer Brachionus calyciflorus. Bull Environ Contam Toxicol 106, 270–277 (2021). https://doi.org/10.1007/s00128-021-03103-z
Received:

Accepted:

Published:

Issue Date:
Keywords
Bromate

Brachionus calyciflorus

Population growth rate

Sexual reproduction

Resting egg production