Abstract
Smelting activities are an important source of heavy metals in soil. More seriously, oral ingestion of crops growing in contaminated soil potentially cause harmful effects on human health. The main purpose of this study is to apply the in vitro model (PBET) and Monte Carlo Simulation (MSC) to the health risk assessment process in order to more accurately and realistically evaluate health risks of residents eating contaminated potato. Results indicated in the raw and cooked potato, the bioaccessibility of Pb was 65.9% and 74.5%, and that of Cd was 79.6% and 61.7%, respectively. Additionally, the bioaccessible hazard quotient (BHQ) was less than the permitted level except for the BHQ of Pb for children. This indicated there wasn't potential non-carcinogenic risk for most potato-consumers but the dietary exposure risk for local children cannot be neglected. Sensitivity analysis showed that the bioaccessibility and ingestion rate appeared decisive with respect to potentially deleterious health effects.
Access options
Buy single article
Instant access to the full article PDF.
USD 39.95
Price includes VAT (USA)
Tax calculation will be finalised during checkout.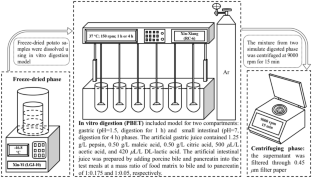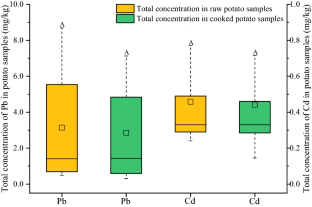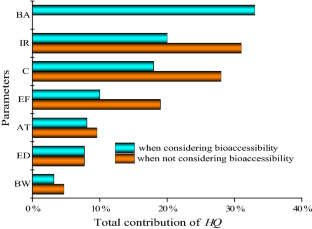 References
BMEEB (2009) Environmental Site Assessment Guideline (DB11/T 656–2009). Beijing Municipal Administration of Quality and Technology Supervision Press, Beijing

CNS (2016) Dietary Guidelines for Chinese Residents. People's Medical Publishing House, Beijing

Devesa V, Velez D, Montoro R (2008) Effect of thermal treatments on arsenic species contents in food. Food Chem Toxicol 46(1):1–8

Du F, Yang Z, Peng L, Wang L (2019) Bioaccessibility and variation of arsenic species in polished rice grains by an in vitro physiologically based extraction test method. Food Chem 293:1–7

Feng X, Li G, Qiu G (2004) A preliminary study on mercury contamination to the environment from artisanal zinc smelting using indigenous method in Hezhang County, Guizhou, China-Part 1: mercury emission from zinc smelting and its influences on the surface waters. Atmos Environ 38(36):6223–6230

Fu J, Cui Y (2013) In vitro digestion/Caco-2 cell model to estimate cadmium and lead bioaccessibility/bioavailability in two vegetables: the influence of cooking and additives. Food Chem Toxicol 59:215–221

Gong Y, Nunes LM, Greenfield BK, Qin Z, Yang Q, Huang L, Bu W, Zhong H (2018) Bioaccessibility-corrected risk assessment of urban dietary methylmercury exposure via fish and rice consumption in China. Sci Total Environ 630(15):222–230

He M, Ke C, Wang W (2010) Effects of cooking and subcellular distribution on the bioaccessibility of trace elements in two marine fish species. J Agric Food Chem 58(6):3517–3523

Huang Y, Chen QQ, Deng MH, Japenga J, Li TQ (2018) Heavy metal pollution and health risk assessment of agricultural soils in a typical peri-urban area in southeast China. J Environ Manag 207:159–168

Hur SJ, Lim BO, Decker EA, McClements DJ (2011) In vitro human digestion models for food applications. Food Chem 125:1–12

Intawongse M, Dean JR (2008) Use of the physiologically-based extraction test to assess the oral bioaccessibility of metals in vegetable plants grown in contaminated soil. Environ Pollut 152(1):60–72

Ji K, Kim J, Lee M, Park S, Kwon HJ, Cheong HK, Jang JY, Kim DS, Yu S, Kim YW (2013) Assessment of exposure to heavy metals and health risks among residents near abandoned metal mines in Goseong, Korea. Environ Pollut 178(1):322–328

Khan S, Cao Q, Zheng Y, Huang Y, Zhu Y (2008) Health risks of heavy metals in contaminated soils and food crops irrigated with waste water in Beijing, China. Environ Pollut 152(3):686–692

Koch I, Dee J, House K, Sui J, Zhang J, McKnightWhitford A, Reimer KJ (2013) Bioaccessibility and speciation of arsenic in country foods from contaminated sites in Canada. Sci Total Environ 449(2):1–8

Li H, Cui X, Li K, Li J, Juhasz AL, Ma LQ (2014) Assessment of in vitro lead bioaccessibility in house dust and its relationship to in vivo lead relative bioavailability. Environ Sci Technol 48(15):8548–8555

Li T, Song Y, Yuan X, Li J, Ji J, Fu X, Zhang Q, Guo S (2018) Incorporating bioaccessibility into human health risk assessment of heavy metals in rice (Oryza sativa L.): a probabilistic-based analysis. J Agric Food Chem 66(22):5683–5690

Liao W, Wang G, Li K, Zhao W, Wu Y (2019) Effect of cooking on speciation and in vitro bioaccessibility of Hg and As from rice, using ordinary and pressure cookers. Biol Trace Elem Res 187(1):329–339

Liu X, Song Q, Tang Y, Li W, Xu J, Wu J, Wang F, Brookes PC (2013) Human health risk assessment of heavy metals in soil-vegetable system: a multi-medium analysis. Sci Total Environ 463–464:530–540

Mihucz VG, Silversmit G, Szalóki I, de Samber B, Schoonjans T, Tatar E, Vincze L, Virag L, Yao J, Zaray G (2010) Removal of some elements from washed and cooked rice studied by inductively coupled plasma mass spectrometry and synchrotron based confocal micro-X-ray fluorescence. Food Chem 121(1):290–297

NBSC (2013) China statistical yearbook

Oomen AG, Hack A, Minekus M, Zeijdner E, Cornelis C, Schoeters G, Verstraete W (2002) Comparison of five in vitro digestion models to study the bioaccessibility of soil contaminants. Environ Sci Technol 36(15):3326–3324

Oomen AG, Rompelberg CJ, Bruil MA, Dobbe CJ, Pereboom DP, Sips AJ (2003) Development of an in vitro digestion model for estimating the bioaccessibility of soil contaminants. Arch Environ Contam Toxicol 44(3):281–287

Pelfrêne A, Waterlot C, Guerin A, Proix N, Richard A, Douay F (2015) Use of an in vitro digestion method to estimate human bioaccessibility of Cd in vegetables grown in smelter-impacted soils: the influence of cooking. Environ Geochem Health 37:767–778

Peng YS, Yang RD, Jin T, Chen J, Zhang J (2018) Risk assessment for potentially toxic metal(loid)s in potatoes in the indigenous zinc smelting area of northwestern Guizhou Province, China. Food Chem Toxicol 120:328–339

Perelló G, Martí-Cid R, Llobet JM, Domingo JL (2008) Effects of various cooking processes on the concentrations of arsenic, cadmium, mercury, and lead in foods. J Agric Food Chem 56(23):11262–11269

Praveena SM, Omar NA (2017) Heavy metal exposure from cooked rice grain ingestion and its potential health risks to humans from total and bioavailable forms analysis. Food Chem 235(15):203–211

Santos WPC, Ribeiro NM, Santos DCMB, Andrade Korn MG, Lopes MV (2018) Bioaccessbility assessment of toxic and essential elements in produced pulses, Bahia, Brazil. Food Chem 240:112–122

Schroder JL, Basta NT, Si J, Casteel SW, Evans T, Payton M (2003) In vitro gastrointestinal method to estimate relative bioavailable cadmium in contaminated soil. Environ Sci Technol 37(7):1365–1370

Shao MM, Zhu Y, Hao R, Yu Z, Song MH (2018) The health hazards of potentially toxic metals in the daily diets of adults and children from a mining and smelting region (Hezhang County) in southwestern China. Environ Monit Assess 190:432

Sharafi K, Nodehi RN, Mahvi AH, Pirsaheb M, Nazmara S, Mahmoudi B, Yunesian M (2019) Bioaccessibility analysis of toxic metals in consumed rice through an in vitro human digestion model-comparison of calculated human health risk from raw, cooked and digested rice. Food Chem 299(30):125126.1-125126.8

Sun L, Liu G, Yang M, Zhuang Y (2012) Bioaccessibility of cadmium in fresh and cooked Agaricus blazei Murill assessed by in vitro biomimetic digestion system. Food Chem Toxicol 50(5):1729–1733

Suttle J (2008) Symposium introduction: enhancing the nutritional value of potato tubers. Am J Potato Res 85(4):266

Tyszka R, Kierczak J, Pietranik A, Ettler V, Mihaljevič M (2014) Extensive weathering of zinc smelting slag in a heap in Upper Silesia (Poland): potential environmental risks posed by mechanical disturbance of slag deposits. Appl Geochem 40:70–81

USEPA (1989) Risk Assessment Guidance for Superfund Volume I Human Health Evaluation Manual (Part A) Interim Final. United States Environmental Protection Agency, Washington, DC

USEPA (2009) Risk-based concentration table. United States Environmental Protection Agency, Washington, DC, Philadelphia

USEPA (2014) Municipal solid waste generation, recycling, and disposal in the United States. Washington, DC

Zheng N, Wang Q, Zheng D (2007) Health risk of Hg, Pb, Cd, Zn and Cu to the inhabitants around Huludao Zinc plant in China via consumption of vegetables. Sci Total Environ 383(1–3):81–89

Zhuang P, Li YW, Zou B, Su F, Zhang CS, Mo H, Li Z (2016a) Oral bioaccessibility and human exposure assessment of cadmium and lead in market vegetables in the Pearl River Delta, South China. Environ Sci Pollut Res 23:24402–24410

Zhuang P, Zhang C, Li Y, Zou B, Mo H, Wu K, Wu J, Li Z (2016b) Assessment of influences of cooking on cadmium and arsenic bioaccessibility in rice, using an in vitro physiologically-based extraction test. Food Chem 213(15):206–214

Zukowska J, Biziuk M (2008) Methodological evaluation of method for dietary heavy metal intake. J Food Sci 73(2):21–29
Acknowledgements
This research was supported by the Joint Funds of the National Natural Science Foundation of China (U1612442), the National Natural Science Foundation of China (41663009), the National Key R&D Projects of China (2018YFC1802602), the High-level Innovative Talent of Guizhou Province ([2020]6002), and the Project of Innovation in Postgraduate Education in Guizhou (YJSCXJH[2019]038).
Additional information
Publisher's Note
Springer Nature remains neutral with regard to jurisdictional claims in published maps and institutional affiliations.
About this article
Cite this article
Luo, Y., Duan, Z. & Wu, Y. Risk Assessment for Oral Bioaccessibility of Lead and Cadmium in the Potato Growing in Smelter-Impacted Soil. Bull Environ Contam Toxicol 106, 363–369 (2021). https://doi.org/10.1007/s00128-020-03099-y
Received:

Accepted:

Published:

Issue Date:
Keywords
Smelter-impacted potato

Heavy metal

PBET

Dietary exposure risk

Monte carlo simulation