Abstract
This study aims to explore the spatial and temporal patterns in biomarker responses during early spring and late summer in Mytilus galloprovincialis using samples from two Adriatic Sea ecosystems between 2009 and 2012. The condition index was higher in September at all sampling sites and suggests that mussels can store energy during summer for wintertime spawning and survival through the winter. Over the entire study period, higher values of metallothioneins indicated sites with higher levels of heavy metals (Boka Kotorska Bay), while acetylcholine esterase activity was inhibited at the Gulf of Trieste. Genotoxicity was similar among sampling sites. We summarized biomarker responses in a stress index, IBRv2, and found that sampling sites in the Gulf of Trieste had lower stress levels while the highest stress levels were detected in the Boka Kotorska Bay.
Access options
Buy single article
Instant access to the full article PDF.
USD 39.95
Price includes VAT (USA)
Tax calculation will be finalised during checkout.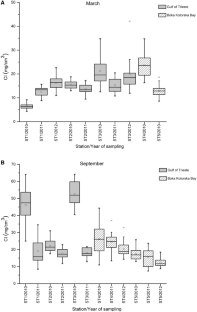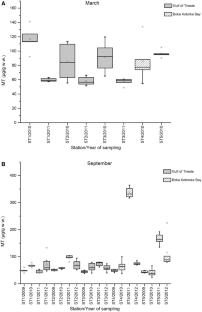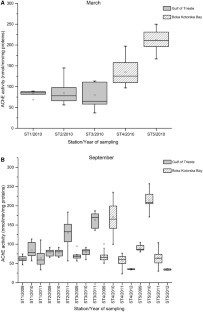 References
Anestis A, Pörtner HO, Karagiannis D, Angelidis P, Staikou A, Michaelidis B (2010) Response of Mytilus galloprovincialis (L.) to increasing seawater temperature and to marteliosis: metabolic and physiological parameters. Comp Biochem Physiol A 156(1):57–66. https://doi.org/10.1016/j.cbpa.2009.12.018

Bajt O, Ramšak A, Milun V, Andral B, Romanelli G, Scarpato A, Mitrić M, Kupusović T, Kljajić Z, Angelidis M, Ҫullaj A (2019) Assessing chemical contamination in the coastal waters of the Adriatic Sea using active mussel biomonitoring with Mytilus galloprovincialis. Mar Pollut Bull 141:283–298. https://doi.org/10.1016/j.jembe.2010.08.008n

Beyer J, Green NW, Brooks S, Allan IJ, Ruus A, Gomes T, Bråte ILN, Schøyen M (2017) Blue mussels (Mytilus edulis spp.) as sentinel organisms in coastal pollution monitoring: a review. Mar Environ Res 130:338–365. https://doi.org/10.1016/j.marenvres.2017.07.024

Bignell JP, Dodge MJ, Feist SW, Lyons B, Martin PD, Taylor NG, Stone D, Travalent L, Stentiford GD (2008) Mussel histopathology: effects of season, disease and species. Aquat Biol 2:1–15. https://doi.org/10.3354/ab00031

Bolognesi C, Fenech M (2012) Mussel micronucleus cytome assay. Nat Protoc 7:11251137. https://doi.org/10.1038/nprot.2012.043

Bolognesi C, Hayashi M (2011) Micronucleus assay in aquatic animals. Mutagenesis 26:205–213. https://doi.org/10.1093/mutage/geq073

Da Ros L, Moschino V, Mačić V, Schintu M (2011) An ecotoxicological approach for the Boka Kotorska Bay (south-eastern Adriatic Sea): first evaluation of lysosomal responses and metallothionein induction in mussels. Mar Pollut Bull 63:326–333. https://doi.org/10.1016/j.marpolbul.2011.03.015

Fenech M (2007) Cytokinesis-block micronucleus cytome assay. Nat Protoc 2:1084–1104. https://doi.org/10.1038/nprot.2007.77

Fernández B, Campillo JA, Martínez-Gómez C, Benedicto J (2011) Micronuclei and other nuclear abnormalities in mussels (Mytilus galloprovincialis) as biomarkers of cytogenotoxic pollution in Mediterranean waters. Environ Mol Mutagen 52:479–491. https://doi.org/10.1002/em.20646

Fu H, Xia Y, Chen Y, Xu T, Xu l, Guo Z, Xu H, Xie HQ, Zhao B (2018) Acetycholineesterase is a potential biomarker for a broad spectrum of organic environmental pollutants. Environ Sci Technol 52:8065–8074. https://doi.org/10.1021/acs.est.7b04004

Holmstrup M, Bindesbøl AM, Oostingh GJ, Duschl A, Scheil V, Köhler HR, Loureiro S, Soares AM, Ferreira AL, Kienle C, Gerhardt A (2010) Interactions between effects of environmental chemicals and natural stressors: a review. Sci Total Environ 408:3746–3762. https://doi.org/10.1016/j.scitotenv.2009.10.067

Horvat M, Covelli S, Faganeli J, Logar M, Mandić V, Rajar R, Širca A, Žagar D (1999) Mercury in contaminated coastal environments: a case study: the Gulf of Trieste. Sci Total Environ 237/238:43–56. https://doi.org/10.1016/S0048-9697(99)00123-0

Hylland K, Burgeot T, Martínez-Gómez C, Lang T, Robinson CD, Svavarsson J, Thain JE, Vethaak AD, Gubbins MJ (2017) How can we quantify impacts of contaminants in marine ecosystems? The ICON project. Mar Environ Res 124:2–10. https://doi.org/10.1016/j.marenvres.2015.11.006

Jemec A, Drobne D, Tišler T, Sepčić K (2008) Biochemical biomarkers in environmental studies –lessons learnt from enzymes catalase, glutathione S-transferase and cholinesterase in two crustacean species. Environ Sci Pollut Res 17(3):571–581. https://doi.org/10.1007/s11356-009-0112-x

Joksimović D, Castelli A, Mitrić M, Martinović R, Perošević A (2016) Marine chemistry of the Boka Kotorska Bay. In: Joksimović A, Djurović M, Semenov A, Zonn I, Kostianoy A, (eds) The Boka Kotorska Bay Environment. The Handbook of Environmental Chemistry, vol 54. Springer, Cham, pp 89–115. https://doi.org/10.1007/698_2016_41

Kljaković-Gašpić Z, Herceg-Romanić S, Kožul D, Veža J (2010) Biomonitoring of organochlorine compounds and trace metals along the Eastern Adriatic coast (Croatia) using Mytilus galloprovincialis. Mar Pollut Bull 60:1879–1889. https://doi.org/10.1016/j.marpolbul.2010.07.019

Kopecka J, Lehtonen KK, Baršienė J, Broeg K, Vuorinen PJ, Gercken J, Pempkowiak J (2006) Measurements of biomarker levels in flounder (Platichthys flesus) and blue mussel (Mytilus trossulus) from the Gulf of Gdańsk (southern Baltic). Mar Pollut Bull 53:406–421. https://doi.org/10.1016/j.marpolbul.2006.03.008

Kristan U, Kanduč T, Osterc A, Šlejkovec Z, Ramšak A, Stibilj V (2014) Assessment of pollution level using Mytilus galloprovincialis as a bioindicator species: the case of the Gulf of Trieste. Mar Pollut Bull 89:455–463. https://doi.org/10.1016/j.marpolbul.2014.09.046

Lobel PB, Bajdik CD, Belkhode SP, Jackson SE, Longerich HP (1991) Improved protocol for collecting mussel watch specimens taking into account sex, size, condition, shell shape, and chronological age. Arch Environ Contam Toxicol 21:409–414

Lyons BP, Bignell JP, Stentiford GD, Bolam TP, Rumney HS, Bersuder P, Barber JL, Askem CE, Nicolaus ME, Maes T (2017) Determining good environmental status under the marine strategy framework directive: case study for descriptor 8 (chemical contaminants). Mar Environ Res 124:118–129. https://doi.org/10.1016/j.marenvres.2015.12.010

Magaš D (2002) Natural-geographic characteristics of the Boka Kotorska area as the basis of development. Geoadria 7:51–81. https://doi.org/10.15291/geoadria.77

Malačič V, Petelin B, Vodopivec M (2012) Topographic control of wind-driven circulation in the northern Adriatic. J Geophys Res-Oceans. https://doi.org/10.1029/2012JC008063

Martínez-Gómez C, Robinson CD, Burgeot T, Gubbins M, Halldorsson HP, Albentosa M, Bignell JP, Hylland K, Vethaak AD (2017) Biomarkers of general stress in mussels as common indicators for marine biomonitoring programmes in Europe: The ICON experience. Mar Environ Res 24:70–80. https://doi.org/10.1016/j.marenvres.2015.10.012

Nardi A, Benedetti M, d'Errico G, Fattorini D, Regoli F (2018) Effects of ocean warming and acidification on accumulation and cellular responsiveness to cadmium in mussels Mytilus galloprovincialis: importance of the seasonal status. Aquat Toxicol 204:171–179. https://doi.org/10.1016/j.aquatox.2018.09.009

Peharda M, Župan I, Bavčević L, Frankić A, Klanjšček T (2007) Growth and condition index of mussel Mytilus galloprovincialis in experimental integrated aquaculture. Aquac Res 38:1714–1720. https://doi.org/10.1111/j.1365-2109.2007.01840.x

Ramšak A, Ščančar J, Horvat M (2012) Evaluation of metallothioneins in blue mussels (Mytilus galloprovincialis) as a biomarker of mercury and cadmium exposure in the Slovenian waters (Gulf of Trieste): a long-term field study. Acta Adriat 53:71–84

Sanchez W, Burgeot T, Porcher JM (2013) A novel "Integrated Biomarker Response" calculation based on reference deviation concept. Environ Sci Pollut Res 20:2721–2725. https://doi.org/10.1007/s11356-012-1359-1

Ščančar J, Zuliani T, Turk T, Milačič R (2007) Organotin compounds and selected metals in the marine environment of Northern Adriatic Sea. Environ Monit Assess 127:271–282. https://doi.org/10.1007/s10661-006-9278-6

Shapiro SS, Francia RS (1972) An approximate analysis of variance test for normality. J Am Stat Assoc 67:215–216. https://doi.org/10.1080/01621459.1972.10481232

Tsangaris C, Moschino V, Strogyloudi E, Coatu V, Ramšak A, Abu AR, Carvalho S et al (2016) Biochemical biomarker responses to pollution in selected sentinel organisms across the Eastern Mediterranean and the Black Sea. Environ Sci Pollut Res Int 23:1789–1804. https://doi.org/10.1007/s11356-015-5410-x

Viarengo A, Ponzano E, Dondero F, Fabbri R (1997) A simple spectrophotometric method for metallothionein evaluation in marine organisms: an application to Mediterranean and Antarctic molluscs. Mar Environ Res 44:69–84. https://doi.org/10.1016/S0141-1136(96)00103-1
Acknowledgements
The authors acknowledge the project (Dynamics of Northern and Southern Adriatic Sea in relation to pollutants spreading and response of biomarkers, agreement BI-ME/10-11-7) and research core funding No. P1-0237 Coastal Sea Research was financially supported by the Slovenian Research Agency.
Additional information
Publisher's note
Springer Nature remains neutral with regard to jurisdictional claims in published maps and institutional affiliations.
About this article
Cite this article
Mitrić, M., Ramšak, A. Sampling Site Specific Biomarker Responses in Mediterranean Mussels from the Adriatic Sea. Bull Environ Contam Toxicol 106, 310–317 (2021). https://doi.org/10.1007/s00128-020-03083-6
Received:

Accepted:

Published:

Issue Date:
Keywords
Pollution

Biomarkers

Health status

Mytilus galloprovincialis

Adriatic Sea