Abstract
Phenanthrene (PHE) as a tricyclic polycyclic aromatic hydrocarbon is one of the common pollutants in water and sediments, which can cause reproductive toxicity to aquatic organisms. In this study, enzyme-linked immunosorbent assay (ELISA) was used to detect the vitellogenin (VTG) of loach, and then to explore the estrogenic toxicity effect of PHE on loach. The results were as follows: (1) with the increase of PHE concentrations and the extension of exposure time, the gonadosomatic index (GSI) of males decreased significantly, while it increased in female loaches. In addition, males had more obvious changes than females and were more sensitive to PHE. (2) The increase of VTG contents in serum of males were stronger than that in females. Those results reveal that PHE has estrogenic effect, which can affect the generation of VTG, thus causing damage to the gonad development of loach.
Access options
Buy single article
Instant access to the full article PDF.
USD 39.95
Price includes VAT (USA)
Tax calculation will be finalised during checkout.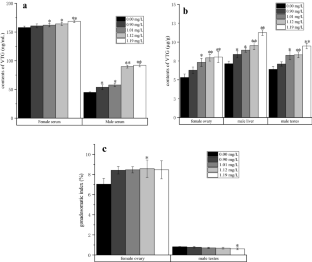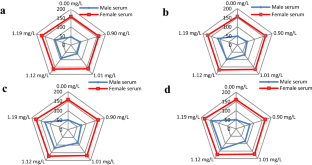 References
Albers PH (2003) Petroleum and individual polycyclic aromatic hydrocarbons. In: Hoffman DJ, Rattner BA, BurtonCairns GAJ (eds) Handbook of ecotoxicology. Lewis Publishers, New York, pp 1–32

An P, Ma WL, Zhao LJ et al (2018) Acute toxicity effects of phenanthrene on juvenile Misgurnus anguillicaudatus. J Yan'an Univ 37:54–57

Charles RT, van Ronny A, Tom HH et al (1999) An in vivo testing system for endocrine disruptors in fish early life stages using induction of vitellogenin. Environ Toxicol Chem 18:337–347. https://doi.org/10.1002/etc.5620180234

Chen JH (2012) Study on the toxic effect of nonylphenol on peacock fish and its mechanism. Shandong Normal University, Jinan

Chen JS, Sappington TW, Raikhel AS (1997) Extensive sequence conservation among insect, nematode, and vertebrate vitellogenins reveals ancient common ancestry. J Mol Evol 44:440–451. https://doi.org/10.1007/PL00006164

Ciocan CM, Cubero-Leon E, Puinean AM et al (2010) Effects of estrogen exposure in mussels, Mytilus edulis, at different stages of gametogenesis. Environ Pollut 158:2977–2984. https://doi.org/10.1016/j.envpol.2010.05.025

Francesca M, Matteo E, Giorgia G et al (2013) Assay of vtg, ERs and PPARs as endpoint for the rapid in vitro screening of the harmful effect of di-(2-ethylhexyl)-phthalate (DEHP) and phthalic acid (PA) in zebrafish primary hepatocyte cultures. Toxicol In Vitro 27:84–91. https://doi.org/10.1016/j.tiv.2012.09.018

Gong XH, Xu YJ, Ren LH et al (2010) Estrogenic effect of octylphenol on common carp. J Fish 34:410–414. https://doi.org/10.3724/SP.J.1231.2010.06525

Huang YR, Tian HH, Zheng MH (2009) Pops investigation, monitoring and early warning technology. China Environmental Science Press, Beijing

Ji X, Huang Q (2016) Research progress of fish vitellin and vitellogenin. Feed Ind 37:32–36

Kinnberg K, Korsgaard B, Bjerregaard P et al (2000) Effects of nonylphenol and 17β-estradiol on vitellogenin synthesis and testis morphology in male platyfish Xiphophorus maculatus. J Exp Biol 203:171–181

Liu KC, Rudolf S, Wu S, Ge W (2013) Luteinzing hormone receptor (lhcgr) as marker gene for characterizing estrogenic endocrine-disrupting chemicals in zebrafish ovarian follicle cells. Gen Comp Endocrinol 192:89–94. https://doi.org/10.1016/j.ygcen.2013.06.023

Li QL, Wang NL, Wu XB et al (2011) Sources and distribution of polycyclic aromatic hydrocarbons of different glaciers over the Tibetan Plateau. Sci Chin Earth Sci 54:1189–1198. https://doi.org/10.1007/s11430-010-4047-3

Matozzo V, Marin MG (2005) Can 4-nonylphenol induce vitellogenin-like proteins in the clam Tapes philippinarum. Environ Res 97:43–49. https://doi.org/10.1016/j.envres.2004.03.002

Pan XH, Liu Y, Zhou KQ et al (2018) Molecular cloning, expression pattern and prokaryotic expression of vitellogenin gene (vtg) from Osteoglossum bicirrhosum. Chin J Zool 53:597–614

Qi ZZ (2016) Oxidative toxicity and estrogenic toxicity of nonylphenol to Misgurnus anguillicaudatus. Yan'an University, Yan'an

Song J, Nagae M, Soyano K (2018) Standardization of plasma vitellogenin level for surveying environmental estrogen pollution using the Japanese common goby Acanthogobius flavimanus. Appl Toxicol 38:1–8

USEPA (2006) Toxic release inventory public data release. Office of Environmental Information. United States Environmental Protection Agency, Washington, DC

Wen RS, Fang ZQ, Chen WT (2008) Effects of 17β-estradiol on vitellogenin inducement and gonad development in male Tanichthys albonubes. Zool Res 29:43–48

Wu D (2010) Effects of lindane and β-endosulfan on endocrine disruption of zebrafish. Nanjing Agricultural University, Nanjing

Yang GZ, Zhang YF (2000) Studies on vitellogenesis of Silurus meridionalis (Silurus meridionalis Chen). Sichuan J Anat 8:136–144

Yang Q, Yang XH, Liu JN et al (2018) Effects of bisphenol A and its substitutes on levels of steroid hormone and vitellogenin in adult male zebrafish. J Nanjing Tech Univ 40:6–13

Zhang H (2013) Study on toxicity assessment and detection technology of hexabromocyclododecane and phenanthrene on Venerupis philippinarum. Ocean University of China, Qingdao
Acknowledgements
This study is supported by the basic Research Program of Natural Science of Shaanxi Province (Grant No: 2012JM3012), the Project of benefiting the people of Science and Technology of Yan'an City (Grant No: 2017HM-05), the key disciplines of Ecology of Shaanxi Province, and the Innovation Program of Postgraduate Education of Yan'an University (Grant No: YCX201933).
About this article
Cite this article
Wu, H., An, P., Wang, J. et al. Effects of Phenanthrene Stress on Gonads and Vitellogenin of Loach (Misgurnus anguillicaudatus). Bull Environ Contam Toxicol 106, 289–294 (2021). https://doi.org/10.1007/s00128-020-03077-4
Received:

Accepted:

Published:

Issue Date:
Keywords
Phenanthrene

Loach

Vitellogenin

Estrogenic effect