Abstract
A concentration-dependent decrease in growth rate and pigment concentration of the blue-green alga Spirulina platensis was recorded after the exposure to graded (5–40 ppm) concentration of six textile dyes. The profile of vital elements (C, H, N, S) also showed a significant variation due to dye toxicity. The algal population showed up to 50% decrease in protein content after exposure to the dyes. Among the pigments, the dye exposure resulted in > 90% decreases in phycocyanin however, total chlorophyll and carotenoids exhibited up to a 50% decrease compared to control. The findings indicate that the unregulated discharge of textile dyes will directly impact the photoautotrophic organisms leading to ecological imbalance in aquatic ecosystems. Overall observations of the report provide baseline information about the toxicity of textile dyes and giving a better insight into the little-understood mechanisms of dye toxicity.
Access options
Buy single article
Instant access to the full article PDF.
USD 39.95
Price includes VAT (USA)
Tax calculation will be finalised during checkout.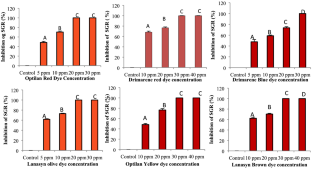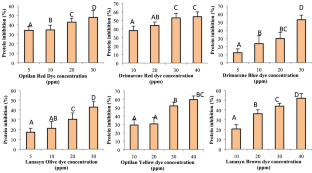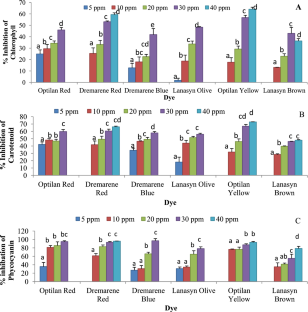 References
Cai H, Liang J, Ning XA, Lai X, Li Y (2020) Algal toxicity induced by effluents from textile-dyeing wastewater treatment plants. Environ Sci 91:199–208

Chamovitz D, Sandmann G, Hirschberg J (1993) Molecular and biochemical characterization of herbicide-resistant mutants of cyanobacteria reveals that phytoene desaturation is a rate-limiting step in carotenoid biosynthesis. J Biol Chem 268:17348–17353

Chen S, Zhang L, Chen H, Chen Z, Wen Y (2019) Enantioselective toxicity of chiral herbicide metolachlor to Microcystis aeruginosa. J Agric Food Chem 67(6):1631–1637

Dwivedi S (2013) Effect of textile dyes on Spirulina platensis. J Chem Pharm Res 5:66–80

Fernández-Naveira A, Rioboo C, Cid A, Herrero C (2016) Atrazine induced changes in elemental and biochemical composition and nitrate reductase activity in Chlamydomonas reinhardtii. Eur J Phycol 51:338–345

Finney DJ (1971) Probit analysis, 3rd edn. Cambridge University Press, Cambridge, p 333

Gao C, Gao L, Duan P, Wu H, Li M (2020) Evaluating combined toxicity of binary heavy metals to the cyanobacterium Microcystis: a theoretical non-linear combined toxicity assessment method. Ecotoxicol Environ Saf 187:109809

Gita S, Hussan A, Choudhury TG (2017) Impact of textile dyes waste on aquatic environments and its treatment. Environ Ecol 35(3C):2349–2353

Gita S, Shukla SP, Saharan N, Prakash C, Deshmukhe G (2019) Toxic effects of selected textile dyes on elemental composition, photosynthetic pigments, protein content and growth of a freshwater chlorophycean alga C. vulgaris. Bull Environ Contam Toxicol 102:795–801

Hu TL, Wu SC (2001) Assessment of the effect of azo dye RP2B on the growth of a nitrogen fixing cyanobacterium–Anabaena sp. Bioresour Technol 77:93–95

Kratz WA, Myers J (1955) Nutrition and growth of several blue-green algae. Am J Bot 42:282

Lowry OH, Rosenbrough NJ, Farr AL, Randal RJ (1951) Proteins estimation by folin phenol method. J Biol Chem 193:265

Mahalakshmi S, Lakshmi D, Menaga U (2015) Biodegradation of different concentration of dye (Congo red dye) by using green and blue green algae. Int J Environ Res 9:735–744

Mathias AC, Rilwan IM (2013) Effect of indigo dye effluent on the growth, biomass production and phenotypic plasticity of Scenedesmus quadricauda (Chlorococcales). An Acad Bras Ciênc 86:419–428

Mathur N, Bhatnagar P, Sharma P (2012) Review of the mutagenicity of textile dye products. Univ J Environ Res Technol 2:1–18

Moran R (1982) Formulae for determination of chlorophyllous pigments extracted with N,N-dimethylformamide. Plant Physiol 69:1376–1381

Nestler H, Groh KJ, Schonenberger R, Behra R, Schirmer K, Eggen RI et al (2012) Multiple-endpoint assay provides a detailed mechanistic view of responses to herbicide exposure in Chlamydomonas reinhardtii. Aquat Toxicol 110:214–224

OECD (1984) OECD guidelines for testing of chemicals 201, Alga, growth inhibition test (adopted June 1984)

O'Neill C, Hawkes FR, Hawkes DL, Lourenyo ND, Pinheiro HM, Delee W (1999) Colour in textile effiuents-sources, measurement, discharge consents and simulation: a review. J Chem Technol Biotechnol 174:1009–1018

Pazdzior K, Wrebiak J, Klepacz-Smolka A, Gmurek M, Bilinska L, Kos L et al (2017) Influence of ozonation and biodegradation on toxicity of industrial textile wastewater. J Environ Manag 195:166–173

Punzi M, Nilsson F, Anbalagan A, Svensson BM, Jonsson K, Mattiasson B et al (2015) Combined anaerobic-ozonation process for treatment of textile wastewater: removal of acute toxicity and mutagenicity. J Hazard Mater 292:52–60

Razo-Flores E, Luijaten M, Donlon B, Lettinga G, Field A (1997) Complete biodegradation of the azo dye azodisalicylate under anaerobic conditions. Environ Sci Technol 31:2098–2103

Rosa EVC, Giuradelli TM, Corrêa AXR, Rörig LR, Schwingel PR, Resgalla-Jr C, Radetski CM (2006) Ecotoxicological evaluation of the short term effects of fresh and stabilized textile sludges before application in forest soil restoration. Environ Pollut 146:463–469

Shukla SP, Kumar A, Tiwari DN, Mishra BP, Gupta GS (1992) Assessment of the effect of the toxicity of a textile dye on Nostoc muscorum ISU, a diazotrophic cyanobacterium. Environ Pollut 84(1):23–25

Siegelman HW, Kycia JH (1978) Algal biliproteins. In: Hellebust JA, Craigie JS (eds) Handbook of phycological methods: physiological and biochemical. Cambridge University Press, Cambridge, pp 71–79

Suteu D, Zaharia C, Malutan T (2012) Biosorbents based on Lignin used in biosorption processes from wastewater treatment. In: Paterson RJ (ed) Lignin properties and applications in biotechnology and bioenergy. Nova Science Publishers, New York, p 27

Syafalni S, Abustan I, Dahlan I, Wah CK, Umar G (2012) Treatment of dye wastewater using granular activated carbon and zeolite filter. Mod Appl Sci 6(2):37–51

Taibi K, Taibi F, Abderrahim LA, Ennajah A, Belkhodja M, Mulet JM (2016) Effect of salt stress on growth, chlorophyll content, lipid peroxidation and antioxidant defence systems in Phaseolus vulgaris. S Afr J Bot 105:306–312

Xi J, Shao J, Wang Y, Wang X, Yang H, Zhang X, Xiong D (2019) Acute toxicity of triflumizole to freshwater green algae Chlorella vulgaris. Pestic Biochem Phys 158:135–142

Yaseen DA, Scholz M (2018) Comparision of experimental ponds for the treatment of dye wastewater under controlled and semi-natural conditions. Environ Sci Pollut Res 24:16031–16040
Acknowledgements
The authors are thankful to the Director, ICAR-CIFE, Mumbai, for providing the necessary facilities. S. Gita acknowledges the valuable inputs from the advisory committee members. Archroma, Mumbai, is acknowledged for gifting the dyes. This research did not receive any specific grant from funding agencies in the public, commercial, or not-for-profit sectors.
Additional information
Publisher's Note
Springer Nature remains neutral with regard to jurisdictional claims in published maps and institutional affiliations.
About this article
Cite this article
Gita, S., Shukla, S.P., Deshmukhe, G. et al. Toxicity Evaluation of Six Textile Dyes on Growth, Metabolism and Elemental Composition (C, H, N, S) of Microalgae Spirulina platensis: The Environmental Consequences. Bull Environ Contam Toxicol 106, 302–309 (2021). https://doi.org/10.1007/s00128-020-03074-7
Received:

Accepted:

Published:

Issue Date:
Keywords
Dyes

Spirulina platensis

Pigments

Growth

Protein