Abstract
This study aims to synthesize and characterize an economical and ecological adsorbent with high adsorption capacity. For this purpose, the peanut shells (Pistacia vera L.) were modified chemically. After the synthesis of activated carbon (AC), the optimum conditions for enrichment steps were performed using parameters: pH and contact time for uranium in the model solutions. The measurements were carried out by inductively coupled plasma-mass spectrometry (ICP-MS). From the shapes of the BET isotherms, the AC obtained exhibits type I. The study indicated that the surface area and total pore volume of the AC were found to be 679.9 m2 g−1 and 0.31 cc g−1, respectively. The adsorption capacity was found to be 260 mg g−1. The optimum pH was found to be 6.0 for enrichment using the AC obtained by sulfuric acid as a chemical-modifier. The optimized method was applied to enrichment of U at ppb levels in the model solutions.
Access options
Buy single article
Instant access to the full article PDF.
USD 39.95
Price includes VAT (USA)
Tax calculation will be finalised during checkout.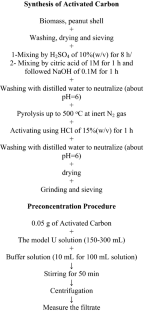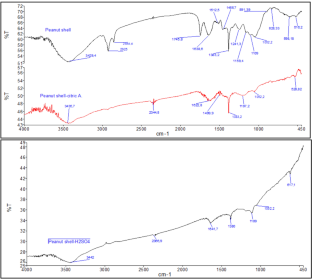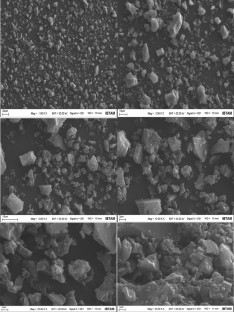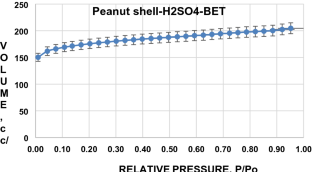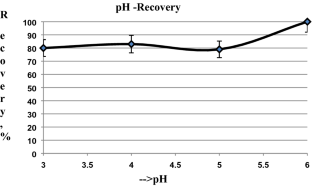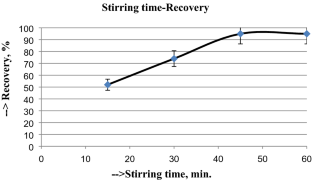 References
Bicim T, Yaman M (2016) Sensitive determination of uranium in natural waters using UV-Vis spectrometry after preconcentration by ion-imprinted polymer-ternary complexes. J AOAC Int 99(4):1043–1048

Das S et al (2016a) Extracting uranium from seawater: promising AI series adsorbents. Ind Eng Chem Res 55:4103–4109

Das S et al (2016b) Extracting uranium from seawater: promising AF series adsorbents. Ind Eng Chem Res 55:4110–4117

Das S et al (2016c) Novel poly(imide dioxime) sorbents: development and testing for enhanced extraction of uranium from natural seawater. Chem Eng J 298:125–135

EU 98/83/ECD (1998) European Commission Directive, Related with Drinking Water Quality Intended for Human Consumption European Commission, Brussels, Belgium

Ezra JC et al (2019) Uranyl functionalization mediated by redox-active ligands: generation of O–C bonds via acylation. J Am Chem Soc 141:1016–1026

Fang Z et al (2020) Conversion of biological solid waste to graphene-containing biochar for water remediation: a critical review. Chem Eng J 390:124611

Feng N et al (2011) Biosorption of heavy metals from aqueous solutions by chemically modified orange peel. J Hazard Mater 185:49–54

Garten VA et al (1957) A new interpretation of the acidic and basic structures in carbons. Aust J Chem 10:295–300

Hashemi B et al (2019) Carbon-based sorbents and their nanocomposites for the enrichment of heavy metal ions: a review. Microchim Acta 186:578–585

Kaya G, Yaman M (2008) Trace metal concentrations in cupressaceae leaves as biomonitors of environmental pollution. Trace Elem Electrolyte 25(3):156–164

Kaya G et al (2010) Lead, cadmium and copper concentrations in leaves of Nerium Oleander L. and Robinia Pseudoacacia L. as biomonitors of atmospheric pollution. Fresenius Environ Bull 19(4A):669–675

Kolpakova M (2014) Thermodynamic calculations of uranium accumulation in saline lakes of West Mongolia. Procedia Earth Planet Sci 10:164–167

Lemos VA, Gama EM (2010) An online preconcentration system for the determination of uranium in water and influent samples. Environ Monit Assess 171:163–169

Liu X et al (2017) A valuable biochar from poplar catkins with high adsorption capacity for both organic pollutants and inorganic heavy metal ions. Sci Rep 7:10033. https://doi.org/10.1038/s41598-017-09446-0

Lu X et al (2017) Synthesis of amidoxime-grafted activated carbon fibers for efficient recovery of uranium(VI) from aqueous solution. Ind Eng Chem Res 56:11936–11947

Ma D et al (2020) Adsorption of uranium on phosphoric acid-activated peanut shells. Sep Sci Tech 55(9):1623–1635

Mattson JS et al (1969) Surface chemistry of active carbon: specific adsorption of phenols. J Colloid Interface Sci 31:116–130

Metilda PJ et al (2004) Influence of binary/ternary complex of imprint ion on the preconcentration of uranium(VI) using ion imprinted polymer materials. Anal Chim Acta 512:63–73

Metilda PJ et al (2007) Investigation of the role of chelating ligand in the synthesis of ion-imprinted polymeric resins on the selective enrichment of uranium (VI). Anal Chim Acta 587:263–271

Njoku VO et al (2014) Evaluation of the potentials of three grass plants to remediate crude oil polluted soil. J Environ Chem Eng 2:881–887

O'Connell DW et al (2008) Heavy metal adsorbents prepared from the modification of cellulose: a review. Bioresour Technol 99:6709–6724

Oyewo OA et al (2016) Application of banana peels nanosorbent for the removal of radioactive minerals from real mine water. J Environ Radioact 164:369–376

Ozdemir I et al (2014) Preparation and characterization of activated carbon from grape stalk by zinc chloride activation. Fuel Process Technol 125:200–206

Picard M et al (2020) Biocarbon from peanut hulls and their green composites with biobased poly(trimethylene terephthalate)(PTT). Sci Rep 10:3310. https://doi.org/10.1038/s41598-020-59582-3

Qian J et al (2015) Synthesis of surface ion-imprinted magnetic microspheres by locating polymerization for rapid and selective separation of U(VI). RSC Adv 5:4153–4161

Santos JS, Teixeira LSG, Dos Santos WNL, Lemos VA, Godoy JM, Ferreira SLC (2010) Uranium determination using atomic spectrometric techniques: an overview. Anal Chim Acta 674:143–156. https://doi.org/10.1016/j.aca.2010.06.010

Singh DK et al (2009) Synthesis and characterization of UO22+-ion imprinted polymer for selective extraction of UO22+. Anal Chim Acta 644:42–47

US (2009) Environmental Protection Agency, National Primary Drinking Water Regulations, EPA 816-F-09-0004. http://water.epa.gov/drink/contaminants/index.cfm#Inorganic

World Health Organization (2011) 4th ed., WHO, Geneva, pp 430–431

Yaman M (1997) Determination of manganese in vegetables by atomic absorption spectrometry with enrichment using activated carbon. Chem Anal 42(1):79–86

Yaman M (1998) Simultaneous enrichment of aluminium and lead with cupferron on activated carbon for determination in milk and fruit juices by atomic absorption spectrometry. Mikrochim Acta 129(1–2):115–119

Yaman M (2000a) Nickel speciation in soil and the relationship with its concentration in fruits. Bull Environ Contam Toxicol 65(4):545–552

Yaman M (2000b) Speciation of copper in soils and relation with its concentration in fruits. Commun Soil Sci Plant Anal 31(19–20):3205–3215

Yaman M (2001) Simultaneous enrichment of Cd, Pb, Ni, and Al and their determination in water by STAT-FAAS. Spectrosc Lett 34(6):763–773

Yaman M, Gucer S (1998) Determination of nickel in vegetable matrices by atomic absorption spectrometry after preconcentration on activated carbon. Annali Di Chimica 88(7–8):555–565

Yaman M, Dilgin Y (2002) AAS determination of cadmium in fruits and soils. Atomic Spectrosc 23(2):59–64

Yaman M, Bakirdere S (2003) Identification of chemical forms of lead, cadmium and nickel in sewage sludge of waste water treatment facilities. Microchim Acta 141(1–2):47–54

Yaman M et al (2011) Distribution study of U, V, Mo, and Zr in different sites of lakes van and hazar, river and seawater samples by ICP-MS. Clean 39:530–536

Yaman M et al (2015) Sensitive determination of lead, cadmium and nickel in soil, water, vegetable and fruit samples using STAT-FAAS after preconcentration with activated carbon. Toxicol Ind Health 31:881–889

Yi Z, Yao J et al (2018) Removal of uranium(VI) by adsorption onto peanut activated shell carbon powder. IOP Conf Ser 186:012037. https://doi.org/10.1088/1755-1315/186/3/012037

Yue Y et al (2016) A poly(acrylonitrile)-functionalized porous aromatic framework synthesized by atom-transfer radical polymerization for the extraction of uranium from seawater. Ind Eng Chem Res 55:4125–4129
Acknowledgements
This study was financially supported by the Scientific Investigate Projects of Firat University, Turkey (Project Number: FF.14.21).
Additional information
Publisher's Note
Springer Nature remains neutral with regard to jurisdictional claims in published maps and institutional affiliations.
About this article
Cite this article
Yaman, M., Demirel, M.H. Synthesis and Characterization of Activated Carbon from Biowaste-Peanut Shell and Application to Preconcentration/Removal of Uranium. Bull Environ Contam Toxicol 106, 385–392 (2021). https://doi.org/10.1007/s00128-020-03065-8
Received:

Accepted:

Published:

Issue Date:
Keywords
Enrichment

Activated carbon

Uranium

ICPMS

Characterization

Peanut shells