Abstract
This study is aimed at investigation of various potential contaminants (arsenic, mercury and polycyclic aromatic hydrocarbons) content in soils of different landscapes of Eastern Antarctica ice-free areas. Our data not only showed that intensive human impact might result in significant direct contamination of surrounding landforms, but also revealed a specific role of ornithogenic transport in distribution of contaminants. Analysis revealed that the contents of investigated elements were 0.100–8.055 mg kg−1 (arsenic), 0.025–0.027 mg kg−1 (mercury) in Larsemann Hills and 0.100–1.213 mg kg−1 (arsenic), 0.023–0.593 mg kg−1 (mercury) in vicinities of Mirny station and Fulmar Island. Accumulation of some elements in guano-derived and moss materials lead to higher values of other soil pollution indices at natural sites. Results of our study revealed the predominance of light molecular weight PAHs (fluorene and acenaphthylene) in studied soils. Results of our study are not completely in agreement with the idea of an practically uncontaminated Antarctic ecosystem which was previously reported for Eastern Antarctica ice-free areas. Various human activities carried out at local scale have been found to be responsible for increase of metal levels in studied Antarctic environments.
Access options
Buy single article
Instant access to the full article PDF.
USD 39.95
Price includes VAT (USA)
Tax calculation will be finalised during checkout.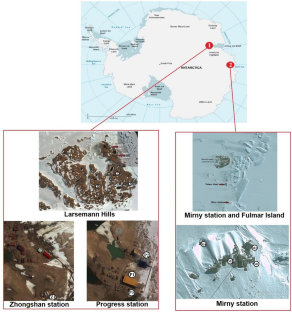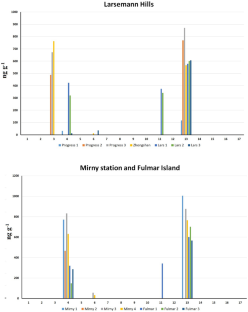 References
Abakumov E, Parnikoza I, Lupachev A, Lodygin E, Gabov D, Kunakh V (2015) Content of polycyclic aromatic hydrocarbons in soils of Antarctic stations regions. Gig Sanit 94(7):20–25 (in Russian)

Aislabie J, Balks M, Astori N, Stevenson G, Symons R (1998) Polycyclic aromatic hydrocarbons in fuel-oil contaminated soils, Antarctica. Chemosphere 39:2201–2207

Aislabie J, Fraser R, Duncan S, Farrell R (2001) Effects of oil spills on microbial heterotrophs in Antarctic soils. Polar Biol 24:308–313

Alekseev I, Abakumov E (2020a) The content and distribution of trace elements and polycyclic aromatic hydrocarbons in soils of Maritime Antarctica. Environ Monit Assess 192:670

Alekseev I, Abakumov E (2020b) Permafrost table depth in soils of Eastern Antarctica oases, King George and Ardley Islands (South Shetland Islands). Czech Polar Rep 10(1):7–22

Andrade R, Michel R, Schaefer C, Simas F (2012a) Hg distribution and speciation in Antarctic soils of the fildes and ardley peninsulas, King George Island. Antarct Sci 24(4):395–407

Balks M, Paetzold R, Kimble J, Aislabie J, Campbell I (2002) Effects of hydrocarbon spills on the temperature and moisture regime of Cryosols in the Ross Sea region, Antarctica. Antarct Sci 14:319–326

Bargagli R (2008) Environmental contamination in Antarctic ecosystems. Sci Total Environ 400:212–226

Bicego M, Weber R, Ito R (1996) Aromatic hydrocarbons on surface waters of Admiralty Bay, King George Island, Antarctica. Mar Pollut Bull 32:549–553

Blais JM, Kimpe LE, McMahon D, Keatley BE, Mallory ML, Douglas MS, Smol J (2005) Arctic seabirds transport marine-derived contaminants. Science 309:445. https://doi.org/10.1126/science.1112658

Brimble SK, Foster KL, Mallory ML, MacDonald RW, Smol JP, Blais JM (2009) High arctic ponds receiving biotransported nutrients from a nearby seabird colony areal so subject to potentially toxic loadings of arsenic, cadmium, and zinc. Environ Toxicol Chem 28:2426–2433

Blaser P, Zimmermann S, Luster J, Shotyk W (2000) Critical examination of trace element enrichments and depletions in soils: As, Cr, Cu, Ni, Pb and Zn in Swiss forest soils. Sci Total Environ 249:257. https://doi.org/10.1016/S0048-9697(99),00522-7

Brooks S, Jabour J, Van den Hoff J, Bergstrom D (2019) Our footprint on Antarctica competes with nature for rare ice-free land. Nat Sustain 2:185–190

Cabrerizo A, Tejedo P, Dachs J, Benayas J (2016) Anthropogenic and biogenic hydrocarbons in soils and vegetation from the South Shetland Islands (Antarctica). Sci Total Environ 569–570:1500–1509

Campbell I, Balks M, Claridge G (1993) A simple visual technique for estimating the impact of fieldwork on the terrestrial environment in icefree areas in Antarctica. Polar Rec 29:321–328

Campbell I, Claridge G, Balks M (1998) Short and long-term impacts of human disturbances on snow-free surfaces in Antarctica. Polar Rec 34:15–24

Canadian Council of Ministers of the Environment (CCME) (2010) Canadian soil quality guidelines, carcinogenic and other polycyclic aromatic hydrocarbons (PAHs). Winnipeg, Canada

Claridge G, Campbell I, Powell H, Amin Z, Balks M (1995) Heavy metal contamination in some soils of the McMurdo Sound region, Antarctica. Antarct Sci 7:9–14

Coulon F, Pelletier E, Gourhant L, Delille D (2005) Effects of nutrient and temperature on degradation of petroleum hydrocarbons in contaminated sub-Antarctic soil. Chemosphere 58:1439–1448

Cripps GC (1992) The extent of hydrocarbon contamination in themarine environment from a research station in the Antarctic. Mar Pollut Bull 25:288–292

Cripps G, Priddle J (1991) Hydrocarbons in the Antarctic marine environment. Antarct Sci 3:233–250

Curtosi A, Pelletier E, Vodopivez C, MacCormack W (2007) Polycyclic aromatic hydrocarbons in soil and surface marine sediment near Jubany Station (Antarctica): role of permafrost as a low-permeability barrier. Sci Total Environ 383(1–3):193–204

Deschamps E, Matschullat J (2011) Arsenic: Natural and Anthropogenic. CRC Press, Boca Raton

EPRI (Electric Power Research Institute) (2000) Literature review of background polycyclic aromatic hydrocarbons. Final report. Washington, USA

Fabri R, Krause M, Dalfior B et al (2018) Trace elements in soil, lichens, and mosses from Fildes Peninsula, Antarctica: spatial distribution and possible origins. Environ Earth Sci 77:124. https://doi.org/10.1007/s12665-018-7298-5

FAO (2014) World reference base for soil resources. FAO, Rome

Gasparon M, Matschullat J (2006) Geogenic sources and sinks of trace metals in the Larsemann Hills, East Antarctica: natural processes and human impact. Appl Geochem 21:318–334

GN 2.1.7.2041-06 (2006) Maximum permissible concentrations of chemical substances in soil. Hygienical standards. Moscow, Russia (in Russian)

Goldsworthy P, Canning E, Riddle M (2003) Soil and water contamination in the Larsemann Hills, East Antarctica. Polar Rec 39(211):319–337

Green G, Skerratt J, Leeming R, Nichols P (1992) Hydrocarbons and coprostanol levels in seawater, sea-ice algae and sediments near Davis Station in Eastern Antarctica: a regional survey and preliminary results for a field fuel spill experiment. Mar Pollut Bull 25:293–302

Hakanson L (1980) An ecological risk index for aquatic pollution-control—a sedimentological approach. Water Res 14:975–1001

Howard D et al (2017) Atmospheric mercury in the southern hemisphere tropics: seasonal and diurnal variations and influence of inter-hemispheric transport. Atmos Chem Phys Discuss 2017:1–20

International Organization for Standardization (2014) ISO 18227:2014(E). Soil quality, determination of elemental composition by X-ray fluorescence. International Organization for Standardization, Geneva, Switzerland

Kennicutt I, McDonald M, Denoux T, McDonald G (1992) Hydrocarbon contamination on the Antarctic Peninsula. I. Arthur Harbor—subtidal sediments. Mar Pollut Bull 24:499–506

Likuku A, Mmolawa K, Gaboutloeloe G (2013) Assessment of heavy metal enrichment and degree of contamination around the copper–nickel mine in the Selebi Phikwe Region, Eastern Botswana. Environ Ecol Res 1(2):32–40

Lupachev A, Abakumov E (2013) Soils of Marie Byrd Land, West Antarctica. Eurasian Soil Sci 46(10):994–1006

Mazzera D, Hayes T, Lowenthal D, Zielinska B (1999) Quantification of polycyclic hydrocarbons in soil at McMurdo Station, Antarctica. Sci Total Environ 229:65–71

Mergelov N (2014) Soils of Wet Valleys in the Larsemann Hills and Vestfold Hills Oases (Princess Elizabeth Land, East Antarctica). Eurasian Soil Sci 47(9):845–862

Metcheva R, Yurukova L, Teodorova S (2011) Biogenic and toxic elements in feathers, eggs, and excreta of Gentoo penguin (Pygoscelis papua ellsworthii) in the Antarctic. Environ Monit Assess 182:571–585. https://doi.org/10.1007/s10661-011-1898-9

MEF (2007) Government decree on the assessment of soil contamination and remediation needs. Ministry of the Environment, Helsinki, Finland

Muller G (1971) Schwermetalle in den sediment des Rheins, Veranderungem Seit. Umschau 79:778–783 (in German)

Negri A, Burns K, Boyle S, Brinkman D, Webster N (2006) Contamination in sediments, bivalves and sponges of McMurdo Sound, Antarctica. Environ Pollut 143:456–467

Nie Y, Liu X, Sun L, Emslie SD (2012) Effect of penguin and seal excrement on mercury distribution in sediments from the Ross Sea region, East Antarctica. Sci Total Environ 433:132–140

Pelletier E, Delille D, Delille B (2004) Crude oil bioremediation in sub-Antarctic intertidal sediments: chemistry and toxicity of oiled residues. Mar Environ Res 57(4):311–327

Pongpiachan S, Hattayanone M, Pinyakong O, Viyakarn V, Chavanich S, Khumsup C, Kittikoon I, Hirunyatrakul P (2017) Quantitative ecological risk assessment of inhabitants exposed to polycyclic aromatic hydrocarbons in terrestrial soils of King George Island, Antarctica. Polar Sci 11:19–29

Reimann C, de Caritat P (2005) Distinguishing between natural anthropogenic sources for elements in the environment: Regional geochemical surveys versus enrichment factors. Sci Total Environ 337:91. https://doi.org/10.1016/j.scitotenv.2004.06.011

Ribeiro A, Figueira R, Martins C, Silva C, Franca E, Bicego M, Mahiques M, Montone R (2011) Arsenic and trace metal contents in sediment profiles from the Admiralty Bay, King George Island, Antarctica. Mar Pollut Bull 62:192–196

Rodriguez C, Iglesias K, Bicego M, Taniguchi S, Sasaki S, Kandratavicius N, Bueno C, Brugnoli E, Venturuni N (2018) Hydrocarbons in soil and meltwater stream sediments near Artigas Antarctic Research Station: origin, sources and levels. Antarct Sci 30(3):170–182

Romaniuk K, Ciok A, Decewicz P, Uhrynowski W, Budzik K, Nieckarz M, Pavlovska J, Zdanowski M, Bartosik D, Dziewit L (2018) Insight into heavy metal resistome of soil psychrotolerant bacteria originating from King George Island (Antarctica). Polar Biol 41:1319–1333. https://doi.org/10.1007/s00300-018-2287-4

Ronov A, Yaroshevsky A (1972) Earth's crust geochemistry. In: Fairbridge F (ed) Encyclopedia of geochemistry and environmental sciences. Van Nostrand Reinhold, New York, pp 243–254

Rovinsky F, Teplickaja T, Alekseeva T (1988) Background monitoring of polycyclic aromatic hydrocarbons. Gidrometeoizdat, Leningrad (in Russian)

Santamans AC, Boluda R, Picazo A, Gil C, Ramos-Miras J, Tejedo P et al (2017) Soil features in rookeries of Antarctic penguins reveal sea to land biotransport of chemical pollutants. PLoS ONE 12(8):e0181901. https://doi.org/10.1371/journal.pone.0181901

Smith VR (1979) The influence of seabird manuring on the phosphorus status of Marion Island (Subantarctic) soils. Oecologia (Berl) 41:123–126

Szopinska M, Szumińska D, Bialik J, Dymerski T, Rosenberg E, Polkowska Z (2019) Determination of polycyclic aromatic hydrocarbons (PAHs) and other organic pollutants in freshwaters on the western shore of Admiralty Bay (King George Island, Maritime Antarctica). Environ Sci Pollut Res 26:18143–18161

Starck W (1980) The avifauna of Haswell Island (East Antarctica) in summer of 1978/79. Polar Res 1:183–196

Subhavana K, Qureshi A, Chakraborty P, Tiwari A (2019) Mercury and organochlorines in the terrestrial environment of Schirmacher Hills, Antarctica. Bull Environ Contam Toxicol 102:13–18. https://doi.org/10.1007/s00128-018-2497-z

UNEP (United Nations Environment Programme Chemicals) (2002) Regionally based assessment of persistent toxic substances. Antarctic regional report. Global Environment Facility, Geneva

U.S. Environmental Protection Agency (1996a) Method 8310: polynuclear aromatic hydrocarbons. Office of Health and Environmental Assessment, Washington DC. Revision 0

U.S. Environmental Protection Agency (1996b) Method 3550b: ultra-sonic extraction. Office of Health and Environ-mental Assessment, Washington DC. Revision 2

U.S. Environmental Protection Agency (1996c) Method 3630c: silica gel cleanup. Office of Health and Environmental Assessment, Washington DC. Revision 3

U.S. Environmental Protection Agency (USEPA) (2011). Regional screening levels (Formerly PRGs). Washington, DC

Waheed S, Ahmad S, Rahman A, Qureshi IH (2001) Antarctic marine sediments as fingerprints of pollution migration. J Radioanal Nucl Chem 250:97–107

Wedepohl K (1995) The composition of the continental crust. Geochim Cosmochim Acta 59:1217–1232

Young LY, Cerniglia E (1995) Microbial transformation and degradation of toxic organic chemicals. Wiley-Liss, New York

Yunker MB, Macdonald RW (2004) Alkane and PAH depositional history, sources and fluxes in sediments from Fraser River basin and Strait of Georgia, Canada. Organic Geochem 34:142–154
Acknowledgements
This study was supported by Russian Scientific Foundation for Basic Research, Grants No. 19-54-18003 «Assessment of regional contribution Assessment of regional of soils of Antarctic Islands into global carbon balance including degree of stabilization and humification of organic matter», 19-05-50107 «The role of organic matter microparticles in degradation of glacier cover of polar regions and formation of soil-like bodies», 18-04-00900 «Ornithogenic soils of Antarctica: formation, geography and biogeochemistry» and Russian Antarctic Expedition (Arctic and Antarctic Research Institute, Saint Petersburg, Russia).
Additional information
Publisher's Note
Springer Nature remains neutral with regard to jurisdictional claims in published maps and institutional affiliations.
About this article
Cite this article
Alekseev, I., Abakumov, E. Polycyclic Aromatic Hydrocarbons, Mercury and Arsenic Content in Soils of Larsemann Hills, Pravda Coast and Fulmar Island, Eastern Antarctica. Bull Environ Contam Toxicol 106, 278–288 (2021). https://doi.org/10.1007/s00128-020-03063-w
Received:

Accepted:

Published:

Issue Date:
Keywords
Trace elements

PAHs

Soils

Eastern Antarctica

Environmental pollution