Abstract
To investigate mangroves of different land use types in Nansha county, China, we analyzed the corresponding N2O and CH4 emissions, water temperature, salinity, acidity and alkalinity, dissolved oxygen, redox potential, nitrate, nitrite, ammonia nitrogen, and organic matter at five sites. The removal rates of NO2−, NO3−, and NH4+ in mangrove wetlands were 43.6%, 41.2%, and 65.0%; however, CH4 and N2O emissions of mangrove affected by shrimp ponds are 2–3 times and 3–9 times more high than other wetlands. These results showed that, although mangrove wetlands can significantly reduce N, P, and other nutrient elements in shrimp pond wastewater, they can also significantly increase N2O and CH4 emissions. This indicates that mangrove wetlands should be used with caution for the treatment of shrimp pond wastewater.
Access options
Buy single article
Instant access to the full article PDF.
USD 39.95
Price includes VAT (USA)
Tax calculation will be finalised during checkout.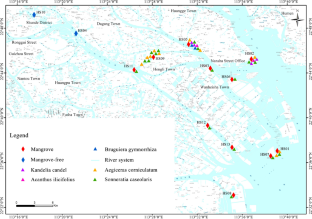 References
Cameron C, Hutley LB, Friess DA, Munksgaard NC (2019) Hydroperiod, soil moisture and bioturbation are critical drivers of greenhouse gas fluxes and vary as a function of land use change in mangroves of Sulawesi, Indonesia. Sci Total Environ 654:365–377

Cardoso-Mohedano JG, Lima-Rego J, Sánchez-Cabeza JA, Ruiz-Fernández AC, Canales-Delgadillo J, Sánchez-Flores I, Páez-Osuna F (2018) Subtropical coastal lagoon salinization associated to shrimp pond effluents. Estuarine Coast Shelf Sci 203: 72–79

Chen GC, Tam NFY, Wong YS, Ye Y (2011) Effect of wastewater discharge on greenhouse gas fluxes from mangrove soils. Atmos Environ 45:1110–1115

Chen QX, Yang S, Wang JW, Liu X, Zheng J, Deng RJ (2019) The development of mangrove in Zhejiang. Zhejiang Agric Sci 60(7):1177–1181

Costa BGB, Soares TM (2013) Mercury distribution in a mangrove tidal creek affected by intensive shrimp farming. Bull Environ Contam Toxicol 90:537–541

Dalal RC, Allen DE (2008) Greenhouse gas fluxes from natural ecosystems. Aust J Bot 56:369–407

Diane E, Allen RC, Dalal H, Rennenberg RL, Meyer S, Reeves S Schmidt (2007) Spatial and temporal variation of nitrous oxide and methane flux between subtropical mangrove sediments and the atmosphere. Soil Biol Biochem 39:622–631

Ding WX (2003) Study on methane emission mechanism of swamp wetland and its different utilization modes. Graduate School of Chinese Academy of Sciences (Nanjing Soil Research Institute)

Fregoso-López MG, Morales-Covarrubias MS, FrancoNava MA, PoncePalafox JT, FierroSañudo JF, RamírezRochín J, PáezOsuna F (2018) Effect of nitrogen compounds on shrimp litopenaeus vannamei: histological alterations of the antennal gland. Bull Environ Contam Toxicol 100:772–777

Gunawardena M, Rowan JS (2005) Economic valuation of a mangrove ecosystem threatened by shrimp aquaculture in Sri Lanka. Environ Manage 36:535–550

IPCC (2001) Climate change 2001: the scientific basis, contribution of working group I to the third assessment report of the intergovernmental panel on climate change. Cambridge University Press, Cambridge

Konnerup D, Betancourt-Portela JM, Villamil C, Parra JP (2014) Nitrous oxide and methane emissions from the restored mangrove ecosystem of the Cienaga Grande de Santa Marta, Colombia. Estuarine Coastal Shelf Science 140:43–51

Krupadam RJ, Ahuja R, Wate SR (2007) Forest bound estuaries are higher methane emitters than paddy fields: a case of Godavari estuary, East Coast of India. Atmos Environ 41:4819–4827

Li J, Huang Jf, Luo M, Liu YX, Tan J, Zhu AJ, Wang SY, Tong C (2019) Effects of increased flooding on pore water geochemical characteristics and CO2 and CH4 emission fluxes of Minjiang Estuary freshwater tidal wetland. Environmental science 40(12):5493–5502

Lin BQ, Jia ZJ (2019) Impacts of carbon price level in carbon emission trading market. Appl Energy 239:157–170

Liu LL, Greaver TL (2009) A review of nitrogen enrichment effects on three biogenic GHGs: the CO2 sink may be largely offset by stimulated N2O and CH4 emission. Ecol Lett 12:1103–1117

Liu L, Gao XQ, Miao ZH, Yang F, Huang HY, Li L (2016) Comparison of nitrite content in water by ion chromatography and spectrophotometry. China Water Wastewater 32(2):93–96

Mitsch WJ, Nahlik AM, Wolski P, Bernal B, Zhang L, Ramberg L (2010) Tropical wetlands: seasonal hydrologic pulsing, carbon sequestration, and methane emissions. Wetlands Ecol Manage 18:573–586

Moseman-Valtierra S, Gonzalez R, Kroeger K, Tang J, Chun W, Crusius J, Bratton J, Green A, Shelton J (2011) Short-term nitrogen additions can shift a coastal wetland from a sink to a source of N2O. Atmos Environ 45:4390–4397

Páez-Osuna F (2001) The environmental impact of shrimp aquaculture: causes, effects and mitigating alternatives. Environ Manage 28(1):131–140

Queiroz HM, Artur AG, Taniguchi CAK, Silveira MRS, Nascimento JC, Nóbrega GN, Otero XL, Ferreira TO (2019) Hidden contribution of shrimp farming effluents to greenhouse gas emissions from mangrove soils. Estuar Coast Shelf Sci 221:8–14

Robertson AI, Phillips MJ (1995) Mangroves as filters of shrimp pond effluent: predictions and biogeochemical research needs. Hydrobiologia 295:311–321

Tatiane M, François J, Uta B (2016) Partitioning stakeholders for the economic valuation of ecosystem services: examples of a mangrove system. Nat Resour Res 25:331–345

Tran TPH, Dijk H, Visser L (2014) Impacts of changes in mangrove forest management practices on forest accessibility and livelihood: a case study in mangrove-shrimp farming system in Ca Mau Province, Mekong Delta, Vietnam. Land Use Policy 36:89–101
Additional information
Publisher's Note
Springer Nature remains neutral with regard to jurisdictional claims in published maps and institutional affiliations.
About this article
Cite this article
Wang, D., Xie, X., Tang, W. et al. Suitability of Nansha Mangrove Wetland for High Nitrogen Shrimp Pond Wastewater Treatment. Bull Environ Contam Toxicol 106, 349–354 (2021). https://doi.org/10.1007/s00128-020-03060-z
Received:

Accepted:

Published:

Issue Date:
Keywords
Greenhouse gas

Mangroves

Shrimp pond wastewater

Economic benefits