Abstract
Phytoremediation and bioremediation are eco-friendly methods of wastewater treatment that are widely used throughout the world to reduce anthropogenic water contamination. This study was conducted to assess the effectiveness of symbiotic bacteria in phytoremediation using two aquatic plants, Echinodorus cordifolius and Lepironia articulata, that were tested in sterilized and unsterilized groups. The results showed that unsterilized plants removed more phosphate, ammonium, nitrate and nitrite than the sterilized plants. In untreated and unsterilized E. cordifolius groups, the dominant bacterium was Calothrix (46.90 and 49.69%, respectively), which was higher than in the sterilized E. cordifolius group (38.88%). In untreated and unsterilized groups of L. articulata, Clostridium was a dominant bacterium. The proportion of Clostridium was much lower in the sterilized L. articulata group (1.31%) than in the untreated (13.71%) and unsterilized (49.02%) groups. Our results suggested that root-associated bacteria in E. cordifolius and L. articulata were effective in the removal of phosphorus and nitrogen from domestic wastewater.
Access options
Buy single article
Instant access to the full article PDF.
USD 39.95
Price includes VAT (USA)
Tax calculation will be finalised during checkout.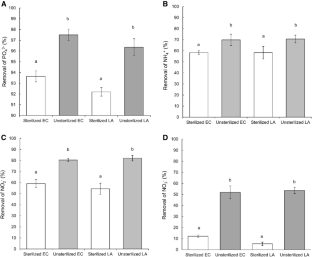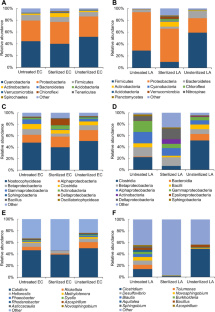 References
Aleya L, Grisey E, Bourioug M, Bourgeade P (2019) Performance assessment of Etueffont (France) lagooning treatment system: report from a 16-year survey. Sci Total Environ 648:518–529

Amini M, Younesi H, Lorestani AAZ, Najafpour G (2013) Determination of optimum conditions for dairy wastewater treatment in UAASB reactor for removal of nutrients. Bioresour Technol 145:71–79

APHA, AWWA, WEF (1992) Standard methods for the examination of water and wastewater, 18th edn. American Public Health Association, Washington, D.C.

Barbafieri M, Pedron F, Petruzzelli G, Rosellini I, Franchi E, Bagatin R, Voccianate M (2017) Assisted phytoremediation of a multi-contaminated soil: investigation on arsenic and lead combined mobilization and removal. J Environ Manage 203:316–329

Battin TJ, Kaplan LA, Newbold JD, Hensen CME (2003) Contributions of microbial biofilms to ecosystem processes in stream mesocosm. Naure 426:439–442

Bilal M, Iqbal HMN (2019) Microbial-derived biosensors for monitoring environmental contaminants; recent advances and future outlook. Process Saf Environ 124:8–17

Chen C, Zhao T, Liu R, Luo L (2017) Performance of five plant species in removal of nitrogen and phosphorus from an experimental phytoremediation system in the Ningxia irrigation area. Environ Monit Asses 189:497

Chen D, Liu X, Bian R, Cheng K, Zhang X, Zheng J, Joseph S, Crowley D, Pan G, Li L (2018) Effects of biochar on availability and plant uptake of heavy metals—a meta-analysis. J Environ Manag 222:76–85

Chen Y, Wen Y, Cheng J, Xue CH, Yang D, Zhou Q (2011) Effects of dissolved oxygen on extracellular enzymes activities and transformation of carbon sources from plant biomass: implications for denitrification in constructed wetlands. Bioresour Technol 102:2433–2440

Dasgupta J, Sikder J, Chakraborty S, Curcio S, Drioli E (2015) Remediation of textile effluents by membrane based treatment techniques: a state of the art review. J Environ Manage 147:55–72

Doni F, Anizan I, Che Radziah CMZ, Wan Ahmed WN, Ashari A, Suryadi E, Wan Yusoff WM (2014) Enhanced rice seedling growth by Clostridium and Pseudomonas. Biotechnology 13:186–189

Fleming LE, Broad K, Clement A, Dewailly E, Elmir S, Knap A, Pomponi SA, Smith S, Solo Gabriele H, Walsh P (2006) Oceans and human health: emerging public health risks in the marine environment. Mar Pollut Bull 53:545–560

Gao P, Xu W, Sontag P, Li X, Xue G, Liu T, Sun W (2016) Correlating microbial community compositions with environmental factors in activated sludge from four full-scale municipal wastewater treatment plants in Shanghai, China. Environ Biotechnol 100:4663–4673

Gupta P, Roy S, Mahindrakar AB (2012) Treatment of water using Water Hyacinth, water lettuce and vetiver Grass—a review. Resourc Environ 2:202–215

Hahn MW (2006) The microbial diversity of inland waters. Curr Opin Biotechnol 17:256–261

Holkar CR, Jadhav AJ, Pinjari DV, Mahamuni NM, Pandit AB (2016) A critical review on textile wastewater treatments: possible approaches. J Environ Manage 182:351–366

Huang L, Du S, Fan L, Lin X, Wang H, Zhang Y (2010) Microbial activity facilitates phosphorus adsorption to shallow lake sediment. J Soils Sediments 11:185–193

Hussain Z, Arslan M, Malik MH, Mohsin M, Iqbal S, Afzal M (2018) Integrated perspectives on the use of bacterial endophytes in horizontal flow constructed wetlands for the treatment of liquid textile effluent: phytoremediation advances in the field. J Environ Manage 224:387–395

Jeevanantham S, Saravanan A, Hemavathy RV, Senthilkumar P, Yaashikaa PR, Yuvaraj D (2019) Removal of toxic pollutants from the water environment by phytoremediation: a survey on application and future prospects. Environ Technol Innov 13:264–276

Johnston D, Earley B, Cormican P, Murray G, Kenny DA, Waters SM, McGee M, Kelly AK, McCabe MS (2017) Illumina MiSeq 16S amplicon sequence analysis of bovine respiratory disease associated bacteria in lung and mediastinal lymph node tissue. BMC Vet Res 13:1–18

Khan F, Husain T, Hejazi R (2004) An overview and analysis of site remediation technologies. J Environ Manage 71:95–122

Kumar M, Prasanna R, Bidyarani N, Babu S, Mishra BK, Kumar A, Adak A, Jauhari S, Yadav K, Singh R, Saxena AK (2013) Evaluating the plant growth promoting ability of thermotolerantbacteria and cyanobacteria and their interactions with seedspice crops. Sci Hortic 164:94–101

Liu F, Zhang S, Wang Y, Li Y, Xiao R, Li H, He Y, Zhang M, Wang D, Li X (2016) Nitrogen removal and mass balance in newly-formed Myriophyllum aquaticum mesocosm during a single 28-day incubation with swine wastewater treatment. J Environ Manage 166:596–604

Liu L, Bilal M, Duan X, Iqbal HMN (2019) Mitigation of environmental pollution by genetically engineered bacteria—current challenges and future perspectives. Sci Total Environ 667:444–454

Lu B, Xu Z, Li J, Chai X (2017) Removal of water nutrients by different aquatic plant species: an alternative way to remediate polluted rural rivers. Ecol Eng 110:18–26

Lu Q, He ZL, Graetz DA, Stoffella PJ, Yang X (2010) Phytoremediation to remove nutrients and improve eutrophic stormwaters using water Lettuce (Pistia stratiotes L.). Environ Sci Pollut Res 17:84–96

Maggioni LA, Fontaneto D, Bocchi S, Gomarasca S (2009) Evaluation of water quality and ecological system conditions through macrophytes. Desalination 246:190–201

Martinez ME, Sanchez S, Jimenez JM, El Yousfi F, Munoz L (2000) Nitrogen and phosphorus removal from urban wastewater by the microalga Scenedesmus obliquus. Bioresour Technol 73:263–272

Nakphet S, Ritchie RJ, Kiriratnikom S (2017) Aquatic plants for bioremediation in red hybrid tilapia (Oreochromis niloticus x Oreochromis mossambicus) recirculating aquaculture. Aquac Int 25:619–633

Natarajan C, Prasanna R, Gupta V, Dureja P, Nain L (2012) Characterization of the fungicidal activity of Calothrix elenkinii using chemical methods and microscopy. Appl Biochem Microbiol 48:51–57

Nieto M, Herrero A (1989) Regulation of nitrate and nitrite reductases in dinitrogen-fixing cyanobacteria and Nif—mutants. Arch Microbiol 151:475–478

R Development Core Team (2018) R: a language and environment for statistical computing v. 3.5.2. R Foundation for Statistical computing, Vienna, Austria.

Rasheed T, Bilal M, Li C, Nabeel F, Khalid M, Iqbal HMN (2018) Catalytic potential of bio-synthesized silver nanoparticles using Convolvulus arvensis extract for the degradation of environmental pollutants. J Photochem Photobiol, B 181:44–52

Reuter JE, Loeb SL, Goldman CR (1986) Inorganic nitrogen uptake by epilithic periphyton in a N-deficient lake. Limnol Oceanogr 31:149–160

Santos F, Almeidaa CMR, Ribeiroa I, Ferreiraa AC, Muchaa AP (2019) Removal of veterinary antibiotics in constructed wetland microcosms—response of bacterial communities. Ecotoxicol Environ Saf 169:894–901

Singh I (2018) Plant Growth Promoting Rhizobacteria (PGPR) and their various mechanisms for plant growth enhancement in stressful conditions: a review. Euro J Biol Res 8:191–213

Sotres A, Cerrillo M, Vinas M, Bonmati A (2016) Nitrogen removal in a two-chambered microbial fuel cell: establishment of a nitrifying-denitrifying microbial community on an intermittent aerated cathode. Chem Eng J 284:905–916

Srivastava J, Gupta A, Chandra H (2008) Managing water quality with aquatic macrophytes. Rev Environ Sci Biotechnol 7:255–266

Thongtha S, Teamkao P, Boonapatcharoen N, Tripetchkul S, Techkarnjararuk S, Thiravetyan P (2014) Phosphorus removal from domestic wastewater by Nelumbo nucifera Gaertn And Cyperus alternifolius L. J Environ Manage 137:54–60

Verma AK, Dash RR, Bhunia P (2012) A review on chemical coagulation/flocculation technologies for removal of colour from textile wastewaters. J Environ Manage 93:154–168

Wang JY, Yang L, Tseng CC, Hsu HL (2008) Application of phytoremediation on soil contaminated by pyrene. Environ Eng Sci 25(6):829–838

Wani BA, Khan A, Bodha RH (2011) Salix: A viable option for phytoremediation. Afr J Environ Sci Technol 5(8):567–571

Xia H, Ma X (2005) Phytoremediation of ethion by water hyacinth (Eichhornia crassipes) from water. Bioresour Technol 97:1050–1054

Yadav MK (2017) Role of biofilms in environment pollution and control. In: Patra J, Vishnuprasad C, Das G (eds) Microbial biotechnology. Springer, Singapore

Yadavalli R, Heggers GRVN (2013) Two stage treatment of dairy effluent using immobilized Chlorella pyrenoidosa. J Environ Health Sci Eng 11:36

Ye J, Song Z, Wang L, Zhu J (2016) Metagenomic analysis of microbiota structure evolution in phytoremediation of a swine lagoon wastewater. Bioesour Technol 219:439–444

Zeiller M, Rothballer M, Iwobi AN, Böhnel H, Gessler F, Hartmann A, Schmid M (2015) Systemic colonization of clover (Trifolium repens) by Clostridium botulinum strain 2301. Front Microbiol. 6:1207

Zhuang WQ, Fitts JP, Ajo-Franklin CM, Maes S, Alvarez-Cohen L, Hennebel T (2015) Recovery of critical metals using biometallurgy. Cur Opin Biotechnol 33:327–335
Acknowledgements
This work was supported by the Graduate School, Prince of Songkla University under Thailand's Education Hub for Southern Region of ASEAN Countries Project (TEH-AC 044/2017), and by a Research Grant for the graduate student. We would like to thank Thomas Duncan Coyne for English proofreading the manuscript.
Additional information
Publisher's Note
Springer Nature remains neutral with regard to jurisdictional claims in published maps and institutional affiliations.
About this article
Cite this article
Tenzin, J., Hirunpunth, R., Satjarak, A. et al. Bacteria Associated with Echinodorus cordifolius and Lepironia articulata Enhance Nitrogen and Phosphorus Removal from Wastewater. Bull Environ Contam Toxicol 106, 377–384 (2021). https://doi.org/10.1007/s00128-020-03059-6
Received:

Accepted:

Published:

Issue Date:
Keywords
Wastewater

Phosphorus

Nitrogen

Bacterial community

Echinodorus
Lepironia