Abstract
Phthalates are one of ubiquitous contaminants in the indoor environment. In this study, we analyzed concentrations and profiles of 9 phthalates in dust samples collected from houses and university dormitories in Nanjing, China. The total concentrations of phthalates in house and dormitory dust ranged from 111.4 to 3599.1 µg/g and 86.1 to 1262.3 µg/g, respectively. Phthalates in house was significantly higher than that in dormitory dust (p < 0.01). Di(2-ethylhexyl) phthalate (DEHP), dibutyl phthalate (DBP) and di-isobutyl phthalate (DiBP) were the three predominant compounds and accounted for more than 98% of total phthalates in the two microenvironments. The estimated daily intake (EDI) of phthalates, carcinogenic risk (CR) of DEHP, and hazard index (HI) values of DEHP, DBP and DiBP were estimated. Except for adults, the CR of DEHP for four subgroups (infants, toddlers, children, and teenagers) had exceeded the limitation, implying that they are at the risk of exposure to DEHP through dust ingestion.
Access options
Buy single article
Instant access to the full article PDF.
USD 39.95
Price includes VAT (USA)
Tax calculation will be finalised during checkout.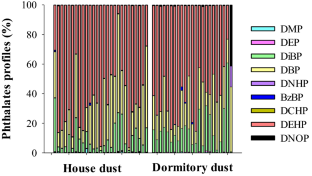 References
Bamai YA, Araki A, Kawai T, Tsuboi T, Saito I, Yoshika E, Cong S, Kishi R (2016) Exposure to phthalates in house dust and associated allergies in children aged 6–12 years. Environ Int 96:16–23

Bi XL, Yuan SJ, Pan XJ, Winstead C, Wang QQ (2015) Comparison, association, and risk assessment of phthalates in floor dust at different indoor environments in Delaware, USA. J Environ Sci Health A Tox Hazard Subst Environ Eng 50:1428–1439

Boberg J, Metzdorff S, Wortziger R, Axelstad M, Brokken L, Vinggaard AM et al (2008) Impact of diisobutyl phthalate and other PPAR agonists on steroidogenesis and plasma insulin and leptin levels in fetal rats. Toxicology 250(2–3):75–81

Cho SC, Bhang SY, Hong YC, Shin MS, Kim BN, Kim JW, Yoo HJ, Cho IH, Kim HW (2010) Relationship between environmental phthalate exposure and the intelligence of school-age children. Environ Health Perspect 118(7):1027–1032

Clausen PA, Lindeberg Bille RL, Nilsson T, Hansen V, Svensmark B, Bowadt S (2003) Simultaneous extraction of di(2-ethylhexyl) phthalate and nonionic surfactants from house dust. Concentrations in floor dust from 15 Danish schools. J Chromatogr A 986:179–190

Erve TJ, Rosen EM, Barrett ES, Nguyen RHN, Sathyanarayana S, Milne GL, Calafat AM, Swan SH, Ferguson KK (2019) Phthalates and phthalate alternatives have diverse associations with oxidative stress and inflammation in pregnant women. Environ Sci Technol 53:3258–3267

Guo Y, Kannan K (2013) A survey of phthalates and parabens in personal care products from the United States and its implications for human exposure. Environ Sci Technol 47:14442–14449

Guo Y, Wu Q, Kannan K (2011) Phthalate metabolites in urine from China, and implications for human exposures. Environ Int 37:893–898

He RW, Xiang LYZ, Li P, Zhou C, Zhang CY, Cui SJ, Ma XY (2016) Organophosphorus flame retardants and phthalate esters in indoor dust from different microenvironments: bioaccessibility and risk assessment. Chemosphere 150:528–535

Jia LL, Lou XY, Guo Y, Leung KSY, Zeng EY (2017) Occurrence of phthalate esters in over-the counter medicines from China and its implications for human exposure. Environ Int 98:137–142

Kashyap D, Agarwal T (2018) Concentration and factors affecting the distribution of phthalates in the air and dust: a global scenario. Sci Total Environ 635:817–827

Kobrosly RW, Evans S, Miodovnik A, Barrett ES, Thurston SW, Calafat AM, Swan SH (2014) Prenatal phthalate exposures and neurobehavioral development scores in boys and girls at 6–10 years of age. Environ Health Perspect 122(5):521–528

Kolarik B, Bornehag CG, Naydenov K, Sundell J, Stavova P, Nielsen OF (2008) The concentrations of phthalates in settled dust in Bulgarian homes in relation to building characteristic and cleaning habits in the family. Atmos Environ 42:8553–8559

Langer S, Weschler C, Fischer A, Beko G, Toftum J, Clausen G (2010) Phthalate and PAH concentrations in dust collected from Danish homes and daycare centers. Atmos Environ 44:2294–2301

Li HL, Song WW, Zhang ZF, Ma WL, Gao CJ, Li J, Huo CY, Mohammed MOA, Liu LY, Kannan K, Li YF (2016) Phthalates in dormitory and house dust of northern Chinese cities. Sci Total Environ 2565:496–502

Main KM, Mortensen GK, Kaleva MM, Boisen KA, Damgaard IN, Chellakooty M, Schmidt IM, Suomi AM, Virtanen HE, Petersen DV, Andersson AM, Toppari J, Skakkebaek NE (2006) Human breast milk contamination with phthalates and alterations of endogenous reproductive hormones in infants three months of age. Environ Health Perspect 114:270–276

Mitro SD, Dodson RE, Singla V, Adamkiewicz G, Elmi AF, Tilly MK, Zota AR (2016) Consumer product chemicals in indoor dust: a quantitative meta-analysis of U.S. studies. Environ Sci Technol 50:10661–11067

NBSC (2014) China statistical yearbook 2014 (in Chinese). National Bureau of Statistics of China, Beijing

Niu L, Xu Y, Xu C, Yun L, Liu W (2014) Status of phthalate esters contamination in agricultural soils across China and associated health risks. Environ Pollut 195:16–23

Orecchio S, Indelicato R, Barreca S (2013) The distribution of phthalate esters in indoor dust of Palermo (Italy). Environ Geochem Health 35:613–624

Pei JJ, Sun YH, Yin YH (2018) The effect of air change rate and temperature on phthalate concentration in house dust. Sci Total Environ 639:760–768

Reyes JM, Price PS (2018) Temporal trends in exposures to six phthalates from biomonitoring data: implications for cumulative risk. Environ Sci Technol 50:10661–11067

Swan SH (2008) Environmental phthalate exposure in relation to reproductive outcomes and other health endpoints in humans. Environ Res 108:177–184

Shen T (2009) Research of analyzing phthalates in indoor air and dust (in Chinese) (Master Degree). Beijing University of Technology, Beijing

Tang D-B (2005) Assessment of import and export phthalate production in China. Plasticizer 1(1):24–28 (in Chinese)

Tian MP, Liu LP, Wang H, Wang XF, Martin FL, Zhang J, Huang QY, Shen HQ (2018) Phthalates induce androgenic effects at exposure levels that can be environmentally relevant in humans. Environ Sci Technol Lett 5:232–236

Wittassek M, Koch HM, Angerer J, Bruening T (2011) Assessing exposure to phthalates - the human biomonitoring approach. Mol Nutr Food Res 55:7–31

Wu B, Zhang Y, Zhang XX, Cheng SP (2011) Health risk assessment of polycyclic aromatic hydrocarbons in the source water and drinking water of China: quantitative analysis based on published monitoring data. Sci Total Environ 410:112–118

Zeng F, Cui K, Xie Z, Liu M, Li Y, Lin Y, Zeng Z, Li F (2008) Occurrence of phthalate esters in water and sediment of urban lakes in a subtropical city, Guangzhou, South China. Environ Int 34(3):372–380

Zhu QQ, Jia JB, Zhang KG, Zhang H, Liao CY, Jiang GB (2019) Phthalate esters in indoor dust from several regions, China and their implications for human exposure. Sci Total Environ 652:1187–1194

Zolfaghari M, Drogu P, Seyhi B, Brar SK, Buelna G, Dubé R (2014) Occurrence, fate and effects of di (2-ethylhexyl) phthalate in wastewater treatment plants: a review. Environ Pollut 194:281–293
Acknowledgements
This work was funded by National Natural Science Foundation of China (Grant No: 41907345), China Postdoctoral Science Foundation (Grant No: 2019M663078), State Key Laboratory of Pollution Control and Resource Reuse Open Funding Project (Grant No: PCRRF18024).
Additional information
Publisher's Note
Springer Nature remains neutral with regard to jurisdictional claims in published maps and institutional affiliations.
Electronic supplementary material
Below is the link to the electronic supplementary material.
About this article
Cite this article
Xu, S., Li, C. Phthalates in House and Dormitory Dust: Occurrence, Human Exposure and Risk Assessment. Bull Environ Contam Toxicol 106, 393–398 (2021). https://doi.org/10.1007/s00128-020-03058-7
Received:

Accepted:

Published:

Issue Date:
Keywords
Phthalates

Indoor dust

Oral ingestion

Health risk assessment