Abstract
Croton floribundus (L.) Spreng trees were exposed to accumulated ozone (O3) levels under laboratory and field conditions and monitored the foliar visible symptoms and BVOC emissions. Plants exposed to O3 in the laboratory presented more substantial damage and significant increase in the BVOC emissions than plants in the field. Caryophyllene and 3-hexen-1-ol emissions were significantly increased in plants exposed to O3 in the laboratory. Under field conditions, methyl salicylate (MeSA) was the majority compound emitted. A positive correlation among the meteorological conditions, O3 and MeSA emission was observed in the field conditions, which may represent a mechanism of tolerance by C. floribundus to deal with long-term exposure to O3.
Access options
Buy single article
Instant access to the full article PDF.
USD 39.95
Price includes VAT (USA)
Tax calculation will be finalised during checkout.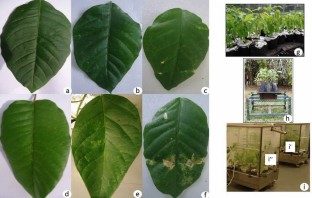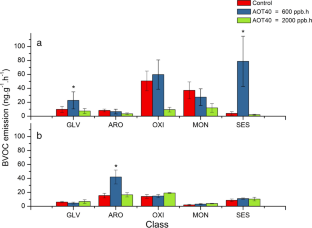 References
Beauchamp J, Wisthaler A, Hansel A, Kleist E, Miebach M, Niinemets U, Shurr U, Wildt J (2005) Ozone induced emission of biogenic VOC from tobacco: relationships between ozone uptake and emission of Lox products. Plant Cell Environ 28(10):1334–13343. https://doi.org/10.1111/j.1365-3040.2005.01383.x

Bison JV, Cardoso-Gustavson P, Moraes RM, Pedrosa SG, Cruz LS, Freschi L, Souza SR (2018) Volatile organic compounds and nitric oxide as responses of a Brazilian tropical species to ozone: the emission profile of young and mature leaves. Environ Sci Pollut R 25(4):3840–3848. https://doi.org/10.1007/s11356-017-0744-1

Bourtsoukidis E, Bonn B, Dittmann A, Hakola H, Hellén H, Jacobi S (2012) Ozone stress as a driving force of sesquiterpene emissions: a suggested parameterization. Biogeosciences 9(11):4337–4352. https://doi.org/10.5194/bg-9-4337-201

Birdsall, C M, Jenkins, A C, and Spadinger, E. (1952) Iodometric determination of ozone. Anal Chem 24(4):662–664. https://doi.org/10.1021/ac60064a013

Calfapietra C, Fares S, Manes F (2013) Role of biogenic organic compounds (BVOC) emitted by urban trees on ozone concentration in cities: a review. Environ Pollut 183:71–80. https://doi.org/10.1016/j.envpol.2013.03.012

Cardoso-Gustavson P, Bolsoni VP, Oliveira DP, Gromboni-Guaratini MT, Aidar MPM, Marabesi MA, Souza SR (2014) Ozone-induced responses in Croton floribundus Spreng. (Euphorbiaceae): metabolic cross-talk between volatile organic compounds and calcium oxalate crystal formation. PLoS ONE 9(8):e105072. https://doi.org/10.1371/journal.pone.0105072

Carvalho LR, Vasconcellos PC, Mantovani W, Pool CS, Pisani SO (2005) Measurements of biogenic hydrocarbons and carbonyl compounds emitted by trees from temperate warm Atlantic rainforest, Brazil. J Environ Monitor 7(5):493–499. https://doi.org/10.1039/B414881A

Fitzky AC, Sandén H, Karl T, Fares S, Calfapietra C, Grote R, Saunier A, Rewald B (2019) The interplay between ozone and urban vegetation – BVOC emissions, ozone deposition, and tree ecophysiology. Front For Glob Change 2:50:1–17. https://doi.org/10.3389/ffgc.2019.00050

Fuhrer J, Skärby L, Ashmore MR (1997) Critical levels for ozone effects on vegetation in Europe. Environ Pollut 97(1–2):91–106. https://doi.org/10.1016/S0269-7491(97)00067-5

Gerosa G, Mrzuoli R, Desotgiu R, Bussotti F, Ballarin-Denti A (2009) Validation of the stomatal flux approach for the assessment of ozone visible injury in young forest trees. Results from the TOP (trans boundary ozone pollution) experiment at Curno Italy. Environ Pollut 157(5):1497–1505. https://doi.org/10.1016/j.envpol.2008.09.042

Ghimire RP, Kivimäenpää M, Kasurinen A, Häikiö E, Holopainen T, Holopainen JK (2017) Herbivore-induced BVOC emissions of Scots pine under warming, elevated ozone and increased nitrogen availability in an open-field exposure. Agric For Meteorol 242:21–32. https://doi.org/10.1016/j.agrformet.2017.04.008

Goldstein AH, Koven CD, Heald CL, Fung IY (2009) Biogenic carbon and anthropogenic pollutants combine to form a cooling haze over the southeastern United States. Proc Natl Acad Sci USA 106(22):8835–8840. https://doi.org/10.1073/pnas.0904128106

Grote R, Samson R, Alonso R, Amorin JH, Cariñanos P, Churkina G, Fares S, Didier TL, Ninemets U, Paoletti E, Tiwary A, Calfapietra C (2016) Functional traits of urban trees: air pollution mitigation potential. Front Ecol Environ 14(10):543–550. https://doi.org/10.1002/fee.1426

Grote R, Sharma M, Ghirardo A, Schnitzler JP (2019) A new modelling approach for estimating abiotic and biotic stress-induced de novo emissions of biogenic volatile organic compounds from plants. Front For Glob Change 2(26):1–13. https://doi.org/10.3389/ffgc.2019.00026

Grulke NE, Heath RL (2019) Ozone effect on plant in natural ecosystems. Plant Biol 21:1–26. https://doi.org/10.1111/plb.12971

Guenther A (2013) Biological and chemical diversity of biogenic volatile organic emissions into the atmosphere. Int J Atmos Sci 2013:1–27. https://doi.org/10.1155/2013/786290

Holopainen JK, Gerhenzon J (2010) Multiple stress factors and the emission of plant VOCs. Trends Plant Sci 15(3):176–184. https://doi.org/10.1016/j.tplants.2010.01.006

Holopainen JK, Kivimäenpää M, Nizkorodov SA (2017) Plant-derived secondary organic material in the air and ecosystems. Trends Plant Sci 22(9):744–753. https://doi.org/10.1016/j.tplants.2017.07.004

Karl T, Guenther A, Turnipseed A, Patton EG, Jardine K (2008) Chemical sensing of plant stress at the ecosystem scale. Biogensciences 5(3):2381–2399. Doi:https://doi.org/10.5194/bg-5-1287-2008

Loreto F, Barta C, Brilli F, Nogues I (2006) On the induction of volatile organic compound emissions by plants as consequence of wounding or fluctuations of light and temperature. Plant Cell Environ 29(9):1820–1828. https://doi.org/10.1111/j.1365-3040.2006.01561.x

Loreto F, Pollastri S, Fineschi S, Velikova V (2014) Volatile isoprenoids and their importance for protection against environmental constraints in the Mediterranean area. Environ Exp Bot 103:99–106. https://doi.org/10.1016/j.envexpbot.2013.09.005

Moura BB, Souza SR, Segala EA (2014) Response of Brazilian native trees to controlled ozone dose. Environ Sci Pollut Res 21(6):4220–4227. https://doi.org/10.1007/s11356-013-2326-1

Orlando JP, Alvim DS, Yamazaki A, Corrêa SM, Gatti LV (2010) Ozone precursors for the São Paulo metropolitan area. Sci Total Environ 408(7):1612–1620. https://doi.org/10.1016/j.scitotenv.2009.11.060

Pazouki L, Kanagendran A, Li S, Kännaste A, Memari HR, Bichele R, Niinemets Ü (2016) Mono- and sesquiterpene release from tomato (Solanum lycopersicum) leaves upon mild and severe heat stress and through recovery: from gene expression to emission responses. Environ Exp Bot 132:1–15. https://doi.org/10.1016/j.envexpbot.2016.08.003

Peñuelas J, Staudt M (2010) BVOCs and global change. Trends Plant Sci 15:133–144. https://doi.org/10.1016/j.tplants.2009.12.005

Pinto DM, Blande JD, Souza SR, Nerg AM, Holopainen JK (2010) Plant volatile organic compounds (VOCs) in ozone (O3) polluted atmospheres: the ecological effects. J Chem Ecol 36(1):22–34. https://doi.org/10.1007/s10886-009-9732-3

Rao MV, Lee HI, Creelman RA, Mullet JE, Davis KR (2000) Jasmonic acid signaling modulates ozone-induced hypersensitive cell death. The Plant Cell 12(9):1633–1646. https://doi.org/10.1105/tpc.12.9.1633

Sofiev M, Tuovinen JP (2001) Factor determines the robustness of AOT40 and other ozone exposure indices. Atmos Environ 35:3521–3528. doi:https://doi.org/10.1016/S1352-2310(01)00086-3

Souza SR, Pagliuso JD (2009) Design and assembly of an experimental laboratory for the study of atmosphere–plant interactions in the system of fumigation chambers. Environ Monit Assess 158:243–249. https://doi.org/10.1007/s10661-008-0578-x

Souza SR, Blande JD, Holopainen JK (2013) Pre-exposure to nitric oxide modulates the effect of ozone on oxidative defenses and volatile emissions in lima bean. Environ Pollut 179:111–119. https://doi.org/10.1016/j.envpol.2013.03.065

Tiwari S, Grote R, Churkina G, Butler T (2016) Ozone damage, detoxification and the role of isoprenoids–-new impetus for integrated models. Funct Plant Biol 43(4):324–336. https://doi.org/10.1071/FP15302

VDI (2003) Blatt 2: biological measuring techniques for the determination and evaluation of effects of air pollutants on plants (bioindication)—VDI/DIN Handbuch Reinhaltung der Luft, Band 1a

Vickers CE, Gershenzon J, Lerdau MT, Loreto F (2009) A unified mechanism of action for volatile isoprenoids in plant abiotic stress. Nat Chem Biol 5:283–291. https://doi.org/10.1038/nchembio.158

Yuan X, Feng Z, Liu S, Shang B, Li P, Xu Y, Paoletti E (2017) Concentration- and flux-based dose-responses of isoprene emission from poplar leaves and plants exposed to an ozone concentration gradient. Plant Cell Environ 40(9):1960–1971. https://doi.org/10.1111/pce.13007
Acknowledgements
The authors would like to thank "Fundação de Amparo à Pesquisa do Estado de São Paulo - FAPESP" (FAPESP 16/24109-3) for financial support. Giselle da Silva Pedrosa thank Universidade Federal do ABC for the scholarship of Doctoral degree. Ricardo Marcondes Bugarelli, Debora Pinheiro de Oliveira and Josiane Valeria Bison, thanks Conselho Nacional de Desenvolvimento Científico e Tecnologico (CNPq) for scholarship of Master degree. Silvia Ribeiro de Souza also thanks CNPq for the fellowship of research productivity granted (307281/2013-2).
Additional information
Publisher's Note
Springer Nature remains neutral with regard to jurisdictional claims in published maps and institutional affiliations.
About this article
Cite this article
da Silva Pedrosa, G., de Oliveira, D.P., Bison, J.V.S. et al. Biogenic Volatile Organic Compounds Emission of Brazilian Atlantic Tree Grown Under Elevated Ozone in Ambient Controlled and Field Conditions. Bull Environ Contam Toxicol 105, 958–966 (2020). https://doi.org/10.1007/s00128-020-03056-9
Received:

Accepted:

Published:

Issue Date:
Keywords
Croton Floribundus

Pioneer tree

Induced emissions

Ozone response