Abstract
We experimentally investigated the toxicity of stannic oxide nanoparticles (SnO2 NPs) to three freshwater species including Scenedesmus obliquus, Daphnia magna, and Danio rerio. To evaluate effect, toxicological impacts were compared to that of stannic chloride (SnCl4). Based on the actual concentration of Sn, SnO2 NPs suspensions inhibited growth of S. obliquus in a dose-dependent manner, demonstrating a median effect concentration of 2.28 ± 0.53 mg/L. However, SnO2 NP suspensions were found to exhibit limited acute toxicity in D. magna and D. rerio. Moreover, the toxicity of the SnO2 NP suspension was lower than SnCl4 for all three trophic aquatic organisms. Comparison of component-specific contribution to overall toxicity indicated that, in SnO2 NP suspensions, particulate Sn more significantly contributed to toxicity than dissolved Sn-ions. Furthermore, we found that the toxic mechanism of the SnO2 NP suspension involved the induction of oxidative stress by increasing intracellular ROS accumulation.
Access options
Buy single article
Instant access to the full article PDF.
USD 39.95
Price includes VAT (USA)
Tax calculation will be finalised during checkout.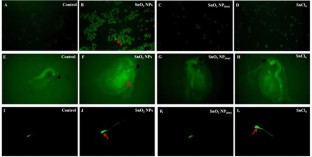 References
Arenas-Lago D, Abdolahpur Monikh F, Vijver MG, Peijnenburg WJGM (2019) Dissolution and aggregation kinetics of zero valent copper nanoparticles in (simulated) natural surface waters: Simultaneous effects of pH, NOM and ionic strength. Chemosphere 226:841–850

Bhattacharjee A, Ahmaruzzaman M, Sinha T (2015) A novel approach for the synthesis of SnO2 nanoparticles and its application as a catalyst in the reduction and photodegradation of organic compounds. Spectrochim Acta Part A Mol Biomol Spectrosc 136:751–760

Carbone S, Hertel-Aas T, Joner EJ, Oughton DH (2016) Bioavailability of CeO2 and SnO2 nanoparticles evaluated by dietary uptake in the earthworm Eisenia fetida and sequential extraction of soil and feed. Chemosphere 162:16–22

Chávez-Calderón A, Paraguay-Delgado F, Orrantia-Borunda E, Luna-Velasco A (2016) Size effect of SnO2 nanoparticles on bacteria toxicity and their membrane damage. Chemosphere 165:33–40

Chen G, Vijver MG, Peijnenburg WJGM (2015) Summary and analysis of the currently existing literature data on metal-based nanoparticles published for selected aquatic organisms: Applicability for toxicity prediction by (Q)SARs. Alternatives to laboratory animals. ATLA 43(4):221–240

Choi J, Zheng Q, Katz HE, Guilarte TR (2010) Silica-based nanoparticle uptake and cellular response by primary microglia. Environ Health Perspect 118(5):589–595

Daiyan R, Lovell EC, Bedford NM, Saputera WH, Wu K-H, Lim S, Horlyck J, Ng YH, Lu X, Amal R (2019) Modulating activity through defect engineering of Tin oxides for electrochemical CO2 reduction. Adv Sci 6(18):1900678

Das S, Jayaraman V (2014) SnO2: a comprehensive review on structures and gas sensors. Prog Mater Sci 66:112–255

Domínguez GA, Torelli MD, Buchman JT, Haynes CL, Hamers RJ, Klaper RD (2018) Size dependent oxidative stress response of the gut of Daphnia magna to functionalized nanodiamond particles. Environ Res 167:267–275

Elango G, Roopan SM (2016) Efficacy of SnO2 nanoparticles toward photocatalytic degradation of methylene blue dye. J Photochem Photobiol B 155:34–38

Hristozov D, Gottardo S, Semenzin E, Oomen A, Bos P, Peijnenburg W, van Tongeren M, Nowack B, Hunt N, Brunelli A, Scott-Fordsmand JJ, Tran L, Marcomini A (2016) Frameworks and tools for risk assessment of manufactured nanomaterials. Environ Int 95:36–53

Hu X, Cook S, Wang P, Hwang H-M (2009) In vitro evaluation of cytotoxicity of engineered metal oxide nanoparticles. Sci Total Environ 407(8):3070–3072

Hu X, Ouyang S, Mu L, An J, Zhou Q (2015) Effects of graphene oxide and oxidized carbon nanotubes on the cellular division, microstructure, uptake, oxidative stress, and metabolic profiles. Environ Sci Technol 49(18):10825–10833

Johari SA, Sarkheil M, Behzadi Tayemeh M, Veisi S (2018) Influence of salinity on the toxicity of silver nanoparticles (AgNPs) and silver nitrate (AgNO3) in halophilic microalgae, Dunaliella salina. Chemosphere 209:156–162

Johari SA, Rasmussen K, Gulumian M, Ghazi-Khansari M, Tetarazako N, Kashiwada S, Asghari S, Park J-W, Yu IJ (2019) Introducing a new standardized nanomaterial environmental toxicity screening testing procedure, ISO/TS 20787: aquatic toxicity assessment of manufactured nanomaterials in saltwater Lakes using Artemia sp. nauplii. Toxicol Mech Methods 29(2):95–109

Kim SP, Choi MY, Choi HC (2016) Photocatalytic activity of SnO2 nanoparticles in methylene blue degradation. Mater Res Bull 74:85–89

Lead JR, Batley GE, Alvarez PJJ, Croteau M-N, Handy RD, McLaughlin MJ, Judy JD, Schirmer K (2018) Nanomaterials in the environment: Behavior, fate, bioavailability, and effects-An updated review. Environ Toxicol Chem 37(8):2029–2063

Lekamge S, Ball AS, Shukla R, Nugegoda D (2020) The toxicity of nanoparticles to organisms in freshwater. Rev Environ Contam Toxicol 248:1–80

Lewis RW, Bertsch PM, McNear DH (2019) Nanotoxicity of engineered nanomaterials (ENMs) to environmentally relevant beneficial soil bacteria: a critical review. Nanotoxicology 13(3):392–428

Naasz S, Altenburger R, Kühnel D (2018) Environmental mixtures of nanomaterials and chemicals: The Trojan-horse phenomenon and its relevance for ecotoxicity. Sci Total Environ 635:1170–1181

Ng AMC, Guo MY, Leung YH, Chan CMN, Wong SWY, Yung MMN, Ma APY, Djurišić AB, Leung FCC, Leung KMY, Chan WK, Lee HK (2015) Metal oxide nanoparticles with low toxicity. J Photochem Photobiol B 151:17–24

OECD (2006) Guidelines for Testing of Chemicals. Freshwater Alga and Cyanobacteria, Growth Inhibition Test. No. 201. Organisation for Economic Co-operation and Development, Paris

Peijnenburg WJGM, Baalousha M, Chen J, Chaudry Q, von der kammer F, Kuhlbusch TAJ, Lead J, Nickel C, Quik JTK, Renker M, Wang Z, Koelmans AA (2015) A review of the properties and processes determining the fate of engineered nanomaterials in the aquatic environment. Crit Rev Environ Sci Technol 45(19):2084–2134

Peijnenburg WJGM, Ruggiero E, Boyles M, Murphy F, Stone V, Elam DA, Werle K, Wohlleben W (2020) A method to assess the relevance of nanomaterial dissolution during reactivity testing. Materials 13(10):E2235

Roopan SM, Kumar SHS, Madhumitha G, Suthindhiran K (2015) Biogenic-production of SnO2 nanoparticles and its cytotoxic effect against hepatocellular carcinoma cell line (HepG2). Appl Biochem Biotechnol 175(3):1567–1575

Skjolding LM, Sørensen SN, Hartmann NB, Hjorth R, Hansen SF, Baun A (2016) Aquatic ecotoxicity testing of nanoparticles-the quest to disclose nanoparticle effects. Angew Chem Int Ed 55(49):15224–15239

Toussaint MW, Shedd TR, van der Schalie WH, Leather GR (1995) A comparison of standard acute toxicity tests with rapid-screening toxicity tests. Environ Toxicol Chem 14(5):907–915

Vidhu VK, Philip D (2015) Biogenic synthesis of SnO2 nanoparticles: Evaluation of antibacterial and antioxidant activities. Spectrochim Acta Part A Mol Biomol Spectrosc 134:372–379

Vittori Antisari L, Carbone S, Gatti A, Vianello G, Nannipieri P (2013) Toxicity of metal oxide (CeO2, Fe3O4, SnO2) engineered nanoparticles on soil microbial biomass and their distribution in soil. Soil Biol Biochem 60:87–94

Vittori Antisari L, Carbone S, Gatti A, Vianello G, Nannipieri P (2015) Uptake and translocation of metals and nutrients in tomato grown in soil polluted with metal oxide (CeO2, Fe3O4, SnO2, TiO2) or metallic (Ag, Co, Ni) engineered nanoparticles. Environ Sci Pollut Res 22(3):1841–1853

Wang Z, Zhang F, Wang S, Peijnenburg WJGM (2017) Assessment and prediction of joint algal toxicity of binary mixtures of graphene and ionic liquids. Chemosphere 185:681–689

Xiao Y, Vijver MG, Chen G, Peijnenburg WJGM (2015) Toxicity and accumulation of Cu and ZnO nanoparticles in Daphnia magna. Environ Sci Technol 49(7):4657–4664

Zhu B, He W, Hu S, Kong R, Yang L (2019a) The fate and oxidative stress of different sized SiO2 nanoparticles in zebrafish (Danio rerio) larvae. Chemosphere 225:705–712

Zhu Y, Liu X, Hu Y, Wang R, Chen M, Wu J, Wang Y, Kang S, Sun Y, Zhu M (2019b) Behavior, remediation effect and toxicity of nanomaterials in water environments. Environ Res 174:54–60
Acknowledgements
This work was supported by the National Natural Science Foundation of China (Grant Number 31971522), the Natural Science Foundation of Jiangsu Province (Grant Number BK20191403), and Guangdong Provincial Key Laboratory of Soil and Groundwater Pollution Control (Grant Number 2017B030301012). We are grateful for the technical help from Yinghan Liu (Nanjing University of Information Science and Technology) with the fluorescent measurements. We thank the editor and the reviewers for constructive comments and suggestions.
Additional information
Publisher's Note
Springer Nature remains neutral with regard to jurisdictional claims in published maps and institutional affiliations.
Electronic supplementary material
Below is the link to the electronic supplementary material.
About this article
Cite this article
Wang, Z., Song, L., Zhang, F. et al. Comparative Acute Toxicity and Oxidative Stress Responses in Three Aquatic Species Exposed to Stannic Oxide Nanoparticles and Stannic Chloride. Bull Environ Contam Toxicol 105, 841–846 (2020). https://doi.org/10.1007/s00128-020-03052-z
Received:

Accepted:

Published:

Issue Date:
Keywords
Stannic oxide

Nanoparticles

Aquatic organisms

Toxicity

Oxidative stress