Abstract
Because the mechanism of tissue-specific toxicity of tributyltin (TBT) in aquatic organisms has not been explained clearly, the aim of this study is to investigate the effect of chronic exposure to TBT on muscle-related energy metabolism, gill-related ATPase enzymatic system and intestine-related digestive enzymes activities in zebrafish. Male zebrafish were exposed to sub-lethal concentrations of TBT (10, 100 and 300 ng/L) for 6 weeks. Multiple biomarkers were measured (such as glucose, lactate, hexokinase, pyruvate kinase, lactate dehydrogenase, ATP content, ATPases, trypsin, lipase and amylase), which reflected more serious physiological stress with increasing TBT concentrations during the experimental period. Through principal component analysis (PCA) and integrated biomarker response (IBR) analysis, the toxic effect of TBT in zebrafish was in a concentration-dependent manner. Shortly, the results of this study can provide new evidence for a comprehensive understanding of the toxic effects of TBT.
Access options
Buy single article
Instant access to the full article PDF.
USD 39.95
Price includes VAT (USA)
Tax calculation will be finalised during checkout.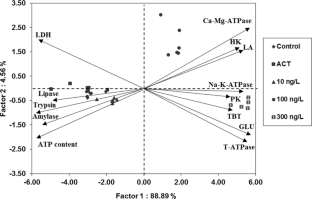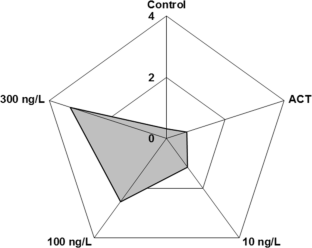 References
Ajima MNO, Pandey PK, Kumar K, Poojary N (2018) Alteration in DNA structure, molecular responses and Na+ -K+ -ATPase activities in the gill of Nile tilapia, Oreochromis niloticus (Linnaeus, 1758) in response to sub-lethal verapamil. Ecotoxicol Environ Saf 147:809–816

Basak T, Varshney S, Akhtar S, Sengupta S (2015) Understanding different facets of cardiovascular diseases based on model systems to human studies: a proteomic and metabolomic perspective. J Proteomics 127:50–60

Batista RM, Castro IB, Fillmann G (2016) Imposex and butyltin contamination still evident in Chile after TBT global ban. Sci Total Environ 566–567:446–453

Beliaeff B, Burgeot T (2002) Integrated biomarker response: A useful tool for ecological risk assessment. Environ Toxicol Chem 21:1316–1322

Bradford MM (1976) Rapid and sensitive method for quantitation of microgram quantities of protein utilizing principle of protein dye binding. Anal Biochem 72:248–254

Broeg K, Lehtonen KK (2006) Indices for the assessment of environmental pollution of the Baltic Sea coasts: Integrated assessment of a multi-biomarker approach. Mar Pollut Bull 53:508–522

Cao D, Jiang G, Zhou Q, Yang R (2009) Organotin pollution in China: an overview of the current state and potential health risk. J Environ Manage 90(Suppl 1):S16-24

Ehrhart F, Roozen S, Verbeek J, Koek G, Kok G, van Kranen H, Evelo CT, Curfs LMG (2019) Review and gap analysis: molecular pathways leading to fetal alcohol spectrum disorders. Mol Psychiatry 24:10–17

Fu F, Cheng VW, Wu Y, Tang Y, Weiner JH, Li L (2013) Comparative proteomic and metabolomic analysis of Staphylococcus warneri SG1 cultured in the presence and absence of butanol. J Proteome Res 12:4478–4489

Gosz E, Horbowy J, Ruczynska W, Zietara MS (2011) Enzymatic activities in spermatozoa and butyltin concentrations in Baltic turbot (Scophthalmus maximus). Mar Environ Res 72:188–195

Iglesias MCA (2020) A review of recent advances and future challenges in freshwater salinization. Limnetica 39:185–211

Li ZH, Zlabek V, Velisek J, Grabic R, Machova J, Randak T (2009) Responses of antioxidant status and Na+-K+-ATPase activity in gill of rainbow trout, Oncorhynchus mykiss, chronically treated with carbamazepine. Chemosphere 77:1476–1481

Li ZH, Zlabek V, Grabic R, Li P, Machova J, Velisek J, Randak T (2010) Effects of exposure to sublethal propiconazole on intestine-related biochemical responses in rainbow trout, Oncorhynchus mykiss. Chem-Biol Interact 185:241–246

Li ZH, Zlabek V, Velisek J, Grabic R, Machova J, Randak T (2010) Enzymatic alterations and RNA/DNA ratio in intestine of rainbow trout, Oncorhynchus mykiss, induced by chronic exposure to carbamazepine. Ecotoxicology 19:872–878

Li ZH, Zlabek V, Turek J, Velisek J, Pulkrabova J, Kolarova J, Sudova E, Berankova P, Hradkova P, Hajslova J, Randak T (2011) Evaluating environmental impact of STPs situated on streams in the Czech Republic: An integrated approach to biomonitoring the aquatic environment. Water Res 45:1403–1413

Li ZH, Zhong LQ, Mu WN, Wu YH (2016) Alteration of parameters of energy metabolism and ATPase enzymatic system in juvenile common carp (Cyprinus carpio) chronically exposed to tributyltin. Czech J Anim Sci 61:326–332

Liu ZH, Li YW, Hu W, Chen QL, Shen YJ (2020) Mechanisms involved in tributyltin-enhanced aggressive behaviors and fear responses in male zebrafish. Aquat Toxicol 220:105408

Martinez-Moya P, Niehaus K, Alcaino J, Baeza M, Cifuentes V (2015) Proteomic and metabolomic analysis of the carotenogenic yeast Xanthophyllomyces dendrorhous using different carbon sources. BMC Genomics 16:289

Meena RM, Garg A, Jadhav S (2009) Seasonal variation in organotins in the waters of the Dona Paula Bay, west coast of India. Bull Environ Contam Toxicol 82:586–589

Morgan PG, Higdon R, Kolker N, Bauman AT, Ilkayeva O, Newgard CB, Kolker E, Steele LM, Sedensky MM (2015) Comparison of proteomic and metabolomic profiles of mutants of the mitochondrial respiratory chain in Caenorhabditis elegans. Mitochondrion 20:95–102

Mujahid M, Prasuna ML, Sasikala C, Ramana Ch, V., (2015) Integrated metabolomic and proteomic analysis reveals systemic responses of Rubrivivax benzoatilyticus JA2 to aniline stress. J Proteome Res 14:711–727

Peterson EK, Schulte BA (2016) Impacts of Pollutants on Beavers and Otters with Implications for Ecosystem Ramifications. J Contemp Wat Res Ed 157:33–45

Sun P, Pavlostathis SG, Huang CH (2014) Photodegradation of veterinary ionophore antibiotics under UV and solar irradiation. Environ Sci Technol 48:13188–13196

Wang WD, Chen GT, Hsu HJ, Wu CY (2015) Aryl hydrocarbon receptor 2 mediates the toxicity of Paclobutrazol on the digestive system of zebrafish embryos. Aquat Toxicol 159:13–22

Xie DM, Li YW, Liu ZH, Chen QL (2019) Inhibitory effect of cadmium exposure on digestive activity, antioxidant capacity and immune defense in the intestine of yellow catfish (Pelteobagrus fulvidraco). Comp Biochem Phys C 222:65–73

Yu Q, Plotto A, Baldwin EA, Bai J, Huang M, Yu Y, Dhaliwal HS, Gmitter FG Jr (2015) Proteomic and metabolomic analyses provide insight into production of volatile and non-volatile flavor components in mandarin hybrid fruit. BMC Plant Biol 15:76

Zhang JL, Sun P, Kong T, Yang F, Guan WC (2016) Tributyltin promoted hepatic steatosis in zebrafish (Danio rerio) and the molecular pathogenesis involved. Aquat Toxicol 170:208–215

Zhang CN, Zhang JL, Ren HT, Zhou BH, Wu QJ, Sun P (2017) Effect of tributyltin on antioxidant ability and immune responses of zebrafish (Danio rerio). Ecotoxicol Environ Saf 138:1–8

Zhou JS, Guo P, Yu HB, Ji H, Lai ZW, Chen YA (2019) Growth performance, lipid metabolism, and health status of grass carp (Ctenopharyngodon idella) fed three different forms of sodium butyrate. Fish Physiol Biochem 45:287–298
Acknowledgments
This work was financially supported by the Hubei Provincial Natural Science Funds for Distinguished Young Scholar, China (No. 2017CFA071), National Key R&D Program of China (2018YFD0900902, 2018YFD0900905), and the Natural Science Foundation of Shandong Province, China (No.ZR2019MC011).
Additional information
Publisher's Note
Springer Nature remains neutral with regard to jurisdictional claims in published maps and institutional affiliations.
About this article
Cite this article
Li, P., Li, ZH. Tributyltin Induces the Tissue-Specific Stresses in Zebrafish, a Study in Various Tissues of Muscle, Gill and Intestine. Bull Environ Contam Toxicol 105, 847–852 (2020). https://doi.org/10.1007/s00128-020-03048-9
Received:

Accepted:

Published:

Issue Date:
Keywords
Tributyltin

Zebrafish

Tissue-specific index

Statistical analysis