Abstract
The carbon and nitrogen stable isotope compositions of the sediment organic matter, fish feed and fish feces were measured to assess the impact of the aquaculture waste from the cage fish farm in Poyang Lake. The results provide evidence of the non-negligible effect of aquaculture waste on the sediment organic matter. The δ13C and δ15N of sediments varied from − 27.62 to − 25.66‰ and 4.83 to 6.92‰, respectively. The sediment organic matter had a mixed source of waste feed, fish feces and plankton. The average contribution ratio of waste feed and fish feces was 53.1% and 24.6%, respectively. The aquaculture derived organic matter ratio was high with ranging from 57.6 to 95.6%. The aquaculture waste seemed to disperse widely enough to influence the study site about 2.5 km distance from the cage. The dispersion and resuspension were the main two factors which can explain the great effect area found in this study.
Access options
Buy single article
Instant access to the full article PDF.
USD 39.95
Price includes VAT (USA)
Tax calculation will be finalised during checkout.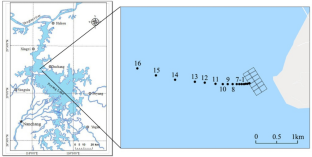 References
Amir M, Paul D, Samal RN (2019) Sources of organic matter in Chilika lagoon, India inferred from stable C and N isotopic compositions of particulates and sediments. J Mar Syst 194:81–90

Apostolaki ET, Tsagaraki T, Tsapakis M, Karakassis I (2007) Fish farming impact on sediments and macrofauna associated with seagrass meadows in the Mediterranean. Estuar Coast Shelf Sci 75(3):408–416

Barrios-de Pedro S, Rogers KM, Alcorlo P, Buscalioni ÁD (2020) Food web reconstruction through isotopic compositions of fossil faeces: insights into the ecology of a late Barremian freshwater ecosystem (Las Hoyas, Cuenca, Spain). Cretaceous Res 108:104343

Barros GV, Martinelli LA, Novais TMO, Ometto JPHB, Zuppi GM (2010) Stable isotopes of bulk organic matter to trace carbon and nitrogen dynamics in an estuarine ecosystem in Babitonga Bay (Santa Catarina, Brazil). Sci Total Environ 408(10):2226–2232

Boutton TW (1991) Stable isotope ratios of natural materials: II. Atmospheric, terrestrial, marine, and freshwater environments. In: Coleman DC, Fry B (eds) Carbon isotope techniques. Academic Press, New York, pp 173–185

Chouvelon T, Spitz J, Caurant F, Mèndez-Fernandez P, Chappuis A, Laugier F, Le Goff E, Bustamante P (2012) Revisiting the use of δ15N in meso-scale studies of marine food webs by considering spatio-temporal variations in stable isotopic signatures – The case of an open ecosystem: the Bay of Biscay (North-East Atlantic). Prog Oceanogr 101(1):92–105

Cifuentes LA, Coffins RB, Slolrzano L, Cardenas W, Espinoza J, Twilley RR (1996) Isotopic and elemental variations of carbon and nitrogen in a mangrove estuary. Estuar Coast Shelf Sci 43(6):781–800

Cromey CJ, Nickell TD, Black KD (2002) DEPOMOD-modelling the deposition and biological effects of waste solids from marine cage farms. Aquaculture 214:211–239

da Silva Cacho JC, Teixeira de Moura RS, Henry-Silva GG (2020) Influence of Nile tilapia (Oreochromis niloticus) fish farming in net cages on the nutrient and particulate matter sedimentation rates in Umari reservoir. Braz Semi-Arid Aquacult Rep 17:100358

Dang DH, Evans RD, Durrieu G, Layglon N, El Houssainy A, Mullot JU, Lenoble V, Mounier S, Garnier C (2018) Quantitative model of carbon and nitrogen isotope composition to highlight phosphorus cycling and sources in coastal sediments (Toulon Bay, France). Chemosphere 195:683–692

David MB, Schell DM (2001) Mixing models in analyses of diet using multiple stable isotopes: a response. Oecologia 127:180–184

Dolenec T, Lojen S, Kniewald G, Dolenec M, Rogan N (2007) Nitrogen stable isotope composition as a tracer of fish farming in invertebrates Aplysina aerophoba, Balanus perforatus and Anemonia sulcata in central Adriatic. Aquaculture 262(2–4):237–249

Gearing JN (1988) The use of stable isotope ratios for tracing the nearshore-offshore exchange of organic matter. In: Jansson BO (ed) Lecture notes on coastal and estuarine studies. Springer, Berlin, pp 69–101

Gondwe MJ, Guildford SJ, Hecky RE (2012) Tracing the flux of aquaculture-derived organic wastes in the southeast arm of Lake Malawi using carbon and nitrogen stable isotopes. Aquaculture 350–353:8–18

Goni MA, Teixeira MJ, Perkey DW (2003) Sources and distribution of organic matter in a river dominated estuary (Winyah Bay, SC, USA). Estuar Coast Shelf Sci 57:1023–1048

Grey J, Waldron S, Hutchinson R (2004) The utility of carbon and nitrogen isotope analyses to trace contributions from fish farms to the receiving communities of freshwater lakes: a pilot study in Esthwaite water UK. Hydrobiologia 524(1):253–262

Gu YG, Ouyang J, Ning JJ, Wang ZH (2017) Distribution and sources of organic carbon, nitrogen and their isotopes in surface sediments from the largest mariculture zone of the eastern Guangdong coast, South China. Mar Pollut Bull 120(1–2):286–291

Hall POJ, Anderson LG, Holby O, Kollberg S, Samuelsson MO (1990) Chemical fluxes and mass balances in a marine fish cage farm I. Carbon. Mar Ecol Prog Ser 61:61–73

Hall POJ, Holby O, Kollberg S, Samuelsson MO (1992) Chemical fluxes and mass balances in a marine fish cage farm. 4. Nitrogen. Mar Ecol Prog Ser 89:81–91

Hamilton SK, JrWM L (1992) Stable carbon and nitrogen isotopes in algae and detritus from the Orinoco River floodplain, Venezuela. Geochim Cosmochim Acta 56:4237–4246

Han G, Tang Y, Liu M, Van Zwieten L, Yang X, Yu C, Wang H, Song Z (2020) Carbon-nitrogen isotope coupling of soil organic matter in a karst region under land use change, Southwest China. Agric Ecosyst Environ 301:107027

Heaton THE (1986) Isotopic studies of nitrogen pollution in the hydrosphere and atmosphere: a review. Chem Geol 59:87–102

Holby O, Hall POJ (1991) Chemical fluxes and mass balances in a marine fish cage farm II. Phosphorus. Mar Ecol Prog Ser 70:263–272

Holmer M, Marba N, Diaz-Almela E, Duarte CM, Tsapakis M, Danovaro R (2007) Sedimentation of organic matter from fish farms in oligotrophic Mediterranean assessed through bulk and stable isotope (δ13C and δ15N) analyses. Aquaculture 262(2–4):268–280

Jan RQ, Kao SJ, Dai CF, Ho CT (2014) Assessment of the effects of cage fish-farming on damselfish-associated food chains using stable-isotope analyses. Mar Pollut Bull 86:111–121

Karakassis I, Tsapakis M, Hatziyanni E, Papadopoulou K-N, Plaiti W (2000) Impact of cage farming of fish on the seabed in three Mediterranean coastal areas. ICES J Mar Sci 57:1462–1471

Kendall C, Silva SR, Kelly VJ (2001) Carbon and nitrogen isotopic compositions of Particulate organic matter in four large river systems across the United States. Hydrol Proc 15:1301–1346

Krull E, Haynes D, Lamontagne S, Gell P, McKirdy D, Hancock G, McGowan J, Smernik R (2009) Changes in the chemistry of sedimentary organic matter within the Coorong over space and time. Biochemistry 92:9–25

Liao Y, Shou L, Jiang Z, Tang Y, Du P, Zeng J, Chen Q, Yan X, Chen J (2019) Effects of fish cage culture and suspended oyster culture on macrobenthic communities in Xiangshan Bay, a semi-enclosed subtropical bay in eastern China. Mar Pollut Bull 142:475–483

LaZerte BD (1983) Stable carbon isotope ratios: implications for the source sediment carbon and for phytoplankton carbon assimilation in Lake Memphremagog, Quebec. Can J Fish Aquat Sci 40:1658–1666

Kim SH, Kim HC, Choi SH, Lee WC, Jung RH, Hyun JH, Kim SH, Lee JS (2020) Benthic respiration and nutrient release associated with net cage fish and longline oyster aquaculture in the Geoje-Tongyeong coastal waters in Korea. Estuar Coasts 43:589–601

Mariotti A, Landreau A, Simon B (1988) 15N isotope biogeochemistry and natural denitrification process in groundwater: application to the Chalk Aquifer of northern France. Geochim Cosmochim Acta 52:1869–1878

Naylor RL, Goldburg RJ, Primavera JH, Kautsky N, Beveridge MCM, Clay J, Folke C, Lubchenco J, Mooney H, Troell M (2000) Effect of aquaculture on world fish supplies. Nature 405:1017–1024

Onstad GD, Canfield DE, Quay PD, Hedges JH (2000) Sources of particulate organic matter in river from the continental USA: lignin phenol and stable carbon isotope compositions. Geochim Cosmochim Acta 64:3539–3546

Parton WJ, Schimel DS, Cole CV, Ojima DS (1987) Analysis of factors controlling soil organic matter levels in Great Plains grasslands. Soil Sci Soc Am J 51:1173–1179

Pérez OM, Telfer TC, Beveridge MCM, Ross LG (2002) Geographical Information Systems (GIS) as a simple tool to aid modelling of particulate waste distribution at marine fish cage sites. Estuar Coast Shelf Sci 54:761–768

Persic A, Roche H, Ramade F (2004) Stable carbon and nitrogen isotope quantitative structural assessment of dominant species from the Vaccarès Lagoon trophic web (Camargue Biosphere Reserve, France). Estuar Coast Shelf Sci 60(2):261–272

Phillips DL (2001) Mixing models in analyses of diet using multiple stable isotopes: a critique. Oecologia 127:166–170

Qi Z, Shi R, Yu Z, Han T, Li C, Xu S, Liang Q, Yu W, Lin H, Huang H (2019) Nutrient release from fish cage aquaculture and mitigation strategies in Daya Bay, southern China. Mar Pollut Bull 146:399–407

Qian KM, Liu X, Duan M, Chen YW (2016) Distribution and its influencing factors of bloom-forming cyanobacteria in Poyang Lake. China Environ Sci 36(1):261–267 (in Chinese with English abstract)

Redfield AC, Ketchum BH, Rechards FA (1963) The influence of organisms on the composition of seawater. In: Hill MN (ed) The composition of seawater, comparative and descriptive oceanography. Wiley Interscience, New York, pp 26–77

Ridzuan DS, Rawi CSM, Hamid SA, Al-Shami SA (2017) Determination of food sources and trophic position in Malaysian tropical highland streams using carbon and nitrogen stable isotopes. Acta Ecol Sin 37(2):97–104

Rubio-Portillo E, Villamor A, Fernandez-Gonzalez V, Antón J, Sanchez-Jerez P (2019) Exploring changes in bacterial communities to assess the influence of fish farming on marine sediments. Aquaculture 506:459–464

Ruiz-Fernandez AC, Hillaire-Marcel C, Ghaleb B, Soto-Jiménezb M, Páez-Osunab F (2002) Recent sedmientary history of anthropogenic impacts on the Culiacan River Estuary, Northwestern Mexico: geochemical evidence from organic matter and nutrients. Environ Pollut 118:365–377

Sarà G, Scilipoti D, Mazzola A, Modica A (2004) Effects of fish farming waste to sedimentary and particulate organic matter in a southern Mediterranean area (Gulf of Castellammare, Sicily): a multiple stable isotope study (δ13C and δ15N). Aquaculture 234(1–4):199–213

Schlacher TA, Wooldridge TH (1996) Origin and trophic importance of detritus-Evidence from stable isotopes in the benthos of a small, temperate estuary. Oecologia 106:382–388

Thorp JH, Delong MD, Greenwood KS, Casper AF (1998) Isotopic analysis of three food web theories in constricted and floodplain regions of a large river. Oecologia 117:551–563

Tiessen J, Stewart JW, Hunt HW (1984) Concepts of soil organic matter transformation in relation to organo-mineral particle size fractions. Plant Soil 76:287–295

Vander Zanden MJ, Rasmussen JB (1999) Primary consumer δ13C and δ15N and the trophic position of aquatic consumers. Ecology 80:1395–1404

Varol M (2019) Impacts of cage fish farms in a large reservoir on water and sediment chemistry. Environ Pollut 252:1448–1454

Vizzini S, Mazzola A (2004) Stable isotope evidence for the environmental impact of a land-based fish farm in the western Mediterranean. Mar Pollut Bull 49(1–2):61–70

Vizzini S, Mazzola A (2006) The effects of anthropogenic organic matter inputs on stable carbon and nitrogen isotopes in organisms from different trophic levels in a southern Mediterranean coastal area. Sci Total Environ 368:723–731

Vizzini S, Mazzola A (2012) Tracking multiple pathways of waste from a northern bluefin tuna farm in a marine-coastal area. Mar Environ Res 77:103–111

Wai TC, Leung KMY, Wu RSS, Shin PKS, Cheung SG, Li XY, Lee JHW (2011) Stable isotopes as a useful tool for revealing the environmental fate and trophic effect of open-sea-cage fish farm wastes on marine benthic organisms with different feeding guilds. Mar Pollut Bull 63:77–85

Wang ML, Lai JP, Hu KT, Zhang DL, Lai JH (2014) Compositions and sources of stable organic carbon and nitrogen isotopes in surface sediments of Poyang Lake, China. Environ Sci 34(4):1019–1025 (In Chinese with English abstract)

Wu J, Mao C, Deng Y, Guo Z, Liu G, Xu L, Bei L, Su Y, Feng J (2019) Diversity and abundance of antibiotic resistance of bacteria during the seedling period in marine fish cage-culture areas of Hainan, China. Mar Pollut Bull 141:343–349

Wu JP, Calvert SE, Wong CS (1999) Carbon and nitrogen isotope ratios in sedimenting particulate organic matter at an upwelling site off Vancouver Island. Estuar Coast Shelf Sci 48:193–203

Xie B, Huang J, Huang C, Wang Y, Shi S, Huang L (2020) Stable isotopic signatures (δ13C and δ15N) of suspended particulate organic matter as indicators for fish cage culture pollution in Sansha Bay China. Aquaculture 522:735081

Xie Q, Qian L, Liu S, Wang Y, Zhang Y, Wang D (2020) Assessment of long-term effects from cage culture practices on heavy metal accumulation in sediment and fish. Ecotoxicol Environ Saf 194:110433

Yokoyama H, Abo K, Ishihi Y (2006) Quantifying aquaculture-derived organic matter in the sediment in and around a coastal fish farm using stable carbon and nitrogen isotope ratios. Aquaculture 254(1–4):411–425

Yokoyama H, Higano J, Adachi K, Ishihi Y, Yamada Y, Pichitkul P (2002) Evaluation of shrimp polyculture system in Thailand based on stable carbon and nitrogen isotope ratios. Fish Sci 68(4):745–750

Yu FL, Zong YQ, Lloyd JM, Huang GQ, Leng MJ, Kendrick C, Lamb AL, Yim WWS (2010) Bulk organic δ13C and C/N as indicators for sediment sources in the Pearl River delta and estuary, southern China. Estuar Coast Shelf Sci 87:618–630
Acknowledgements
This work was supported by the National Natural Science Foundation of China (41663004); Water Pollution Control and Treatment National science and technology Major Project (2017ZX07301002-05); the Open Project Program of the Key Laboratory of Poyang Lake Environment and Resource Utilization Ministry of Education, Nanchang University (PYH2015-02).
Additional information
Publisher's Note
Springer Nature remains neutral with regard to jurisdictional claims in published maps and institutional affiliations.
About this article
Cite this article
Wang, M., Xiong, X., Liu, J. et al. Carbon and Nitrogen Stable Isotopes Evidence for the Environmental Impact of the Cage Fish Farm in Poyang Lake, China. Bull Environ Contam Toxicol 105, 860–867 (2020). https://doi.org/10.1007/s00128-020-03042-1
Received:

Accepted:

Published:

Issue Date:
Keywords
Cage fish culture

Carbon and nitrogen isotopes

Waste feed

Fish feces

Poyang lake