Abstract
The presence of regulated inorganic contaminants in water such as AsO43− and PO43− anions, is becoming a relevant environmental research topic. The harm that these anions cause to human health and the ecosystem have been reported in several works. The adsorption processes using low-cost materials, such as zeolites, have proven to be an option to removal hazardous contaminants from water. The coal fly ash, a waste from thermoelectrical plants, offers a raw pollutant material to synthesis an effective adsorbent (Zeolite W). In this research was studied the removal of arsenic and phosphates anions from water, applying a functionalized by iron and zirconium Zeolite W, which was modified using a fast and efficient process through microwave-assisted method (1 min at 150°C). The obtained Zeolite W did not show significant changes in its structure and morphology. The maximum adsorption capacity (Qm expressed in mg g−1) was found to be 42.31 (Iron-zirconium-zeolite) and 27.82 (Iron-zeolite) for AsO43−, while it reached 50.89 for PO43− using Zirconium-zeolite. Results showed that functionalized zeolites are efficient adsorbents for hazardous anionic species; therefore, it could be useful for aqueous effluents remediation.
Access options
Buy single article
Instant access to the full article PDF.
USD 39.95
Price includes VAT (USA)
Tax calculation will be finalised during checkout.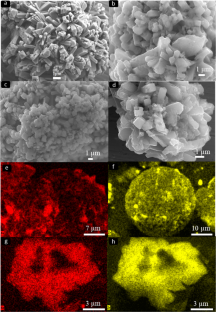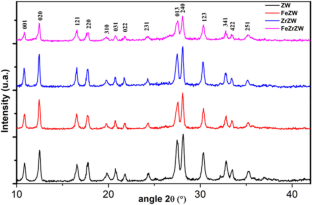 References
Abatal M, Olguin MT, Abdellaoui Y, Bouari AEL (2018) Sorption of Cd(II), Ni(II) and Zn(II) on natural, sodium-, and acid-modified clinoptilolite-rich tuff. Environ Prot Eng 44:42–59. https://doi.org/10.5277/epe180104

Abdellaoui Y, Olguin MT, Abatal M et al (2019) Relationship between Si/Al ratio and the sorption of Cd(II) by natural and modified clinoptilolite-rich tuff with sulfuric acid. Desalin Water Treat 150:157–165. https://doi.org/10.5004/dwt.2019.23792

Abdellaoui Y, Oualid HA, Hsini A, El B (2020) Synthesis of zirconium-modified merlinoite from fly ash for enhanced removal of phosphate in aqueous medium: experimental studies supported by molecular dynamic simulations. Chem Eng J. https://doi.org/10.1016/j.cej.2020.126600

Arcega-Cabrera F, Garza-Pérez R, Noreña-Barroso E, Oceguera-Vargas I (2015) Impacts of geochemical and environmental factors on seasonal variation of heavy metals in a coastal lagoon Yucatan, Mexico. Bull Environ Contam Toxicol 94:58–65. https://doi.org/10.1007/s00128-014-1416-1

Bowman RS (2003) Applications of surfactant-modified zeolites to environmental remediation. Microporous Mesoporous Mater 61:43–56. https://doi.org/10.1016/S1387-1811(03)00354-8

Fu H, Yang Y, Zhu R et al (2018) Superior adsorption of phosphate by ferrihydrite-coated and lanthanum- decorated magnetite. J Colloid Interface Sci 530:704–713. https://doi.org/10.1016/j.jcis.2018.07.025

Gamero-Vega KY, Medina-Ramírez A, Khamkure S et al (2019) Upscaling of W zeolite direct synthesis from coal fly ash and its water adsorption capacity. J Chem Technol Biotechnol 94:3479–3487. https://doi.org/10.1002/jctb.5922

Gao L, Zhang C, Sun Y, Ma C (2019) Effect and mechanism of modification treatment on ammonium and phosphate removal by ferric-modified zeolite. Environ Technol 40:1959–1968. https://doi.org/10.1080/09593330.2018.1435729

He Y, Lin H, Dong Y, Wang L (2017) Preferable adsorption of phosphate using lanthanum-incorporated porous zeolite: characteristics and mechanism. Appl Surf Sci 426:995–1004. https://doi.org/10.1016/j.apsusc.2017.07.272

Houlleberghs M, Breynaert E, Asselman K et al (2019) Evolution of the crystal growth mechanism of zeolite W (MER) with temperature. Microporous Mesoporous Mater 274:379–384. https://doi.org/10.1016/j.micromeso.2018.09.012

Jiménez-Cedillo MJ, Olguín MT, Fall C, Colin A (2011) Adsorption capacity of iron- or iron–manganese-modified zeolite-rich tuffs for As(III) and As(V) water pollutants. Appl Clay Sci 54:206–216. https://doi.org/10.1016/j.clay.2011.09.004

Lee KM, Lim YH, Park CJ, Jo YM (2012) Adsorption of low-level CO2 using modified zeolites and activated carbon. Ind Eng Chem Res 51:1355–1363. https://doi.org/10.1021/ie2013532

Medina-Ramirez A, Gamero-Melo P, Ruiz-Camacho B et al (2019) Adsorption of aqueous As (III) in presence of coexisting ions by a green Fe-modified W zeolite. Water 11:1–17. https://doi.org/10.3390/w11020281

Misaelides P (2011) Application of natural zeolites in environmental remediation: a short review. Microporous Mesoporous Mater 144:15–18. https://doi.org/10.1016/j.micromeso.2011.03.024

Mukaba MJ, Ameh AE, Eze CP, Petrik LF (2019) Evaluation of modified fly ash based naa-zeolite: effect of crystallinity on CO2 adsorption capacity. Environ Eng Manag J 19:475–483

Ping N, Hans-Jorg B, Bing LI et al (2008) Phosphate removal from wastewater by model-La(III) zeolite adsorbents. J Environ Sci 20:670–674. https://doi.org/10.1016/S1001-0742(08)62111-7

Reeve PJ, Fallowfield HJ (2018) Natural and surfactant modified zeolites: a review of their applications for water remediation with a focus on surfactant desorption and toxicity towards microorganisms. J Environ Manage 205:253–261. https://doi.org/10.1016/j.jenvman.2017.09.077

Shannon RD (1976) Revised effective ionic radii and systematic studies of interatomic distances in halides and chalcogenides. Acta Crystallogr Sect A 32:751–767. https://doi.org/10.1107/S0567739476001551

Šiljeg M, Foglar L, Gudelj I (2012) The removal of arsenic from water with natural and modified clinoptilolite. Chem Ecol 28:75–87. https://doi.org/10.1080/02757540.2011.619531

Soni R, Shukla DP (2019) Synthesis of fly ash based zeolite-reduced graphene oxide composite and its evaluation as an adsorbent for arsenic removal. Chemosphere 219:504–509. https://doi.org/10.1016/j.chemosphere.2018.11.203

Velazquez-Peña GC, Olguín-Gutiérrez MT, Solache-Ríos MJ, Fall C (2017) Significance of FeZr-modified natural zeolite networks on fluoride removal. J Fluor Chem 202:41–53. https://doi.org/10.1016/j.jfluchem.2017.09.004

Velazquez-Peña GC, Solache-Ríos M, Olguin MT, Fall C (2019) As(V) sorption by different natural zeolite frameworks modified with Fe, Zr and FeZr. Microporous Mesoporous Mater 273:133–141. https://doi.org/10.1016/j.micromeso.2018.07.003

Yang T, Han C, Liu H et al (2019) Synthesis of Na-X zeolite from low aluminum coal fly ash: characterization and high efficient As(V) removal. Adv Powder Technol 30:199–206. https://doi.org/10.1016/j.apt.2018.10.023
Acknowledgements
This research was possible due to financial support of CONACyT, Mexico and FONCyT-Coahuila, Mexico through the projects number PDCPN-247660 and COAH-2019-C13-C034, respectively.
Additional information
Publisher's Note
Springer Nature remains neutral with regard to jurisdictional claims in published maps and institutional affiliations.
About this article
Cite this article
Abdellaoui, Y., Gamero-Melo, P., Díaz-Jiménez, L. et al. Synthesis and Surface Modification of Small Pore Size Zeolite W for Improving Removal Efficiency of Anionic Contaminants from Water. Bull Environ Contam Toxicol 105, 934–940 (2020). https://doi.org/10.1007/s00128-020-03036-z
Received:

Accepted:

Published:

Issue Date:
Keywords
Zeolite W

Arsenic

Phosphate

Adsorption

Emerging-contaminants removal