Abstract
Propiconazole (PPC) and difenoconazole (DFC) are often combined for field applications. The resulted co-exsistence of PPC and DFC may have an effect on the fate of their individuals in soil. In this study, adsorption, desorption and leaching of PPC and DFC alone and their combinations were investigated in five different soils. Adsorption of PPC and DFC was significantly different on each soil with the Freundlich adsorption coefficients of 2.86–28.69 and 14.86–98.93 negatively correlated with soil pH, respectively. In addition, adsorption of PPC and DFC was declined by 27.12–37.59% and 17.28–25.35% with the presence of coexisting DFC and PPC, respectively. Mobility of PPC and DFC in tested soils was enlarged in coexisting system. The results indicate that adsorption, desorption and mobility of PPC and DFC were mainly affected by soil pH, and these behaviors of individual PPC and DFC were obviously altered by their co-existence.
Access options
Buy single article
Instant access to the full article PDF.
USD 39.95
Price includes VAT (USA)
Tax calculation will be finalised during checkout.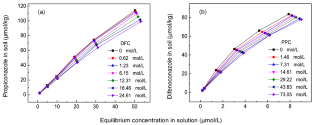 References
Arias-Estévez M, López-Periago E, Martínez-Carballo E, Simal-Gándara J, Mejuto JC, García-Río L (2008) The mobility and degradation of pesticides in soils and the pollution of groundwater resources. Agric Ecosyst Environ 123:247–260

Battaglin WA, Sandstrom MW, Kuivila KM, Kolpin DW, Meyer MT (2011) Occurrence of azoxystrobin, propiconazole, and selected other fungicides in US streams, 2005–2006. Water Air Soil Pollut 218:307–322

Conde-Cid M, Paradelo R, Fernández-Calviño D, Pére-Novo C, Nóvoa-Muñoz JC, Arias-Estévez M (2017) Retention of quaternary ammonium herbicides by acid vineyard soils with different organic matter and Cu contents. Geoderma 293:26–33

Conde-Cid M, Santas-Miguel V, Campillo-Cora C, Perez-Novo C, Fernandez-Calvino D (2019) Retention of propiconazole and terbutryn on acid sandy-loam soils with different organic matter and Cu concentrations. J Environ Manag 248:109346

Conde-Cid M, Ferreira-Coelho G, Nunez-Delgado A, Fernandez-Calvino D, Arias-Estevez M, Alvarez-Rodriguez E, Fernandez-Sanjurjo MJ (2019b) Competitive adsorption of tetracycline, oxytetracycline and chlortetracycline on soils with different pH value and organic matter content. Environ Res 178:108669

de Wilde T, Mertens J, Spanoghe P, Ryckeboer J, Jaeken P, Springael D (2008) Sorption kinetics and its effects on retention and leaching. Chemosphere 72:509–516

Dong X, Zuo Z, Guo J, Li H, Zhang L, Chen M, Yang Z, Wang C (2017) Reproductive effects of life-cycle exposure to difenoconazole on female marine medaka (Oryzias melastigma). Ecotoxicology 26:772–781

Fang S, Yu WS, Li CL, Liu YD, Qiu J, Kong FY (2019) Adsorption behavior of three triazole fungicides on polystyrene microplastics. Sci Total Environ 691:1119–1126

Gopinath K, Radhakrishnan NV, Jayaraj J (2006) Effect of propiconazole and difenoconazole on the control of anthracnose of chilli fruits caused by Colletotrichum capsici. Crop Prot 25:1024–1031

Hamada MS, Yin Y, Ma Z (2011) Sensitivity to iprodione, difenoconazole and fludioxonil of Rhizoctonia cerealis isolates collected from wheat in China. Crop Prot 30:1028–1033

Han LX, Ge QQ, Mei JJ, Cui YL, Xue YF, Yu YL, Fang H (2019) Adsorption and desorption of carbendazim and thiamethoxam in five different agricultural soils. Bull Environ Contam Toxicol 102:550–554

Helling CS, Turner BC (1968) Pesticide mobility: determination by soil thin layer chromatography. Science 162:562–563

Jin XX, Ren JB, Wang BC, Lu Q, Yu YL (2013) Impact of coexistence of carbendazim, atrazine, and imidacloprid on their adsorption, desorption, and mobility in soil. Environ Sci Pollut Res 20:6286–6289

Kah M, Brown CD (2007) Prediction of adsorption of ionizable pesticides in soils. J Agric Food Chem 55:2312–2322

Kodešová R, Kočárek M, Kodeš V, Drábek O, Kozák J, Hejtmánková K (2011) Pesticide adsorption in relation to soil properties and soil type distribution in regional scale. J Hazard Mater 186:540–550

Leistra M, Matser AM (2004) Adsorption, transformation, and bioavailability of the fungicides carbendazim and iprodione in soil, alone and in combination. J Environ Sci Heal B 39:1–17

Li Y, Su PD, Li YD, Wen KJ, Bi GH, Cox M (2018) Adsorption-desorption and degradation of insecticides clothianidin and thiamethoxam in agricultural soils. Chemosphere 207:708–714

Mohapatra S (2016) Dynamics of difenoconazole and propiconazole residues on pomegranate over 2 years under field conditions. Environ Sci Pollut Res 23:5795–5806

Mu XY, Wang K, Chai TT, Zhu LZ, Yang Y, Zhang J, Pang S, Wang CJ, Li XF (2015) Sex specific response in cholesterol level in zebrafish (Danio rerio) after long-term exposure of difenoconazole. Environ Pollut 197:278–286

Munkvold GP, Dixon PM, Shriver JM, Martinson CA (2001) Probabilities for profitable fungicide use against gray leaf spot in hybrid maize. Phytopathology 91:477–484

Pan LX, Feng XX, Cao M, Zhang SW, Huang YF, Xu TH, Jing J, Zhang HY (2019) Determination and distribution of pesticides and antibiotics in agricultural soils from northern China. RSC Adv 9:15686–15693

Paszko T, Jankowska M (2018) Modeling the effect of adsorption on the degradation rate of propiconazole in profiles of Polish Luvisols. Ecotox Environ Safe 161:584–593

Pateiro-Moure M, Arias-Estévez M, Simal-Gándara J (2010) Competitive and non-competitive adsorption/desorption of paraquat, diquat and difenzoquat in vineyard-devoted soils. J Hazard Mater 178:194–201

Sudhakar Y, Dikshit AK (2010) Competitive sorption of pesticides onto treated wood charcoal and the effect of organic and inorganic parameters on adsorption capacity. J Environ Eng 136:1096–1104

Sun JT, Pan LL, Zhan Y, Lu HN, Tsang DCW, Liu WX, Wang XL, Li XD, Zhu LZ (2016) Contamination of phthalate esters, organochlorine pesticides and polybrominated diphenyl ethers in agricultural soils from the Yangtze River Delta of China. Sci Total Environ 544:670–676

Sun SX, Sidhu V, Rong YH, Zheng Y (2018) Pesticide pollution in agricultural soils and sustainable remediation methods: a review. Curr Pollut Rep 4:240–250

Teng MM, Zhao F, Zhou YM, Yan S, Tian SN, Yan J, Meng ZY, Bo S, Wang CJ (2019) Effect of propiconazole on the lipid metabolism of zebrafish embryos (Danio rerio). J Agric Food Chem 67:4623–4631

Villaverde J, Kah M, Brown CD (2008) Adsorption and degradation of four acidic herbicides in soils from southern Spain. Pest Manag Sci 64:703–710

Wang Y, Duh J, Lin K, Chen Y (1996) Movement of three s-triazine herbicides atrazine, simazine, and ametryn in subtropical soils. Bull Environ Contam Toxicol 57:743–750

Wu XM, Li M, Long YH, Liu RX, Yu YL, Fang H, Li SN (2011) Effects of adsorption on degradation and bioavailability of metolachlor in soil. J Soil Sci Plant Nutr 11:83–97

Xing BS, Pignatello JJ, Gigliotti B (1996) Competitive sorption between atrazine and other organic compounds in soils and model sorbents. Environ Sci Technol 30:2432–2440
Acknowledgements
This work was supported by the National Key Research and Development Program of China (2016YFD0200201) and National Natural Science Foundation of China (Nos. 21777141, 41977342).
Additional information
Publisher's Note
Springer Nature remains neutral with regard to jurisdictional claims in published maps and institutional affiliations.
Electronic supplementary material
Below is the link to the electronic supplementary material.
About this article
Cite this article
Wang, F., Cao, D., Shi, L. et al. Competitive Adsorption and Mobility of Propiconazole and Difenoconazole on Five Different Soils. Bull Environ Contam Toxicol 105, 927–933 (2020). https://doi.org/10.1007/s00128-020-03034-1
Received:

Accepted:

Published:

Issue Date:
Keywords
Propiconazole

Difenoconazole

Competitive adsorption

Mobility