Abstract
Soil samples were collected to determine the pollution status, spatial distribution and mobility of Vanadium (V) in soil around an iron smelter in Panzhihua. The results showed that the topsoils and deep soils were unpolluted to moderately polluted and the subsurface soils was unpolluted with V. V concentrations in the topsoils decreased with the increase of the altitudes and the distances to the smelter. There was a great potential mobility of V in soil and the reductive dissolution of reducible V in the topsoils was responsible for the high concentration of V in the deep soils. Therefore, more attention should be paid to the reducible V when evaluating the mobility of V in soil.
Access options
Buy single article
Instant access to the full article PDF.
USD 39.95
Price includes VAT (USA)
Tax calculation will be finalised during checkout.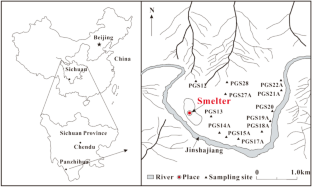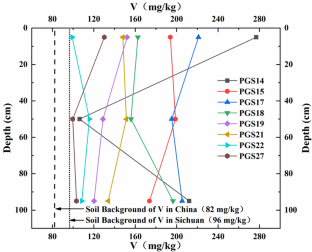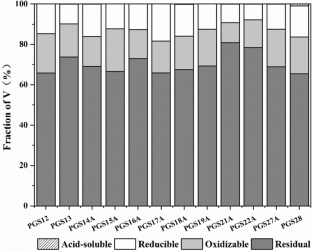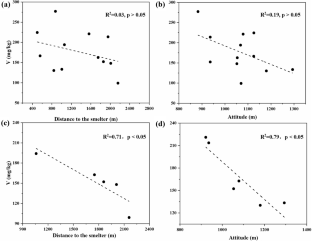 References
Aihemaiti A, Jiang J, Gao Y (2019) The effect of vanadium on essential element uptake of Setaria viridis' seedlings. J Environ Manag 237:399–407

Amorim FAC, Welz B, Costa ANCS, Lepri FG, Vale MGR, Ferreira SLC (2007) Determination of V in petroleum and petroleum products using atomic spectrometric techniques. Talanta 72:359

Anbar AD, Knoll A (2002) Proterozoic ocean chemistry and evolution: a bioinorganic bridge. Science 297:1137–1142

Antoniadis V, Golia EE, Shaheen SM, Rinklebe J (2017) Bioavailability and health risk assessment of potentially toxic elements in Thriasio Plain, near Athens, Greece. Environ Geochem Health 39:319–330

Atonaltzin GJ, Iris TTL, Dagoberto GS, Fernando CGM (2018) Vanadium stimulates pepper plant growth and flowering, increases concentrations of amino acids, sugars and chlorophylls, and modifies nutrient concentrations. PLoS ONE 13(8):e0201908

Bellenger J, Wichard T, Kustka A, Kraepiel A (2008) Uptake of molybdenum and V by a nitrogen-fixing soil bacterium using siderophores. Nat Geosci 1:243–246

Cappuyns V, Swennen R (2014) Release of V from oxidized sediments: insights from different extraction and leaching procedures. Environ Sci Pollut Res 21:2272–2282

CNEMC (China National Environmental Monitoring Centre) (1990) The background values of chinese soils. Environmental Science Press of China, Beijing, China

Fox PM, Doner HE (2003) Accumulation, release, and solubility of arsenic, molybdenum, and V in wetland sediments. J Environ Qual 32:2428–2435

Ghosh SK, Saha R, Saha B (2015) Toxicity of inorganic vanadium compounds. Res Chem Intermed 41:4873–4897

Hope BK (1994) A global biogeochemical budget for V. Sci Total Environ 141:1–10

Huang JH, Huang F, Evans L, Glasauer S (2015) V: global (bio)geochemistry. Chem Geol 417:68–89

Kraepiel A, Bellenger J, Wichard T, Morel F (2009) Multiple roles of siderophores in free-living nitrogen-fixing bacteria. Biometals 22:573–581

Razo I, Carrizales L, Castro J, Díaz-Barriga F, Monroy M (2004) Arsenic and heavy metal pollution of soil, water and sediments in a semi-arid climate mining area in Mexico. Water Air Soil Pollut 152:129–152

Rinklebe J, Kumpiene J, Laing GD, Ok YS (2017) Biogeochemistry of trace elements in the environment—editorial to the special issue. J Environ Manage 186:127–130

Shaheen SM, Rinklebe JR (2014) Geochemical fractions of chromium, copper, and zinc and their vertical distribution in floodplain soil profiles along the Central Elbe River, Germany. Geoderma 228–229:142–159

Shaheen SM, Rinklebe JR (2017) Vanadium in thirteen different soil profiles originating from Germany and Egypt: geochemical fractionation and potential mobilization. Appl Geochem 88:288–301

Teng Y, Ni S, Zhang C (2003) Environmental geochemistry and ecological risk of V pollution in Panzhihua mining and smelting area, Sichuan China. Chin J Geochem 25(4):379–385

Tersago K, De CW, Scheirs J, Vermeulen K, Blust R, Van BD, Verhagen R (2004) Immunotoxicology in wood mice along a heavy metal pollution gradient. Environ Pollut 132:385–394

Vicars WC, Sickman JO (2015) Mineral dust transport to the Sierra Nevada, California: loading rates and potential source areas. J Geophys Res 116:424–424

Wisawapipat W, Kretzschmar R (2017) Solid phase speciation and solubility of vanadium in highly weathered soils. Environ Sci Technol 5:8254

Xiao XY, Yang M, Guo ZH, Jiang ZC, Liu YN, Cao X (2015) Soil V pollution and microbial response characteristics from stone coal smelting district. Trans Nonferrous Metal Soc China 25:1271–1278

Yang J, Tang Y, Yang K, Rouff AA, Elzinga EJ, Huang J (2014) Leaching characteristics of V in mine tailings and soils near a V titanomagnetite mining site. J Hazard Mater 264:498–504

Yang J, Teng Y, Wu J, Chen H, Wang G, Song L, Yue W, Zuo R, Zhai Y (2017) Current status and associated human health risk of V in soil in China. Chemosphere 171:635–643

Zhang B, Wang S, Diao M, Fu J, Xie M, Shi J, Liu Z, Jiang Y, Cao X, Borthwick AGL (2019) Microbial community responses to V distributions in mining geological environments and bioremediation assessment. J Geophys Res Biogeosci 124:601–615

Rauret G, Lopez-Sanchez J, Sahuquillo A, Rubio R, Davidson C, Ure A, Quevauviller P (1999) Improvement of the BCR three step sequential extraction procedure prior to the certification of new sediment and soil reference materials. J Environ Monit 1:57–61
Acknowledgements
This study was supported by the National Key Research and Development Project (2018YFC0214001), and the National Natural Scientific Foundation of China (41977289).
Additional information
Publisher's Note
Springer Nature remains neutral with regard to jurisdictional claims in published maps and institutional affiliations.
Electronic supplementary material
Below is the link to the electronic supplementary material.
About this article
Cite this article
Zhijie, L., Yi, H., Wei, Z. et al. Reducible Fraction Dominates the Mobility of Vanadium in Soil Around an Iron Smelter. Bull Environ Contam Toxicol 105, 915–920 (2020). https://doi.org/10.1007/s00128-020-03029-y
Received:

Accepted:

Published:

Issue Date:
Keywords
Vanadium

Contamination assessment

Speciation

Mobility

Panzhihua