Abstract
Sulfamethoxazole (SMZ) is a kind of sulfonamides antibiotic, which is widely used in human life. This study investigated the effects of SMZ on physiological and biochemical indexes of Chlorella vulgaris (C. vulgaris) and Microcystis aeruginosa (M. aeruginosa) for 35-day. The results showed that SMZ inhibited the growth and Chl-a content of C. vulgaris and M. aeruginosa, and growth inhibition rate was 8.06%–95.86%, Chl-a content decreased 2.44%–98.04%. SMZ resulting in increased SOD and CAT activity and destroyed the dynamic balance of antioxidant system. In addition, SMZ increased the content of malondialdehyde (MDA) in algae, destroyed the cell membrane to a certain extent, which was 1.8–7.3 folds higher than the control group. High concentration of SMZ can make algae cells exceed the limit of cell antioxidant capacity. Coupled with the serious damage of cell membrane, algae cells begin to appear a large number of death phenomenon.
This is a preview of subscription content, log in to check access.
Access options
Buy single article
Instant access to the full article PDF.
US$ 39.95
Tax calculation will be finalised during checkout.
Subscribe to journal
Immediate online access to all issues from 2019. Subscription will auto renew annually.
US$ 199
Tax calculation will be finalised during checkout.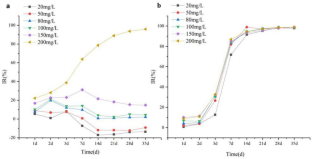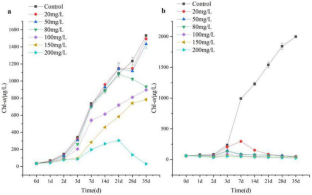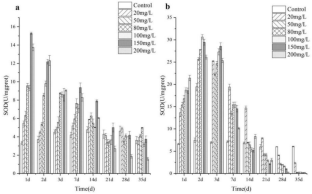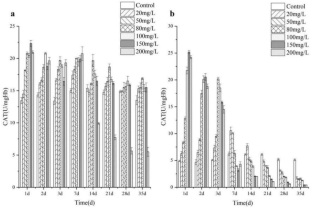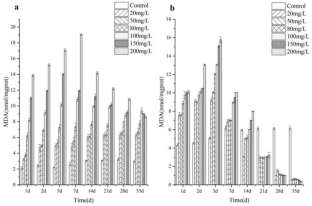 References
Ahmad A, Daschner FD, Kummerer K (1999) Biodegradability of cefotiam, ciprofloxacin, meropenem, penicillin G, and sulfamethoxazole and inhibition of waste water bacteria. Arch Environ Contam Toxicol 37(2):158–163

Bellec L, Grimsley N, Desdevises Y (2010) Isolation of prasinoviruses of the green unicellular algae Ostreococcus spp. on a worldwide geographical scale. Appl Environ Microbiol 76(1):96–101

Bishop DG, Bain JM, Smillie RM (1973) The effect of antibiotics on the ultrastructure and photochemical activity of a developing chloroplast. J Exp Bot 24(2):361–362

Campanella L, Martini E, Tomassetti M (2005) Antioxidant capacity of the algae using a biosensor method. Talanta 66(4):902–911

Chen L, Xie M, Bi Y et al (2012) The combined effects of UV-B radiation and herbicides on photosynthesis, antioxidant enzymes and DNA damage in two bloom-forming cyanobacteria. Ecotoxicol Environ Saf 80(3):224–230

George SB, Robert LM, Gábor B et al (2019) Community dynamics and function of algae and bacteria during winter in central European great lakes. J Great Lakes Res 9:1–9

Gonzà lez-Pleiter M, Gonzalo S, Rodea-Palomares I et al (2013) Toxicity of five antibiotics and their mixtures towards photosynthetic aquatic organisms: implications for environmental risk assessment. Water Res 47(6):2050–2064

Gregor J, Maršálek B (2004) Freshwater phytoplankton quantification by chlorophyll a: a comparative study of in vitro, in vivo and in situ methods. Water Res 38(3):510–522

Guo RX, Chen JQ (2012) Phytoplankton toxicity of the antibiotic chlortetracycline and its UV light degradation products. Chemosphere 87(11):1254–1259

Hong Y, Hu HY, Xie X et al (2009) Gramine-induced growth inhibition, oxidative damage and antioxidant responses in freshwater cyanobacterium Microcystis aeruginosa. Aquat Toxicol 91(3):262–269

Kołodziejska M, Maszkowska J, Białk-Bielińska A et al (2013) Aquatic toxicity of four veterinary drugs commonly applied in fish farming and animal husbandry. Chemosphere 92(9):1253–1259

Li B, Zhang T (2010) Biodegradation and adsorption of antibiotics in the activated sludge process. Environ Sci Technol 44:3468–3473

Liu Y, Guan Y, Gao B et al (2012) Antioxidant responses and degradation of two antibiotic contaminants in Microcystis aeruginosa. Ecotoxicol Environ Saf 86(6):23–30

María ES, Marzio WD, Alberdi JL (2012) Assessment of Cyfluthrin commercial formulation on growth, photosynthesis and catalase activity of green algae. Pestic Biochem Physiol 104(1):50–57

Mario E, Patricia P, Leila C et al (2019) Malondialdehyde interferes with the formation and detection of primary carbonyls in oxidized proteins. Redox Biol 19:1–28

Michael I, Rizzo L, Mcardell CS et al (2013) Urban wastewater treatment plants as hotspots for the release of antibiotics in the environment: a review. Water Res 47(3):957–995

Monmeesil P, Fungfuang W, Tulayakul P et al (2019) The effects of astaxanthin on liver histopathology and expression of superoxide dismutase in rat aflatoxicosis. J Vet Med Sci 1:1–31

Nakayama K, Abe K, Okada M (1983) Light-induced absorbance changes of carotenoids in brown algae. Bot Mag 96(1):29–36

Nie XP, Lu JY, Li X et al (2007) Toxic effects of norfloxacin on the growth and the activity of antioxidase of Chlorella pyrenoidosa. J Asian Ecotoxicol 2(3):327–332

Qian H, Li J, Pan X et al (2012) Effects of streptomycin on growth of algae Chlorella vulgaris and Microcystis aeruginosa. Environ Toxicol 27(4):229–237

Rachna S, Akhand PS, Sunil K et al (2019) Antibiotic resistance in major rivers in the world: a systematic review on occurrence, emergence, and management strategies. J Clean Prod 234:1484–1505

Sahu GK, Sabat SC (2011) Changes in growth, pigment content and antioxidants in the root and leaf tissues of wheat plants under the influence of exogenous salicylic acid. J Plant Physiol 23(3):209–218

Satthong S, Saego K, Kitrungloadjanaporn P et al (2019) Modeling the effects of light sources on the growth of algae. Adv Differ Eqn 2019:1–6

Shao J, Wu Z, Yu G et al (2009) Allelopathic mechanism of pyrogallol to Microcystis aeruginosa PCC7806 (Cyanobacteria): from views of gene expression and antioxidant system. Chemosphere 75(7):924–928

Song L, Zhang Q, Zheng L et al (2014) The freshwater algae culture collection at the Institute of Hydrobiology (FACHB): algal resources for fundamental and applied research. Algol Stud 145(1):5–14

Wan J, Guo P, Peng X et al (2015) Effect of erythromycin exposure on the growth, antioxidant system and photosynthesis of Microcystis flos-aquae. J Hazard Mater 283:778–786

Wang ZH, Chen SG, Cao X (2010) Micro-nutrients effects on algae colony: growth rate and biomass response to various micro-nutrients and competitive inhibitions among multi-microelements. Bioinformatics and biomedical engineering, 2010 4th international conference on IEEE, pp 97–104.

Wang T, Jónsdóttir R, Liu H et al (2012) Antioxidant capacities of phlorotannins extracted from the brown algae Fucus vesiculosus. J Agric Food Chem 60(23):5874–5883

Xu Y, Guo C, Luo Y et al (2016) Occurrence and distribution of antibiotics, antibiotic resistance genes in the urban rivers in Beijing, China. Environ Pollut 213:833–840

Yang Y, Xu C, Cao X et al (2017) Antibiotic resistance genes in surface water of eutrophic urban lakes are related to heavy metals, antibiotics, lake morphology and anthropic impact. Ecotoxicology 26(6):831–840

Yue XL, Zhang XP, Hu XW et al (2007) Effect of bensulfuron-methyl on growth of Chlorella pyrenoidosa. Agric Sci 6(3):316–321 (in Chinese)

Zhou W, Wang Y, Xiao H et al (2007) Sensitivity of several marine microalga to antibiotics. J Wuhan Univ Technol 53(2):249–254
Acknowledgements
This work was jointly supported by the Shandong Province National Science Foundation (ZR2017MC047), the Critical Patented Projects in the Control and Management of National Polluted Water Bodies (2017ZX07502003-06), and the Special Project of Taishan Scholar Construction Engineering (ts201712084).
Additional information
Publisher's Note
Springer Nature remains neutral with regard to jurisdictional claims in published maps and institutional affiliations.
About this article
Cite this article
Dong, X., Sun, S., Jia, R. et al. Effects of Sulfamethoxazole Exposure on the Growth, Antioxidant System of Chlorella vulgaris and Microcystis aeruginosa. Bull Environ Contam Toxicol 105, 358–365 (2020). https://doi.org/10.1007/s00128-020-02952-4
Received:

Accepted:

Published:

Issue Date:
Keywords
Sulfamethoxazole

Growth inhibition rate

Antioxidant capacity

Lipid peroxidation