Abstract
An automated on-line solid-phase extraction (SPE) combined with LC–MS/MS method was developed for determination of deoxynivalenol (DON), 3-acetyl-DON and 15-acetyl-DON in corn flour and wheat flour samples. The extraction solvent of the samples was injected into the automated on-line SPE system to remove matrix interference. After washing step, the targets were eluted from the SPE cartridge into liquid chromatography (LC) column. Several SPE parameters including injection volume, elution volume and eluting flow rate were assessed and optimized. Method validation was evaluated and good linearity was obtained (R2 > 99%) with the limit of detection of 0.1–0.2 μg/kg. Recoveries were evaluated in spiked corn flour and wheat flour samples at three concentrations and the values ranged from 86.5% to 99.7%. The benefit of the present method with automated on-line SPE system is the ability to inject directly pure extracts into LC–MS/MS, offering faster analyses and improving analysis efficiency.
Access options
Buy single article
Instant access to the full article PDF.
USD 39.95
Price includes VAT (USA)
Tax calculation will be finalised during checkout.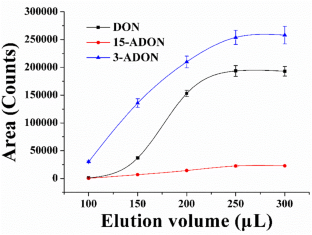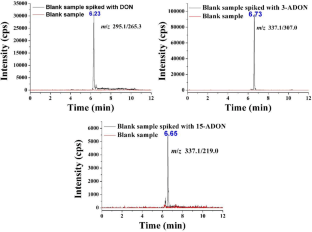 References
Alizadeh A, Braber S, Akbari P, Kraneveld A, Garssen J, Fink-Gremmels J (2016) Deoxynivalenol and its modified forms: are there major differences? Toxins 8(11):334

Bourgogne E, Grivet C, Varesio E, Hopfgartner G (2015) Generic on-line solid phaseextraction sample preparation strategies for the analysis of drugs in biological matrices by LC-MS/MS. J Pharmaceut Biomed 102:290–298

Broekaert N, Devreese M, De Mil T, Fraeyman S, De Baere S, De Saeger S, De Backer P, Croubels S (2014) Development and validation of an LC-MS/MS method for the toxicokinetic study of deoxynivalenol and its acetylated derivatives in chicken and pig plasma. J Chromatogr B 971:43–51

Campone L, Piccinelli AL, Celano R, Pagano I, Russo M, Rastrelli L (2018) Rapid and automated on-line solid phase extraction HPLC-MS/MS with peak focusing for the determination of ochratoxin A in wine samples. Food Chem 244:128–135

European Commission (2006) Commission Regulation (EC) No. 1881/2006 of 19 December 2006 setting maximum levels for certain contaminants in foodstuffs. In: Commission, E. (ed.) pp. 2–8. Official Journal of the European Union L.

Fang GZ, He JX, Wang S (2006) Multiwalled carbon nanotubes as sorbent for on-line coupling of solid-phase extraction to high-performance liquid chromatography for simultaneous determination of 10 sulfonamides in eggs and pork. J Chromatogr A 1127(1–2):12–17

Ferrer-Aguirre A, Romero-González R, Vidal JM, Frenich AG (2016) Simple and quick determination of analgesics and other contaminants of emerging concern in environmental waters by on-line solid phase extraction coupled to liquid chromatography-tandem mass spectrometry. J Chromatogr A 1446:27–33

Gerez JR, Pinton P, Callu P, Grosjean F, Oswald IP, Bracarense APF (2015) Deoxynivalenol alone or in combination with nivalenol and zearalenone induce systemic histological changes in pigs. Exp Toxicol Pathol 67(2):89–98

Gonçalves C, Stroka J (2016) Cross-reactivity features of deoxynivalenol (DON)-targeted immunoaffinity columns aiming to achieve simultaneous analysis of DON and major conjugates in cereal samples. Food Addit Contam A 33(6):1053–1062

Ibáñez-Vea M, Lizarraga E, González-Peñas E (2011) Simultaneous determination of type-A and type-B trichothecenes in barley samples by GC-MS. Food Control 22(8):1428–1434

ICH, Q2 (R1) Harmonised Tripartite Guideline (2005). Validation of analytical procedure: text and methodology. In: International Conference on Harmonization, Geneva.

Liu Y, Lu Y, Wang L, Chang F, Yang L (2016) Occurrence of deoxynivalenol in wheat, Hebei Province, China. Food Chem 197:1271–1274

Li X, Xiao H, Liang X, Shi D, Liu J (2004) LC-MS/MS determination of naringin, hesperidin and neohesperidin in rat serum after orally administrating the decoction of Bulpleurum falcatum L. and Fractus aurantii. J Pharmaceut Biomed 34(1):159–166

Mateo JJ, Llorens A, Mateo R, Jiménez M (2001) Critical study of and improvements in chromatographic methods for the analysis of type b trichothecenes. J Chromatogr A 918(1):99–112

Mi J, Li S, Xu H, Liang W, Sun T (2014) Rapid analysis of three β-agonist residues in food of animal origin by automated on-line solid-phase extraction coupled to liquid chromatography and tandem mass spectrometry. J Sep Sci 37(17):2431–2438

Mishra S, Srivastava S, Dewangan J, Divakar A, Rath SK (2020) Global occurrence of deoxynivalenol in food commodities and exposure risk assessment in humans in the last decade: a survey. Crit Rev Food Sci 8:1346–1374

Olcer Z, Esen E, Muhammad T, Ersoy A, Budak S, Uludag Y (2014) Fast and sensitive detection of mycotoxins in wheat using microfluidics based real-time electrochemical profiling. Biosens Bioelectron 62:163–169

Rahmani M, Ghasemi E, Sasani M (2017) Application of response surface methodology for air assisted-dispersive liquid-liquid microextraction of deoxynivalenol in rice samples prior to HPLC-DAD analysis and comparison with solid phase extraction cleanup. Talanta 165:27–32

Ran R, Wang C, Han Z, Wu A, Zhang D, Shi J (2013) Determination of deoxynivalenol (DON) and its derivatives: current status of analytical methods. Food Control 34(1):138–148

Rodríguez-Carrasco Y, Moltó JC, Mañes J, Berrada H (2017) Development of microextraction techniques in combination with GC-MS/MS for the determination of mycotoxins and metabolites in human urine. J Sep Sci 40(7):1572–1582

Rossi E, Errea MI, de Cortalezzi MMF, Stripeikis J (2017) Selective determination of Cr (VI) by on-line solid phase extraction FI-SPE-FAAS using an ion exchanger resin as sorbent: an improvement treatment of the analytical signal. Microchem J 130:88–92

Salazar-Beltrán D, Hinojosa-Reyes L, Ruiz-Ruiz E, Hernández-Ramírez A, Guzmán-Mar JL (2017) Determination of phthalates in bottled water by automated on-line solid phase extraction coupled to liquid chromatography with uv detection. Talanta 168:291–297

Sanchís J, Kantiani L, Llorca M, Rubio F, Ginebreda A, Fraile J, Garrido T, Farré M (2012) Determination of glyphosate in groundwater samples using an ultrasensitive immunoassay and confirmation by on-line solid-phase extraction followed by liquid chromatography coupled to tandem mass spectrometry. Anal Bioanal Chem 402(7):2335–2345

Tang K, Liu H, Li XZ, Hassan YI, Shao S, Zhou T (2018) An efficient gas chromatography-mass spectrometry approach for the simultaneous analysis of deoxynivalenol and its bacterial metabolites 3-keto-DON and 3-epi-DON. J Food Protect 81(2):233–239

Tralamazza SM, Bemvenuti RH, Zorzete P, de Souza GF, Corrêa B (2016) Fungal diversity and natural occurrence of deoxynivalenol and zearalenone in freshly harvested wheat grains from Brazil. Food Chem 196:445–450

USP 29/NF 24 the United States Pharmacopoeia (2006) 29 the Rev. and the National Formulary (pp. 1964–1966). United States Pharmacopoeial Convention Inc., Rockville

Wu Q, Kuča K, Humpf HU, Klímová B, Cramer B (2017) Fate of deoxynivalenol and deoxynivalenol-3-glucoside during cereal-based thermal food processing: a review study. Mycotoxin Res 33(1):79–91

Wu W, Zhang H (2014) Role of tumor necrosis factor-α and interleukin-1β in anorexia induction following oral exposure to the trichothecene deoxynivalenol (vomitoxin) in the mouse. J Toxicol Sci 39(6):875–886

Ye X, Tao LJ, Needham LL, Calafat AM (2008) Automated on-line column-switching HPLC-MS/MS method for measuring environmental phenols and parabens in serum. Talanta 76(4):865–871

Yoshinari T, Ohnishi T, Kadota T, Sugita-Konishi Y (2012) Development of a purification method for simultaneous determination of deoxynivalenol and its acetylated and glycosylated derivatives in corn grits and corn flour by liquid chromatography-tandem mass spectrometry. J Food Protect 75(7):1355–1358

Yuan J, Sun C, Guo X, Yang T, Wang H, Fu S, Li C, Yang H (2017) A rapid Raman detection of deoxynivalenol in agricultural products. Food Chem 221:797–802

Zhang H, Sun J, Zhang Y, Lu M, Sun L, Li W, Hu X, Wang B (2016) Retention of deoxynivalenol and its derivatives during storage of wheat grain and flour. Food Control 65:177–181

Zhou X, Kramer JP, Calafat AM, Ye X (2014) Automated on-line column-switching high performance liquid chromatography isotope dilution tandem mass spectrometry method for the quantification of bisphenol A, bisphenol F, bisphenol S, and 11 other phenols in urine. J Chromatogr B 944:152–156
Acknowledgements
This work was supported by the National Key R&D Program of China (No. 2017YFF0211300) and the Scientific Research Foundation for the Introduced Talent of Hebei Agricultural University (No. YJ201911).
Additional information
Publisher's Note
Springer Nature remains neutral with regard to jurisdictional claims in published maps and institutional affiliations.
Electronic supplementary material
Below is the link to the electronic supplementary material.
About this article
Cite this article
Cao, M., Li, Q., Zhang, Y. et al. Determination of Deoxynivalenol and Its Derivative in Corn Flour and Wheat Flour Using Automated On-line Solid-Phase Extraction Combined with LC–MS/MS. Bull Environ Contam Toxicol 107, 248–254 (2021). https://doi.org/10.1007/s00128-020-02920-y
Received:

Accepted:

Published:

Issue Date:
Keywords
Deoxynivalenol

Automated on-line solid-phase extraction

LC–MS/MS

Corn flour

Wheat flour