Abstract
Lake sediments, as an important emission source of nutrients and greenhouse gases, play a crucial role during the biogeochemical cycle processes. However, the impact mechanisms of different nutrient levels on greenhouse gas emission from lakes are still insufficient. In this study, the sediments from eight shallow lakes in the middle and lower reaches of the Yangtze River were cultured to study the release characteristics of greenhouse gases more than one month. Results showed that the greenhouse gases during the mineralization processes of sediments were mainly released to the atmosphere instead of being dissolved in the overlying water. The released concentrations of CH4 and CO2 were as high as 1 × 103 μmol L−1 in the later stage of the experiment, while the concentration of N2O was relatively low with a maximal value of about 10 μmol L−1. In addition, all the lake sediments displayed a nutrient release to the overlying water, where the concentrations of TC, TOC, TN, NH4+-N and TP were up to 173.0, 102.7, 36.7, 30.8 and 6.34 mg L−1, respectively. The nutrient levels of different lake sediments are symmetrical to the released nutrients concentrations in the overlying water. The further statistical analysis illustrated a synchronous nutrient controlled-release of greenhouse gases, that is, the higher the levels of nutrients in the sediments, the higher the concentrations of greenhouse gases released. These findings provide a better understanding that the control of endogenous nutrient levels of sediments is extremely important for lacustrine management, which can play a positive role in mitigating the greenhouse gas emissions from lake sediments.
Access options
Buy single article
Instant access to the full article PDF.
USD 39.95
Price includes VAT (USA)
Tax calculation will be finalised during checkout.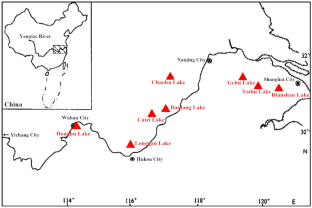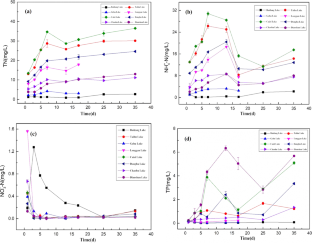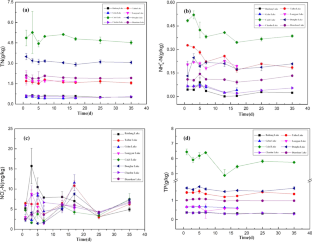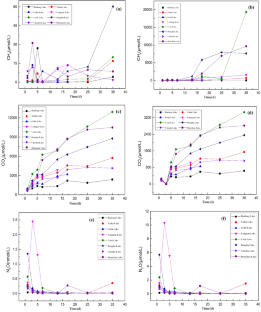 References
Allen SK, Plattner GK, Nauels A et al (2007) Climate change 2013: the physical science basis, in contribution of Working Group I(WGI) to the Fifth Assessment Report (AR5) of the Intergovernmental Panel on Climate Change (IPCC). Comput Geom 18:95–123

Bastviken D, Cole J, Pace M et al (2004a) Methane emissions from lakes: dependence of lake characteristics, two regional assessments, and a global estimate. Global Biogeochem Cycles 18:GB4009

Bastviken D, Cole J, Pace M et al (2004b) Methane emissions from lakes: dependence of lake characteristics, two regional assessments, and a global estimate. Global Biogeochem Cycles. https://doi.org/10.1029/2004GB002238

Bellido JL, Tulonen T, Kankaala P et al (2013) Concentrations of CO2 and CH4 in water columns of two stratified boreal lakes during a year of atypical summer precipotion. Biogeochemistry 113:613–627

Chen YG, Bai XH, Li XH et al (2007) A primary study of the methane flux on the water-air interface of eight lakes in winter, China. J Lake Sci 19:11–17 (in Chinese)

Forster P, Ramaswamy V, Artaxo P et al (2007) Changes in atmospheric constituents and in radiative forcing. In: Solomon S (ed) Climate Change. Cambridge University Press, Cambridge, pp 129–234

Gamier J, Cebron A, Tallec G et al (2006) Nitrogen behaviour and nitrous oxide emission in the tidal Seine River estuary (France) as influenced by human activities in the upstream watershed. Biogeochemistry 77:305–326

Grasset C, Mendonça R, Villamor SG et al (2018) Large but variable methane production in anoxic freshwater sediment upon addition of allochthonous and autochthonous organic matter. Limnol Oceanogr 63:1488–1501

Grasset C, Abril G, Mendonça R et al (2019) The transformation of macrophyte-derived organic matter to methane relates to plant water and nutrient contents. Limnol Oceanogr 00:1–13

Han Y, Zheng YF, Wu RJ et al (2014) Nitrous oxide flux at the water-air interface of the rivers in Nanjing during summer. Environ Sci 35:348–355 (in Chinese)

Hemond HF, Duran AP (1980) Fluxes of N2O at the sediment-water and water-atmosphere boundaries of a nitrogen-rich river. Water Resour Res 25:839–846

Huttunen JT, Alm J, Saarijrvi E et al (2003) Contribution of winter to the annual CH4 emission from a eutrophied boreal lake. Chemosphere 50:247–250

Knowles R (1982) Denitrification. Microbiol Rev 46:43–70

Le C, Zha Y, Li Y et al (2010) Eutrophication of lake waters in China: cost, causes, and control. Environ Manage 45:662–668

Li ZY, Zhu YM, Wang J (1998) Some physical and chemical characteristics of sediment in West Lake, Hangzhou. J Lake Sci 10:79–84 (in Chinese)

Liikanen A, Murtoniemi T, Tanskanen H et al (2002) Effect of temperature and oxygen availability on greenhouse gas and nutrient dynamics in sediment of a eutrophic mid-boreal lake. Biogeochemistry 59:269–286

Liikanen A, Huttunen JT, Murtoniemi T et al (2003) Spatial and seasonal variation in greenhouse gas and nutrient dynamics and their interactions in the sediments of a boreal eutrophic lake. Biogeochemistry 365:83–103

Liu T, Hu ZX, Yang LY et al (2012) Analysis on the forms and release potential of nutrients in sediments from lakes in the West Jiangsu Province. Environ Sci 33:3057–3063 (in Chinese)

Pavel A, Durisch-Kaiser E, Balan S et al (2009) Sources and emission of greenhouse gases in Danube Delta lakes. Environ Sci Pollut R 16:86–91

Rassamee V, Sattayatewa C, Pagilla K et al (2011) Effect of oxic and anoxic conditions on nitrous oxide emissions from nitrification and denitrification processes. Biotechnol Bioeng 108:2036–2045

Samad MS, Bertilsson S (2017) Seasonal variation in abundance and diversity of bacterial methanotrophs in five temperate lakes. Front Microbiol 8:1–12

Schrier-Uijl AP, Veraart AJ, Leffelaar PA et al (2011) Release of CO2 and CH4 from lakes and drainage ditches in temperate wetlands. Biogeochemistry 102:265–279

Shaaban M, Wu Y, Peng QA et al (2016) Effects of dicyandiamide and dolomite application on N2O emission from an acidic soil. Environ Sci Pollut R 23:6334–6342

Sovik AK, Augustin J, Heikkinen K et al (2006) Emission of the greenhouse gases nitrous oxide and methane from constructed wetlands in Europe. J Environ Qual W35:2360–2373

Tranvik LJ, Downing JA, Cotner JB et al (2009) Lakes and reservoirs as regulators of carbon cycling and climate. Limnol Oceanogr 54:2298–2314

Usui T, Koike I, Ogura N (2001) N2O production, nitrification and denitrification in an estuarine sediment. Estuarine Coast Shelf Sci 52:769–781

Varjo E, Liikanen A, Salonen VP et al (2003) A new gypsum-based technique to reduce methane and phophorus release from sediments of eutrophied lakes: gypsum treatment to reduce internal loading. Water Res 37:10

Walter KM, Zimov SA, Chanton JP et al (2006) Methane bubbling from Siberian thaw lakes as a positive feedback to climate warming. Nature 443:71–75

Wang YC, Wan GJ, Huang RG et al (2000) Geochemical and environmental effects of phosphorus in modern sediments of lakes, Chongqing. Environ Sci 22:39–42 (in Chinese)

Wiesenburg DA, Guinasso NL (1979) Equilibrium solubilities of methane, carbon monoxide, and hydrogen in water and sea water. J Chem Eng Data 24:356

Wik M, Varner RK, Anthony KW et al (2016) Climate-sensitive northern lakes and ponds are critical components of methane release. Nat Geosci 9:99

Wu GF, Wu XC, Univers H et al (1998) Preliminary studies on release of phosphorus from the sediment of West Lake, Hangzhou. China Environ Sci 2:02 (in Chinese)

Wu YL, Xu H, Yang GJ et al (2014) Progress in nitrogen pollution research in Lake Taihu. J Lake Sci 26:19–28 in Chinese

Yan XC, Wang MY, Xu XG et al (2018) Migration of carbon, nitrogen and phosphorus during organic matter mineralization in eutrophic lake sediments. J Lake Sci 30:306–313 (in Chinese)

Yan XC, Xu XG, Wang MY et al (2017) Climate warming and cyanobacteria blooms: looks at their relationships from a new perspective. Water Res 125:449–457

Zhang SY, Liu RQ, Li DF (2000) The Concentrat ions and distributions of nitrogen and phosphorus in sediment and interstitial water of baoan lake. Acta Hydrobiol Sin 24:434–438 (in Chinese)

Zhang RM, Yin AJ, Gao C et al (2019) Sediment phosphorus fraction and release potential in the major inflow rivers of Chaohu Lake, Eastern China. Environ Earth Sci 78:117

Zhou YW, Xu XG, Han RM et al (2019) Suspended particles potentially enhance nitrous oxide (N2O) emissions in the oxic estuarine waters of eutrophic lakes: field and experimental evidence. Environ Pollut 252:1225–1234

Zhu DL, Sun C, He H (2012) Detection methanogens in newly settled sediments from Xuanwu Lake in Nanjing, China. Curr Microbiol 64:539–544
Acknowledgements
This paper was supported by the National Key R&D Program of China (2017YFC0405300); the National Natural Science Foundation of China (51809180, 41601376, 41703105) and the Natural Science Foundation of Jiangsu Province (BK20180148).
Additional information
Publisher's Note
Springer Nature remains neutral with regard to jurisdictional claims in published maps and institutional affiliations.
Electronic supplementary material
Below is the link to the electronic supplementary material.
About this article
Cite this article
Chen, J., Jin, Q., Shi, R. et al. Synchronous Nutrient Controlled-Release of Greenhouse Gases During Mineralization of Sediments from Different Lakes. Bull Environ Contam Toxicol 105, 76–85 (2020). https://doi.org/10.1007/s00128-020-02919-5
Received:

Accepted:

Published:

Issue Date:
Keywords
Shallow lake

Sediment

Mineralization

Nutrient

Greenhouse gas