Abstract
Tissue culture of Berula erecta is suitable cultivation system for research purposes connected with contamination and phytoremediation studies. In previous investigation we determined the optimal dose concentration at which Se stimulates plant growth and positively affects the antioxidative status in this experimental system. In current study, we investigate its response to exposure to lead (Pb) and further the possible protective effect of Se(IV) against Pb exposure. Plants were grown in 10 and 50 mg Pb L−1 solution without and with added Se (0.1 mg L−1) for six weeks. Plants possessed a high affinity to uptake Pb and Se in roots. Addition of Pb inhibited roots elongations and the plant height. In contrast, the combined effect of Se + Pb treatment was reflected in increased weight of plants when compared to Pb treatment alone. Pb decreased the amount of chlorophylls and consequently photochemical efficiency was lowered, whereas in Pb + Se treatment the photochemical efficiency was higher. Furthermore, Pb treatment caused a gradual increase in glutathione in both roots and shoots, however, to a greater percentage in shoots when compared to controls. Exposure to both Pb and Se did not cause any significant changes in root's glutathione level when compared to Pb treatment alone. In shoots, the combined treatment lowered the glutathione significantly, but the levels remained 50% above those of untreated control samples, reflecting that this might be related with the antioxidative effects of Se treatment.
Access options
Buy single article
Instant access to the full article PDF.
USD 39.95
Price includes VAT (USA)
Tax calculation will be finalised during checkout.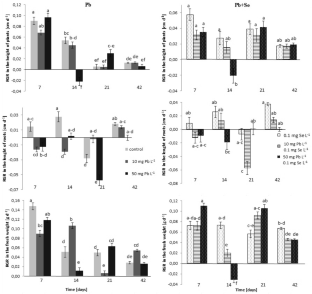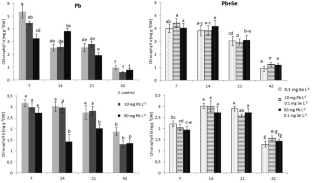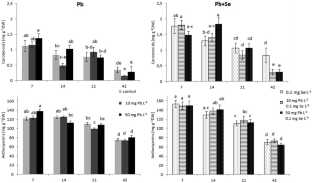 References
Ahamed M, Siddiqui MKJ (2007) Environmental lead toxicity and nutritional factors. Clin Nutr 26:400–408

ATSDR (2003) Agency for toxic substances and disease registry. https://www.atsdr.cdc.gov/

Aviñó RB, López-Moya JR, Navarro-Aviño JP (2008) Health implications: trace elements in cancer. In: Prasad MNV (ed) Trace elements as contaminants and nutrients: consequences in ecosystems and human health. Wiley, Hoboken

Broadley MR, Alcock J, Alford J, Cartwright P, Foot I, Fairweather-Tait SJ (2010) Selenium bio fortification of high-yielding winter wheat (Triticum aestivum L.) by liquid orgranular Se fertilisation. Plant Soil 332:5–18. https://doi.org/10.1007/s11104-009-0234-4

Brunet J, Varrault G, Zuily-Fodil Y, Repellin A (2009) Accumulation of lead in the roots of grass pea (Lathyrus sativus L.) plants triggers systemic variation in gene expression in the shoots. Chemosphere 77:1113–1120

Clemens S (2013) Lead in plants. In: Kretsinger RH, Uversky VN, Permyakov EA (eds) Encyclopedia of metalloproteins. Springer, New York

Di Gregorio S (2008) Selenium: A Versatile Trace Element in Life and Environment. In: Prasad MNV (ed) Trace elements as contaminants and nutrients. Consequences in ecosystems and human health. Wiley, Hoboken

Drumm H, Mohr H (1978) The mode of interaction between blue (UV) light photoreceptor and phytochrome in anthocyanin formation of the Sorghum seedling. Photochem Photobiol 27:241–248

Feng R, Wei C, Tu S, Sun X (2009) Interactive effects of selenium and arsenic on their uptake by Pteris vittata L. under hydroponic conditions. Environ Exp Bot 65:363–368

Feng R, Wei C, Tu S (2013) Review: the roles of selenium in protecting plants against abiotic stresses. Environ Exp Bot 87:58–68

Filek M, Keskinen R, Hartikainen H, Szarejko I, Janiak A, Miszalski Z, Golda A (2008) The protective role of selenium in rape seedlings subjected to cadmium stress. J Plant Physiol 165:833–844

Flora G, Gupta D, Tiwari A (2012) Toxicity of lead: a review with recent updates. Interdiscip Toxicol 5:47–58

Foyer CH, Noctor G (2011) Ascorbate and glutathione: the heart of the redox hub. Plant Physiol 155:2–18

Finžgar N, Jez E, Vogla D, Leštan D (2014) Spatial distribution of metal contamination before and after remediation in the Meza Valley, Slovenia. Geodermas 217–218:135–143

Garcia JS, Gratão PL, Azevedo RA, Arruda MAZ (2006) Metal contamination effects on sunflower (Helianthus annuus L.) growth and protein expression in leaves during development. J Agric Food Chem 54:8623–8630

Ginn BR, Szymanowski JS, Fein JB (2008) Metal and proton binding onto the roots of Fescue rubra. Chem Geol 253:130–135

Gullner G, Komives T, Király L, Schröder P (2018) Glutathione S-transferase enzymes in plant-pathogen interactions. Front Plant Sci 9:1836

Gupta D, Huang H, Yang X, Razafindrabe B, Inouhe M (2010) The detoxification of lead in Sedum alfredii H. is not related to phytochelatins but the glutathione. J Hazard Mater 177:437–444

Han D, Xiong S, Tu S, Liu J, Chen C (2015) Interactive effects of selenium and arsenic on growth, antioxidant system, arsenic and selenium species of Nicotiana tabacum L. Environ Exp Bot 117:12–19

Hasanuzzaman M, Nahar K, Rahman A, Al Mahmud J, Alharby HF, Fujita M (2018) Exogenous glutathione attenuates lead-induced oxidative stress in wheat by improving antioxidant defense and physiological mechanisms. J Plant Interact 13:203–212

Hultberg B, Hultberg M (2004) High glutathione turnover in human cell lines revealed by acivicin inhibition of gamma- glutamyltranspeptidase and the effects of thiol-reactive metals during acivicin inhibition. Clin Chim Acta 349:45–52

Kabata-Pendias A, Terelak H (2004) Regional variation of trace elements (Cd, Cu, Ni, Pb, Zn) contents of native grassland grasses in Poland. 3rd International Conference Heavy Metals Radionuclides and Elements-Biofills in the Environment, Semipalatinsk, Kazakhstan, vol 1, pp 28–33

Kohli SK, Handa N, Bali S, Khanna K, Arora S, Sharma A, Bhardwaj R (2019) Current scenario of Pb toxicity in plants: unraveling plethora of physiological responses. In: Voogt P (ed) Reviews of environmental contamination and toxicology, vol 249. Lewis Publishers, Boca Raton, pp 153–197

Layachi N, Amri A, Kechrid Z (2018) The alleviation of lead toxicity in Vicia faba L. by the application of selenium. Int J Biosci 12:1–12

Leblebici Z, Aksoy A (2011) Growth and lead accumulation capacity of Lemna minor and Spirodela polyrhiza (Lemnaceae): interactions with nutrient enrichment. Water Air Soil Pollut 214:175–184

Lichtenthaler HK, Buschmann C (2001) Extraction of photosynthetic tissues: chlorophylls and carotenoids. In: Current protocols in food analytical chemistry. Wiley, Madison, pp F4.2.1–F4.2.6 [Nr. 106].

Lin L, Zhou WH, Dai HX, Cao FB, Zhang GP, Wu FB (2012) Selenium reduces cadmium uptake and mitigates cadmium toxicity in rice. J Hazard Mater 235:343–351

Liu T, Liu S, Guan H, Ma L, Chen Z, Gu H (2009) Transcriptional profiling of Arabidopsis seedlings in response to heavy metal lead (Pb). Environ Exp Bot 67:377–386

Lobnik F, Zupan M, Hudnik V, Jaecks-Vidic N (1994) A soil and plant pollution case study in an industrial area in Slovenia. Environ Geochem Hlth 16:287–299

Lyons GH, Genc Y, Soole K, Stangoulis JCR, Liu F, Graham RD (2009) Selenium increases seed production in Brassica. Plant Soil 318:73–80

Maestri E, Marmiroli M, Visioli G, Marmiroli N (2010) Metal tolerance and hyperaccumulation: costs and trade-offs between traits and environment. Environ Exp Bot 68:1–13

Malik JA, Goel S, Kaur N, Sharma S, Singh I, Nayyar H (2012) Selenium antag-onises the toxic effects of arsenic on mungbean (Phaseolus aureus Roxb.) plants by restricting its uptake and enhancing the antioxidative and detoxification mechanisms. Environ Exp Bot 77:242–248

Mechora Š, Stibilj V, Radešček T, Gaberščik A, Germ M (2011a) Impact of Se (VI) fertilization on Se concentration in different parts of red cabbage plants. J Food Agric Environ 9:357–361

Mechora Š, Cuderman P, Stibilj V, Germ M (2011b) Distribution of Se and its species in Myriophyllum spicatum and Ceratophyllum demersum growing in water containing Se (VI). Chemosphere 84:1636–1641

Mechora Š, Sotler M, Urbanek Krajnc A, Ambrožič-Dolinšek J (2016) How selenium affects Berula erecta. Water Air Soil Pollut 227:227–451

Mechora Š, Žerdoner Čalasan Ž, Felicijan M, Urbanek Krajnc A, Ambrožič-Dolinšek J (2017) The impact of selenium treatment on some physiological and antioxidant properties of Apium repens. Aquat Bot 138:16–23

Mishra S, Srivastava S, Tripathi R, Kumar R, Seth C, Gupta D (2006) Lead detoxification by coontail (Ceratophyllum demersum L.) involves induction of phytochelatins and antioxidant system in response to its accumulation. Chemosphere 65:1027–1039

Mozafariyan M, Shekari L, Hawrylak-Nowak B, Kamelmanesh MM (2014) Protective role of selenium on pepper exposed to cadmium stress during reproductive stage. Biol Trace Elem Res 160:97–107

Mroczek-Zdyrska M, Wójcik M (2012) The influence of selenium on root growth and oxidative stress induced by lead in Vicia faba L. minor plants. Biol Trace Elem Res 147:320–328

Murashige T, Skoog F (1962) A revised medium for rapid growth and bio assays with tobacco tissue cultures. Physiol Plant 15:473–497

Noctor G, Mhamdi A, Chaouch S, Han Y, Neukermans J, Marquez-Garcia B, Queval G, Foyer CH (2012) Glutathione in plants: an integrated overview. Special Issue on Redox Signaling. Plant Cell Environ 35:454–484

Perez RR, Sousa CA, Vankeersbilck T, Machado MD, Soares EV (2013) Evaluation of the role of glutathione in the lead-induced toxicity in Saccharomyces cerevisiae. Curr Microbiol 67:300–305. https://doi.org/10.1007/s00284-013-0364-zEpub 2013 Apr 17

Pezzarossa B, Remorini D, Gentile ML, Massai R (2012) Effects of foliar and fruit addition of sodium selenite on selenium accumulation and fruit quality. J Sci Food Agric 92:781–786. https://doi.org/10.1002/jsfa.4644

Pourrut B, Perchet G, Silvestre J, Cecchi M, Guiresse M, Pinelli E (2008) Potential role of NADPH-oxidase in early steps of lead-induced oxidative burst in Vicia faba roots. J Plant Physiol 165:571–579

Qureshi M, Abdin M, Qadir S, Iqbal M (2007) Lead-induced oxidative stress and metabolic alterations in Cassia angustifolia Vahl. Biol Plant 51:121–128

Reddy AM, Kumar SG, Jyothsnakumari G, Thimmanaik S, Sudhakar C (2005) Lead induced changes in antioxidant metabolism of horsegram (Macrotyloma uniflorum (Lam.) Verdc.) and bengalgram (Cicer arietinum L.). Chemosphere 60:97–104

Rosenfeld I, Beath OA (1964) Selenium: geobotany, biochemistry, toxicity and nutrition. Econ Bot 20:340–343

Schreiber U, Bilger W, Neubauer C (1995) Chlorophyll fluorescence as a nonintrusive indicator for rapid assessment of in vivo photosynthesis. In: Schulze ED, Caldwell MM (eds) Ecophysiology of photosynthesis. Springer, Berlin, pp 49–70

Shahid M, Pourrut B, Dumat C, Nadeem M, Aslam M, Pinelli E (2014) Heavy-metal-induced reactive oxygen species: phytotoxicity and physicochemical changes in plants. Rev Environ Contam Toxicol 232:1–44

Shanker AK (2008) Mode of Action and Toxicity of Trace Elements. In: Prasad MNV (ed) Trace elements as contaminants and nutrients. Consequences in ecosystems and human health. Wiley, Hoboken

Sharma P, Dubey RS (2005) Lead toxicity in plants. Braz J plant physiol 17:35–52

Singh R, Tripathi RD, Dwivedi S, Kumar A, Trivedi PK, Chakrabarty D (2010) Lead bioaccumulation potential of an aquatic macrophyte Najas indica are related to antioxidant system. Biores Technol 101:3025–3032

Tausz M, Wonisch A, Grill D, Morales D, Jimenez MS (2003) Measuring antioxidants in tree species in the natural environment: from sampling to data evaluation. J Exp Bot 54:1505–1510

Terry N, Zayed AM, de Souza MP, Tarun AS (2000) Selenium in higher plants. Annu Rev Plant Physiol Plant Mol Biol 51:401–432

Uzu G, Sobanska S, Aliouane Y, Pradere P, Dumat C (2009) Study of lead phytoavailability for atmospheric industrial micronic and sub-micronic particles in relation with lead speciation. Environ Pollut 157:1178–1185

Wu L (1998) Selenium accumulation and uptake by crop and grassland plant species. In: Frankenberger WT, Engberg RA (eds) Environmental chemistry of selenium. Marcel Dekker, New York, pp 657–686

Yuan J, Hu M, Zhou Z (2013) Selenium treatment mitigates the effect of lead exposure in Coleus blumei Benth. J Environ Anal Toxicol 2013:1–10
Acknowledgements
This research was partly supported by the Slovene Ministry of Higher Education, Science and Technology within the program Research to Ensure Food Safety and Health (Grant No. P1-0164) and by the project "Po kreativni poti do praktičnega znanja (Practical knowledge through creative pathways) co-funded by the European Social Fund and conducted within the framework of the Operational Programme for Human Resources Development for the period 2007–2013, development priority 1: Promoting entrepreneurship and adaptability, priority axis 1.3: Scholarship schemes.
Additional information
Publisher's Note
Springer Nature remains neutral with regard to jurisdictional claims in published maps and institutional affiliations.
About this article
Cite this article
Mechora, Š., Rižnik, T., Urbanek Krajnc, A. et al. Response of Berula erecta to Lead in Combination with Selenium. Bull Environ Contam Toxicol 105, 51–61 (2020). https://doi.org/10.1007/s00128-020-02910-0
Received:

Accepted:

Published:

Issue Date:
Keywords
Lead

Selenium

Berula erecta

Growth parameters

Photochemical efficiency

Thiols