Abstract
The growth response, tolerance, and enrichment characteristics of six ornamental species, Chlorophytum comosum, Calendula officinalis, Iris lacteal, Belamcanda chinensis, Saponaria officinalis, and Polygonum lapathifolium were studied under hydroponic culture with lead (Pb) concentrations ranging from 0 to 1000 mg/L. The results showed that the growth of the tested ornamental species under Pb stress was inhibited. Belamcanda chinensis presented the largest tolerance index (0.75), and Calendula officinalis had the highest toxicity threshold (500 mg/L) under Pb stress. The highest Pb contents in the shoots were detected in Iris lacteal and Belamcanda chinensis. The enrichment coefficients in the shoots of Iris lacteal and Belamcanda chinensis were significantly higher than those in the other ornamental species. In conclusion, Iris lacteal and Belamcanda chinensis are the most tolerant and have the greatest Pb enrichment and translocation abilities under Pb stress, and thus, they have a strong potential to restore Pb-contaminated water bodies and soils.
Access options
Buy single article
Instant access to the full article PDF.
USD 39.95
Price includes VAT (USA)
Tax calculation will be finalised during checkout.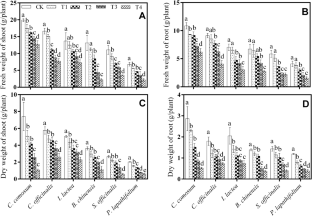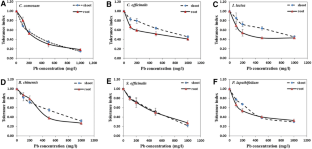 References
Adamcová D, Radziemska M, Ridošková A, Bartoň S, Plecová P, Elbl J, Kynický J, Brtnický M, Vaverková MD (2017) Environmental assessment of the effects of a municipal landfill on the content and distribution of heavy metals in Tanacetum vulgare L. Chemosphere 185:1011–1018. https://doi.org/10.1016/j.chemosphere.2017.07.060

Baker AJM, Brooks R (1989) Terrestrial higher plants which hyperaccumulate metallic elements. A review of their distribution, ecology and phytochemistry. Biorecovery 1:81–126

Cui S, Liu Y, Sun X, Li P, Zhang Q (2014) Remedying Pb-contaminated soil by ornamental flowers. Hubei Agric Sci 53:2017–2018 (in Chinese)

Guo P, Liu C, Zhang H, Song X, Bao G (2007) Studies on enrichment and tolerance ability to Pb, Cu of sunflower seedlings. J Soil Water Conserv 21:92–95 (in Chinese)

Hardiman RT, Jacoby B, Banin A (1984) Factors affecting the distribution of cadmium, copper and lead and their effect upon yield and zinc content in bush beans (Phaseolus vulgaris L.). Plant Soil 81:17–27. https://doi.org/10.1007/BF02206890

Huang G, Meng GY, Chen YJ, Bai LY, Guo M, Huang XL, Tan JY, Ouyang SX (2013) Study on Pb Tolerance and remediation potential of lead-contaminated soil of ramie. Chin Agric Sci Bull 29:148–152 (in Chinese)

Huang Y, Chen Q, Deng M, Japenga J, Li T, Yang X, He Z (2018) Heavy metal pollution and health risk assessment of agricultural soils in a typical peri-urban area in southeast China. J Environ Manag 207:159–168. https://doi.org/10.1016/j.jenvman.2017.10.072

Kohli SK, Handa N, Sharma A, Gautam V, Arora S, Bhardwaj R, Ahmad P (2018) Combined effect of 24-epibrassinolide and salicylic acid mitigates lead (Pb) toxicity by modulating various metabolites in Brassica juncea L. seedlings. Protoplasma 255:11–24. https://doi.org/10.1007/s00709-017-1124-x

Kyle JH, Breuer PL, Bunney KG, Pleysier R, May PM (2011) Review of trace toxic elements (Pb, Cd, Hg, As, Sb, Bi, Se, Te) and their deportment in gold processing. Part 1: mineralogy, aqueous chemistry and toxicity. Hydrometallurgy 107:91–100. https://doi.org/10.1016/j.hydromet.2011.01.010

Li C, Shao Z, Wang Y, Zhang J (2010) Enrichment characteristics of Pb by several kinds of ornamental plants. J Soil Water Conserv 24:127–130 (in Chinese)

Liu J, Zhou Q, Sun T, Ma L, Wang S (2008) Growth responses of three ornamental plants to Cd and Cd–Pb stress and their metal accumulation characteristics. J Hazardard Mater 151:261–267. https://doi.org/10.1016/j.jhazmat.2007.08.016

Lux A, ŠottníkováA OJ, Greger M (2004) Differences in structure of adventitious roots in Salix clones with contrasting characteristics of cadmium accumulation and sensitivity. Physiol Plant 120:537–545. https://doi.org/10.1111/j.0031-9317.2004.0275.x

Mahar A, Wang P, Ali A, Awasthi MK, Lahori AH, Wang Q, Zhang Z (2016) Challenges and opportunities in the phytoremediation of heavy metals contaminated soils: a review. Ecotoxicol Environ Saf 126:111–121. https://doi.org/10.1016/j.ecoenv.2015.12.023

Małkowski E, Kita A, Galas W, Karcz W, Kuperberg JM (2002) Lead distribution in corn seedlings (Zea mays L.) and its effect on growth and the concentrations of potassium and calcium. Plant Growth Regul 37:69–76. https://doi.org/10.1023/A:1020305400324

Matović V, Buha A, Ðukić-Ćosić D, Bulat Z (2015) Insight into the oxidative stress induced by lead and/or cadmium in blood, liver and kidneys. Food Chem Toxicol 78:130–140. https://doi.org/10.1016/j.fct.2015.02.011

Piechalak A, Tomaszewska B, Baralkiewicz D, Malecka A (2002) Accumulation and detoxification of lead ions in legumes. Phytochemistry 60:153–162. https://doi.org/10.1016/S0031-9422(02)00067-5

Salazar MJ, Rodriguez JH, Cid CV, Pignata ML (2016) Auxin effects on Pb phytoextraction from polluted soils by Tegetes minuta L. and Bidens pilosa L.: extractive power of their root exudates. J Hazard Mater 311:63–69. https://doi.org/10.1016/j.jhazmat.2016.02.053

Sarma H (2011) Metal hyperaccumulation in plants: a review focusing on phytoremediation technology. J Environ Sci Technol 4:118–138. https://doi.org/10.3923/jest.2011

Shao Z, Lu W, Nasar J, Zhang J, Yan L (2019) Growth responses and accumulation characteristics of three ornamentals under copper and lead contamination in a hydroponic-culture experiment. Bull Environ Contam Toxicol 103:854–859. https://doi.org/10.1007/s00128-019-02724-9

Sharma P, Dubey RS (2005) Lead toxicity in plants. Braz J Plant Physiol 17:35–52. https://doi.org/10.1590/S1677-04202005000100004

Shi X, Zhang X, Chen G, Chen Y, Wang L, Shan X (2011) Seedling growth and metal accumulation of selected woody species in copper and lead/zinc mine tailings. J Environ Sci 23:266–274. https://doi.org/10.1016/S1001-0742(10)60402-0

Tangahu BV, Abdullah S, Rozaimah S, Basri H, Idris M, Anuar N, Mukhlisin M (2011) A review on heavy metals (As, Pb, and Hg) uptake by plants through phytoremediation. Int J Chem Eng 2011:939161. https://doi.org/10.1155/2011/939161

Wang S, Shi X, Sun H, Chen Y, Pan H, Yang X, Rafiq T (2014) Variations in metal tolerance and accumulation in three hydroponically cultivated varieties of Salix integra treated with lead. PLoS ONE 9:e108568. https://doi.org/10.1371/journal.pone.0108568

Yan L, Li C, Zhang J, Moodley O, Liu S, Lan C, Gao Q, Zhang W (2017) Enhanced phytoextraction of lead from Artificially ontaminated soil by mirabilis jalapa with chelating Agents. Bull Environ Contam Toxicol 99:208–212. https://doi.org/10.1007/s00128-017-2127-1

Zhivotovsky OP, Kuzovkina YA, Schulthess CP, Morris T, Pettinelli D (2011) Lead uptake and translocation by willows in pot and field experiments. Int J Phytorem 13:731–749. https://doi.org/10.1080/15226514.2010.525555
Acknowledgements
The authors acknowledge the National Natural Science Foundation of China (Grant No. 41471196) and the Science and Technology Innovation Foundation for Undergraduates of Jilin Agricultural University.
Additional information
Publisher's Note
Springer Nature remains neutral with regard to jurisdictional claims in published maps and institutional affiliations.
About this article
Cite this article
Lu, W., Li, Z., Shao, Z. et al. Lead Tolerance and Enrichment Characteristics of Several Ornamentals Under Hydroponic Culture. Bull Environ Contam Toxicol 105, 166–172 (2020). https://doi.org/10.1007/s00128-020-02905-x
Received:

Accepted:

Published:

Issue Date:
Keywords
Lead pollution

Ornamental plant

Phytoextraction

Hydroponic culture