Abstract
In this work the toxicity caused by explosive industries effluent (yellow water) at different levels of toxicity (genetic, cellular and organismal level) was evaluated by the Allium cepa test and the Sorghum sudanense germination. The results showed that the effluent paralyze the mitotic process, keeping the cells in the interphase, decreasing the mitotic index in A. cepa. Chromosomal abnormalities such as c-metaphases, adhesions, breaks, early ascending chromosomes and irregular nucleus were observed for this receptor species. The germination of S. sudanense was reduced, and the development of the radicles were affected, showing reduced tolerance index at the highest concentrations of the effluent. Thus, it is concluded that the effluent from the explosive industry is extremely toxic to the tested organisms, both in cellular and chromosomal level and also for seed germination.
Access options
Buy single article
Instant access to the full article PDF.
USD 39.95
Price includes VAT (USA)
Tax calculation will be finalised during checkout.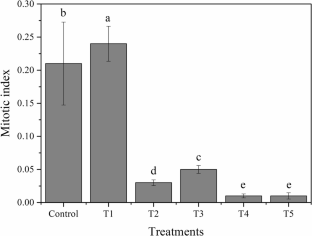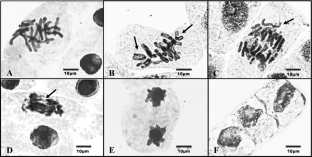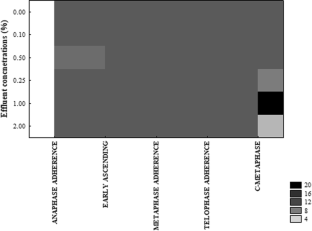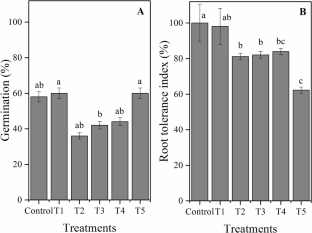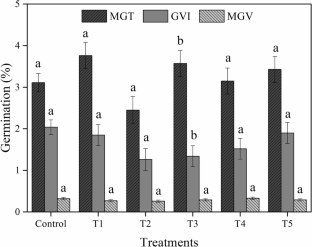 References
Asita AO, Mokhobo MM (2013) Clastogenic and cytotoxic effects of four pesticides used to control insect pests of stored products on root meristems of Allium cepa. Environ Nat Resour Res 3:133. https://doi.org/10.5539/enrr.v3n2p133

Barreto-Rodrigues M, Da Silva FT, De Paiva TCB (2007) Caracterização física, química e ecotoxicológica de efluente da indústria de fabricação de explosivos. Quim Nova. https://doi.org/10.1590/S0100-40422007000700023

Barreto-Rodrigues M, Silva FT, Paiva TCB (2009) Combined zero-valent iron and fenton processes for the treatment of Brazilian TNT industry wastewater. J Hazard Mater. https://doi.org/10.1016/j.jhazmat.2008.09.120

Bo Z, Hongjuan H, Xiaoyan F, Zhenjun L, Jianjie G, Quanhong Y (2018) Degradation of trinitrotoluene by transgenic nitroreductase in Arabidopsis plants. Plant Soil Environ. https://doi.org/10.17221/655/2017-PSE

Bowler C, Montagu MV, Inze D (1992) Superoxide dismutase and stress tolerance. Annu Rev Plant Physiol Plant Mol Biol. https://doi.org/10.1146/annurev.pp.43.060192.000503

Brasil (2009) Regras para análise de sementes. Ministério da Agricultura, Pecuária e Abastecimento. Secretaria de Defesa Agropecuária. Mapa/ACS, Brasília, 399 p

Burrows EP, Rosenblatt DH, Mitchell WR, Parmer DL (1989) Organic Explosives and Related Compounds. Environmental and Health Considerations (No. USABRDL-TR-8901). Army biomedical research and development lab fort detrick md, United States

Cavalotti LFR, Peralta-Zamora P, Rodrigues MB, Paiva TC (2009) Degradação de espécies nitroaromáticas e remediação de efluentes da indústria de explosivos, utilizando-se processos redutivos-oxidativos fundamentados no uso de ferro metálico. Química Nova 32:1504–1508

Chatterjee S, Deb U, Datta S, Walther C, Gupta DK (2017) Common explosives (TNT, RDX, HMX) and their fate in the environment: emphasizing bioremediation. Chemosphere. https://doi.org/10.1016/j.chemosphere.2017.06.008

Cools T, De Veylder L (2009) DNA stress checkpoint control and plant development. Curr Opin Plant Biol. https://doi.org/10.1016/j.pbi.2008.09.012

Cuco SM, Mondim M, Vieira MLC, Aguiar-Perecin ML (2003) Técnicas para a obtenção de preparações citológicas com alta frequência de metáfases mitóticas em plantas: Passiflora (Passifloraceae) e Crotalaria (Leguminosae). Acta Bot Bras. https://doi.org/10.1590/S0102-33062003000300004

Cumming AS, Johnson MS (2019) Energetic materials and munitions: life cycle management, environmental impact and demilitarization. Wiley-VCH, Weinheim

Ferreira AG, Borghetti F (2004) Germinação: do básico ao aplicado. Artmed, Porto Alegre

Fiskesjö G (1985) The Allium test as a standard in environmental monitoring. Hereditas. https://doi.org/10.1111/j.1601-5223.1985.tb00471.x

Foyer CH, Noctor G (2003) Redox sensing and signalling associated with reactive oxygen in chloroplasts, peroxisomes and mitochondria. Physiol Plant. https://doi.org/10.1034/j.1399-3054.2003.00223.x

Frische T (2002) Screening for soil toxicity and mutagenicity using luminescent bacteria—a case study of the explosive 2,4,6-trinitrotoluene (TNT). Ecotox Environ Safe. https://doi.org/10.1006/eesa.2001.2124

Furedi EM, Levine BS, Gordon DE, Rac VS, Lish PM (1984) Determination of the chronic mammalian toxicological effects of TNT (Twenty-four-month chronic toxicity/carcinogenicity study of trinitrotoluene (TNT) in the Fischer 344 rat). Final Report - Phase III. Volume 1. ITT Research Institute, Project No. L6116, Study No. 9, Chicago, IL. DAMD17-79-C-9120. AD-A168 637

Grant WF (1978) Chromosome aberrations in plants as a monitoring system. Environ Health Perspect. https://doi.org/10.1289/ehp.782737

Gupta K, Mishra K, Srivastava S, Kumar A (2018) Cytotoxic assessment of chromium and arsenic using chromosomal behavior of root meristem in Allium cepa L. Bull Environ Contam Toxicol. https://doi.org/10.1007/s00128-018-2344-2

Hannink N, Rosser SJ, French CE, Basran A, Murray JA, Nicklin S, Bruce NC (2001) Phytodetoxification of TNT by transgenic plants expressing a bacterial nitroreductase. Nature Biotechnol. https://doi.org/10.1038/nbt1201-1168

Houk VS (1992) The genotoxicity of industrial wastes and effluents: a review. Mutat Res/Rev Genet Toxicol. https://doi.org/10.1016/0165-1110(92)90001-p

Labouriau LG (1983) A germinação de sementes. Organização dos Estados Americanos, Washington

Leme DM, Marin-Morales MA (2009) Allium cepa test in environmental monitoring: a review on its application. Mut Res. https://doi.org/10.1016/j.mrrev.2009.06.002

Levan A (1938) The effect of colchicine on root mitoses in Allium. Hereditas 24:471–486

Li K, Sherman CD, Beaumont J, Sandy S (2010) Evidence on the carcinogenicity of 2,4,6-trinitrotoluene. Office of Environmental Health Hazard Assessment's (OEHHA). Reproductive and Cancer Hazard Assessment Branc, California

Luo Y, Liang J, Zeng G, Chen M, Mo D, Li G, Zhang D (2018) Seed germination test for toxicity evaluation of compost: Its roles, problems and prospects. Waste Manag. https://doi.org/10.1016/j.wasman.2017.09.023

Martins J, Teles LO, Vasconcelos V (2007) Assays with Daphnia magna and Danio rerio as alert systems in aquatic toxicology. Environ Int. https://doi.org/10.1016/j.envint.2006.12.006

Millar RW, Arber AW, Endsor RM, Hamid J, Colclough ME (2011) Clean manufacture of 2,4,6-trinitrotoluene (TNT) via improved region selectivity in the nitration of toluene. J Energy Mater. https://doi.org/10.1080/07370652.2010.484411

Miller G, Shulaev V, Mittler R (2008) Reactive oxygen signaling and abiotic stress. Physiol Plant. https://doi.org/10.1111/j.1399-3054.2008.01090.x

Mittler R (2002) Oxidative stress, antioxidants and stress tolerance. Trends Plant Sci. https://doi.org/10.1016/s1360-1385(02)02312-9

Ogunyemi AK, Samuel TA, Amund OO, Ilori MO (2017) Toxicity evaluation of waste effluent from cassava-processing factory in Lagos state, Nigeria using the Allium cepa assay. Ife J Sci. https://doi.org/10.4314/ijs.v20i2.11

Priac A, Badot PM, Crini G (2017) Treated wastewater phytotoxicity assessment using Lactuca sativa: focus on germination and root elongation test parameters. C R Biol. https://doi.org/10.1016/j.crvi.2017.01.002

Ribeiro EN, Da Silva FT, De Paiva TCB (2012) Ecotoxicological evaluation of wastewater from 2,4,6-TNT production. J Environ Sci Health A. https://doi.org/10.1080/10934529.2012.640550

Robidoux PY, Bardai G, Paquet L, Ampleman G, Thiboutot S, Hawari J, Sunahara GI (2003) Phytotoxicity of 2, 4, 6-trinitrotoluene (TNT) and octahydro-1, 3, 5, 7-tetranitro-1, 3, 5, 7-tetrazocine (HMX) in spiked artificial and natural forest soils. Arch Environ Con Tox. https://doi.org/10.1007/s00244-002-2018-1

Rodrigues MB (2005) Effluents' treatment from the manufacture of TNT from explosives manufacturing using advanced oxidation and reductive process. University of São Paulo, Lorena

Rylott EL, Bruce NC (2009) Plants disarm soil: engineering plants for the phytoremediation of explosives. Trends Biotechnol. https://doi.org/10.1016/j.tibtech.2008.11.001

Rylott EL, Bruce NC (2019) Right on target: using plants and microbes to remediate explosives. Int J Phytoremediation. https://doi.org/10.1080/15226514.2019.1606783

Sewelam N, Kazan K, Schenk PM (2016) Global plant stress signaling: reactive oxygen species at the crossroad. Front Plant Sci. https://doi.org/10.3389/fpls.2016.00187

Silva GH, Monteiro RTR (2017) Toxicity assessment of silica nanoparticles on Allium cepa. Ecotoxicol Environ Contam. https://doi.org/10.5132/eec.2017.01.04

Simões MS, Madail RH, Barbosa S, de LimaNogueira M (2013) Padronização de bioensaios para detecção de compostos alelopáticos e toxicantes ambientais utilizando alface. Biotemas. https://doi.org/10.5007/2175-7925.2013v26n3p29

Talmage SS, Opresko DM, Maxwell CJ, Welsh CJ, Cretella FM, Reno PH, Daniel FB (1999) Nitroaromatic munition compounds: environmental effects and screening values. Rev Environ Contam Toxicol 161:1–156

Urbanski T (1985) Chemistry and technology of explosives. Pergamon Press, Oxford, pp 1–80

Wilkins DA (1978) The measurement of tolerance to edaphic factors by means of root growth. New Phytol 80:623–633

Yuasa T, Ichimura K, Mizoguchi T, Shinozaki K (2001) Oxidative stress activates ATMPK6, an Arabidopsis homologue of MAP kinase. Plant Cell Physiol. https://doi.org/10.1093/pcp/pce123
Ethics declarations
Conflict of interest
All authors declare that they have no conflict of interest.
Additional information
Publisher's Note
Springer Nature remains neutral with regard to jurisdictional claims in published maps and institutional affiliations.
About this article
Cite this article
Rodrigues, C.M., Suchoronczek, A., De Lima, V.A. et al. Toxicity of Explosive Effluent by Alliumcepa and Germination Test. Bull Environ Contam Toxicol 105, 127–133 (2020). https://doi.org/10.1007/s00128-020-02904-y
Received:

Accepted:

Published:

Issue Date:
Keywords
Chromosomal abnormality

Nitroaromatics

Plant bioassays

Seeds

Sorghum sudanense