Abstract
Differential pulse polarographic (DPP) investigations on the reaction of the amino function of glyphosate and glufosinate herbicides with carbon disulphide and copper(II) perchlorate forming copper(III) dithiocarbamate complexes were made in the presence of sodium perchlorate in acetonitrile at dropping mercury electrode (DME). The newly formed herbicide complexes exhibited analytically useful diffusion-controlled peaks at − 115 mV and − 110 mV versus saturated calomel electrode (SCE) with linear relationship between current and concentration. This observation formed the basis for the determination of glyphosate and glufosinate in the concentration ranges 0.34–8.45 μg mL−1 and 0.4–9.91 μg mL−1 respectively with correlation coefficient of 0.999. The method was applied to their determinations in soil, fortified food and spiked water samples to assess their environmental relevance. The recoveries of the herbicides were in the range 89.5%–98.3% with relative standard deviation (RSD) in the ranges 0.8%–1.8% thus showing good accuracy and precision of the method.
Access options
Buy single article
Instant access to the full article PDF.
USD 39.95
Price includes VAT (USA)
Tax calculation will be finalised during checkout.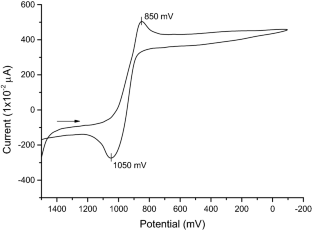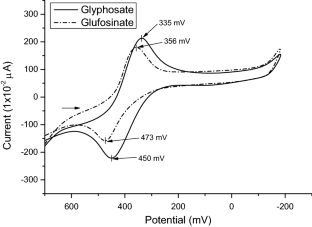 References
Cahuantzi-Muñoz SL, González-Fuentes MA, Ortiz-Frade LA, Torres E, Ţălu S, Trejo G, Méndez-Albores A (2019) Electrochemical biosensor for sensitive quantification of glyphosate in maize kernels. Electroanalysis 31(5):927–935

Dai H, Sanga M, Wang Y, Du R, Yuan W, Jia Z, Cao Z, Chen X (2014) Determination of trace glyphosate in water with a prism coupling optical waveguide configuration. Sens Actuators A 218:88–93

Demonte LD, Michlig N, Gaggiotti M, Adam CG, Beldoménico HR, Repetti MR (2018) Determination of glyphosate, AMPA and glufosinate in dairy farm water from Argentina using a simplified UHPLC-MS/MS method. Sci Total Environ 645:34–43

Gustafson DI (1989) Groundwater ubiquity score—a simple method for assessing pesticide leachability. Environ Toxicol Chem 8:339–357

Jan MR, Shah J, Muhamad M, Ara B (2009) Glyphosate herbicide residue determination in samples of environmental importance using spectrophotometric method. J Hazard Mater 169:742–745

Kang GR, Ha Song HY, Kim DS (2014) Toxicity and effects of the herbicide glufosinate-ammonium (Basta) on the marine medaka Oryzias dancena. Fish Aquat Sci 17(1):105–113

Papa E, Castiglioni S, Gramatica P, Nikolayenko V, Kayumov O, Calamari D (2004) Screening the leaching tendency of pesticides applied in the Amu Darya Basin (Uzbekistan). Water Res 38:3485–3494

Prasad BB, Jauhari D, Tiwari MP (2014) Doubly imprinted polymer nano film-modified electrochemical sensor for ultra-trace simultaneous analysis of glyphosate and glufosinate. Biosens Bioelectron 59:81–88

Qian K, He S, Tang T, Shi T, Li J, Cao Y (2011) A rapid liquid chromatography method for determination of glufosinate residue in maize after derivatisation. Food Chem 127:722–726

Rembisz Z, Zakrzewski R, Skowron M, Ciesielski W (2016) Image analysis of phenylisothiocyanate derivatised and charge-couple device-detected glyphosate and glufosinate in food samples separated by thin-layer chromatography. Int J Environ Anal Chem 96(4):320–331

Sharma DK, Gupta A, Kashyap RK (2011) Polarographic determination of the fungicide thiram in relation to its environmental and toxicological analysis. Toxicol Environ Chem 93(7):1319–1331

Sharma DK, Kumar A, Mahender (2018) Simple and rapid SPE-GC-ECD method for the adsorption study of atrazine on some Indian soils for the assessment of ground water contamination risk. Res J Chem Environ 22(7):51–60

Sharma DK, Chauhan C, Gupta A, Sharma N (2007) A pulse polarographic method for the determination of primary and secondary amines and its application to the analysis of organic isocyanates. J Indian Chem Soc 84(11):1145–1147

Sharma DK, Verma NK, Suman S, Kashyap RK (2015) Pulse polarographic determination of thiophanate methyl fungicide in relation to its soil adsorption study. J Anal Sci Technol 6:13

Songa EA, Somerset VS, Waryo T, Baker PGL, Iwuoha EI (2009) Amperometric nano biosensor for quantitative determination of glyphosate and glufosinate residues in corn samples. Pure Appl Chem 81(1):123–139

Tu Q, Yang T, Qu Y, Gao S, Zhang Z, Zhang Q, Wang Y, Wang J (2019) In situ colorimetric detection of glyphosate on plant tissues using cysteamine-modified gold nanoparticles. Analyst 144(6):2017–2025

Usui K, Minami E, Fujita Y, Kubota E, Kobayashi H, Hanazawa T, Yoshizawa T, Kamijo Y, Funayama M (2019) Application of probe electrospray ionization-tandem mass spectrometry to ultra-rapid determination of glufosinate and glyphosate in human serum. J Pharm Biomed Anal 174:175–181

Valle AL, Mello FCC, Alves-Balvedi RP, Rodrigues LP, Goulart LR (2019) Glyphosate detection: methods, needs and challenges. Environ Chem Lett 17:291–317

Zhang W, Feng Y, Ma L, An J, Zhang H, Cao M, Zhu H, Kang W, Lian K (2019) A method for determining glyphosate and its metabolite aminomethylphosphonic acid by gas chromatography-flame photometric detection. J Chromatogr A 1589:116–121
Additional information
Publisher's Note
Springer Nature remains neutral with regard to jurisdictional claims in published maps and institutional affiliations.
About this article
Cite this article
Sharma, D.K., Kumar, N., Chaudhary, A. et al. Differential Pulse Polarographic Investigations on Glyphosate and Glufosinate Herbicides in Relation to Their Environmental Analysis. Bull Environ Contam Toxicol 105, 95–102 (2020). https://doi.org/10.1007/s00128-020-02901-1
Received:

Accepted:

Published:

Issue Date:
Keywords
Glyphosate

Glufosinate

Copper(II) perchlorate

DPP

Residue/formulation analysis

Soil adsorption study