Abstract
The concentrations of zinc, copper, lead and cadmium owing to vehicles were analyzed in roadside soils during all the four seasons from Faisalabad-Gojra road (M-4) and Gojra-Jhang road (GJR) in the Punjab, Pakistan. Results indicated that all the polluted sites along the roadside had comparatively higher metal concentrations as compared to control, nevertheless, spatio-temporal variations in metal concentrations were apparent in different soil samples. The spatial differences in metal concentrations were strongly associated with vehicle density at the Gojra Interchange site and Forest Park site along M-4 and GJR roads, respectively. Among seasons, metal ions exhibited the following order: summer > autumn > spring > winter, indicating that high temperature might have released more metal ions. The metals were recorded in contaminated soil in the order of Zn > Cu > Pb > Cd along both roads. This investigation emphasizes the need for proper environmental management particularly the improvement of roads and proper checking of vehicles running on these regards.
Access options
Buy single article
Instant access to the full article PDF.
USD 39.95
Price includes VAT (USA)
Tax calculation will be finalised during checkout.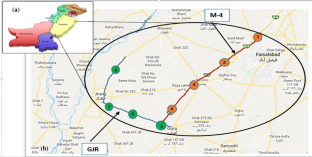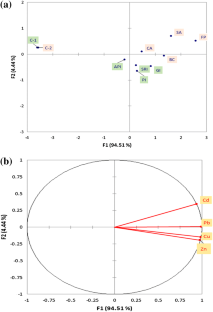 References
Adamiec E, Jarosz-Krzeminska E, Wieszala R (2016) Heavy metals from non-exhaust vehicle emissions in urban and motorway road dusts. Environ Monit Assess 188(6):369

Adedeji OH, Olayinka OO, Oyebanji FF (2013) Assessment of traffic related heavy metals pollution of roadside soils in emerging urban centres in Ijebu-north area of Ogun State, Nigeria. J Appl Sci Environ Manag 17:509–514

Adekunle IM (2009) Temperature effect on water extractability of cadmium, copper, lead and zinc from composted organic solid wastes of south-west Nigeria. Int J Environ Res Public Health 6(9):2397–2407

Ahmad I, Hussain M, Hameed M, Ahmad R (2018) Adverse effects of automobiles related Pb+ pollution on photosynthetic attributes and water relations of roadside vegetation. Pak J Bot 50(2):517–527

Alhassan AJ, Sule MS, Atiku MK, Wudil AM, Dangambo MA, Mashi JA, Ibrahim NA (2012) Study of correlation between heavy metal concentration, street dust and level of traffic in major roads of Kano Metropolis Nigeria Nigerian. J Basic Appl Sci 20(2):161–168

Ali H, Khan E, Ilahi I (2019) Environmental chemistry and ecotoxicology of hazardous heavy metals: environmental persistence, toxicity, and bioaccumulation. J Chem 2019:1–14

Alissa EM, Ferns GA (2011) Heavy metal poisoning and cardiovascular disease. J Toxicol. https://doi.org/10.1155/2011/870125

Aslam J, Khan SA, Khan SH (2013) Heavy metals contamination in roadside soil near different traffic signals in Dubai, United Arab Emirates. J Saudi Chem Soc 17:315–319

Assirey E, Al-Qodah Z, Al-Ahmadi M (2015) Impact of traffic density on roadside pollution by some heavy metal ions in Madinah city, Kingdom of Saudi Arabia. Asian J Chem 27(10):3770–3776

Bell JNB, Honour SL, Power SA (2011) Effects of vehicle exhaust emissions on urban wild plant species. Environ Pollut 159(8–9):1984–1990

Chen X, Xinghui X, Zhao Y, Zhang P (2010) Heavy metal concentrations in roadside soils and correlation with urban traffic in Beijing, China. J Hazard Mater 181:640–646

Chibuike GU, Obiora SC (2014) Heavy metal polluted soils: effect on plants and bioremediation methods. Appl Environ Soil Sci. https://doi.org/10.1155/2014/752708

Deletic A, Orr DW (2005) Pollution buildup on road surfaces. J Environ Eng 131:49–59

Friedlova M (2010) The influence of heavy metals on soil biological and chemical properties. Soil Water Res 5(1):21–27

Guo GH, Lei M, Chen TB, Song B, Li XY (2008) Effect of road traffic on heavy metals in road dusts and roadside soils. Acta Sci Circumstances 28:1937–1945

Habermann M, Medeiros APP, Gouveiai N (2011) Vehicular traffic as a method to evaluate air pollution in large cities [Trafego veicular como metodo de avaliacao da exposiçao a poluicao atmosferica nas grandes metropoles]. Rev Bras Epidemiol 14(1):120–130

Hadayat N, De Oliveira LM, Da Silva E, Han L, Hussain M, Liu X, Ma LQ (2018) Assessment of trace metals in five most-consumed vegetables in the US: conventional vs. organic. Environ Pollut 243:292–300

Hamzah NA, Mohd Tamrin SB, Ismail NH (2016) Metal dust exposure and lung function deterioration among steel workers: an exposure-response relationship. Int J Occup Environ Health 22(3):224–232

Hooda PS, Alloway BJ (1993) Effects of time and temperature on the bioavailability of Cd and Pb from sludge-amended soils. J Soil Sci 44(1):97–110

Hui Z, Caiqiu W, Jiping G, Xuyin Y, Qiao W, Wenming P, Hanpei Z (2017) Assessment of heavy metal contamination in roadside soils along the Shenyang-Dalian highway in Liaoning province China. Pol J Environ Stud 26:1539

Intawongse M, Dean JR (2006) Uptake of heavy metals by vegetable plants grown on contaminated soil and their bioavailability in the human gastrointestinal tract. Food Addit Contam 23(1):36–48

Jezierska B, Witeska M (2006). The metal uptake and accumulation in fish living in polluted waters. In Soil and water pollution monitoring, protection and remediation, Springer, Dordrecht pp. 107–114.

Karim Z, Qureshi BA, Mumtaz M, Qureshi S (2014) Heavy metal content in urban soils as an indicator of anthropogenic and natural influences on landscape of Karachi-a multivariate spatio-temporal analysis. Ecol Indic 42:20–31

Khalid N, Hussain M, Young HS, Ashraf M, Hameed M, Ahmad R (2018a) Lead concentrations in soils and some wild plant species along two busy roads in Pakistan. Bull Environ Contam Toxicol 100(2):250–258

Khalid N, Hussain M, Young HS, Boyce B, Aqeel M, Noman A (2018b) Effects of road proximity on heavy metal concentrations in soils and common roadside plants in Southern California. Environ Sci Pollut Res 25(35):35257–35265

Khalid N, Hussain M, Ashraf M, Masood A, Akhtar Y (2018c) Spatio-temporal variation in cadmium released by automobiles along two roads in Pakistan. Pak J Bot 50(2):529–536

Khan S, Khan MA, Rehman S (2011) Lead and cadmium contamination of different roadside soils and plants in Peshawar City Pakistan. Pedosphere 21(3):351–357

Krailertrattanachai N, Ketrot D, Wisawapipat W (2019) The distribution of trace metals in roadside agricultural soils, Thailand. Int J Environ Res Public Health 16(5):714

Li H, Shi A, Li M, Zhang X (2013) Effect of pH, temperature, dissolved oxygen, and flow rate of overlying water on heavy metals release from storm sewer sediments. J Chem 2013:1–11

Lough GC, Schauer JJ, Park JS, Shafer MM, DeMinter JT, Weinstein JP (2005) Emissions of metals associated with motor vehicle roadways. Environ Sci Technol 39(3):826–836

Ngole-Jeme VM (2016) Heavy metals in soils along unpaved roads in south west Cameroon: contamination levels and health risks. Ambio 45(3):374–386

Nguyen TTT, Higashi T, Kambayashi Y, Anyenda EO, Michigami Y, Hara J, Hori D (2016) A longitudinal study of association between heavy metals and itchy eyes, coughing in chronic cough patients: related with non-immunoglobulin E mediated mechanism. Int J Environ Res Public Health 13(1):110

Ogundele DT, Adio AA, Oludele OE (2015) Heavy metal concentrations in plants and soil along heavy traffic roads in North Central Nigeria. J Environ Toxicol 5(6):1

Penkala M, Ogrodnik P, Rogula-Kozlowska W (2018) Particulate matter from the road surface abrasion as a problem of non-exhaust emission control. Environment 5(1):9

Pulles T, Van der Gon HD, Appelman W, Verheul M (2012) Emission factors for heavy metals from diesel and petrol used in European vehicles. Atmos Environ 61:641–651

Ramakrishnaiah H, Somashekar RK (2002) Heavy metal contamination in roadside soil and their mobility in relations to pH and organic carbon. Soil Sediment Contam 11(5):643–654

Roy D, Pramanik A, Banerjee S, Ghosh A, Chattopadhyay D, Bhattacharyya M (2018) Spatio-temporal variability and source identification for metal contamination in the river sediment of Indian Sundarbans, a world heritage site. Environ Sci Pollut Res 25(31):31326–31345

Rozanski S, Jaworska H, Matuszczak K, Nowak J, Hardy A (2017) Impact of highway traffic and the acoustic screen on the content and spatial distribution of heavy metals in soils. Environ Sci Pollut Res 24(14):12778–12786

Singh J, Kalamdhad AS (2011) Effects of heavy metals on soil, plants, human health and aquatic life. Int J Res Chem Environ 1(2):15–21

Sodango TH, Li X, Sha J, Bao Z (2018) Review of the spatial distribution, source and extent of heavy metal pollution of soil in China: impacts and mitigation approaches. J Health Pollut 8(17):53–70

Steffan JJ, Brevik EC, Burgess LC, Cerda A (2018) The effect of soil on human health: an overview. Eur J Soil Sci 69(1):159–171

Subramani S, Devaanandan S (2015) Application of air pollution tolerance index in assessing the air quality. Int J Pharm Pharm Sci 7(7):216–221

Sulaiman FR, Hamzah HA (2018) Heavy metals accumulation in suburban roadside plants of a tropical area (Jengka, Malaysia). Ecol Processes 7(1):28

Surucu A, Mohammad DM, Gunal E, Budak M (2018) Concentration of heavy metals in soils along three major roads of Sulaimani, Northeast Iraq. Carpathian J Earth Environ Sci 13:523–538

Tchounwou PB, Yedjou CG, Patlolla AK, Sutton DJ (2012) Heavy metal toxicity and the environment. Mol Clin Environ Toxicol Springer, Basel 101:133–164

Thorpe A, Harrison RM (2008) Sources and properties of non-exhaust particulate matter from road traffic: a review. Sci Total Environ 400(1–3):270–282

USEPA (1996). SW-846 Test solid waste, method 3050B. http://www.epa.gov/osw/hazard/testmethods/sw846/pdfs/3050b.pdf.

Van der Steen JJ, De Kraker J, Grotenhuis T (2012) Spatial and temporal variation of metal concentrations in adult honeybees (Apis mellifera L). Environ Monit Assess 184(7):4119–4126

Wang M, Zhang H (2018) Accumulation of heavy metals in roadside soil in urban area and the related impacting factors. Inter J Environ Res Public Health 15(6):1064

Wuana RA, Okieimen FE (2011) Heavy metals in contaminated soils: a review of sources, chemistry, risks and best available strategies for remediation. ISRN Ecol. https://doi.org/10.5402/2011/402647

Yan X, Liu M, Zhong J, Guo J, Wu W (2018) How human activities affect heavy metal contamination of soil and sediment in a long-term reclaimed area of the Liaohe River Delta North China. Sustainability 10(2):338

Zhang Q, Yu R, Fu S, Wu Z, Chen HY, Liu H (2019) Spatial heterogeneity of heavy metal contamination in soils and plants in Hefei China. Sci Rep 9(1):1049
Acknowledgements
We are greatly acknowledged the cooperation of Shamim Umer and Sumreen Anjum in data collection. We also acknowledged the Incharge of the Central High-Tech Lab of Agriculture University, Faisalabad, Pakistan, for analysis of heavy metal.
Ethics declarations
Conflict of interest
I, on the behalf of all co-authors, that I have no conflict of interest with any institution or private sector. This project is a part of my PhD thesis and not funded by any funding agency.
Additional information
Publisher's Note
Springer Nature remains neutral with regard to jurisdictional claims in published maps and institutional affiliations.
About this article
Cite this article
Batool, H., Hussain, M., Hameed, M. et al. Spatial and Temporal Heterogeneity of Metal Contaminants in Soils Along Two Major Roads. Bull Environ Contam Toxicol 105, 111–118 (2020). https://doi.org/10.1007/s00128-020-02899-6
Received:

Accepted:

Published:

Issue Date:
Keywords
Vehicles

Spatio-temporal

Gojra Interchange

Forest Park

M-4

GJR