Abstract
In this study, the responses of wheat seedlings to graphene oxide (GO) were investigated at a wide concentration range of 0–1000 mg L−1, including oxidative stress, real-time membrane potential as well as proton and calcium ion fluxes. The results show that GO induced a hormesis effect on root growth (low concentration (100 mg L−1) promotion and high concentration (1000 mg L−1) inhibition. Oxidative stress was responsible for the growth inhibition at GO concentration of 1000 mg L−1, as suggested from great stimulation in the activities of antioxidant enzymes and MDA content in roots or leaves. Superoxide dismutase (SOD), catalase (CAT), peroxidase (POD) activities were highly correlated with MDA levels (r2 = 0.963, 0.984, and 0.960, respectively). GO exposure caused significant concentration-dependent membrane depolarization in roots, and significantly inhibited H+ efflux and extracellular Ca2+ influx in root cap.
Access options
Buy single article
Instant access to the full article PDF.
USD 39.95
Price includes VAT (USA)
Tax calculation will be finalised during checkout.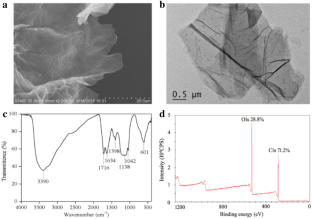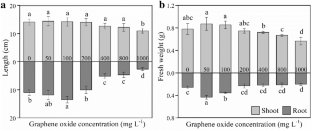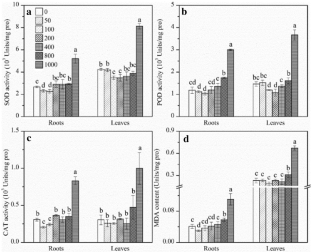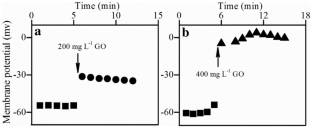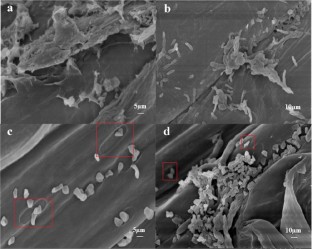 References
Anjum NA, Singh N, Singh MK, Sayeed I, Duarte AC, Pereira E, Ahmad I (2014) Single-bilayer graphene oxide sheet impacts and underlying potential mechanism assessment in germinating faba bean (Vicia faba L.). Sci Total Environ 472:834–841

Begum P, Fugetsu B (2013) Induction of cell death by graphene in Arabidopsis thaliana (Columbia ecotype) T87 cell suspensions. J Hazard Mater 260:1032–1041

Begurn P, Ikhtiari R, Fugetsu B (2011) Graphene phytotoxicity in the seedling stage of cabbage, tomato, red spinach, and lettuce. Carbon 49:3907–3919

Cañas JE, Long M, Nations S, Vadan R, Dai L, Luo M, Ambikapathi R, Lee EH, Olszyk D (2008) Effects of functionalized and nonfunctionalized single-walled carbon nanotubes on root elongation of select crop species. Environ Toxicol Chem 27(9):1922–1931

Chen LY, Wang CL, Li HL, Qu XL, Yang ST, Chang XL (2017) Bioaccumulation and toxicity of 13C-skeleton labeled graphene oxide in wheat. Environ Sci Technol 51(17):10146–10153

Chen LY, Wang CL, Yang SN, Guan X, Zhang QQ, Shi MY, Yang ST, Chen CY, Chang XL (2019) Chemical reduction of graphene enhances in vivo translocation and photosynthetic inhibition in pea plants. Environ Sci 6:1077–1088

Dat J, Vandenabeele S, Vranova E, Van Montagu M, Inze D, Van Breusegem F (2000) Dual action of the active oxygen species during plant stress responses. Cell Mol Life Sci 57(5):779–795

Dietz KJ, Herth S (2011) Plant nanotoxicology. Trends Plant Sci 16(11):582–589

Du ST, Zhang P, Zhang RR, Lu Q, Liu L, Bao XW, Liu HJ (2016) Reduced graphene oxide induces cytotoxicity and inhibits photosynthetic performance of the green alga Scenedesmus obliquus. Chemosphere 164:499–507

Dubey P, Mishra AK, Singh AK (2015) Comparative analyses of genotoxicity, oxidative stress and antioxidative defence system under exposure of methyl parathion and hexaconazole in barley (Hordeum vulgare L.). Environ Sci Pollut R 22(24):19848–19859

Georgakilas V, Otyepka M, Bourlinos AB, Chandra V, Kim N, Kemp KC, Hobza P, Zboril R, Kim KS (2012) Functionalization of graphene: covalent and non-covalent approaches, derivatives and applications. Chem Rev 112(11):6156–6214

Gill SS, Tuteja N (2010) Reactive oxygen species and antioxidant machinery in abiotic stress tolerance in crop plants. Plant Physiol Bioch 48(12):909–930

Hazeem LJ, Bououdina M, Dewailly E, Slomianny C, Barras A, Coffinier Y, Szunerits S, Boukherroub R (2017) Toxicity effect of graphene oxide on growth and photosynthetic pigment of the marine alga Picochlorum sp. during different growth stages. Environ Sci Pollut R 24(4):4144–4152

Hossain Z, Mustafa G, Komatsu S (2015) Plant responses to nanoparticle stress. Int J Mol Sci 16(11):26644–26653

Hu X, Zhou Q (2013) Health and ecosystem risks of graphene. Chem Rev 113(5):3815–3835

Hu X, Lu K, Mu L, Kang J, Zhou Q (2014) Interactions between graphene oxide and plant cells: regulation of cell morphology, uptake, organelle damage, oxidative effects and metabolic disorders. Carbon 80:665–676

Hu X, Ouyang S, Mu L, An J, Zhou Q (2015) Effects of graphene oxide and oxidized carbon nanotubes on the cellular division, microstructure, uptake, oxidative stress, and metabolic profiles. Environ Sci Technol 49(18):10825–10833

Hu XG, Gao Y, Fang Z (2016) Integrating metabolic analysis with biological endpoints provides insight into nanotoxicological mechanisms of graphene oxide: from effect onset to cessation. Carbon 109:65–73

Kanchiswamy CN, Malnoy M, Occhipinti A, Maffei ME (2014) Calcium imaging perspectives in plants. Int J Mol Sci 15(3):3842–3859

Li Y, Yuan H, von dem Bussche A, Creighton M, Hurt RH, Kane AB, Gao H (2013) Graphene microsheets enter cells through spontaneous membrane penetration at edge asperities and corner sites. Proc Natl Acad Sci USA 110(30):12295–12300

McAinsh MR, Pittman JK (2009) Shaping the calcium signature. New Phytol 181(2):275–294

Monshausen GB, Bibikova TN, Weisenseel MH, Gilroy S (2009) Ca2+ regulates reactive oxygen species production and ph during mechanosensing in Arabidopsis roots. Plant Cell 21(8):2341–2356

Nogueira PFM, Nakabayashi D, Zucolotto V (2015) The effects of graphene oxide on green algae Raphidocelis subcapitata. Aquat Toxicol 166:29–35

Palmgren MG (2001) Plant plasma membrane H+-ATPases: powerhouses for nutrient uptake. Annu Rev Plant Physiol Plant Mol Biol 52:817–845

Percey WJ, Shabala L, Breadmore MC, Guijt RM, Bose J, Shabala S (2014) Ion transport in broad bean leaf mesophyll under saline conditions. Planta 240(4):729–743

Ren W, Chang H, Teng Y (2016) Sulfonated graphene-induced hormesis is mediated through oxidative stress in the roots of maize seedlings. Sci Total Environ 572:926–934

Sreeprasad TS, Pradeep T (2012) Graphene for environmental and biological applications. Int J Mod Phys B 26(21):26

Sze H, Li XH, Palmgren MG (1999) Energization of plant cell membranes by H+-pumping ATPases: regulation and biosynthesis. Plant Cell 11(4):677–689

Wang J, Chen Z, Chen B (2014a) Adsorption of polycyclic aromatic hydrocarbons by graphene and graphene oxide nanosheets. Environ Sci Technol 48:4817–4825

Wang QQ, Zhao SQ, Zhao YL, Rui Q, Wang DY (2014b) Toxicity and translocation of graphene oxide in Arabidopsis plants under stress conditions. Rsc Adv 4(105):60891–60901

Wang Y, Welch ZS, Ramirez AR, Bouchard DC, Schimel JP, Gardea-Torresdey JL, Holden PA (2019) Effects of carbonaceous nanomaterials on soil-grown soybeans under combined heat and insect stresses. Environ Chem 16:482–493

Whalley HJ, Knight MR (2013) Calcium signatures are decoded by plants to give specific gene responses. New Phytol 197(3):690–693

Yu Y, Xu T, Li X, Tang J, Ma D, Li Z, Sun J (2016) NaCl-induced changes of ion homeostasis and nitrogen metabolism in two sweet potato (Ipomoea batatas L.) cultivars exhibit different salt tolerance at adventitious root stage. Environ Exp Bot 129:23–36

Zhao SQ, Wang QQ, Zhao YL, Rui Q, Wang DY (2015) Toxicity and translocation of graphene oxide in Arabidopsis thaliana. Environ Toxicol Pharmacol 39(1):145–156

Zhou QX, Hu XG (2017) Systemic stress and recovery patterns of rice roots in response to graphene oxide nanosheets. Environ Sci Technol 51(4):2022–2030

Zhu Y, Murali S, Cai W, Li X, Suk JW, Potts JR, Ruoff RS (2010) Graphene and graphene oxide: synthesis, properties, and applications. Adv Mater 22(35):3906–3924

Zivanovic BD (2012) Surface tip-to-base Ca2+ and H+ ionic fluxes are involved in apical growth and graviperception of the Phycomyces stage I sporangiophore. Planta 236(6):1817–1829
Acknowledgements
This work was financially supported by the National Key Research and Development Program of China (2017YFA0207001), the National Natural Science Foundation of China (Nos. 41877139, 41401565). The authors acknowledge the Xuyue Science & Technology Co. Ltd. for the scientific and technical assistance in Non-invasive Micro-Test.
Ethics declarations
Conflict of interest
The authors declare that they have no conflict of interest.
Informed Consent
Informed consent was obtained from all individual participants included in the study.
Additional information
Publisher's Note
Springer Nature remains neutral with regard to jurisdictional claims in published maps and institutional affiliations.
About this article
Cite this article
Ren, W., Chang, H., Li, L. et al. Effect of Graphene Oxide on Growth of Wheat Seedlings: Insights from Oxidative Stress and Physiological Flux. Bull Environ Contam Toxicol 105, 139–145 (2020). https://doi.org/10.1007/s00128-020-02888-9
Received:

Accepted:

Published:

Issue Date:
Keywords
Graphene oxide

Nanomaterial

Oxidative stress

Membrane potential

Ion flux