Abstract
Molecular biomarkers play an increasing crucial role in evaluating and predicting toxicity of metals. Expressions patterns of genes related to oxidative stress, apoptosis, immune and inflammation response in the Bufo gargarizans embryo exhibited a development dependent manner. The genes related to oxidative stress (HSP, GPx and SOD) are the first response in the development of embryo, followed by the apoptosis (Bax, BCLAF1 and TRAIL) and inflammation and immune response (SOCS3, IL-27 and IL-17D), respectively. Then, we have verified the HSP, Bax and SOCS3 IL-27 (expressed highest in their respective processes) exhibited the most significant changes in Cd–Pb mixed group compared with control. In addition, we found exposure of Cd–Pb mixed metals causes greater adverse effects than Cd, Pb alone on development and morphology of embryo. Overall, our results provide a useful tool to use the sensitive molecular biomarkers as indicators of developmental toxicity in amphibian embryo.
Access options
Buy single article
Instant access to the full article PDF.
USD 39.95
Price includes VAT (USA)
Tax calculation will be finalised during checkout.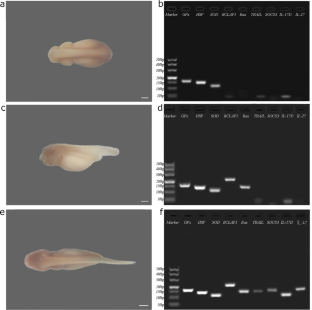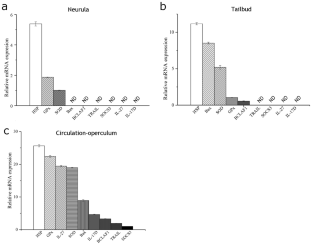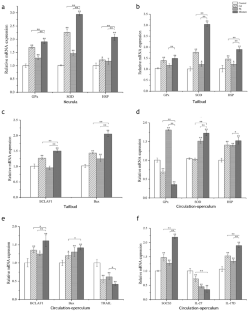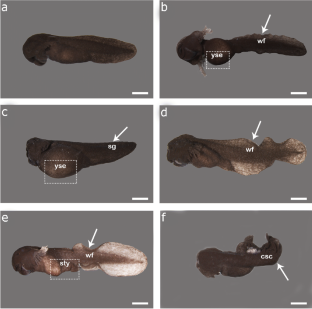 References
Ayangbenro AS, Babalola OO (2017) A new strategy for heavy metal polluted environments: a review of microbial biosorbents. Int J Public Health 14(1):94

Baeuerle PA, Baichwal VR (1997) NF-kappa B as a frequent target for immunosuppressive and anti-inflammatory molecules. Adv Immunol 65:111–137

Cao SY, Wu XB, Yan P, Hu YL, Su X, Jiang ZG (2006) Complete nucleotide sequences and gene organization of mitochondrial genome of Bufo gargarizans. Mitochondrion 6(4):186–193

Chai L, Wang H, Zhao H, Deng H (2016) Chronic effects of triclosan on embryonic development of Chinese toad, Bufo gargarizans. Ecotoxicology 25(8):1600–1608

Chai L, Li Y, Chen Z, Chen A, Deng H (2017a) Responses of growth, malformation, and thyroid hormone-dependent genes expression in Bufo gargarizans embryos following chronic exposure to Pb2+. Environ Sci Pollut Res 24(36):27953–27962

Chai L, Wang H, Zhao H, Dong S (2017b) Chronic effects of fluoride exposure on growth, metamorphosis, and skeleton development in Bufo gargarizans larvae. Bull Environ Contam Toxicol 98(4):496–501

Chow ESH, Hui MNY, Lin CC, Cheng SH (2008) Cadmium inhibits neurogenesis in zebrafish embryonic brain development. Aquat Toxicol 87(3):157–169

Claudio L, Kwa WC, Russell AL, Wallinga D (2000) Testing methods for developmental neurotoxicity of environmental chemicals. Toxicol Appl Pharmacol 164:1–14

Dondero F, Banni M, Negri A, Boatti L, Viarengo A (2011) Interactions of a pesticide/heavy metal mixture in marine bivalves: a transcriptomic assessment. BMC Genomics 12(1):195

Driessnack MK, Jamwal A, Niyogi S (2017) Effects of chronic exposure to waterborne copper and nickel in binary mixture on tissue-specific metal accumulation and reproduction in fathead minnow (pimephales promelas). Chemosphere 185:964–974

Duzgoren-Aydin NS (2007) Sources and characteristics of lead pollution in the urban environment of Guangzhou. Sci Total Environ 385:182–195

Fang T, Yang K, Lu W, Cui K, Li J, Liang Y, Li H et al (2019) An overview of heavy metal pollution in Chaohu Lake, China: enrichment, distribution, speciation, and associated risk under natural and anthropogenic changes. Environ Sci Pollut Res 26:29585–29596

Finkel T, Holbrook NJ (2000) Oxidants, oxidative stress and the biology of ageing. Nature 408(6809):239–247

GB 7470-87: Water quality-determination of lead-spectrophotometric method with dithizone, PRC National Standard, 1987.

GB 7471-87: Water quality-determination of cadmium-spectrophotometric method with dithizone, PRC National Standard, 1987.

Gosner KL (1960) A simplified table for staging anuran embryos and larvae with notes on identification. Herpetologica 16(3):183–190

Grogan LF, Robert J, Berger L, Skerratt LF, Scheele BC, Castley JG, McCallum HI (2018) Review of the amphibian immune response to chytridiomycosis, and future directions. Front Immunol 9:2536

Gui T, He B, Gan Q, Yang C (2017) Enhanced SOCS3 in osteoarthiritis may limit both proliferation and inflammation. Biotech Histochem 92(2):107–114

Hunter CA (2005) New IL-12-family members: IL-23 and IL-27, cytokines with divergent functions. Nat Rev Immunol 5(7):521–531

Jacques R, Mcguire CC, Fayth K et al (2018) Water contaminants associated with unconventional oil and gas extraction cause immunotoxicity to amphibian tadpoles. Toxicol Sci 166(1):39–50

Jayawardena UA, Ratnasooriya WD, Wickramasinghe DD, Udagama PV (2016) Heavy metal mediated innate immune responses of the indian green frog, euphlyctis hexadactylus (anura: ranidae): cellular profiles and associated th1 skewed cytokine response. Sci Total Environ 566–567:1194–1204

Jiang J, Shi Y, Shan Z, Yang L, Wang X, Shi L (2011) Bioaccumulation, oxidative stress and HSP70 expression in Cyprinus carpio L. exposed to microcystin-LR under laboratory conditions. Comp Biochem Phys C 55(3):483–490

Jin Y, Liu Z, Liu F, Ye Y, Peng T, Fu Z (2015) Embryonic exposure to cadmium (II) and chromium (VI) induce behavioral alterations, oxidative stress and immunotoxicity in zebrafish (Danio rerio). Neurotoxicol Teratol 48:9–17

Jin J, Wang Y, Wu Z et al (2017) Transcriptomic analysis of liver from grass carp (Ctenopharyngodon idellus) exposed to high environmental ammonia reveals the activation of antioxidant and apoptosis pathways. Fish Shellfish Immunol 63:444–451

Kauppinen A, Suuronen T, Ojala J, Kaarniranta K, Salminen A (2013) Antagonistic crosstalk between NF-κB and SIRT1 in the regulation of inflammation and metabolic disorders. Cell Signal 25(10):1939–1948

Lee YY, Yu YB, Gunawardena HP, Xie L, Chen X (2012) BCLAF1 is a radiation-induced H2AX-interacting partner involved in γH2AX-mediated regulation of apoptosis and DNA repair. Cell Death Dis 3(7):359

Li SW, Sun X, He Y, Guo Y, Zhao HJ, Hou ZJ, Xing MW (2017) Assessment of arsenic trioxide in the heart of Gallus gallus: alterations of oxidative damage parameters, inflammatory cytokines, and cardiac enzymes. Environ Sci Pollut Res Int 24:5781–5790

Li Y, Zhao Y, Deng H, Chen A, Chai L (2018) Endocrine disruption, oxidative stress and lipometabolic disturbance of Bufo gargarizans embryos exposed to hexavalent chromium. Ecotoxicol Environ Saf 166:242–250

Lihong W, Yuanmei J, Qingzhong M et al (2009) Evaluation of heavy metal pollution in Bijiang Basin in Yunnan Province. Res Environ Sci 22(5):595–606

Livak KJ, Schmittgen TD (2001) Analysis of relative gene expression data using real-time quantitative PCR and the 2−ΔΔCT method. Methods 25(4):402–408

Lushchak VI (2011) Environmentally induced oxidative stress in aquatic animals. Aquat Toxicol 101(1):13–30

Martini F, Fernández C, Tarazona JV, Pablos MV (2012) Gene expression of heat shock protein 70, interleukin-1β and tumor necrosis factor α as tools to identify immunotoxic effects on Xenopus laevis: a dose–response study with benzo [a] pyrene and its degradation products. Environ Pollut 160:28–33

Mathieu-Denoncourt J, Martyniuk CJ, De Solla SR, Balakrishnan VK, Langlois VS (2014) Sediment contaminated with the azo dye disperse yellow 7 alters cellular stress- and androgen-related transcription in Silurana tropicalis larvae. Environ Sci Technol 48(5):2952–2961

Mughal MJ, Xi P, Yi Z, Jing F (2017) Aflatoxin B1 invokes apoptosis via death receptor pathway in hepatocytes. Oncotarget 8:8239–8249

Mugoni V, Camporeale A, Santoro MM (2014) Analysis of oxidative stress in zebrafish embryos. Jove-J Vis Exp. https://doi.org/10.3791/51328

Muthulakshmi S, Maharajan K, Habibi HR, Kadirvelu K, Venkataramana M (2018) Zearalenone induced embryo and neurotoxicity in zebrafish model (Danio rerio): role of oxidative stress revealed by a multi biomarker study. Chemosphere 198:111–121

Pérez-Coll CS, Herkovits J (1990) Stage dependent susceptibility to lead in Bufo arenarum embryos. Environ Pollut 63(3):239–245

Pfaffl MW, Tichopad A, Prgomet C, Neuvians TP (2004) Determination of stable housekeeping genes, differentially regulated target genes and sample integrity: BestKeeper—Excel-based tool using pair-wise correlations. Biotechnol Lett 26(6):509–515

Piersma AH, Hessel EV, Staal YC (2017) Retinoic acid in developmental toxicology: teratogen, morphogen and biomarker. Reprod Toxicol 72:53–61

Planchart A, Mattingly CJ, Allen D, Ceger P, Casey W, Hinton D, Kanungo J, Kullman SW, Tal T, Bondesson M, Burgess SM, Sullivan C, Kim C, Behl M, Padilla S, Reif DM, Tanguay RL, Hamm J (2016) Advancing toxicology research using in vivo high throughput toxicology with small fish models. Altex 33:435–452

Pitti RM, Marsters SA, Ruppert S, Donahue CJ, Moore A, Ashkenazi A (1996) Induction of apoptosis by Apo-2 ligand, a new member of the tumor necrosis factor cytokine family. J Biol Chem 271:12687–12690

Ralf W, Kenngott EE, Liu FDM, Schwab JM, Alf H, Paul P (2015) Anti-inflammatory effects of il-27 in zymosan-induced peritonitis: inhibition of neutrophil recruitment partially explained by impaired mobilization from bone marrow and reduced chemokine levels. PLoS ONE 10(9):0137651

Rajendrasozhan S, Yang SR, Kinnula VL, Rahman I (2008) SIRT1, an antiinflammatory and antiaging protein, is decreased in lungs of patients with chronic obstructive pulmonary disease. Am J Respir Crit Care Med 177:861–870

Swarnalatha K, Letha J, Ayoob S, Nair AG (2015) Risk assessment of heavy metal contamination in sediments of a tropical lake. Environ Monit Assess 187:322

Tu H, Fan C, Chen X, Liu J, Wang B, Huang Z et al (2017) Effects of cadmium, manganese, and lead on locomotor activity and neurexin 2a expression in zebrafish. Environ Toxicol Chem 36(8):2147–2154

Valavanidis A, Vlahogianni T, Dassenakis M, Scoullos M (2006) Molecular biomarkers of oxidative stress in aquatic organisms in relation to toxic environmental pollutants. Ecotoxicol Environ Saf 64(2):178–189

Woolfson JP, Heikkila JJ (2009) Examination of cadmium-induced expression of the small heat shock protein gene, hsp30, in Xenopus laevis a6 kidney epithelial cells. Comparative biochemistry and physiology. Comp Biochem Phys A 152(1):91–99

Wu B, Cui H, Peng X, Fang J, Zuo Z, Deng J, Huang J (2014) Dietary nickel chloride induces oxidative stress, apoptosis and alters Bax/Bcl-2 and caspase-3 mRNA expression in the cecal tonsil of broilers. Food Chem Toxicol 63:18–29

Wu C, Zhang Y, Chai L, Wang H (2017) Oxidative stress, endocrine disruption, and malformation of Bufo gargarizans embryo exposed to sub-lethal cadmium concentrations. Environ Toxicol Pharm 49:97–104

Xia K, Zhao H, Wu M, Wang H (2012) Chronic toxicity of copper on embryo development in Chinese toad, Bufo gargarizans. Chemosphere 87(11):1395–1402

Xia J, Inagaki Y, Gao J et al (2017) Combination of cinobufacini and doxorubicin increases apoptosis of hepatocellular carcinoma cells through the fas- and mitochondria-mediated pathways. Am J Chin Med 45(07):1537–1556

Xu H, Shao X, Zhang Z, Zou Y, Wu X, Yang L (2013) Oxidative stress and immune related gene expression following exposure to di-n-butyl phthalate and diethyl phthalate in zebrafish embryos. Ecotoxicol Environ Saf 93:39–44

Yang L, Zha J, Zhang X, Li W, Li Z, Wang Z (2010) Alterations in mRNA expression of steroid receptors and heat shock proteins in the liver of rare minnow (Grobiocypris rarus) exposed to atrazine and p,p'-DDE. Aquat Toxicol 98(4):381–387

Yao HD, Wu Q, Zhang ZW, Li S, Wang XL, Lei XG, Xu SW (2013) Selenoprotein W serves as an antioxidant in chicken myoblasts. Biochim Biophys Acta 1830:3112–3120

Yin J, Wang AP, Li WF, Shi R, Jin HT, Wei JF (2017) Sensitive biomarkers identification for differentiating Cd and Pb induced toxicity on zebrafish embryos. Environ Toxicol Pharm 56:340–349

Yuan CG, Shi JB, He B, Liu JF, Liang LN, Jiang GB (2004) Speciation of heavy metals in marine sediments from the east china sea by ICP-MS with sequential extraction. Environ Int 30(6):769–783

Zhao H, He Y, Li S, Sun X, Wang Y, Shao Y, Xing M et al (2017) Subchronic arsenism-induced oxidative stress and inflammation contribute to apoptosis through mitochondrial and death receptor dependent pathways in chicken immune organs. Oncotarget 8(25):40327

Zimmerman LM, Bowden RM, Vogel LA (2014) A vertebrate cytokine primer for ecoimmunologists. Funct Ecol 28(5):1061–1073
Acknowledgements
This research was financially supported by the National Natural Science Foundation of China (Grant Number 31572222), the Natural Science Foundation of Shaanxi Province (Grant Number 2019JM-331).
Additional information
Publisher's Note
Springer Nature remains neutral with regard to jurisdictional claims in published maps and institutional affiliations.
About this article
Cite this article
Zheng, R., Wu, M., Wang, H. et al. Response Patterns of Biomarkers as Tools to Identify Toxic Effects of Cadmium and Lead on Bufo gargarizans Embryo. Bull Environ Contam Toxicol 105, 41–50 (2020). https://doi.org/10.1007/s00128-020-02884-z
Received:

Accepted:

Published:

Issue Date:
Keywords
Molecular biomarker

Oxidative stress

Apoptosis

Immune

B. gargarizans embryo