Abstract
We have presented a study to determine the possibility for the usage of Cladophora fracta as bioaccumulator of the metals (Au) and silver (Ag) both have characteristics of pollutant and precious in mine water. The highest concentrations accumulated by C. fracta were determined as 5.8 ± 0.3 and 5323 ± 75 µg/kg for Au and Ag, respectively. The results showed that the accumulation of the metals measured followed the order of Ag > Au. The Metal Pollution Index (MPI) values calculated between 39.37 × 10−3 and 175.7 × 10−3 were used to determine the pollution degree of C. fracta. As a result, it was determined that C. fracta highly accumulated the precious metals from the gallery water. Therefore, C. fracta was a good bioaccumulator for the remediation of Au and Ag in mine gallery waters. In this way, it is possible to minimize or eliminate the environmental risks of the precious metals in the gallery waters.
Access options
Buy single article
Instant access to the full article PDF.
USD 39.95
Price includes VAT (USA)
Tax calculation will be finalised during checkout.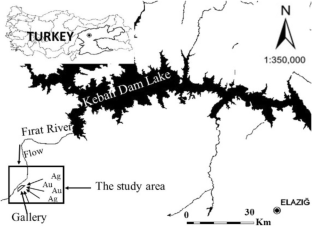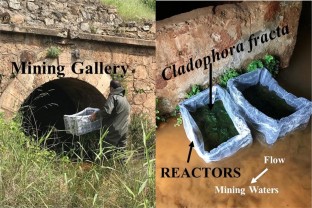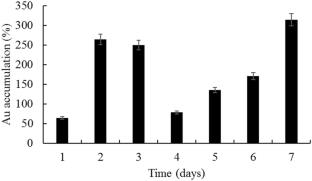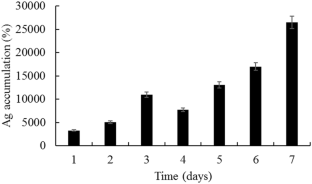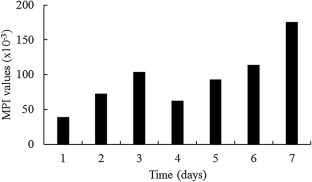 References
Abdel-Khalek AA, Elhaddad E, Mamdouh S, Marie M-AS (2016) Assessment of metal pollution around sabal drainage in River Nile and its impacts on bioaccumulation level, metals correlation and human risk hazard using Oreochromis niloticus as a bioindicator. Turk J Fish Aquat Sci 16:227–239

Ahmed ASS, Sultana S, Habib A, Ullah H, Musa N, Hossain MB, Rahman MdM, Sarker MdSI (2019) Bioaccumulation of heavy metals in some commercially important fishes from a tropical river estuary suggests higher potential health risk in children than adults. PLoS ONE 14:1–21

Ayangbenro AS, Babalola OO (2017) A new strategy for heavy metal polluted environments: a review of microbial biosorbents. Int J Environ Res Public health 14(1):94

Bindschedler S, Vu Bouquet TQT, Job D, Joseph E, Junier P (2017) Fungal biorecovery of gold from e-waste. Adv Appl Microbiol 99:53–81

Chakraborty N, Banerjee A, Lahiri S, Panda A, Ghosh AN, Pal R (2009) Biorecovery of gold using cyanobacteria and an eukaryotic alga with special reference to nanogold formation–a novel phenomenon. J Appl Phycol 21:145–152

Chu W-L, Nguk-Ling Dang N-L, Kok Y-Y, Yap K-SI, Phang S-M, Convey P (2019) Heavy metal pollution in Antarctica and its potential impacts on algae. Polar Sci 20(1):75–83

Engidayehu A, Sahu O (2020) Enzymatic recovery of silver from waste radiographic film: optimize with response surface methodology. Sustain Chem Pharm 15:100224

Ergüven GO, Demir G (2019) Evaluation of the detoxification potential of micrococcus strains and plants for bioremediate organochlorine herbicides. Int J Innov Approaches Agri Res 3(3):353–364

Gadd GM (1990) Heavy metal accumulation by bacteria and other microorganisms. Experientia 46(8):834–840

Greene B, Hosea M, McPherson R, Dale HM, Darnall ADW (1986) 1986, Interaction of gold(I) and gold(III) complexes with algal biomass. Environ Sci Technol 20(6):627–632

Hammoudeh S, Malik F, McAleer M (2011) Risk management of precious metals. Q Rev Econ Finance 51(4):435–441

Islam K, Vilaysouk X, Murakami S (2020) Integrating remote sensing and life cycle assessment to quantify the environmental impacts of copper-silver-gold mining: A case study from Laos. Resour Conserv Recycl 154:104630

Jamil T, Lias K, Norsila D, Syafinaz NS (2014) Assessment of heavy metal contamination in squıd (Loligo Spp.) tissues of Kedah-Perlıs Waters, Malaysia. Malaysian J Anal Sci 18:195–203

Kanat G, Ikizoglu B, Erguven GO, Akgun B (2018) Determination of pollution and heavy metal fractions in golden horn sediment sludge. Pol J Environ Stud 27:2605–2611

Lu J, Liu Z, Wu Z, Liu W, Yang C (2020) Synergistic effects of binary surfactant mixtures in the removal of Cr(VI) from its aqueous solution by foam fractionation. Sep Purif Technol 23715:116346

Ngatijo N, Basuki R, Rusdiarso B, Nuryono N (2020) Sorption-desorption profile of Au(III) onto silica modified quaternary amines (SMQA) in gold mining effluent. J Environ Chem Eng 8(3):103747

Nguyen NV, Jeong J, Jha MK, Lee JC, Osseo-Asare K (2010) Comparative studies on the adsorption of Au(III) from waste rinse water of semiconductor industry using various resins. Hydrometallurgy 105(1–2):161–167

Paul M, Bhanja N, Dar AB (2019) Gold, gold mining stocks and equities- partial wavelet coherence evidence from developed countries. Resour Policy 62:378–384

Rana S, Mishra P, Wahid Z, Thakur S, Pant D, Singh L (2020) Microbe-mediated sustainable bio-recovery of gold from low-grade precious solid waste: a microbiological overview. J Environ Sci 89:47–64

Saranya D, Shanthakumar S (2020) An integrated approach for tannery effluent treatment with ozonation and phycoremediation: a feasibility study. Environ Res 183:109163

Sasmaz M, Arslan Topal EI, Öbek E, Sasmaz A (2015) The potential of Lemna gibba L. and Lemna minor L. to remove Cu, Pb, Zn, and As in gallery water in a mining area in Keban. Turkey J Environ Manage 163:246–253

Topal M (2015) Uptake of tetracycline and degradation products by Phragmites australis grown in stream carrying secondary effluent. Ecol Eng 79:80–85

Usero J, González-Regalado E, Gracia I (1996) Trace metals in the bivalve mollusc Chamelea gallina from the Atlantic coast of southern Spain. Oceanogr Lit Rev 10:1058

Xu X, Yang Y, Zhao X, Zhao H, Lu Y, Jiang C, Shao D, Shi J (2019) Recovery of gold from electronic wastewater by Phomopsis sp. XP-8 and its potential application in the degradation of toxic dyes. Bioresour Technol 288:121610
Additional information
Publisher's Note
Springer Nature remains neutral with regard to jurisdictional claims in published maps and institutional affiliations.
About this article
Cite this article
Topal, M., Öbek, E. & Arslan Topal, E.I. Phycoremediation of Precious Metals by Cladophora fracta From Mine Gallery Waters Causing Environmental Contamination. Bull Environ Contam Toxicol 105, 134–138 (2020). https://doi.org/10.1007/s00128-020-02879-w
Received:

Accepted:

Published:

Issue Date:
Keywords
Accumulation

Gallery water

Remediation

Precious metals

Contamination