Abstract
Hydropower plants (HPPs) can affect the hydrological regime. However, biochemical responses of aquatic animals for the evaluation of this disturbing are not applied yet. The specimens of Unio tumidus were sampled in a reservoir (R) of a small HPP as well as downstream from the dam (DS). Biochemical indexes in the digestive gland and alkali labile phosphates (ALP) in the gonads were examined. The R-mollusks showed low cholinesterase, catalase and caspase-3 activities, and metallothionein concentration, but elevated levels of zinc and copper, oxidized glutathione and protein carbonyls. Concentrations of lactate, pyruvate and ALP, activity of superoxide dismutase and glutathione S-transferase, and lipid peroxidation level were similar in both groups. Integrated biomarker response (IBR/n) index (n = 13) was 2.17 and 0.29 in the R- and DS-groups correspondingly. We suggest that using integrative biological response based on the biochemical markers of bivalve mollusks can be a valid early warning step in assessing 'environmental flow' impact.
Access options
Buy single article
Instant access to the full article PDF.
USD 39.95
Price includes VAT (USA)
Tax calculation will be finalised during checkout.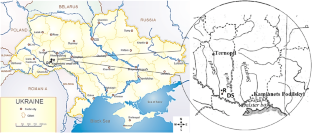 References
Aebi H (1974) Catalase. In: Bergmeyer HU (ed) Methods of enzymatic analysis. Academic Press, London, pp 671–684

Bainy ACD, de Medeiros MHG, Di Mascio P, de Almeida EA (2006) In vivo effects of metals on the acetylcholinesterase activity of the Perna perna mussel's digestive gland. Biotemas 19:35–39

Beliaeff B, Burgeot T (2002) Integrated biomarker response: a useful tool for ecological risk assessment. Environ Toxicol Chem 21:1316–1322. https://doi.org/10.1002/etc.5620210629

Bhagat J, Ingole BS, Singh N (2016) Glutathione S-transferase, catalase, superoxide dismutase, glutathione peroxidase, and lipid peroxidation as biomarkers of oxidative stress in snails: a review. Invertebr Surviv J 13:336–349

Bilotta GS, Burnside NG, Turley MD, Gray JC, Orr HG (2017) The effects of run-of-river hydroelectric power schemes on invertebrate community composition in temperate streams and rivers. PLoS ONE 12(2):e0171634. https://doi.org/10.1371/journal.pone.0171634

Bonomini M, Dottori S, Amoroso A, Arduini A, Sirolli V (2004) Increased platelet phosphatidylserine exposure and caspase activation in chronic uremia. J Thromb Haemost 2(2):1275–1281. https://doi.org/10.1111/j.1538-7836.2004.00837.x

Bopp SK, Barouki R, Brack W, Dalla Costa S, Dorne JLC, Drakvik PE, Faust M, Karjalainen TK, Kephalopoulos S, van Klaveren J, Kolossa-Gehring M (2018) Current EU research activities on combined exposure to multiple chemicals. Environ Int 120:544–562. https://doi.org/10.1016/j.envint.2018.07.037

Broeg K, Lehtonen KK (2006) Indices for the assessment of environmental pollution of the Baltic Sea coasts: integrated assessment of a multi-biomarker approach. Mar Pollut Bull 53:508–522. https://doi.org/10.1016/j.marpolbul.2006.02.004

Chen H, Ma L, Guo W, Yang Y, Guo T, Yang Y, Guo T, Feng C (2013) Linking water quality and quantity in environmental flow assessment in deteriorated ecosystems: a food web view. PLoS ONE 8(7):e70537. https://doi.org/10.1371/journal.pone.0070537

CIS guidance document N 31. Ecological flows in the implementation of the Water Framework Directive. https://publications.europa.eu/en/publication-detail/-/publication/b2369e0f-d154-11e5-a4b5-01aa75ed71a1/language-en. Accessed 2 October 2016

Dailianis S (2010) Environmental impact of anthropogenic activities: the use of mussels as a reliable tool for monitoring marine pollution. In: McGevin LE (ed) Mussels: anatomy, habitat and environmental impact. Nova Science Publishers, Іnc, Hauppauge, pp 43–72

Desouky MM (2012) Metallothionein is up-regulated in molluscan responses to cadmium, but not aluminum, exposure. J Basic Appl Zool 65(2):139–143. https://doi.org/10.1016/j.jobaz.2012.07.008

Ellman GL, Courtney KD, Andres VJ, Featherstone RM (1961) A new and rapid colorimetric determination of acetylcholinesterase activity. Biochem Pharmacol 7:88–90. https://doi.org/10.1016/0006-2952(61)90145-9

Eron SJ, MacPherson DJ, Dagbay KB, Hardy JA (2018) Multiple mechanisms of zinc-mediated inhibition for the apoptotic caspases-3,-6,-7, and-8. ACS Chem Biol 13(5):1279–1290. https://doi.org/10.1021/acschembio.8b00064

Falfushynska H, Gnatyshyna L, Yurchak I, Sokolova I, Stoliar O (2015) The effects of zinc nanooxide on cellular stress responses of the freshwater mussels Unio tumidus are modulated by elevated temperature and organic pollutants. Aquat Toxicol 162:82–93. https://doi.org/10.1016/j.aquatox.2015.03.006

Falfushynska HI, Gnatyshyna LL, Farkas A, Vehovszky A, Gyori J, Stoliar OB (2010) Vulnerability of biomarkers in the indigenous mollusk Anodonta cygnea to spontaneous pollution in a transition country. Chemosphere 81(10):1342–1351. https://doi.org/10.1016/j.chemosphere.2010.08.016

Ferreira CP, Lima D, Paiva R, Vilke JM, Mattos JJ, Almeida EA, Grott SC, Alves TC, Corrêa JN, Jorge MB, Uczay M, Vogel CIG, Gomes CHAM, Bainy ACD, Lüchmann KH (2019) Metal bioaccumulation, oxidative stress and antioxidant responses in oysters Crassostrea gasar transplanted to an estuary in southern Brazil. Sci Total Environ 685:332–344. https://doi.org/10.1016/j.scitotenv.2019.05.384

Fried R (1975) Enzymatic and non-enzymatic assay of superoxide dismutase. Biochimie 57:657–660. https://doi.org/10.1016/s0300-9084(75)80147-7

Gagné F, André C (2011) New approaches to indirect vitellogenin-like protein evaluations in aquatic oviparous and ovoviviparous organisms. Fresen Environ Bull 20:12–17

Gagné F, Blaise C, Pellerin J, Pelletier E, Douville M, Gauthier-Clerc S, Viglino L (2003) Sex alteration in soft-shell clams (Mya arenaria) in an intertidal zone of the Saint Lawrence River (Quebec, Canada). Comp Biochem Physiol C 134:189–198. https://doi.org/10.1016/S1532-0456(02)00248-X

Gawehn K (1988) d-(–)-Lactate. In: Bergmeyer HU (ed) Methods of enzymatic analysis, 3rd edn. VCH Publishers (UK) Ltd., Cambridge, pp 588–592

Gnatyshyna L, Khoma V, Mishchuk O, Martinyuk V, Spriņģe G, Stoliar O (2020) Multi-marker study of the responses of the Unio tumidus from the areas of small and micro hydropower plants at the Dniester River Basin, Ukraine. Environ Sci Pollut Res. https://doi.org/10.1007/s11356-020-07698-4

Gnatyshyna L, Khoma V, Horyn O, Ozoliņš D, Skuja A, Kokorite I, Rodinov V, Martyniuk V, Spriņģe G, Stoliar O (2020a) Multi-marker study of Dreissena polymorpha populations from hydropower plant reservoir and natural lake in Latvia. Turk J Fish Aquat Sci 20:409–420. https://doi.org/10.4194/1303-2712-v20_6_01

Griffith OW (1980) Determination of glutathione and glutathione disulfide using glutathione reductase and 2-vinylpyridine. Anal Biochem 106:207–212

Habig WH, Pabst MJ, Jakoby WB (1974) Glutathione S-transferases. The first enzymatic step in mercapturic acid formation. J Biol Chem 249:7130–7139

Hoarau P, Garello G, Gnassia-Barelli M, Roméo M, Girard JP (2004) Effect of three xenobiotic compounds on glutathione S-transferase in the clam Ruditapes decussatus. Aquat Toxicol 68(1):87–94. https://doi.org/10.1016/j.aquatox.2004.03.001

Hook SE, Gallagher EP, Batley GE (2014) The role of biomarkers in the assessment of aquatic ecosystem health. Integr Environ Assess Manag 10(3):327–341. https://doi.org/10.1002/ieam.1530

Lamprecht W, Heinz F (1988) Pyruvate. In: Bergmeyer HU (ed) Methods of enzymatic analysis. VCH Publishers (UK) Ltd., Cambridge, pp 570–577

Lebedynets M, Sprynskyy M, Kowalkowski T, Buszewski B (2004) State of environment in the Dniester river basin (West Ukraine). Environ Sci Pollut Res Int 11(4):279–280. https://doi.org/10.1007/BF02979638

Lowry OH, Rosebrough HJ, Farr AL, Randall RJ (1951) Protein measurement with Folin phenol reagent. J Biol Chem 193:265–275

Ohkawa H, Onishi N, Yagi K (1979) Assay for lipid peroxidation in animal tissue by thiobarbituric acid reaction. Anal Biochem 95:351–358. https://doi.org/10.1016/0003-2697(79)90738-3

Overton IC, Smith DM, Dalton J, Barchiesi S, Acreman MC, Stromberg JC, Kirby JM (2014) Implementing environmental flows in integrated water resources management and the ecosystem approach. Hydrol Sci J 59:860–877. https://doi.org/10.1080/02626667.2014.897408

Plum LM, Rink L, Haase H (2010) The essential toxin: impact of zinc on human health. Int J Environ Res Public Health 7:1342–1365. https://doi.org/10.3390/ijerph7041342

Purina I, Barda I, Rimsa E, Poikane R, Jansons M (2013) Concentrations of metallothionein in the bivalve mollusks Anodonta spp. and Unio spp. from Latvian lakes with different anthropogenic pressure. Proceedings of the 16th International conference on heavy metals in the environment, E3S web of conferences 1:34005. https://doi.org/10.1051/e3sconf/20130134005

Quadroni S, Crosa G, Gentili G, Espa P (2017) Response of stream benthic macroinvertebrates to current water management in Alpine catchments massively developed for hydropower. Sci Total Environ 609:484–496. https://doi.org/10.1016/j.scitotenv.2017.07.099

Reznick AZ, Packer L (1994) Oxidative damage to proteins: spectrophotometric method for carbonyl assay. Meth Enzymol 233:357–363. https://doi.org/10.1016/s0076-6879(94)33041-7

Rhee SG, Yang KS, Kang SW, Woo HA, Chang TS (2005) Controlled elimination of intracellular H2O2: regulation of peroxiredoxin, catalase, and glutathione peroxidase via post-translational modification. Antioxid Redox Signal 7(5–6):619–626. https://doi.org/10.1089/ars.2005.7.619

Romero A, Estévez-Calvar N, Dios S, Figueras A, Novoa B (2011) New insights into the apoptotic process in mollusks: characterization of caspase genes in Mytilus galloprovincialis. PLoS ONE 6(2):e17003. https://doi.org/10.1371/journal.pone.0017003

Rzymski P, Horyn O, Budzyńska A, Jurczak T, Kokociński M, Niedzielski P, Klimaszyk P, Falfushynska H (2018) A report of Cylindrospermopsis raciborskii and other cyanobacteria in the water reservoirs of power plants in Ukraine. Environ Sci Pollut Res Int 25(15):15245–15252. https://doi.org/10.1007/s11356-018-2010-6

Stoliar OB, Mykhayliv RL, Mishchuk YV (2004) Influence of the environmental conditions on binding of heavy metals and oxidative decomposition of biomolecules in tissues of Anodonta cygnea (Bivalvia). Hydrobiol J 40(2):66–75. https://doi.org/10.1615/HydrobJ.v40.i2.70

Stolyar OB, Loumbourdis NS, Falfushinska HI, Romanchuk LD (2008) Comparison of metal bioavailability in frogs from urban and rural sites of Western Ukraine. Arch Environ Contam Toxicol 54:107–113. https://doi.org/10.1007/s00244-007-9012-6

Tim-Tim AL, Morgado F, Moreira S, Rangel R, Nogueira AJ, Soares AM, Guilhermino L (2009) Cholinesterase and glutathione S-transferase activities of three mollusc species from the NW Portuguese coast in relation to the `Prestige' oil spill. Chemosphere 77:1465–1475. https://doi.org/10.1016/j.chemosphere.2009.10.014

Vehovszky Á, Farkas A, Ács A, Stoliar O, Székács A, Mörtl M, Győri J (2015) Neonicotinoid insecticides inhibit cholinergic neurotransmission in a molluscan (Lymnaea stagnalis) nervous system. Aquat Toxicol 167:172–179. https://doi.org/10.1016/j.aquatox.2015.08.009

Vergauwen B, Pauwels F, Van Beeumen JJ (2003) Glutathione and catalase provide overlapping defenses for protection against respiration-generated hydrogen peroxide in Haemophilus influenzae. J Bacteriol 185(18):5555–5562. https://doi.org/10.1128/JB.185.18.5555-5562.2003

Viarengo A, Ponzano E, Dondero F, Fabbri R (1997) A simple spectrophotometric method for metallothionein evaluation in marine organisms: an application to Mediterranean and Antarctic Molluscs. Mar Environ Res 44:69–84. https://doi.org/10.1016/S0141-1136(96)00103-1

Vystavna Y, Frkova Z, Celle-Jeanton H, Diadin D, Huneau F, Steinmann M, Crini N, Loup C (2018) Priority substances and emerging pollutants in urban rivers in Ukraine: occurrence, fluxes and loading to transboundary European Union watersheds. Sci Total Environ 637–638:1358–1362. https://doi.org/10.1016/j.scitotenv.2018.05.095

Yoloğlu E (2019) Investigation of metallothionein level, reduced GSH level, MDA level, and metal content in two different tissues of freshwater mussels from Atatürk Dam Lake coast, Turkey. Chem Ecol 35:644–659. https://doi.org/10.1080/02757540.2019.1626839
Acknowledgements
This work has been granted by the Ministry of Education and Science of Ukraine (Projects M/70-2017, M/35-2018 and 132B for O. Stoliar). The authors are grateful to the Director of the National Nature Park Dniester Canyon Mr. Mykhaylo Shkilniuk for his assistance in the sampling in the Kasperivtsi area, to PhD St Oksana Horyn for the technical assistance in the trial and to English native biologist Dr. Inna Birchenko for the scientific editing, linguistic and phraseological improvement of this manuscript.
Ethics declarations
Conflict of interest
The authors declare that they have no conflict of interest. Informed consent was obtained from all individual participants included in the study.
Additional information
Publisher's Note
Springer Nature remains neutral with regard to jurisdictional claims in published maps and institutional affiliations.
About this article
Cite this article
Khoma, V., Gnatyshyna, L., Martinyuk, V. et al. Biochemical Responses of the Bivalve Mollusk Unio tumidus Inhabiting a Small Power Plant Reservoir on the Dniester River Basin, Ukraine. Bull Environ Contam Toxicol 105, 67–75 (2020). https://doi.org/10.1007/s00128-020-02873-2
Received:

Accepted:

Published:

Issue Date:
Keywords
Bivalve mollusk

Water flow

Cholinesterase

Glutathione

Metallothionein