Abstract
As the worldwide top-selling herbicide, glyphosate is ubiquitously distributed in the natural environment, and its influence on the ecological safety and human health has being increasingly concerned. In this study, mRNA expressions of GPX and three heat shock protein genes in freshwater planarian Dugesia japonica in response to glyphosate were determined, and two oxidative stress parameters were measured. The results suggested that GPX activity can be used as a more sensitive biomarker in contrast with GPX gene expression, and mRNA expressions of Hsp70, Hsp90 genes are more sensitive than Hsp40 for planarians in response to glyphosate stress. Besides, the deduced T-AOC as well as varied GPX activity and mRNA expression levels of Hsps also indicated that glyphosate exposure would inhibit antioxidation and induce oxidative stress in D. japonica, while specific antioxidant systems and stress proteins tried to protect cells by their own regulation. The results of this study will be helpful to elucidate the stress response mechanisms of freshwater planarians to herbicide glyphosate.
Access options
Buy single article
Instant access to the full article PDF.
USD 39.95
Price includes VAT (USA)
Tax calculation will be finalised during checkout.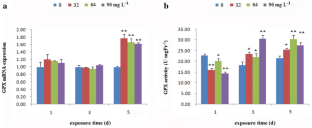 References
Elliott SA, Alvarado AS (2013) The history and enduring contributions of planarians to the study of animal regeneration. Wires Dev Bio 2(3):301–326

Gaupp-Berghausen M, Hofer M, Rewald B, Zaller JG (2015) Glyphosate-based herbicides reduce the activity and reproduction of earthworms and lead to increased soil nutrient concentrations. Sci Rep 5:12886

Ghiselli A, Serafini M, Natella F, Scaccini C (2000) Total antioxidant capacity as a tool to assess redox status: critical view and experimental data. Free Radic Biol Med 29:1106–1114

Guo H, Zhang S, Song S (2013) Determination of glyphosate resuidues in fish pond water using hydrophilic interaction chromatography-tandem mass spectrometry. Chin J Anal Lab 32:93–96 (in Chinese)

Han ZG, Zhang JW, Jiang XF, Yang JK (2019) Gene dosage and coexpression with endoplasmic reticulum secretion-associated factors improved the secretory expression of a-galactosidase. Protein Express Purif 153:83–91

Hong Y, Yang X, Huang Y, Yan G, Cheng Y (2018) Assessment of the oxidative and genotoxic effects of the glyphosate-based herbicide roundup on the freshwater shrimp, Macrobrachium nipponensis. Chemosphere 210:896–906

Hook SE, Gallagher EP, Batley GE (2014) The role of biomarkers in the assessment of aquatic ecosystem health. Integr Environ Assess Manag 10(3):327–341

KΦrvel AV, SΦfteland L, Torstensen B, Olsvik PA (2008) Transcriptional effects of PFOS in isolated hepatocytes from Atlantic salmon Salmo salar L. Comp Biochem Phys C 148:14–22

Li PC, Li XN, Du ZH, Wang H, Yu ZR, Li JL (2018) Di (2-ethyl hexyl) phthalate (DEHP)-induced kidney injury in quail (Coturnix japonica) via inhibiting HSF1/HSF3-dependent heat shock response. Chemosphere 209:981–988

Liu H, Wu J, Xu M, He J (2016) A novel biomarker for marine environmental pollution of HSP90 from Mytilus coruscus. Mar Pollut Bull 111:428–434

Livak KJ, Schmittgen TD (2001) Analysis of relative gene expression data using realtime quantitative PCR and the 2-deltadeltaCT method. Methods 25:402–408

Ma J, Li X (2018) Insight into the negative impact of ionic liquid: A cytotoxicity mechanism of 1-methyl-3-octylimidazolium bromide. Environ Pollut 242:1337–1345

Ma J, Zhu J, Wang W, Ruan P, Rajeshkumar S, Li X (2019) Biochemical and molecular impacts of glyphosate-based herbicide on the gills of common carp. Environ Pollut 252:1288–1300

Mörtl M, Németh G, Juracsek J, Darvas B, Kamp L, Rubio F, Székács A (2013) Determination of glyphosate residues in Hungarian water samples by immunoassay. Microchem J 107:143–151

Pagán OR (2017) Planaria: an animal model that integrates development, regeneration and pharmacology. Int J Dev Biol 61:519–529

Rissoli RZ, Abdalla FC, Costa MJ, Rantin FT, McKenzie DJ, Kalinin AL (2016) Effects of glyphosate and the glyphosate based herbicides Roundup Original® and Roundup Transorb® on respiratory morphophysiology of bullfrog tadpoles. Chemosphere 156:37–44

Thongprakaisang S, Thiantanawat A, Rangkadilok N, Suriyo T, Satayavivad J (2013) Glyphosate induces human breast cancer cells growth via estrogen receptors. Food Chem Toxicol 59:129–136

Wang H, Li XN, Li PC, Liu W, Du ZH, Li JL (2019) Modulation of heat-shock response is associated with Di (2-ethylhexyl) phthalate (DEHP)-induced cardiotoxicity in quail (Coturnix japonica). Chemosphere 214:812–820

Wang H, Niu H, Shao Y, Zhao X (2013) A new method for the determination of glyphosate in water by HPLC. Environ Sci Technol 26:60–62 (in Chinese)

Wang JH, Ding Y, Tang XC, Wang QF (2018) Molecular cloning of glutathione peroxidase gene of Antarctic ice microalga Chlamydomonas sp. ICE-L and its expression changes under temperature and salinity stress. Phycol Res 66:173–181

Wang T, Ren J, Qu G, Liang D, Hu S (2016) Glyphosate contaminated soil remediation by atmospheric pressure dielectric barrier discharge plasma and its residual toxicity evaluation. J Hazard Mater 320:539–546

Wu JP, Li MH (2018) The use of freshwater planarians in environmental toxicology studies: advantages and potential. Ecotoxicol Environ Saf 161:45–56

Xia XF, Zheng JJ, Shao GM, Wang JL, Liu XS, Wang YF (2013) Cloning and functional analysis of glutathione peroxidase gene in red swamp crayfish Procambarus clarkii. Fish Shellfish Immun 34:1587–1595

Yeh SP, Liu KF, Chiu ST, Jian S, Cheng W, Liu C (2009) Identification and cloning of a selenium dependent glutathione peroxidase from giant freshwater prawn, Macrobrachium rosenbergii. Fish Shellfish Immun 27:181–191

Zhang HC, Ma KX, Yang YJ, Shi CY, Chen GW, Liu DZ (2018) Molecular cloning, characterization, expression and enzyme activity of catalase from planarian Dugesia japonica in response to environmental pollutants. Ecotoxicol Environ Saf 165:88–95

Zhang HC, Ma KX, Yang YJ, Shi CY, Chen GW, Liu DZ (2019) CuZnSOD and MnSOD from freshwater planarian Dugesia japonica: cDNA cloning, mRNA expression and enzyme activity in response to environmental pollutants. Aquat Toxicol 208:12–19

Zhang HC, Shi CY, Sun LQ, Wang F, Chen GW (2016) Toxic effects of 1-octyl-3-methylimidazolium bromide ionic liquid on the anti-oxidant defense system of freshwater planarian, Dugesia japonica. Toxicol Ind Health 32(9):1675–1683
Acknowledgements
This work was supported by the National Natural Science Foundation of China (Nos. 31702010 and 31471965).
Additional information
Publisher's Note
Springer Nature remains neutral with regard to jurisdictional claims in published maps and institutional affiliations.
About this article
Cite this article
Zhang, HC., Shi, CY., Yang, YJ. et al. Biomarkers of Planarian Dugesia japonica in Response to Herbicide Glyphosate Exposure. Bull Environ Contam Toxicol 104, 804–808 (2020). https://doi.org/10.1007/s00128-020-02865-2
Received:

Accepted:

Published:

Issue Date:
Keywords
Freshwater planarian

Biomarker

Oxidative stress

Heat shock protein