Abstract
In this study, the photodegradation of organophosphorus (OPs) pesticides in the honey medium was evaluated under sunlight irradiation. Some of the 22 samples collected at different sites contained OPs pesticides (Methyl parathion, Coumaphos and Fenitrothion) with an average of 8 ng/g. Moreover, three samples were found with pesticide residue levels exceeding the maximum residue limits (MRL ≥ 50 ng/g) imposed by the standard water (WHO). Gas chromatography (GC) combined with a tritium electron capture detector system was used for the analysis of OPs pesticides in honey. Total degradation of the Methyl parathion was obtained in less than 60 min of irradiation. Moreover, the elimination of the other OPs found in the samples was also effective with a rate of 85% for Coumaphos and Fenitrothion after 50 min of sunlight irradiation. The kinetics of the photodegradation reaction of all OPs pesticides studied followed a pseudo-first order model.
Access options
Buy single article
Instant access to the full article PDF.
USD 39.95
Price includes VAT (USA)
Tax calculation will be finalised during checkout.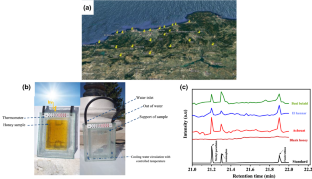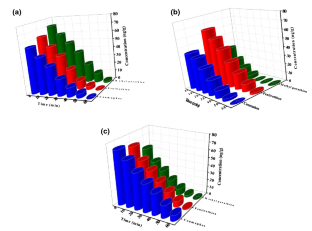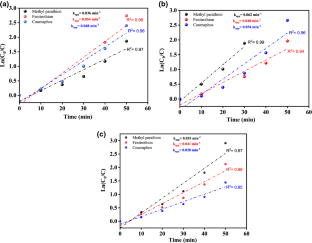 References
Abdallah OI, Hanafi A, Ghani SBA, Ghisoni S, Lucini L (2017) Pesticides contamination in Egyptian honey samples. J Consum Protect Food Saf 12(4):317–327

Akika FZ, Benamira M, Lahmar H, Tibera A, Chabi R, Avramova I et al (2018) Structural and optical properties of Cu-substitution of NiAl2O4 and their photocatalytic activity towards Congo red under solar light irradiation. J Photochem Photobiol A Chem 364:542–550

Bahena CL, Martínez SS (2006) Photodegradation of chlorbromuron, atrazine, and alachlor in aqueous systems under solar irradiation. Int J Photoenergy. https://doi.org/10.1155/IJP/2006/81808

Bargańska Ż, Ślebioda M, Namieśnik J (2016) Honey bees and their products: bioindicators of environmental contamination. Crit Rev Environ Sci Technol 46(3):235–248

Bogdanov S (2006) Contaminants of bee products. Apidologie 37(1):1–18

Bommuraj V, Chen Y, Klein H, Sperling R, Barel S, Shimshoni JA (2019) Pesticide and trace element residues in honey and beeswax combs from Israel in association with human risk assessment and honey adulteration. Food Chem 299:125123

Cernak M, Majtanova N, Cernak A, Majtan J (2012) Honey prophylaxis reduces the risk of endophthalmitis during perioperative period of eye surgery. Phytother Res 26(4):613–616

Cherin P, Voronska E, Fraoucene N, De Jaeger C (2012) Toxicité aiguë des pesticides chez l'homme. Médecine Longévité 4(2):68–74

Colin ME, Bonmatin JM, Moineau I, Gaimon C, Brun S, Vermandere JP (2004) A method to quantify and analyze the foraging activity of honey bees: relevance to the sublethal effects induced by systemic insecticides. Arch Environ Contam Toxicol 47(3):387–395

Doufar N, Benamira M, Lahmar H, Trari M, Avramova I, Caldes MT (2020) Structural and photochemical properties of Fe-doped ZrO2 and their application as photocatalysts with TiO2 for chromate reduction. J Photochem Photobiol A 386:112105

Fries I, Camazine S (2001) Implications of horizontal and vertical pathogen transmission for honey bee epidemiology. Apidologie 32(3):199–214

Jablonski B, Koltowski Z, Marcinkowski J, Rybak-Chmielewska H, Szczesna T, Warakomska Z (1995) Contamination of nectar, honey and pollen collected from roadside plants. Pszczelnicze Zeszyty Naukowe (Poland)

Johnson RM, Ellis MD, Mullin CA, Frazier M (2010) Pesticides and honey bee toxicity–USA. Apidologie 41(3):312–331

Khan RU, Naz S, Abudabos AM (2017) Towards a better understanding of the therapeutic applications and corresponding mechanisms of action of honey. Environ Sci Pollut Res 24(36):27755–27766

Lahmar H, Rekhila G, Trari M, Bessekhouad Y (2015) reduction on the novel heterosystem La2CuO4/SnO2 under solar light. Environ Progress Sustain Energy 34(3):744–750

Leu SY, Stenstrom MK (2010) Bioaugmentation to improve nitrification in activated sludge treatment. Water Environ Res 82(6):524–535

López DR, Ahumada DA, Díaz AC, Guerrero JA (2014) Evaluation of pesticide residues in honey from different geographic regions of Colombia. Food Control 37:33–40

Malhat FM, Haggag MN, Loutfy NM, Osman MA, Ahmed MT (2015) Residues of organochlorine and synthetic pyrethroid pesticides in honey, an indicator of ambient environment, a pilot study. Chemosphere 120:457–461

Martinez-Toledo MV, Salmeron V, Gonzalez-Lopez J (1992) Effect of an organophosphorus insecticide, profenofos, on agricultural soil microflora. Chemosphere 24(1):71–80

Molan PC (2001) Potential of honey in the treatment of wounds and burns. Am J Clin Dermatol 2(1):13–19

Mukherjee I (2009) Determination of pesticide residues in honey samples. Bull Environ Contam Toxicol 83(6):818

Moore JW, Pearson RG (1981) Kinetics and mechanism. John Wiley & Sons

Tette PAS, Guidi LR, de Abreu Glória MB, Fernandes C (2016) Pesticides in honey: a review on chromatographic analytical methods. Talanta 149:124–141

Rissato SR, Galhiane MS, de Almeida MV, Gerenutti M, Apon BM (2007) Multiresidue determination of pesticides in honey samples by gas chromatography–mass spectrometry and application in environmental contamination. Food Chem 101(4):1719–1726

Yuan Z, Yao J, Liu H, Han J, Trebše P (2014) Photodegradation of organophosphorus pesticides in honey medium. Ecotoxicol Environ Saf 108:84–88

Zhang Q, Li Z, Chang CH, Lou JL, Zhao MR, Lu C (2018) Potential human exposures to neonicotinoid insecticides: a review. Environ Pollut 236:71–81
Acknowledgments
We acknowledge the financial support from the Thematic Research Agency for Science and Technology (ATRST) through the national research program (PRFU Project N° B00L01UN180120190003).
Additional information
Publisher's Note
Springer Nature remains neutral with regard to jurisdictional claims in published maps and institutional affiliations.
About this article
Cite this article
Bouhala, A., Lahmar, H., Benamira, M. et al. Photodegradation of Organophosphorus Pesticides in Honey Medium by Solar Light Irradiation. Bull Environ Contam Toxicol 104, 792–798 (2020). https://doi.org/10.1007/s00128-020-02858-1
Received:

Accepted:

Published:

Issue Date:
Keywords
Coumaphos

Methyl parathion

Fenitrothion

Photodegradation

Honey

Solar light