Abstract
The lower Melet River is a drinking water source that is surrounded by hazelnut grove, agricultural lands, resulting in the accumulation of genotoxic agents such as mining activities, various domestic and agricultural wastes. Therefore, it receives many domestic and agricultural wastes that contain the genotoxic agent. This study was aimed to assess the heavy metal concentrations in water, sediment, and bioaccumulation in the tissues of Alburnus chalcoides. Comet assay and micronucleus test were used to evaluate the genotoxic effects on the blood cells of A. chalcoides. The concentrations of heavy metals and metalloid in the water, in the sediments and in the muscle of fish were in the order of Fe > Al > Mn > As > Zn > Cu > Ni > Cr > Cd = Pb = Co, Fe > Al > Mn > Zn > Cu > Pb > Cr > As > Co > Ni > Cd and Fe > Zn > Al > Mn > Cu > Pb > As > Cr > Ni > Co > Cd, respectively. The blood cells of fish collected from the polluted location showed significantly higher DNA damage and micronucleus frequency compared to the reference location (p < 0.05). The study indicated that the DNA integrity of A. chalcoides was affected by heavy metals which originated from many anthropogenic sources.
Access options
Buy single article
Instant access to the full article PDF.
USD 39.95
Price includes VAT (USA)
Tax calculation will be finalised during checkout.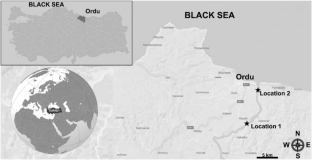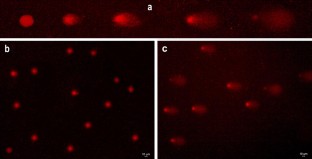 References
Amado LL, Robaldo RB, Geracitano L, Monserrat JM, Bianchini A (2006) Biomarkers of exposure and effect in the Brazilian flounder Paralichthys orbignyanus (Teleostei: Paralichthyidae) from the Patos Lagoon estuary (Southern Brazil). Mar Pollut Bull 52(2):207–213

ATSDR (2019) Toxicological profile for lead U.S. Department of Health and Human Services, Public Health Service Agency for Toxic Substances and Disease Registry, 561p

Bigyan N, Poonam T (2014) Assessment of Pesticide Use and Heavy Metal Analysis of Well Water in JhikuKhola Watershed, Kavrepalanchowk, Nepal. Int Res J Environment Sci 3(10):79–83

Boettcher M, Grund S, Keiter S, Kosmehl T, Reifferscheid G, Seitz N, Rocha PS, Hollert H, Braunbeck T (2010) Comparison of in vitro and in situ genotoxicity in the Danube River by means of the comet assay and the micronucleus test. Mutat Res Gen Tox En 700:11–17

Buschini A, Martino A, Gustavino B, Monfrinotti M, Poli P, Rossi C, Santoro M, Dörr AJM, Rizzoni M (2004) Comet assay and micronucleus test in circulating erythrocytes of Cyprinus carpio specimens exposed in situ to lake waters treated with disinfectants for potabilization. Mutat Res 557(2):119–129

Çavaş T (2004) Investigation of the genotoxic effects of industrial effluents using the micronucleus test and AgNOR analysis techniques under in-situ and laboratory conditions. PhD Thesis, Mersin University, Mersin

Crespo-López ME, Macêdo GL, Pereira SI, Arrifano GP, Picanço-Diniz DL, do Nascimento JL, Herculano AM (2009) Mercury and human genotoxicity: critical considerations and possible molecular mechanisms. Pharmacol Res 60:212–220

de Andrade VM, de Freitas TR, da Silva J (2004a) Comet assay using mullet (Mugil sp.) and sea catfish (Netuma sp.) erythrocytes for the detection of genotoxic pollutants in aquatic environment. Mutat Res 560(1):57–67

de Andrade VM, da Silva J, da Silva FR, Heuser VD, Dias JF, Yoneama ML, de Freitas TRO (2004b) Fish as bioindicators to assess the effects of pollution in two southern Brazilian rivers using the Comet assay and micronucleus test. Environ Mol Mutagen 44(5):459–468

FAO (1983) Compilation of legal limits for hazardous substances in fish and fishery products. FAO Fishery Circulars No:764, Fish and Agriculture Organization, Roma, Italy

Frenzilli G, Nigro M, Lyons BP (2009) The Comet assay for the evaluation of genotoxic impact in aquatic environments. Mut Res – Reviews Mut Res 681(1):80–92

Gülderen A, Bektaş MU (2011) Ordu çevre durum raporu 2011. T.C. Ordu Valiliği Çevre ve Şehircilik İl Müdürlüğü, Ordu, 209p (In Turkish)

Hemachandra CK, Pathiratne A (2016) Combination of physico-chemical analysis, Allium cepa test system and Oreochromis niloticus erythrocyte based comet assay/nuclear abnormalities tests for cyto-genotoxicity assessments of treated effluents discharged from textile industries. Ecotox Environ Safe 131:54–64

Hussain B, Sultana T, Sultana S, Masoud MS, Ahmed Z, Mahboob S (2018) Fish eco-genotoxicology: Comet and micronucleus assay in fish erythrocytes as in situ biomarker of freshwater pollution. Saudi J Biol Sci 25:393–398

IAEA (2003) World-wide intercomparison exercise for the determination of trace elements and methylmercury in fish homogenate international atomic energy agency– 407 Report No: IAEA/AL/144 IAEA/MEL/72

Javed M, Ahmad I, Usmani N, Ahmad M (2016) Bioaccumulation, oxidative stress and genotoxicity in fish (Channa punctatus) exposed to a thermal power plant effluent. Ecotox Environ Safe 127:163–169

Jovanović J, Kolarević S, Milošković A, Radojković N, Simić V, Dojčinović B, Kračun-Kolarević M, Paunović M, Kostić J, Sunjog K, Timilijić J, Djordjević J, Gačić Z, Žegura B, Vuković-Gačić B (2018) Evaluation of genotoxic potential in the Velika Morava River Basin in vitro and in situ. Sci Total Environ 621:1289–1299

Kostić J, Kolarević S, Kračun-Kolarević M, Aborgiba M, Gačić Z, Lenhardt M, Vuković-Gačić B (2016) Genotoxicity assessment of the Danube River using tissues of freshwater bream (Abramis brama). Environ Sci Pollut Res 23:20783–20795

Kumari B, Kumar V, Sinha AK, Ahsan J, Ghosh AK, Wang H, DeBoeck G (2016) Toxicology of arsenic in fish and aquatic systems. Environ Chem Lett 15(1):43–64

Kushwaha B, Pandey S, Sharma S, Srivastava R, Kumar R, Nagpure NS, Dabas A, Srivastava SK (2012) In situ assessment of genotoxic and mutagenic potential of polluted river water in Channa punctatus and Mystus vittatus. Int Aquat Res 4:16

Matsumoto ST, Mantovani MS, Malaguttii MIA, Dias AL, Fonseca IC, Marin-Morales MA (2006) Genotoxicity and mutagenicity of water contaminated with tannery effluents, as evaluated by the micronucleus test and comet assay using the fish Oreochromis niloticus and chromosome aberrations in onion root-tips. Genet Mol Biol 29(1):148–158

Morin B, Filatreau J, Vicquelin L, Barjhoux I, Guinel S, Leray-Forget J, Cachot J (2011) Detection of DNA damage inyolk-sac larvae of the Japanese Medaka, Oryzias latipes, by the comet assay. Anal Bioanal Chem 399:2235–2242

Official Gazette RG-15/4/2015–29327 Regulation on Surface Water Quality. Ministry of Forestry and Water Management, Date of Official Gazette: 30.11.2012, Number of Official Gazette: 28483, Ankara

Okuşluk Ö (2008) Determination of possible pollution in Mogan Lake by comet assay in common carp (Cyprinus carpio L.) Master Thesis Gazi University, Ankara

Osman AG, Abuel-Fadl KY, Kloas W (2012) In situ evaluation of the genotoxic potential of the river Nile: II. Detection of DNA strand-breakage and apoptosis in Oreochromis niloticus niloticus (Linnaeus, 1758) and Clarias gariepinus (Burchell,1822). Mutat Res 747(1):14–21

Pandrangi R, Petras M, Ralph S, Vrzoc M (1995) Alkaline single cell gel (Comet) assay and genotoxicity monitoring using bullheads and carp. Environ Mol Mutagen 26(4):345–356

Park SY, Choi J (2007) Cytotoxicity, genotoxicity and ecotoxicity assay using human cell and environmental species for the screening of the risk from pollutant exposure. Environ Int 33(6):817–822. https://doi.org/10.1016/j.envint.2007.03.014

Rosseland BO, Eldhuset TD, Staurnes M (1990) Environmental effects of aluminium. Environ Geochem Health 12(1–2):17–27

Scalon MCS, Rechenmacher C, Siebel AM, Kayser ML, Rodrigues MT, Maluf SW, Rodrigues MAS, Silva LB (2010) Evaluation of Sinos River water genotoxicity using the comet assay in fish. Braz J Biol 70(4):1217–1222

Singh NP, McCoy MT, Tice RR, Schneider EL (1988) A simple technique for quantitation of low levels of DNA damage in individual cells. Exp Cell Res 175(1):184–191

Sunjog K, Kolarević S, Kračun-Kolarević M, Gačić Z, Skorić S, Ðikanović V, Lenhardt M, Vuković- Gačić B (2014) Variability in DNA damage of chub (Squalius cephalus L.) blood, gill and liver cells during the annual cycle. Environ Toxicol Pharmacol 37:967–974

Sunjog K, Kolarević S, Kračun-Kolarević M, Višnjić-Jeftić Ž, Skorić S, Gačić Z, Lenhardt M, Vasić N, Vuković- Gačić B (2016) Assessment of status of three water bodies in Serbia based on tissue metal and metalloid concentration (ICP-OES) and genotoxicity (comet assay). Environ Pollut 213:600–607

Tice RR, Agurell E, Anderson D (2000) Single cell gel/comet assay: guidelines for in vitro and in vivo genetic toxicology testing. Environ Mol Mutagen 35(3):206–221

Turekian KK, Wedepohl KH (1961) Distribution of the elements in some major units of the Earth's Crust. Geol Soc Am Bull 72(2):175–191

Urkude R, Dhurvey V, Kochhar S (2019) Pesticide Residues in Beverages. In: Grumezescu AM, Holban AM (eds) Quality Control in the Beverage Industry. Academic Press, Amsterdam, pp 529–560

Waters MD, Stack HF, Jackson MA (1999) Genetic toxicology data in the evaluation of potential human environmental carcinogens. Mutat Res 437:21–49

Wirzinger G, Weltje L, Gercken J, Sordyl H (2007) Genotoxic damage in field-collected three-spined sticklebacks (Gasterosteus aculeatus L.): a suitable biomonitoring tool? Mutat Res 628:19–30

Yazıcı Z (2012) Cytogenetic effects of water pollution on some fish species living in Karasu River, Erzurum. Master Thesis, Atatürk University, Erzurum

Yazıcı Z, Şişman T (2015) Genotoxic effects of water pollution on Barbus plebejus living in Karasu River, Erzurum. Yunus Araştırma Bülteni 2:9–16
Acknowledgements
This study is based on part of the PhD thesis by Seda KONTAŞ at Ordu University. The study was supported by the Scientific Research Projects Commission of Ordu University (BAP; TF-1612). The corresponding author would as to thank TUBITAK-BIDEB within the scope of the 2211-E National Scholarship Program for PhD students.
Additional information
Publisher's Note
Springer Nature remains neutral with regard to jurisdictional claims in published maps and institutional affiliations.
About this article
Cite this article
Kontaş, S., Bostancı, D. Genotoxic Effects of Environmental Pollutant Heavy Metals on Alburnus chalcoides (Pisces: Cyprinidae) Inhabiting Lower Melet River (Ordu, Turkey). Bull Environ Contam Toxicol 104, 763–769 (2020). https://doi.org/10.1007/s00128-020-02857-2
Received:

Accepted:

Published:

Issue Date:
Keywords
Bioaccumulation

Comet assay

DNA damage

Ecotoxicology

Micronucleus test