Abstract
Waterbirds are considered the effective sentinels of aquatic ecosystems contamination and their feathers are widely used as non-destructive biological tools for contaminant biomonitoring. In this work, we measure and evaluate the concentrations of lead, copper and zinc in the breast feathers of three species namely Fulica atra, Anas crecca and Anas platyrhynchos in the wetland National Park Boujagh. Levels of lead (Pb), copper (Cu) and zinc (Zn) were below the threshold that causes sub-lethal and reproductive effects. Significant differences in metal concentrations were found among bird species. The finding indicated that highest Pb and Zn concentrations were observed in common Coot. The effect of sex on heavy metal was observed for Pb in Anas platyrhynchos and while Cu, Zn in Anas crecca. Concentrations of metals were significantly (p < 0.05) higher in resident birds than in migratory. High levels of these heavy metals show that these birds can be used to monitor contamination in the wetland.
Access options
Buy single article
Instant access to the full article PDF.
USD 39.95
Price includes VAT (USA)
Tax calculation will be finalised during checkout.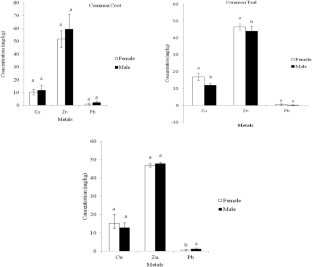 References
Abbasi NA, Jaspers VL, Chaudhry MJ, Ali S, Malik RN (2015) Influence of taxa, trophic level, and location on bioaccumulation of toxic metals in bird's feathers: a preliminary biomonitoring study using multiple bird species from Pakistan. Chemosphere 120:527–537

Abdullah M, Fasola M, Muhammad A, Malik SA, Bostan N, Bokhari H, Kamran MA, Shafqat MN, Alamdar A, Khan M, Ali N, Eqani SAMAS (2015) Avian feathers as a non-destructive bio-monitoring tool of trace metals signatures: a case study from severely contaminated areas. Chemosphere 119:553–561

Alipour H, Solgi E (2016) Majnouni F (2016) Concentrations of heavy metals in tissues of the Mallard Anas platyrhynchos in Kanibarazan, northwestern Iran. Podoces 11(2):35–42

Bada AA, Omotoriogun TC (2019) Incidence of heavy metals in feathers of birds in a human-impacted forest, south-west Nigeria. Afr J Ecol 00:1–5

Binkowski ŁJ, Sawicka-Kapusta K (2015) Lead poisoning and its in vivo biomarkers in mallard and coot from two hunting activity areas in Poland. Chemosphere 127:101–108

Burger J, Gochfeld M, Jeitner C, Burke S, Volz CD, Snigaroff R, Snigaroff D, Shukla T, Shukla S (2009) Mercury and other metals in eggs and feathers of glaucous-winged gulls (Larus glaucescens) in the Aleutians. Environ Monit Assess 152:179–194

Furness RW (1993) Birds as monitors of pollutants. In: Furness RW, Greenwood JJD (eds) Birds as monitors of environmental change. Chapman and Hall, London, pp 86–143

Gasaway WC, Buss IO (1972) Zinc toxicity in the mallard duck. J Wild Manag 36:1107–1117

Granek EF, Polasky S, Kappel CV, Reed DJ, Stoms DM, Koch EW, Kennedy CJ, Cramer LA, Hacker SD, Barbier EB, Aswani S, Ruckelshaus M, Perillo GM, Silliman BR, Muthiga N, Bael D, Wolanski E (2010) Ecosystem services as a common language for coastal ecosystem-based management. Conserv Biol 24:207–216

Hamesadeghi Y, Rahmania R, Mansouri A (2019) Coot, Fulica atra, and Mallard, Anas platyrhynchos as indicators of mercury contamination in Zarivar wetland from Western of Iran. Environ Nanotechnol Monit Manage 11:100197

Hook SE, Gallagher EP, Batley GE (2014) The role of biomarkers in the assessment of aquatic ecosystem health. Integr Environ Assess Manag 10(3):327–341

Ishii C, Ikenaka Y, Nakayama SMM, Mizukawa H, Yohannes YB, Watanuki Y, Fukuwaka M, Ishizuka M (2017) Contamination status and accumulation characteristics of heavy metals and arsenic in five seabird species from the central Bering Sea. J Vet Med Sci 79(4):807–814

Jayakumar R, Muralidharana S (2011) Metal contamination in select species of birds in Nilgiris District, Tamil Nadu, India. Bull Environ Contam Toxicol 87:166–170

Johnson E, Pimm RS, Houtan V (2019) A long-term temporal analysis of heavy metal concentrations in seabird feathers with implications for overgeneralized trophic dynamics, Masters project , Nicholas School of the Environment of Duke University

Kim J, Koo TH (2007) Heavy metal concentrations in diet and livers of black-crowned night heron Nycticorax nycticorax and grey heron Ardea cinerea chicks from Pyeongtaek, Korea. Ecotoxicology 16:411–416

Kim J, Shin J-R, Koo T-H (2009) Heavy metal distribution in some wild birds from Korea. Arch Environ Contam Toxicol 56:317–324

Korbecki J, Gutowska I, Chlubek D, Baranowska-Bosiacka I (2019) Lead (Pb) in the tissues of Anatidae, Ardeidae, Sternidae and Laridae of the Northern Hemisphere: a review of environmental studies. Environ Sci Pollut Res 26:12631–12647

Kroon F, Streten C, Harries S (2017) A protocol for identifying suitable biomarkers to assess fish health: a systematic review. PLoS ONE 12:1–43

Lafabrie L, Pergent G, Kantin R, Pergent-Martini C, Gonzalez JL (2013) Trace metals assessment in water, sediment, mussel, sediment and scagrass species validation of the use of Posidonia Oceanica as a biomonitor. Chemosphere 68:2033–2039

Liu L, Liu XG, Sun Y, Pu ZH, Xu HY, Li WX, Wang ZH (2019) Trace Elements in the Feathers of Waterfowl from Nanhaizi Wetland, Baotou, China. Bull Environ Contam Toxicol 102(6):778–783

Mansouri B, Majnoni F (2014) Comparison of the metal concentrations in organs of two bird species from western of Iran. Bull Environ Contam Toxicol 92:433–439

Nighat S, Iqbal S, Nadeem MS, Mahmood T, Shah SI (2013) Estimation of heavy metal residues from the feathers of Falconidae, Accipitridae, and Strigidae in Punjab, Pakistan. Turk J Zool 37:488–500

Okati N (2013) Biomonitoring of heavy metals in birds in Iran in relation to trophic levels. Intl Res J Appl Basic Sci 4(11):3478–3485

Ombugadu A, Mwansat GS, Manu SA, Chaskda AA, Ottosson U, Njila LH, Karau SD (2014) Comparison on bioaccumulation of heavy metals in birds and plants species in Amurum forest reserve and the Nigerian National Petroleum Corporation (NNPC) Refinery area of Kaduna, Nigeria. Int J Adv Stud Eng Sci Invent 2(1):26–32

Plaza PI, Lambertucci SA (2019) What do we know about lead contamination in wild vultures and condors? A review of decades of research. Sci Total Environ 654:409–417

Renedo M, Bustamante P, Tessier E, Pedrero Z, Cherel Y, Amouroux D (2017) Assessment of mercury speciation in feathers using species-specific isotope dilution analysis. Talanta 174:100–110

Riper CV, Michael L (2016) Changing levels of heavy metal accumulation in birds at Tumacacori National Historical Park along the Upper Santa Cruz River Watershed in Southern Arizona. 2015 George Wright Society Conference on Parks, Protected Areas, and Cultural Sites, pp 123–128

Sadeghi M, Ghasempouri SM, Bahramifar N (2019) Xenobiotic and essential metals biomonitoring by feathers: molting pattern and feather regrowth sequence in four dominant waterfowl. Int J Environ Sci Technol 16(1):125–134

Sinka Karimi MH, Hassanpour M, Pourkhabbaz AR, Błaszczyk M, Paluch J, Binkowski ŁJ (2016) Trace element concentrations in feathers of five Anseriformes in the south of the Caspian Sea. Iran Environ Monit Assess 188:22

Sinkakarimi MH, Binkowski LJ, Hassanpour M, Rajaei G, Ahmadpour M, Levengood JM (2018) Metal concentrations in tissues of gadwall and common teal from Miankaleh and Gomishan international wetlands. Iran Biol Trace Elem Res 185(1):177–184

Smith PN, Cobb GP, Godard-Codding C, Hoff D, McMurry ST, Rainwater TR, Reynolds KD (2007) Contaminant exposure in terrestrial vertebrates. Environ Pollut 150:41–64

Zamani-Ahmadmahmoodi R, Esmaili-Sari A, Ghasempouri SM, Savabieasfahani M (2009) Mercury in wetland birds of Iran and Iraq: Contrasting resident Moorhen, Gallinula chloropus, and migratory common Teal, Anas crecca, life strategies. Bull Environ Contam Toxicol 82:450–453
Acknowledgements
The authors gratefully acknowledge funding provided for this research by the Malayer University of Iran.
Additional information
Publisher's Note
Springer Nature remains neutral with regard to jurisdictional claims in published maps and institutional affiliations.
About this article
Cite this article
Solgi, E., Mirzaei-Rajeouni, E. & Zamani, A. Feathers of Three Waterfowl Bird Species from Northern Iran for Heavy Metals Biomonitoring. Bull Environ Contam Toxicol 104, 727–732 (2020). https://doi.org/10.1007/s00128-020-02852-7
Received:

Accepted:

Published:

Issue Date:
Keywords
Boujagh wetland national park

Heavy metals

Feather

Waterfowl birds