Abstract
The increasing utilization of copper oxide nanoparticles (CuO NPs) and their release into the environment has made it imperative to elucidate their impact on the ecological system including plants. However, their potential toxic impact and mechanisms on plant growth are still unclear. The aim of this study was to investigate the effects of CuO NPs and released Cu ions on seed germination and early seedling growth, as well as physiological and biochemical parameters of Oryza sativa. The results showed that CuO NPs at high concentration significantly inhibited seed germination and early seedling growth. The toxicity of CuO NPs originated from the particulate NPs rather than the released Cu2+. The phytotoxicity of CuO NPs to rice seed germination and seedling growth probably induced by high Cu accumulation along with the lignification and oxidative damage. The work presented here will increase our knowledge of phytotoxicity of CuO NPs.
Access options
Buy single article
Instant access to the full article PDF.
USD 39.95
Price includes VAT (USA)
Tax calculation will be finalised during checkout.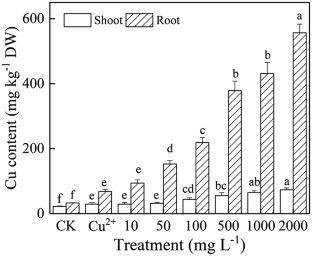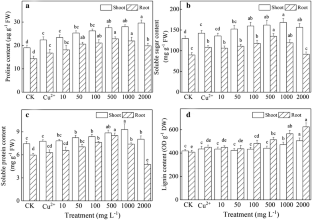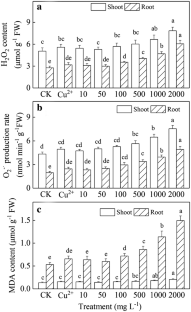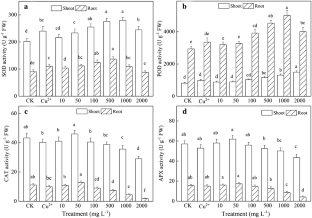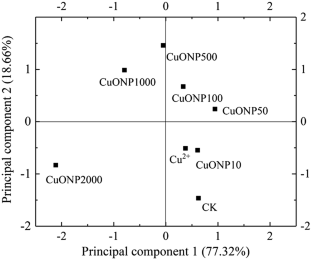 References
Baskar V, Nayeem S, Kuppuraj SP, Muthu T, Ramalingam S (2018) Assessment of the effects of metal oxide nanoparticles on the growth physiology and metabolic responses in in vitro grown eggplant (Solanum melongena). 3 Biotech 8:362

Dai Y, Zhao J, Liu X, Yu X, Jiang Z, Bu Y, Xu Z, Wang Z, Zhu X, Xing B (2019) Transformation and species identification of CuO nanoparticles in plant cells (Nicotiana tabacum). Environ Sci Nano 6(9):2724–2735

Dimkpa CO, McLean JE, Latta DE, Manangón E, Britt DW, Johnson WP, Boyanov MI, Anderson AJ (2012) CuO and ZnO nanoparticles: phytotoxicity metal speciation and induction of oxidative stress in sand-grown wheat. J Nanopart Res 14:1125–1129

He J, Ren Y, Chen X, Chen H (2014) Protective roles of nitric oxide on seed germination and seedling growth of rice (Oryza sativa L.) under cadmium stress. Ecotoxicol Environ Saf 108:114–119

Hou J, Wang X, Hayat T, Wang X (2017) Ecotoxicological effects and mechanism of CuO nanoparticles to individual organisms. Environ Pollut 221:209–217

Ke M, Zhu Y, Zhang M, Gumai H, Zhang Z, Xu J, Qian H (2017) Physiological and molecular response of Arabidopsis thaliana to CuO nanoparticle (nCuO) exposure. Bull Environ Contam Tox 99(6):713–718

Landa P, Dytrych P, Prerostova S, Petrova S, Vankova R, Vanek T (2017) Transcriptomic response of Arabidopsis thaliana exposed to CuO nanoparticles bulk material and ionic copper. Environ Sci Technol 51(18):10814–10824

Lee S, Chung H, Kim S, Lee I (2013) The genotoxic effect of ZnO and CuO nanoparticles on early growth of buckwheat Fagopyrum esculentum. Water Air Soil Pollut 224(9):1668–1678

Liu R, Zhang H, Lal R (2016) Effects of stabilized nanoparticles of copper zinc manganese and iron oxides in low concentrations on lettuce (Lactuca sativa) seed germination: nanotoxicants or nanonutrients? Water Air Soil Pollut 227:1–14

Nair PMG, Chung IM (2015) Changes in the growth redox status and expression of oxidative stress related genes in chickpea (Cicer arietinum L.) in response to copper oxide nanoparticle exposure. J Plant Growth Regul 34(2):350–361

Peng C, Duan D, Xu C, Chen Y, Sun L, Zhang H, Yuan X, Zheng L, Yang Y, Yang J, Zhen X (2015) Translocation and biotransformation of CuO nanoparticles in rice (Oryza sativa L.) plants. Environ Pollut 197:99–107

Peng C, Shen C, Zheng S, Yang W, Hu H, Liu J, Shi J (2017) Transformation of CuO nanoparticles in the aquatic environment: influence of pH, electrolytes and natural organic matter. Nanomaterials 7(10):326

Rahmani F, Peymani A, Daneshvand E, Biparva P (2016) Impact of zinc oxide and copper oxide nano-particles on physiological and molecular processes in Brassica napus L. Indian J Plant Physiol 21(2):122–128

Rajput VD, Minkina T, Suskova S, Mandzhieva S, Tsitsuashvili V, Chapligin V, Fedorenko A (2018) Effects of copper nanoparticles (CuO NPs) on crop plants: a mini review. BioNanoScience 8(1):36–42

Rajput V, Minkina T, Sushkova S, Behal A, Maksimov A, Blicharska E, Ghazaryan K, Movsesyan H, Barsova N (2020) ZnO and CuO nanoparticles: a threat to soil organisms, plants, and human health. Environ Geochem Health 42:147–158

Ren Y, Wang W, He J, Zhang L, Wei Y, Yang M (2020) Nitric oxide alleviates salt stress in seed germination and early seedling growth of pakchoi (Brassica chinensis L.) by enhancing physiological and biochemical parameters. Ecotoxicol Environ Saf 187:109785

Shaw AK, Hossain Z (2013) Impact of nano-CuO stress on rice (Oryza sativa L.) seedlings. Chemosphere 93(6):906–915

Shaw AK, Ghosh S, Kalaji HM, Bosa K, Brestic M, Zivcak M, Hossain Z (2014) Nano-CuO stress induced modulation of antioxidative defense and photosynthetic performance of Syrian barley (Hordeum vulgare L.). Environ Exp Bot 102:37–47

Shi J, Peng C, Yang Y, Yang J, Zhang H, Yuan X, Chen Y, Hu T (2014) Phytotoxicity and accumulation of copper oxide nanoparticles to the Cu-tolerant plant Elsholtzia splendens. Nanotoxicology 8(2):179–188

Singh A, Singh NB, Hussain I, Singh H, Yadav V (2017) Synthesis and characterization of copper oxide nanoparticles and its impact on germination of Vigna radiata (L.) R. Wilczek. Trop Plant Biol 4(2):246–253

Song G, Hou W, Gao Y, Wang Y, Lin L, Zhang Z, Niu Q, Ma R, Mu L, Wang H (2016) Effects of CuO nanoparticles on Lemna minor. Bot Stud 57(1):3

Souza L, Bernardes L, Barbetta M, Márcia V (2019) Iron oxide nanoparticle phytotoxicity to the aquatic plant Lemna minor: effect on reactive oxygen species (ROS) production and chlorophyll a/chlorophyll b ratio. Environ Sci Pollut Res 26(23):24121–24131

Tamez C, Hernandez-Molina M, Hernandez-Viezcas JA, Gardea-Torresdey JL (2019) Uptake transport and effects of nano-copper exposure in zucchini (Cucurbita pepo). Sci Total Environ 665:100–106

Tang Y, He R, Zhao J, Nie G, Xu L, Xing B (2016) Oxidative stress-induced toxicity of CuO nanoparticles and related toxicogenomic responses in Arabidopsis thaliana. Environ Pollut 212:605–614

Wang Z, Xie X, Zhao J, Liu X, Feng W, White JC, Xing B (2012) Xylem-and phloem-based transport of CuO nanoparticles in maize (Zea mays L.). Environ Sci Technol 46(8):4434–4441

Wang Z, Xu L, Zhao J, Wang X, White JC, Xing B (2016) CuO nanoparticle interaction with Arabidopsis thaliana: toxicity parent-progeny transfer and gene expression. Environ Sci Technol 50(11):6008–6016

Wu SG, Huang L, Head J, Chen DR, Kong IC, Tang YJ (2012) Phytotoxicity of metal oxide nanoparticles is related to both dissolved metals ions and adsorption of particles on seed surfaces. J Pet Environ Biotechnol 3(4):126–130

Zhang D, Hua T, Xiao F, Chen C, Gersberg RM, Liu Y, Ng WJ, Tan SK (2014) Uptake and accumulation of CuO nanoparticles and CdS/ZnS quantum dot nanoparticles by Schoenoplectus tabernaemontani in hydroponic mesocosms. Ecol Eng 70:114–123

Zhao J, Wang Z, Liu X, Xie X, Zhang K, Xing B (2011) Distribution of CuO nanoparticles in juvenile carp (Cyprinus carpio) and their potential toxicity. J Hazard Mater 197(15):304–310

Zhao J, Ren W, Dai Y, Liu L, Wang Z, Yu X, Zhang J, Xing B (2017) Uptake distribution and transformation of CuO NPs in a floating plant Eichhornia crassipes and related stomatal responses. Environ Sci Technol 51(13):7686–7695
Acknowledgements
This work was funded by the National Natural Science Foundation of China (31460100, 31660477, and 31360413), Postgraduate Research & Practice Innovation Program of Jiangsu Province (SJCX19-0635 and SJCX19-0650).
Additional information
Publisher's Note
Springer Nature remains neutral with regard to jurisdictional claims in published maps and institutional affiliations.
About this article
Cite this article
Wang, W., Liu, J., Ren, Y. et al. Phytotoxicity Assessment of Copper Oxide Nanoparticles on the Germination, Early Seedling Growth, and Physiological Responses in Oryza sativa L.. Bull Environ Contam Toxicol 104, 770–777 (2020). https://doi.org/10.1007/s00128-020-02850-9
Received:

Accepted:

Published:

Issue Date:
Keywords
CuO NPs

Oryza sativa

Toxicity

Lignification

Oxidative damage