Abstract
Arsenic (As) bioaccumulation and biotransformation in marine ecosystems involve a number of fields and disciplines such as Environmental Sciences & Ecology, Marine & Freshwater Biology, and Toxicology. Arsenic research in these areas has been developing rapidly in recent years. It is crucial to keep up with the emerging trends and critical development of the collective knowledge. Therefore, a progressively synthesized network was achieved from 6396 original publications that cited 500 articles obtained from an initial topic search between 2010 and 2019. CiteSpace was used to analyze the progress and emerging trends. Results showed that these publications were divided into 13 different but closely related clusters. A major ongoing trend was identified in Cluster #3 and #5, concerning As and other heavy metals as heterogeneous complexants and assessing their overall impacts on human health. Other new emerging trends include evaluating the As profile in estuarial ecosystems and assessing its bioaccumulation and biotransformation along the food chain. Overall, the scientometric analytics of targeting literature performed in this review has offered a valuable and timely approach to evaluate the new emerging trends, providing researchers with up-to-date and critical information in research areas relevant to the searching topic.
Access options
Buy single article
Instant access to the full article PDF.
USD 39.95
Price includes VAT (USA)
Tax calculation will be finalised during checkout.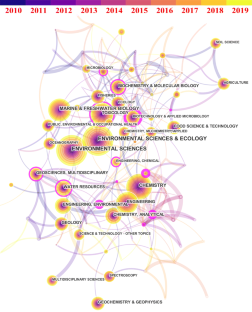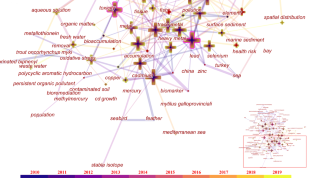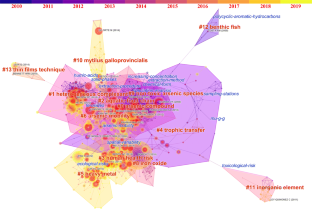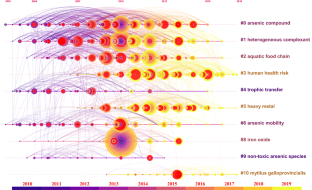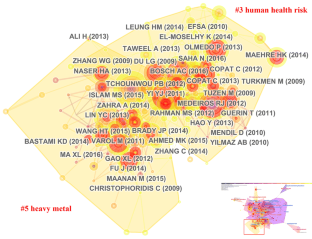 References
Ahmed M, Shaheen N, Islam M, Habibullah-al-Mamun M, Islam S, Mohiduzzaman M, Bhattacharjee L (2015) Dietary intake of trace elements from highly consumed cultured fish (Labeo rohita, Pangasius pangasius and Oreochromis mossambicus) and human health risk implications in Bangladesh. Chemosphere 128:284–292. https://doi.org/10.1016/j.chemosphere.2015.02.016

Amayo KO, Raab A, Krupp EM, Marschall T, Horsfall M, Feldmann J (2014) Arsenolipids show different profiles in muscle tissues of four commercial fish species. J Trace Elem Med Biol 28:131–137. https://doi.org/10.1016/j.jtemb.2013.11.004

Amin M, Xiong C, Francesconi KA, Itahashi Y, Yoneda M, Yoshinaga J (2019) Variation in arsenolipid concentrations in seafood consumed in Japan. Chemosphere 239:124781. https://doi.org/10.1016/j.chemosphere.2019.124781

Andrade M, Marchi L, Soares A, Rocha R, Figueira E, Freitas R (2018) Are the effects induced by increased temperature enhanced in Mytilus galloprovincialis submitted to air exposure? Sci Total Environ 647:431–440. https://doi.org/10.1016/j.scitotenv.2018.07.293

Bond AL (2010) Relationships between stable isotopes and metal contaminants in feathers are spurious and biologically uninformative. Environ Pollut 158:1182–1184. https://doi.org/10.1016/j.envpol.2010.01.004

Borch T, Kretzschmar R, Kappler A, Cappellen P, Ginder-Vogel M, Voegelin A, Campbell K (2010) Biogeochemical redox processes and their impact on contaminant dynamics. Environ Sci Technol 44:15–23. https://doi.org/10.1021/es9026248

Bosch AC, O'Neill B, Sigge GO, Kerwath SE, Hoffman LC (2016) Heavy metals in marine fish meat and consumer health: a review. J Sci Food Agric 96:32–48. https://doi.org/10.1002/jsfa.7360

Cao R et al (2018) Seawater acidification aggravated cadmium toxicity in the oyster Crassostrea gigas: metal bioaccumulation, subcellular distribution and multiple physiological responses. Sci Total Environ 642:809–823. https://doi.org/10.1016/j.scitotenv.2018.06.126

Casado-Martinez MC, Smith BD, Luoma SN, Rainbow PS (2010) Bioaccumulation of arsenic from water and sediment by a deposit-feeding polychaete (Arenicola marina): a biodynamic modelling approach. Aquat Toxicol 98:34–43. https://doi.org/10.1016/j.aquatox.2010.01.015

Chen C, Hu Z, Liu S, Tseng H (2012) Emerging trends in regenerative medicine: a scientometric analysis in CiteSpace. Expert Opin Biol Ther 12:593–608. https://doi.org/10.1517/14712598.2012.674507

Chen C, Ibekwe-SanJuan F, Hou J (2010) The structure and dynamics of cocitation clusters: a multiple-perspective cocitation analysis. J Am Soc Inform Sci Technol 61:1386–1409. https://doi.org/10.1002/asi.21309

Copat C, Arena G, Fiore M, Ledda C, Fallico R, Sciacca S, Ferrante M (2013) Heavy metals concentrations in fish and shellfish from eastern Mediterranean Sea: consumption advisories. Food Chem Toxicol 53:33–37. https://doi.org/10.1016/j.fct.2012.11.038

de Mora S, Fowler SW, Wyse E, Azemard S (2004) Distribution of heavy metals in marine bivalves, fish and coastal sediments in the Gulf and Gulf of Oman. Mar Pollut Bull 49:410–424. https://doi.org/10.1016/j.marpolbul.2004.02.029

Dural M, Göksu ZM, Özak A (2007) Investigation of heavy metal levels in economically important fish species captured from the Tuzla lagoon. Food Chem 102:415–421. https://doi.org/10.1016/j.foodchem.2006.03.001

El-Moselhy KM, Othman AI, El-Azem AH, El-Metwally MEA (2014) Bioaccumulation of heavy metals in some tissues of fish in the Red Sea Egypt. Egypt J Basic Appl Sci 1:97–105. https://doi.org/10.1016/j.ejbas.2014.06.001

Filella M (2011) Antimony interactions with heterogeneous complexants in waters, sediments and soils: a review of data obtained in bulk samples. Earth Sci Rev 107:325–341. https://doi.org/10.1016/j.earscirev.2011.04.002

Filella M, Williams PA (2012) Antimony interactions with heterogeneous complexants in waters, sediments and soils: a review of binding data for homologous compounds Chemie der Erde. Geochemistry 72:49–65. https://doi.org/10.1016/j.chemer.2012.01.006

Food and Agriculture Organization (2019) FAO Yearbook of Fishery Statistics. https://www.fao.org/fishery/publications/yearbooks/en

Francesconi KA (2010) Arsenic species in seafood: origin and human health implications. Pure Appl Chem 82:373–381. https://doi.org/10.1351/pac-con-09-07-01

Francesconi KA, Kuehnelt D (2004) Determination of arsenic species: a critical review of methods and applications, 2000–2003. Analyst 129:373–395. https://doi.org/10.1039/b401321m

Frost D (1981) Selenium and vitamin E as antidotes to heavy metal toxicities. In: Spallholz JE, Martin JL, Ganther HE (eds) Selenium in biology and medicine. AVI Publishing Co., Westport, CT, p 490–498

Gautier A, Clausman P (1904) Origines alimentaires de l'arsenic normal chez l'homme Comptes rendus de l'Académie des. Sciences 139:101

Gu Y-G, Ning J-J, Ke C-L, Huang H-H (2018) Bioaccessibility and human health implications of heavy metals in different trophic level marine organisms: a case study of the South China Sea. Ecotoxicol Environ Saf 163:551–557. https://doi.org/10.1016/j.ecoenv.2018.07.114

He M, Wang X, Wu F, Fu Z (2012) Antimony pollution in China. Sci Total Environ 421:41–50. https://doi.org/10.1016/j.scitotenv.2011.06.009

Howard AG, Apte SC, Comber SDW, Morris RJ (1988) Biogeochemical control of the summer distribution and speciation of arsenic in the Tamar estuary Estuarine, Coastal and Shelf. Science 27:427–443. https://doi.org/10.1016/0272-7714(88)90098-4

Lunde G (1977) Occurrence and transformation of arsenic in the marine environment. Environ Health Perspect 19:47–52. https://doi.org/10.1289/ehp.771947

Maehre HK, Malde MK, Eilertsen KE, Elvevoll EO (2014) Characterization of protein, lipid and mineral contents in common Norwegian seaweeds and evaluation of their potential as food and feed. J Sci Food Agric 94:3281–3290. https://doi.org/10.1002/jsfa.6681

Melton ED, Swanner ED, Behrens S, Schmidt C, Kappler A (2014) The interplay of microbially mediated and abiotic reactions in the biogeochemical Fe cycle. Nat Rev Microbiol. https://doi.org/10.1038/nrmicro3347

Meyer S, Matissek M, Müller SM, Taleshi MS, Ebert F, Francesconi KA, Schwerdtle T (2014) In vitro toxicological characterisation of three arsenic-containing hydrocarbons. Metallomics 6:1023–1033. https://doi.org/10.1039/c4mt00061g

Müller SM et al (2018) Arsenic-containing hydrocarbons: effects on gene expression, epigenetics, and biotransformation in HepG2 cells. Arch Toxicol 92:1751–1765. https://doi.org/10.1007/s00204-018-2194-z

Pan K, Wang W-X (2012) Trace metal contamination in estuarine and coastal environments in China. Sci Total Environ 421:3–16. https://doi.org/10.1016/j.scitotenv.2011.03.013

Penrose WR, Conacher HB, Black R, Méranger JC, Miles W, Cunningham HM, Squires WR (1977) Implications of inorganic/organic interconversion on fluxes of arsenic in marine food webs. Environ Health Perspect 19:53–59. https://doi.org/10.1289/ehp.771953

Phillips D (1990) Arsenic in aquatic organisms: a review, emphasizing chemical speciation. Aquat Toxicol 16:151–186. https://doi.org/10.1016/0166-445x(90)90036-o

Price RE, Pichler T (2005) Distribution, speciation and bioavailability of arsenic in a shallow-water submarine hydrothermal system, Tutum Bay, Ambitle Island, PNG. Chem Geol 224:122–135. https://doi.org/10.1016/j.chemgeo.2005.07.017

Rahman AM, Hasegawa H, Lim R (2012) Bioaccumulation, biotransformation and trophic transfer of arsenic in the aquatic food chain. Environ Res 116:118–135. https://doi.org/10.1016/j.envres.2012.03.014

Regoli F, Giuliani M (2014) Oxidative pathways of chemical toxicity and oxidative stress biomarkers in marine organisms. Mar Environ Res 93:106–117. https://doi.org/10.1016/j.marenvres.2013.07.006

Ren JL, Zhang J, Li DD, Cheng Y, Liu SM (2010) Behavior of dissolved inorganic arsenic in the Yellow Sea and East China Sea. Deep Sea Res Part II 57:1035–1046. https://doi.org/10.1016/j.dsr2.2010.02.005

Roleda MY, Marfaing H, Desnica N, Jónsdóttir R, Skjermo J, Rebours C, Nitschke U (2019) Variations in polyphenol and heavy metal contents of wild-harvested and cultivated seaweed bulk biomass: health risk assessment and implication for food applications. Food Control 95:121–134. https://doi.org/10.1016/j.foodcont.2018.07.031

Saha N, Mollah MZI, Alam MF, Rahman SM (2016) Seasonal investigation of heavy metals in marine fishes captured from the Bay of Bengal and the implications for human health risk assessment. Food Control 70:110–118. https://doi.org/10.1016/j.foodcont.2016.05.040

Sanders JG (1980) Arsenic cycling in marine systems. Mar Environ Res 3:257–266. https://doi.org/10.1016/0141-1136(80)90038-0

Satterlee HS (1960) The arsenic-poisoning epidemic of 1900—its relation to lung cancer in 1960—an exercise in retrospective epidemiology. New Engl J Med 263:676–684. https://doi.org/10.1056/nejm196010062631405

Schroeder HA, Balassa JJ (1966) Abnormal trace metals in man: Arsenic. J Chronic Dis 19:85–106. https://doi.org/10.1016/0021-9681(66)90152-4

Sele V, Sloth JJ, Lundebye A-K, Larsen EH, Berntssen M, Amlund H (2012) Arsenolipids in marine oils and fats: a review of occurrence, chemistry and future research needs. Food Chem 133:618–630. https://doi.org/10.1016/j.foodchem.2012.02.004

Sharma VK, Sohn M (2009) Aquatic arsenic: toxicity, speciation, transformations, and remediation. Environ Int 35:743–759. https://doi.org/10.1016/j.envint.2009.01.005

Smith AH, Lingas EO, Rahman M (2000) Contamination of drinking-water by arsenic in Bangladesh: a public health emergency. Bull World Health Organ 78:1093–1103

Soltani N, Moore F, Keshavarzi B, Sorooshian A, Javid R (2019) Potentially toxic elements (PTEs) and polycyclic aromatic hydrocarbons (PAHs) in fish and prawn in the Persian Gulf. Iran Ecotoxicol Environ Saf 173:251–265. https://doi.org/10.1016/j.ecoenv.2019.02.005

Stiboller M, Raber G, Lenters V, Gjengedal E, Eggesbo M, Francesconi KA (2017) Arsenolipids detected in the milk of nursing mothers. Environ Sci Technol Lett. https://doi.org/10.1021/acs.estlett.7b00181

Taleshi MS, Edmonds JS, Goessler W, Ruiz-Chancho M, Raber G, Jensen KB, Francesconi KA (2010) Arsenic-containing lipids are natural constituents of sashimi tuna. Environ Sci Technol 44:1478–1483. https://doi.org/10.1021/es9030358

Tchounwou PB, Yedjou CG, Patlolla AK, Sutton DJ (2012) Heavy metal toxicity and the environment. Mol Clin Environ Toxicol 101:133–164. https://doi.org/10.1007/978-3-7643-8340-4_6

Varol M (2011) Assessment of heavy metal contamination in sediments of the Tigris River (Turkey) using pollution indices and multivariate statistical techniques. J Hazard Mater 195:355–364. https://doi.org/10.1016/j.jhazmat.2011.08.051

Wang H, Wang J, Liu R, Yu W, Shen Z (2015) Spatial variation, environmental risk and biological hazard assessment of heavy metals in surface sediments of the Yangtze River estuary. Mar Pollut Bull 93:250–258. https://doi.org/10.1016/j.marpolbul.2015.01.026

Wang N-X, Li Y, Deng X-H, Miao A-J, Ji R, Yang L-Y (2013) Toxicity and bioaccumulation kinetics of arsenate in two freshwater green algae under different phosphate regimes. Water Res 47:2497–2506. https://doi.org/10.1016/j.watres.2013.02.034

WHO (2011) Guidelines for drinking-water quality, 4th edn. World Health Organization, Switzerland

Wilson SC, Lockwood PV, Ashley PM, Tighe M (2010) The chemistry and behaviour of antimony in the soil environment with comparisons to arsenic: a critical review. Environ Pollut 158:1169–1181. https://doi.org/10.1016/j.envpol.2009.10.045

Xia W et al (2019) Spatial and interspecies differences in concentrations of eight trace elements in wild freshwater fishes at different trophic levels from middle and eastern China. Sci Total Environ 672:883–892. https://doi.org/10.1016/j.scitotenv.2019.03.134

Yi Y, Yang Z, Zhang S (2011) Ecological risk assessment of heavy metals in sediment and human health risk assessment of heavy metals in fishes in the middle and lower reaches of the Yangtze River basin. Environ Pollut 159:2575–2585. https://doi.org/10.1016/j.envpol.2011.06.011

Zhu Y-G, Yoshinaga M, Zhao F-J, Rosen BP (2014) Earth abides arsenic biotransformations Annual review of earth and planetary. Sciences 42:443–467. https://doi.org/10.1146/annurev-earth-060313-054942
Acknowledgements
We thank the anonymous reviewers for their constructive suggestions. This work was supported by National Natural Science Foundation of China (21876180), Guangzhou Science and Technology Plan Projects (201710010173), and the 100 Talents Project of Guangzhou University.
Additional information
Publisher's Note
Springer Nature remains neutral with regard to jurisdictional claims in published maps and institutional affiliations.
Electronic supplementary material
Below is the link to the electronic supplementary material.
About this article
Cite this article
Li, C., Zhong, H. & Zhang, W. A Scientometric Analysis of Recent Literature on Arsenic Bioaccumulation and Biotransformation in Marine Ecosystems. Bull Environ Contam Toxicol 104, 551–558 (2020). https://doi.org/10.1007/s00128-020-02849-2
Received:

Accepted:

Published:

Issue Date:
Keywords
Arsenic

Bioaccumulation

Biotransformation

Marine ecosystems

Emerging trend

Health risk

Food chain

Heavy metal