Abstract
In this study, freshwater snail (Physa acuta) was investigated to determine histopathological effects of CuSO4 on digestive gland, foot, mantle and ovotestis under laboratory conditions. The snails were exposed to different sublethal concentrations of CuSO4 (0.05 mg/L, 0.1 mg/L and 0.2 mg/L) periods of 10, 20 and 30 days. The relationship between CuSO4 concentration and mortality rate in snails was calculated as Y = 8.8 + 125.14X, R2 = 0.9444. The histopathological examinations revealed that CuSO4 caused significant histopathological changes in all the tissues of the snail. The severity of these lesions in tissues increased with increasing CuSO4 concentration and duration of exposure. The results showed that freshwater snail, Physa acuta can be considered to be a suitable bioindicator to demonstrate the toxic effect of copper in aquatic environments.
Access options
Buy single article
Instant access to the full article PDF.
USD 39.95
Price includes VAT (USA)
Tax calculation will be finalised during checkout.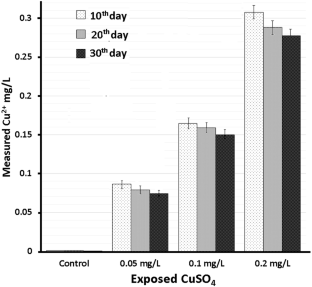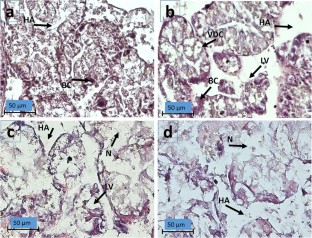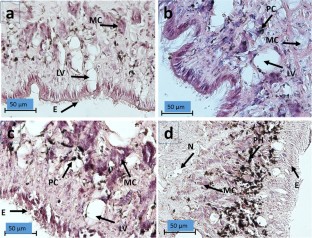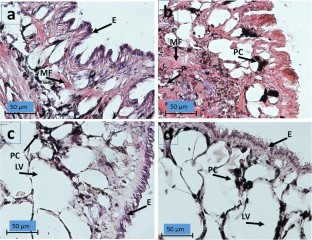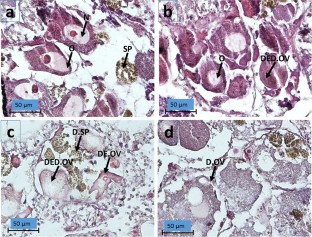 References
Abdallah A, Moustafa M (2002) Accumulation of lead and cadmium in the marine prosobranch Nerita saxtilis, chemical analysis, light and electron microscopy. Environ Pollut 116:185–191

Aksoy A, Demirezen D, Duman F (2005) Bioaccumulation, detection and analyses of heavy metal pollution in Sultan Marsh and its environment. Water Air Soil Pollut 164:241–255

Bacchetta R, Mantecca P, Vailati G (2002) Oocyte degeneration and altered ovipository activity induced by Paraquat in the freshwater snail Physa fontinalis (Gastropoda: Pulmonata). J Molluscan Stud 68(2):181–186

Bighiu MA, Watermann B, Guo X, Almroth BC, Eriksson-Wiklund AK (2017) Mortality and histopathological effects in harbour-transplanted snails with different exposure histories. Aquat Toxicol 190:11–20

Brix KV, Esbaugh AJ, Grosell M (2011) The toxicity and physiological effects of copper on the freshwater pulmonate snail, Lymnaea stagnalis. Comp Biochem Physiol Part C 154:261–267

Cengiz EI, Yildirim MZ, Otludil B, Ünlü E (2005) Histopathological effects of Thiodan® on the freshwater snail, Galba truncatula (Gastropoda, Pulmonata). J Appl Toxicol 25:464–469

Chyb J, Kime DE, Mikołajczyk T, Szczerbik P, Epler P (2000) The influence of zinc on sperm motility of common carp-a computer assisted studies. Fish Aquat Life 8:5–14

de Castro Serrao JI (2017) Histopathological effects of acute exposure to nickel oxide nanoparticles in the aquatic gastropod Physa acuta. Recursos Biológicos Aquáticos Departamento de Biologia – Faculdade de Ciências da Universidade do Porto

Dummee V, Kruatrachue M, Trinachartvanit W, Tanhan P, Pokethitiyook P, Damrongphol P (2012) Bioaccumulation of heavy metals in water, sediments, aquatic plant and histopathological effects on the golden apple snail in Beung Boraphet reservoir, Thailand. Ecotoxicol Environ Saf 86:204–212

El-Feky F, Raafat H, Kamal H (2009) Physiological and histopathological effects of tributyletin (TBT) on Lymnaea natalensis and Physa acuta. Egypt J Hosp Med 37:610–620

Elangovan R, White K, McCrohan C (1997) Bioaccumulation of aluminium in the freshwater snail Lymnaea stagnalis at neutral pH. Environ Pollut 96:29–33

English TE, Storey KB (2003) Freezing and anoxia stresses induce expression of metallothionein in the foot muscle and hepatopancreas of the marine gastropod Littorina littorea. J Exp Biol 206(14):2517–2524

Flemming CA, Trevors JT (1989) Copper toxicity and chemistry in the environment: a review. Water Air Soil Pollut 44(1–2):143–158

Gomot A (1998) Toxic effects of cadmium on reproduction, development, and hatching in the freshwater snail Lymnaea stagnalis for water quality monitoring. Ecotoxicol Environ Saf 41:288–297

Gurr F (1972) Biological staining methods. Tonbridge Printers Ltd, Tonbridge, p 143

Hamed SS, Abdelmeguied NE, Essawy AE, Radwan MA, Hegazy AE (2007) Histological and ultrastructural changes induced by two carbamate molluscicides on the digestive gland of Eobania vermiculata. J Biol Sci 7(6):1017–1037

Hamlet SA, Bensoltane S, Djekoun M, Yassi F, Berrebbah H (2012) Histological changes and biochemical parameters in the hepatopancreas of terrestrial gastropod Helix aspersa as biomarkers of neonicotinoid insecticide exposure. Afr J Biotechnol 11(96):16277–16283

Hoang TC, Rogevich EC, Rand GM, Gardinali PR, Frakes RA, Bargar TA (2008) Copper desorption in flooded agricultural soils and toxicity to the Florida apple snail (Pomacea paludosa): Implications in Everglades restoration. Environ Pollut 154(2):338–347

Hopkin S (1986) Ecophysiological strategies of terrestrial arthropods for surviving heavy metal pollution. Proceedings of the 3rd European Congress Entomology, Amsterdam, pp 24–29

Hyman LH (1967) The invertebrates, vol VI. Mollusca I McGraw-Hill Book Company, New York, p 792

Jalali K, Nouairi I, Kallala N, M'Sehli W, Zribi K, Mhadhbi H (2018) Germination, seedling growth, and antioxidant activity in four legume (Fabaceae) species under copper sulphate fungicide treatment. Pak J Bot 50:1599–1606

Jonnalagadda P, Rao MB (1996) Histopathological changes induced by specific pesticides on some tissues of the fresh water snail, Bellamya dissimilis Müller. Bull Environ Contamin Toxicol 57:648–654

Karakas SB, Otludil B (2011) Healing effect on cadmium toxicity of EDTA in Lymnaea stagnalis. Curr Opin Biotechnol 22:S79

Kato S, Matsui T, Gatsogiannis C, Tanaka Y (2018) Molluscan hemocyanin: structure, evolution, and physiology. Biophys Rev 10(2):191–202

Klobučar G, Lajtner J, Erben R (1997) Lipid peroxidation and histopathological changes in the digestive gland of a freshwater snail Planorbarius corneus L. (Gastropoda, Pulmonata) exposed to chronic and sub-chronic concentrations of PCP. Bull Environ Contamin Toxicol 58:128–134

Lajtner J, Erben R, Klobučar GIV (1996) Histopathological effects of phenol on the digestive gland of Amphimelania holandri Fér. (Gastropoda, Prosobranchia). Bull Environ Contam Toxicol 57:458–464

Luchtel D, Deyrup-Olsen I, Barker G (2001) Body wall: form and function. In: Barker GM (ed) The biology of terrestrial molluscs. CABI Publishing, Wallingford, pp 147–178

Markl J (2013) Evolution of molluscan hemocyanin structures. Biochim et Biophys Acta 1834(9):1840–1852

Mastin BJ, Rodgers JH Jr (2000) Toxicity and bioavailability of copper herbicides (Clearigate, Cutrine-Plus, and copper sulfate) to freshwater animals. Arch Environ Contamin Toxicol 39(4):445–451

Murray-Gulde CL, Heatley JE, Schwartzman AL, Rodgers JH Jr (2002) Algicidal effectiveness of clearigate, cutrine-plus, and copper sulfate and margins of safety associated with their use. Arch Environ Contam Toxicol 43(1):19–27

Musee N, Oberholster PJ, Sikhwivhilu L, Botha AM (2010) The effects of engineered nanoparticles on survival, reproduction, and behaviour of freshwater snail, Physa acuta (Draparnaud, 1805). Chemosphere 81:1196–1203

Nica DV, Bordean DM, Borozan AB, Gergen I, Bura M, Banatean-Dunea I (2013) Use of land snails (Pulmonata) for monitoring copper pollution in terrestrial ecosystems. In: Whitacre DM (ed) Reviews of environmental contamination and toxicology. Springer, New York, pp 95–137

Nowakowska A, Łaciak T, Caputa M (2012) Organ profiles of the antioxidant defence system and accumulation of metals in Helix aspersa snails. Pol J Environ Stud 21:1369–1375

Otitoloju A, Ajikobi D, Egonmwan R (2009) Histopathology and bioaccumulation of heavy metals (Cu & Pb) in the giant land snail, Archachatina marginata (Swainson). Open Environ Pollut Toxicol J 1:79–88

Otludil B, Cengiz EI, Yildirim MZ, Ünver Ö, Ünlü E (2004) The effects of endosulfan on the great ramshorn snail Planorbarius corneus (Gastropoda, Pulmonata): a histopathological study. Chemosphere 56:707–716

Purchon RD (1968) The biology of the Mollusca. Pergamon Press, Oxford

Radwan MA, Essawy AE, Abdelmeguied NE, Hamed SS, Ahmed AE (2008) Biochemical and histochemical studies on the digestive gland of Eobania vermiculata snails treated with carbamate pesticides. Pestic Biochem Physiol 90(3):154–167

Rehman M, Liu L, Wang Q, Saleem MH, Bashir S, Ullah S, Peng D (2019) Copper environmental toxicology, recent advances, and future outlook: a review. Environ Sci Pollut Res 26:1–14

Roses N, Poquet M, Munoz I (1999) Behavioural and histological effects of atrazine on freshwater molluscs (Physa acuta Drap. and Ancylus fluviatilis Müll. Gastropoda). J Appl Toxicol 19(5):351–356

Sawasdee B, Köhler HR, Triebskorn R (2011) Histopathological effects of copper and lithium in the ramshorn snail, Marisa cornuarietis (Gastropoda, Prosobranchia). Chemosphere 85(6):1033–1039

Tanveer A, Salahuddin K (2001) Effect of CuSO4 and plant molluscicides on the survival and histopathology of lymnaeid and physid snails. Punjab Univ J Zool 16:91–100

Triebskorn R, Christensen K, Heım G (1998) Effects of orally and dermally applied metaldehyde on mucus cells of slugs (Deroceras reticulatum) depending on temperature and duration of exposure. J Molluscan Stud 64:467–487

Ünlü E, Cengiz EI, Yildirim MZ, Otludil B, Ünver Ö (2005) Histopathological effects in tissues of snail Lymnaea stagnalis (Gastropoda, Pulmonata) exposed to sublethal concentration of Thiodan® and recovery after exposure. J Appl Toxicol 25:459–463

Wangsomnuk P, Upatham ES, Kruatrachue M (1997) Histological alterations in the reproductive, nervous and digestive system of Indoplanorbis exustus intoxicated with molluscicides. J Sci Soc Thail 23:284–296

Yildirim MZ, Gümüş BA, Kebapçı Ü, Koca SB (2006) The basommatophoran pulmonate species (Mollusca: Gastropoda) of Turkey. Turk J Zool 30(4):445–458

Zaldibar B, Cancio I, Soto M, Marigómez I (2007) Digestive cell turnover in digestive gland epithelium of slugs experimentally exposed to a mixture of cadmium and kerosene. Chemosphere 70:144–154

Zarai Z, Boulais N, Karray A, Misery L, Bezzine S, Rebai T, Mejdoub H (2011) Immunohistochemical localization of hepatopancreatic phospholipase A 2 in Hexaplex trunculus digestive cells. Lipids Health Dis 10:91

Zuniga M, Vallejos P, Larrain A, Bay-Schmith E (2003) Toxicity of copper on four chilean marine mussels. Bull Environ Contam Toxicol 71(6):1167–1174
Acknowledgements
The present work was carried out under the financial support of Dicle University (DUBAP; 07-02-19).
Additional information
Publisher's Note
Springer Nature remains neutral with regard to jurisdictional claims in published maps and institutional affiliations.
About this article
Cite this article
Otludil, B., Ayaz, S. Effect of Copper Sulphate (CuSO4) on Freshwater Snail, Physa acuta Draparnaud, 1805: A Histopathological Evaluation. Bull Environ Contam Toxicol 104, 738–747 (2020). https://doi.org/10.1007/s00128-020-02846-5
Received:

Accepted:

Published:

Issue Date:
Keywords
Mollusca

Heavy metals

Aquatic organisms

Toxicity

Light microscopy