Abstract
In this study, the hydrolysis of amisulbrom in buffer solutions and natural water samples were investigated. Effects of pH and temperature were tested in buffer solutions. Amisulbrom was stable in acidic and neutral aqueous solutions at 25°C, while quickly hydrolyzed with a half-life of 4.5 days (25°C) at pH 9.0. The kinetics rate equation was determined as k = 1.0234 × 1010 exp (−61.3760/R·T) (R2 = 0.9642) for hydrolysis of amisulbrom at pH 9.0. The pH, ionic strength, and solubility were important factors influencing the hydrolysis of amisulbrom in natural water samples. Furthermore, three hydrolysis products were separated and identified in buffer solution (pH 9.0) and natural water samples. A tentative transformation mechanism of amisulbrom was proposed to rationalize the formation of HPs (hydrolysis products) based on their structural identification, DFT (density functional theory), and hydrolysis profiles. Toxicity prediction using the quantitative structure–activity relationship model revealed that the HP-I, and HP-II were more toxic than the parent amisulbrom. This investigation was the first to evaluate the behavior of amisulbrom hydrolysis in aquatic systems.
Access options
Buy single article
Instant access to the full article PDF.
USD 39.95
Price includes VAT (USA)
Tax calculation will be finalised during checkout.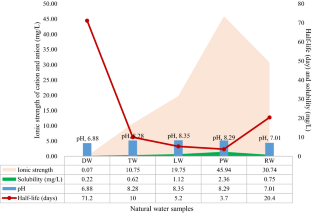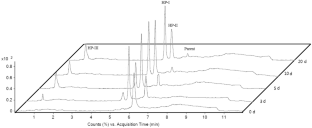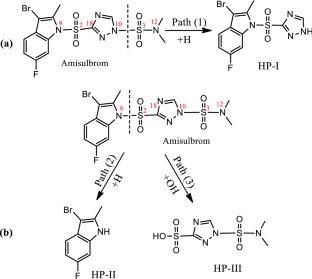 References
Alam M, Park S (2018) Molecular structure, spectral studies, NBO, HOMO–LUMO profile, MEP and Mulliken analysis of 3β,6β-dichloro-5α-hydroxy-5α–cholestane. J Mol Struct 1159:33–45

Asare-Addo K, Conway BR, Larhrib H, Levina M, Rajabi-Siahboomi AR, Tetteh J, Boateng J, Nokhodchi A (2013) The effect of pH and ionic strength of dissolution media on in-vitro release of two model drugs of different solubilities from HPMC matrices. Colloid Surface B 111:384–391

Asari AH, Lam Y, Tius MA, Houk KN (2015) Origins of the stereoselectivity in a thiourea-primary amine-catalyzed nazarov cyclization. J Am Chem Soc 137:13191–13199. https://doi.org/10.1021/jacs.5b08969

Białk-Bielińska A, Stolte S, Matzke M, Fabiańska A, Maszkowska J, Kołodziejska M, Liberek B, Stepnowski P, Kumirska J (2012) Hydrolysis of sulphonamides in aqueous solutions. J Hazard Mater 221–222:264–274

Bibi H, Alam K, Bibi S (2016) In-depth discrimination of aerosol types using multiple clustering techniques over four locations in Indo-Gangetic plains. Atmos Res 181:106–114

Carpinteiro I, Rodil R, Quintana JB, Cela R (2017) Reaction of diazepam and related benzodiazepines with chlorine. Kinetics, transformation products and in-silico toxicological assessment. Water Res 120:280–289

Carvajal, M. T., Yalkowsky, S., Effect of pH and Ionic Strength on the Solubility of Quinoline: Back-to-Basics. AAPS PharmSciTech. 2019, https://link.springer.com/article/10.1208%2Fs12249-019-1336-9

Comelli NC, Romero OE, Diez PA, Marinho CF, Schliserman P, Carrizo A, Ortiz EV, Duchowicz PR (2018) QSAR study of biologically active essential oils against beetles infesting the walnut in Catamarca, Argentina. J Agr Food Chem 66:12855–12865

Dahshan H, Megahed AM, Abd-Elall AMM, Abd-El-Kader MA, Nabawy E, Elbana MH (2016) Monitoring of pesticides water pollution-The Egyptian River Nile. J Environ Health Sci. https://doi.org/10.1186/s40201-016-0259-6

Dong B, Hu J (2016) Photodegradation of the novel fungicide fluopyram in aqueous solution: kinetics, transformation products, and toxicity evolvement. Environ Sci Pollut R 23:19096–19106

EPA, Fate (2008) Transport and transformation test guidelines OPPTS 835.2120. Hydrolysis

Fan Z, An T, Wu K, Zhou F, Zi S, Yang Y, Xue G, Wu B (2016) Effects of intercropping of maize and potato on sloping land on the water balance and surface runoff. Agr Water Manage 166:9–16

Filipe OMS, Santos SAO, Domingues MRM, Vidal MM, Silvestre AJD, Neto CP, Santos EBH (2013) Photodegradation of the fungicide thiram in aqueous solutions. Kinetic studies and identification of the photodegradation products by HPLC–MS/MS. Chemosphere 91:993–1001

Fimmen RL, Trouts TD, Richter DD, Vasudevan D (2008) Improved speciation of dissolved organic nitrogen in natural waters: amide hydrolysis with. J Environ Sci 278:163–169

Fioressi SE, Bacelo DE, Rojas C, Aranda JF, Duchowicz PR (2019) Conformation-independent quantitative structure-property relationships study on water solubility of pesticides. Ecotox Environ Safe 171:47–53

Frisch, M.J., Trucks, G.W., Schlegel, H.B., et al., Gaussian 09, Revision D.01, Gaussian, Inc, Wallingford, CT, 2013.

Gao X, Xu Y, Ma M, Rao K, Wang Z (2019) Simultaneous passive sampling of hydrophilic and hydrophobic emerging organic contaminants in water. Ecotox Environ Safe 178:25–32

Ghoveisi, H., Mahdavi Mazdeh, A., Farhoudi, J., & Omid, M. H. (2014). The effect of sediment motion on adsorption of cadmium In: Proceedings of the Institution of Civil Engineers-Water Management. Thomas Telford Ltd 167(4), 238–245

Gonzalez-Jartin JM, Alfonso A, Sainz MJ, Vieytes MR, Botana LM (2017) UPLC-MS-IT-TOF Identification of circumdatins produced by aspergillus ochraceus. J Agr Food Chem 65:4843–4852

Guan Y, Wang J, Ni H, Zeng EY (2009) Organochlorine pesticides and polychlorinated biphenyls in riverine runoff of the Pearl River Delta, China: assessment of mass loading, input source and environmental fate. Environ Pollut 157:618–624

Han D, Currell MJ (2017) Persistent organic pollutants in China's surface water systems. Sci Total Environ 580:602–625

He MX, Li X, Zhang SQ, Sun JF, Cao HJ, Wang WX (2016) Mechanistic and kinetic investigation on OH-initiated oxidation of tetrabromobisphenol A. Chemosphere 153:262–269. https://doi.org/10.1016/j.chemosphere.2016.03.043

Kang K, Schenkeveld WDC, Biswakarma J, Borowski SC, Hug SJ, Hering JG, Kraemer SM (2019) Low Fe(II) concentrations catalyze the dissolution of various Fe(III) (hydr)oxide minerals in the presence of diverse ligands and over a broad pH range. Environ Sci Technol 53:98–107

Kfoury M, Geagea C, Ruellan S, Greige-Gerges H, Fourmentin S (2019) Effect of cyclodextrin and cosolvent on the solubility and antioxidant activity of caffeic acid. Food Chem 278:163–169

Lancianesi S, Palmieri A, Petrini M (2014) Synthetic approaches to 3-(2-Nitroalkyl) indoles and their use to access tryptamines and related bioactive compounds. Chem Rev 114:7108–7149

Lester Y, Ferrer I, Thurman EM, Sitterley KA, Korak JA, Aiken G, Linden KG (2015) Characterization of hydraulic fracturing flowback water in Colorado: implications for water treatment. Sci Total Environ 512:637–644

Lienert J, Gudel K, Escher BI (2007) Screening method for ecotoxicological hazard assessment of 42 pharmaceuticals considering human metabolism and excretory routes. Environ Sci Technol 41:4471–4478

Lin H, Pang K, Ma Y, Hu J (2019) Photodegradation of fluazaindolizine in water under simulated sunlight irradiation: Identification of transformation products and elucidation of transformation mechanism. Chemosphere 214:543–552

Liu J, Li C, Qu R, Wang L, Feng J, Wang Z (2018) Kinetics and mechanism insights into the photodegradation of hydroperfluorocarboxylic acids in aqueous solution. Chem Eng J 348:644–652

Liu R, Zheng X, Li M, Han L, Liu X, Zhang F, Hou X (2019) A three chamber bioelectrochemical system appropriate for in-situ remediation of nitrate-contaminated groundwater and its reaction mechanisms. Water Res 158:401–410

Madarász Á, Dósa Z, Varga S, Soós T, Csámpai A, Pápai I (2016) Thiourea derivatives as brønsted acid organocatalysts. ACS Catal 6:4379–4387. https://doi.org/10.1021/acscatal.6b00618

Marenich AV, Cramer CJ, Truhlar DG (2009) Universal solvation model based on solute electron density and on a continuum model of the solvent defined by the bulk dielectric constant and atomic surface tensions. J Phys Chem B 113:6378–6396

Marín-Benito JM, Andrades MS, Rodríguez-Cruz MS, Sánchez-Martín MJ (2012) Changes in the sorption-desorption of fungicides over time in an amended sandy clay loam soil under laboratory conditions. J Soils Sediments 12(7):1111–1123

Marín-Benito JM, Barba V, Ordax JM, Sánchez-Martín MJ, Rodríguez-Cruz MS (2018) Recycling organic residues in soils as amendments: effect on the mobility of two herbicides under different management practices. J Environ Manage 224:172–181

Moretto JAS, Furlan JPR, Fernandes AFT, Bauermeister A, Lopes NP, Stehling EG (2019) Alternative biodegradation pathway of the herbicide diuron. Int Biodeterior Biodegradation 143:104716

Muff J, MacKinnon L, Durant ND, Bennedsen LF, Rugge K, Bondgaard M, Pennell K (2016) The influence of cosolvent and heat on the solubility and reactivity of organophosphorous pesticide DNAPL alkaline hydrolysis. Environ Sci Pollut R 23:22658–22666

Nanda M, Kumar V, Sharma DK (2019) Multimetal tolerance mechanisms in bacteria: the resistance strategies acquired by bacteria that can be exploited to 'clean-up' heavy metal contaminants from water. Aquat Toxicol 212:1–10

Ogawa S, Yoshimura E (2012) Comparison of methanol and acetonitrile eluents for the quantitation of chelators specific to soft-metal ions by HPLC. J Chromatogr B 909:34–36

Riley KE, Tran K, Lane P, Murray JS, Politzer P (2016) Comparative analysis of electrostatic potential maxima and minima on molecular surfaces, as determined by three methods and a variety of basis sets. J Comput Sci-Neth 17:273–284

Seitz LM, Ram MS, Rengarajan R (1999) Volatiles obtained from whole and ground grain samples by supercritical carbon dioxide and direct helium purge methods: observations on 2,3-butanediols and halogenated anisoles. J Agr Food Chem 47:1051–1061

Sevilla-Morán B, López-Goti C, Alonso-Prados JL, Sandín-España P (2014) Aqueous photodegradation of sethoxydim herbicide: Qtof elucidation of its by-products, mechanism and degradation pathway. Sci Total Environ 472:842–850

Sharma AK, Zimmerman WT, Lowrie C, Chapleo S (2014) Hydrolysis of chlorantraniliprole and cyantraniliprole in various PH buffer solutions. J Agr Food Chem 62:3531–3536

Sinclair CJ, Boxall ABA (2003) Assessing the ecotoxicity of pesticide transformation products. Environ Sci Technol 37:4617–4625

Smallwood IM (1996) Handbook of Organic Solvent Properties. Amoled, London

Spagnuolo LA, Eltschkner S, Yu W, Daryaee F, Davoodi S, Knudson SE, Allen EKH, Merino J, Pschibul A, Moree B, Thivalapill N, Truglio JJ, Salafsky J, Slayden RA, Kisker C, Tonge PJ (2017) Evaluating the contribution of transition-state destabilization to changes in the residence time of triazole-based InhA inhibitors. J Am Chem Soc 139:3417–3429

Su G, Letcher RJ, Yu H (2016) Organophosphate flame retardants and plasticizers in aqueous solution: pH-dependent hydrolysis, kinetics, and pathways. Environ Sci Technol 50:8103–8111

Sun H, Chen R, Jiang W, Chen X, Lin Z (2019) QSAR-based investigation on antibiotics facilitating emergence and dissemination of antibiotic resistance genes: a case study of sulfonamides against mutation and conjugative transfer in Escherichia coli. Environ Res 173:87–96

Suvitha A, Venkataramanan NS, Sahara R, Kawazoe Y (2019) A theoretical exploration of the intermolecular interactions between resveratrol and water: a DFT and AIM analysis. J Mol Model 25(3):56

Tian T, Jin Y, Ma Y, Xie W, Xu H, Zhang K, Zhang L, Du Y (2015) Identification of metabolites of oridonin in rats with a single run on UPLC-Triple-TOF-MS/MS system based on multiple mass defect filter data acquisition and multiple data processing techniques. J CHROMATOGR B 1006:80–92

USEPA report, U. S. Environmental Protection Agency, Pesticide Fact Sheet Number 016330: Amisulbrom (Office of Chemical Safety and Pollution Prevention, Washington, DC, 2011).

Wang J, Li Y, Yang Y, Zhang J, Du J, Zhang S, Yang L (2015) Profiling the interaction mechanism of indole-based derivatives targeting the HIV-1 gp120 receptor. RSC ADV 5:78278–78298

Wang N, Zhang J, Wang HH, Li Q, Wei SA, Wang D (2014) Effects of metal ions on the hydrolysis of bamboo biomass in 1-butyl-3-methylimidazolium chloride with dilute acid as catalyst. Bioresour Technol 173:399–405

Wu Y, Qin Y, Bai L, Kang Y, Zhang Y (2016) Determination and thermodynamic modelling for 4-nitropyrazole solubility in (methanol + water), (ethanol + water) and (acetonitrile + water) binary solvent mixtures from T = (278.15 to 318.15) K. J Chem Thermodynamic 103:276–284

Xu W, Han F, He M, Hu D, He J, Yang S, Song B (2012) Inhibition of tobacco bacterial wilt with sulfone derivatives containing an 1,3,4-oxadiazole moiety. J Agr Food Chem 60:1036–1041

Xue J, Pan D, Li M, Wu X, Wang X, Hua R (2018) Degradation of amisulbrom and its metabolite IT-4 in cucumber under field conditions and processing. Int J Environ An Ch 98:67–81

Zhang JJ, Gao S, Xu JY, Lu YC, Lu FF, Ma LY, Su XN, Yang H (2017) Degrading and phytoextracting atrazine residues in rice (oryza sativa) and growth media intensified by a phase II mechanism modulator. Environ Sci Technol 51:11258–11268

Zhang X, Zhang D, Huang Y, Zhang K, Lu P (2018) Simultaneous removal of organic matter and iron from hydraulic fracturing flowback water through sulfur cycling in a microbial fuel cell. Water Res 147:461–471

Zhao F, She Y, Zhang C, Cao X, Wang S, Zheng L, Jin M, Shao H, Jin F, Wang J (2017) Selective solid-phase extraction based on molecularly imprinted technology for the simultaneous determination of 20 triazole pesticides in cucumber samples using high-performance liquid chromatography-tandem mass spectrometry. J Chromatogr B 1064:143–150
Acknowledgements
This work was supported by financial support from National Natural Science Foundation of China (Project No. 21677009).
Ethics declarations
Conflict of interest
The authors declare no competing financial interest and human conflicts.
Additional information
Publisher's Note
Springer Nature remains neutral with regard to jurisdictional claims in published maps and institutional affiliations.
Electronic supplementary material
Below is the link to the electronic supplementary material.
About this article
Cite this article
Pang, K., Zhao, H. & Hu, J. Hydrolysis of Amisulbrom in Buffer Solutions and Natural Water Samples: Kinetics and Products Identification. Bull Environ Contam Toxicol 104, 689–700 (2020). https://doi.org/10.1007/s00128-020-02838-5
Received:

Accepted:

Published:

Issue Date:
Keywords
Amisulbrom

Hydrolysis

Hydrolysis mechanism

Kinetics

LC-Q-TOF–MS/MS