Abstract
Fate of 2,4,6-tribromophenol (TBP) in environmental matrices is obscure. We used 14C-tracer to investigated mineralization, transformation, and non-extractable residue (NER)-formation of TBP in a soil under continuously oxic, continuously anoxic, and anoxic–oxic alteration conditions. In all cases, TBP rapidly dissipated, mineralized to CO2, and formed NERs in the soil. Considerable amounts of transformation products (2–12%) were detected during the incubation. Marked mineralization (13–26%) indicated that soil microorganisms used TBP as their energy source. About 62–70% of the initial radioactivity was transformed into NERs, being mainly attributed to binding to humic and fulvic acid fractions. TBP transformation was significantly faster under oxic conditions than under anoxic conditions, and was boosted when the soil redox changed from anoxic to oxic state. The results provide new insights into fate of TBP in soil and suggest the importance to evaluate the stability of NERs for risk assessment of TBP in soil.
Access options
Buy single article
Instant access to the full article PDF.
USD 39.95
Price includes VAT (USA)
Tax calculation will be finalised during checkout.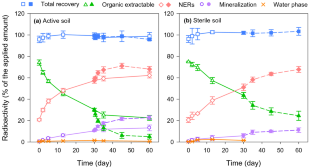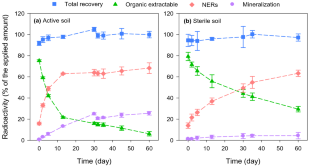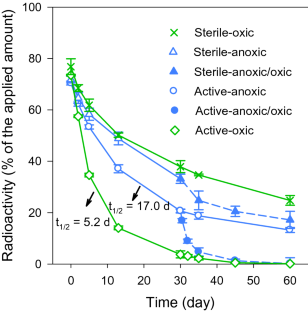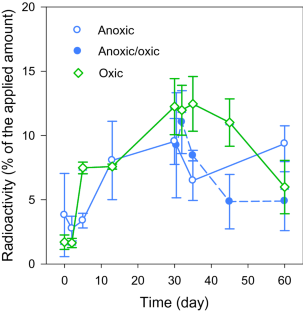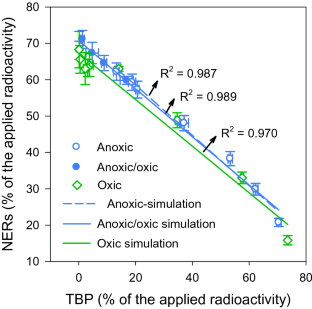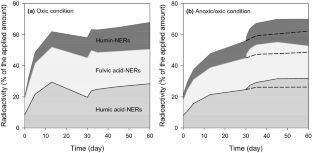 References
Aguayo J, Barra R, Becerra J, Martínez M (2009) Degradation of 2,4,6-tribromophenol and 2,4,6-trichlorophenol by aerobic heterotrophic bacteria present in psychrophilic lakes. World J Microbiol Biotechnol 25:553

Barontini F, Cozzani V, Marsanich K, Raffa V, Petarca L (2004) An experimental investigation of tetrabromobisphenol A decomposition pathways. J Anal Appl Pyrolysis 72:41–53

Donoso C, Becerra J, Martínez M, Garrido N, Silva M (2008) Degradative ability of 2,4,6-tribromophenol by saprophytic fungi Trametes versicolor and Agaricus augustus isolated from chilean forestry. World J Microbiol Biotechnol 24:961–968

Gevao B, Semple KT, Jones KC (2000) Bound pesticide residues in soils: a review. Environ Pollut 108:3–14

Han W, Wang S, Huang H, Luo L, Zhang S (2013) Simultaneous determination of brominated phenols in soils. J Environ Sci 25:2306–2312

Howe P, Dobson S, Malcolm H (2005) 2,4,6-Tribromophenol and other simple brominated phenols. World health organization, Geneva

Kästner M, Nowak KM, Miltner A, Trapp S, Schäffer A (2014) Classification and modelling of nonextractable residue (NER) formation of xenobiotics in soil—a synthesis. Crit Rev Environ Sci Technol 44:2107–2171

Kästner M, Streibich S, Beyrer M, Richnow H, Fritsche W (1999) Formation of bound residues during microbial degradation of [14C] anthracene in soil. Appl Environ Microbiol 65:1834–1842

Kawashiro Y, Fukata H, Omori-Inoue M, Kubonoya K, Jotaki T, Takigami H, Sakai S-I, Mori C (2008) Perinatal exposure to brominated flame retardants and polychlorinated biphenyls in Japan. Endocr J 1–18

Koch C, Dundua A, Aragon-Gomez J, Nachev M, Stephan S, Willach S, Ulbricht M, Schmitz OJ, Schmidt TC, Sures B (2016) Degradation of polymeric brominated flame retardants: development of an analytical approach using PolyFR and UV irradiation. Environ Sci Technol 50:12912–12920

Koch C, Sures B (2018) Environmental concentrations and toxicology of 2,4,6-tribromophenol (TBP). Environ Pollut 233:706–713

Li F, Wang J, Jiang B, Yang X, Nastold P, Kolvenbach B, Wang L, Ma Y, Corvini PF-X, Ji R (2015a) Fate of tetrabromobisphenol A (TBBPA) and formation of ester- and ether-linked bound residues in an oxic sandy soil. Environ Sci Technol 49:12758–12765

Li Z, Yoshida N, Wang A, Nan J, Liang B, Zhang C, Zhang D, Suzuki D, Zhou X, Xiao Z, Katayama A (2015b) Anaerobic mineralization of 2,4,6-tribromophenol to CO2 by a synthetic microbial community comprising Clostridium, Dehalobacter, and Desulfatiglans. Bioresour Technol 176:225–232

Liu J, Shan J, Jiang B, Wang L, Yu B, Chen J, Guo H, Ji R (2014) Degradation and bound-residue formation of nonylphenol in red soil and the effects of ammonium. Environ Pollut 186:83–89

Liu J, Wang Y, Jiang B, Wang L, Chen J, Guo H, Ji R (2013) Degradation, metabolism, and bound-residue formation and release of tetrabromobisphenol A in soil during sequential anoxic–oxic incubation. Environ Sci Technol 47:8348–8354

Monrroy M, Baeza J, Freer J, Rodríguez J (2007) Degradation of tribromophenol by wood-decaying fungi and the 1,2-dihydroxybenzene–assisted Fenton reaction. Bioremed J 11:195–200

Nissenbaum A, Schallinger KM (1974) The distribution of the stable carbon isotope (13C/12C) in fractions of soil organic matter. Geoderma 11:137–145

Nowak A, Wronkowska H (1987) On the efficiency of soil sterilization in autoclave. Z Mikrobiol 142:521–525

Nyholm JR, Lundberg C, Andersson PL (2010) Biodegradation kinetics of selected brominated flame retardants in aerobic and anaerobic soil. Environ Pollut 158:2235–2240

Riefer P, Klausmeyer T, SchäFfer A, Schwarzbauer J, Schmidt B (2011) Distribution, fate and formation of non-extractable residues of a nonylphenol isomer in soil with special emphasis on soil derived organo-clay complexes. J Environ Sci Health Pt B 46:394–403

Ronen Z, Vasiluk L, Abeliovich A, Nejidat A (2000) Activity and survival of tribromophenol-degrading bacteria in a contaminated desert soil. Soil Biol Biochem 32:1643–1650

Shan J, Brune A, Ji R (2010) Selective digestion of the proteinaceous component of humic substances by the geophagous earthworms Metaphire guillelmi and Amynthas corrugatus. Soil Biol Biochem 42:1455–1462

Wang S, Ling X, Wu X, Wang L, Li G, Corvini PF-X, Sun F, Ji R (2019) Release of tetrabromobisphenol A (TBBPA)-derived non-extractable residues in oxic soil and the effects of the TBBPA-degrading bacterium Ochrobactrum sp. strain T. J Hazard Mater 378:120666

Xiong J, Li G, An T (2017) The microbial degradation of 2,4,6-tribromophenol (TBP) in water/sediments interface: Investigating bioaugmentation using Bacillus sp. GZT Sci Total Environ 575:573–580

Yamada T, Takahama Y, Yamada Y (2008) Biodegradation of 2,4,6-tribromophenol by Ochrobactrum sp. strain TB01. Biosci, Biotechnol, Biochem 72:70755-1–70755-8

Zhang Q, Liu Y, Lin Y, Kong W, Zhao X, Ruan T, Liu J, Schnoor JL, Jiang G (2019) Multiple metabolic pathways of 2,4,6-tribromophenol in rice plants. Environ Sci Technol 53:7473–7482

Zu L, Li G, An T, Wong P-K (2012) Biodegradation kinetics and mechanism of 2,4,6-tribromophenol by Bacillus sp. GZT: A phenomenon of xenobiotic methylation during debromination. Bioresour Technol 110:153–159
Acknowledgements
Financial support from the National Natural Science Foundation of China (NSFC) (Grant Nos. 31861133003, 21661132004, and 21806075), the Science and Technology Bureau of Quanzhou City (No. 2018C006), and European Commission (Horizon 2020 program under Grant Agreement No. 826244) are kindly acknowledged.
Additional information
Publisher's Note
Springer Nature remains neutral with regard to jurisdictional claims in published maps and institutional affiliations.
About this article
Cite this article
Jia, X., Wang, W., Yao, Y. et al. Fate of 2,4,6-Tribromophenol in Soil Under Different Redox Conditions. Bull Environ Contam Toxicol 104, 707–713 (2020). https://doi.org/10.1007/s00128-020-02835-8
Received:

Accepted:

Published:

Issue Date:
Keywords
Soil redox

Degradation

Mineralization

Non-extractable residues (NERs)

Bound residues (BRs)