Abstract
The accumulation and transformation of 2,2',4,4'-tetrabrominated diphenyl ether (BDE47), one congener of the flame retardants polybrominated diphenyl ethers (PBDEs), in soil-feeding fauna are still unknown. Using radioactivity tracer, we incubated 14C-labelled BDE47 in soil for 21 days in the presence and absence of the geophagous earthworm Metaphire vulgaris. BDE47 accumulated in the earthworm predominantly via oral ingestion of soil, giving a biota-soil accumulation factor (BSAF) value of 1.3 for radioactivity at the end of incubation, and was mostly located in intestine, followed by clitellum (organs region) and skin of earthworms. Accumulation was accompanied by significant decrease of BDE47 concentration in soil porewater and BDE47 mineralization in soil. BDE47 was transformed in the earthworm gut into two metabolites with higher polarities than BDE47. The results provide for the first time insights into accumulation and transformation of lower-brominated congeners of PBDEs in geophagous earthworms, being helpful for environmental risk assessment of PBDEs.
Access options
Buy single article
Instant access to the full article PDF.
USD 39.95
Price includes VAT (USA)
Tax calculation will be finalised during checkout.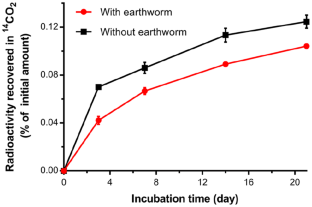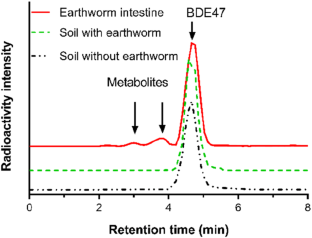 References
Alexander M (2000) Aging, bioavailability, and overestimation of risk from environmental pollutants. Environ Sci Technol 34:4259–4265

Andersson S, Nilsson SI (2001) Influence of pH and temperature on microbial activity, substrate availability of soil-solution bacteria and leaching of dissolved organic carbon in a mor humus. Soil Biol Biochem 33:1181–1191

Braekevelt E, Tittlemier SA, Tomy GT (2003) Direct measurement of octanol–water partition coefficients of some environmentally relevant brominated diphenyl ether congeners. Chemosphere 51:563–567

Butenschoen O, Ji R, Schäffer A, Scheu S (2009) The fate of catechol in soil as affected by earthworms and clay. Soil Biol Biochem 41:330–339

Cai C, Yu S, Liu Y, Tao S, Liu W (2018) PBDE emission from E-wastes during the pyrolytic process: emission factor, compositional profile, size distribution, and gas-particle partitioning. Environ Pollut 235:419–428

Carter LJ, Garman CD, Ryan J, Dowle A, Bergström E, Thomas-Oates J, Boxall ABA (2014) Fate and uptake of pharmaceuticals in soil–earthworm systems. Environ Sci Technol 48:5955–5963

Chen X, Wang X, Gu X, Jiang Y, Ji R (2017) Oxidative stress responses and insights into the sensitivity of the earthworms Metaphire guillelmi and Eisenia fetida to soil cadmium. Sci Total Environ 574:300–306

Chorom M, Rengasamy P, Murray R (1994) Clay dispersion as influenced by pH and net particle charge of sodic soils. Soil Research 32:1243–1252

Darnerud PO, Eriksen GS, Jóhannesson T, Larsen PB, Viluksela M (2001) Polybrominated diphenyl ethers: occurrence, dietary exposure, and toxicology. Environ Health Perspect 109:49–68

de Wit CA (2002) An overview of brominated flame retardants in the environment. Chemosphere 46:583–624

Gu J, Jing Y, Ma Y, Sun F, Wang L, Chen J, Guo H, Ji R (2017) Effects of the earthworm Metaphire guillelmi on the mineralization, metabolism, and bound-residue formation of tetrabromobisphenol A (TBBPA) in soil. Sci Total Environ 595:528–536

Gu J, Chen X, Wang Y, Wang L, Szlavecz K, Ma Y, Ji R (2020) Bioaccumulation, physiological distribution, and biotransformation of tetrabromobisphenol A (TBBPA) in the geophagous earthworm Metaphire guillelmi – hint for detoxification strategy. J Hazard Mater 388:122027

Guo X, Liu Y, Sun F, Zhou D, Guo R, Dong T, Chen Y, Ji R, Chen J (2019) Fate of 14C-bisphenol F isomers in an oxic soil and the effects of earthworm. Sci Total Environ 657:254–261

Hassanin A, Breivik K, Meijer SN, Steinnes E, Thomas GO, Jones KC (2004) PBDEs in European background soils: levels and factors controlling their distribution. Environ Sci Technol 38:738–745

Hickman ZA, Reid BJ (2008) Earthworm assisted bioremediation of organic contaminants. Environ Int 34:1072–1081

Huang L, Wang W, Zhang S, Tang S, Zhao P, Ye Q (2017) Bioaccumulation and bound-residue formation of 14C-decabromodiphenyl ether in an earthworm-soil system. J Hazard Mater 321:591–599

Jager T, Fleuren RHLJ, Hogendoorn EA, De Korte G (2003) Elucidating the routes of exposure for organic chemicals in the earthworm, Eisenia andrei (oligochaeta). Environ Sci Technol 37:3399–3404

Kim U-J, Yen NTH, Oh J-E (2014) Hydroxylated, methoxylated, and parent polybrominated diphenyl ethers (PBDEs) in the inland environment, Korea, and potential OH- and MeO-BDE source. Environ Sci Technol 48:7245–7253

Lemtiri A, Colinet G, Alabi T, Cluzeau D, Zirbes L, Haubruge E, Francis F (2014) Impacts of earthworms on soil components and dynamics. A review. Biotechnol Agron Soc Environ 18:121–133

Leung AOW, Luksemburg WJ, Wong AS, Wong MH (2007) Spatial distribution of polybrominated diphenyl ethers and polychlorinated dibenzo-p-dioxins and dibenzofurans in soil and combusted residue at Guiyu, an electronic waste recycling site in southeast China. Environ Sci Technol 41:2730–2737

Li B, Yao T, Sun H, Zhang Y, Yang J (2016) Diastereomer- and enantiomer-specific accumulation, depuration, bioisomerization, and metabolism of hexabromocyclododecanes (HBCDs) in two ecologically different species of earthworms. Sci Total Environ 542:427–434

Li B, Zhu H, Sun H, Xu J (2017) Effects of the amendment of biochars and carbon nanotubes on the bioavailability of hexabromocyclododecanes (HBCDs) in soil to ecologically different species of earthworms. Environ Pollut 222:191–200

Liang R, Chen J, Shi Y, Lu Y, Sarvajayakesavalu S, Xu X, Zheng X, Khan K, Su C (2018) Toxicological effects on earthworms (Eisenia fetida) exposed to sub-lethal concentrations of BDE-47 and BDE-209 from a metabolic point. Environ Pollut 240:653–660

Ohta S, Ishizuka D, Nishimura H, Nakao T, Aozasa O, Shimidzu Y, Ochiai F, Kida T, Nishi M, Miyata H (2002) Comparison of polybrominated diphenyl ethers in fish, vegetables, and meats and levels in human milk of nursing women in Japan. Chemosphere 46:689–696

Shan J, Wang T, Li C, Klumpp E, Ji R (2010) Bioaccumulation and bound-residue formation of a branched 4-nonylphenol isomer in the geophagous earthworm Metaphire guillelmi in a rice paddy soil. Environ Sci Technol 44:4558–4563

Stapleton HM, Letcher RJ, Li J, Baker JE (2004) Dietary accumulation and metabolism of polybrominated diphenyl ethers by juvenile carp (Cyprinus carpio). Environ Toxicol Chem 23:1939–1946

Stapleton HM, Eagle S, Anthopolos R, Wolkin A, Miranda ML (2011) Associations between polybrominated diphenyl ether (PBDE) flame retardants, phenolic metabolites, and thyroid hormones during pregnancy. Environ Health Perspect 119:1454–1459

Streets SS, Henderson SA, Stoner AD, Carlson DL, Simcik MF, Swackhamer DL (2006) Partitioning and bioaccumulation of PBDEs and PCBs in Lake Michigan. Environ Sci Technol 40:7263–7269

Sun Y, Xu X, Hao Q, Luo X, Ruan W, Zhang Z, Zhang Q, Zou F, Mai B (2014) Species-specific accumulation of halogenated flame retardants in eggs of terrestrial birds from an ecological station in the Pearl River Delta, South China. Chemosphere 95:442–447

UNEP (2009) The 9 new POPs under the Stockholm Convention. http://chm.pops.int/Programmes/NewPOPs/The9newPOPs/tabid/672/language/en-US/Default.aspx

Wang X, Ren N, Qi H, Ma W, Li Y (2009) Levels and distribution of brominated flame retardants in the soil of Harbin in China. J Environ Sci-China 21:1541–1546

Wang F, Ji R, Jiang Z, Chen W (2014) Species-dependent effects of biochar amendment on bioaccumulation of atrazine in earthworms. Environ Pollut 186:241–247

Wang Y, Xu J, Shan J, Ma Y, Ji R (2017) Fate of phenanthrene and mineralization of its non-extractable residues in an oxic soil. Environ Pollut 224:377–383

WHO (1997) Flame retardants: a general introduction. environmental health criteria 192. http://www.inchem.org/documents/ehc/ehc/ehc192.htm. Accessed 2007

Xie Y, Fang Z, Cheng W, Tsang PE, Zhao D (2014) Remediation of polybrominated diphenyl ethers in soil using Ni/Fe bimetallic nanoparticles: influencing factors, kinetics and mechanism. Sci Total Environ 485–486:363–370

Yao Y, Zhou Y, Wang W, Zhou D, Wang L, Corvini PFX, Ji R (2020) Fate of lower-brominated diphenyl ethers (LBDEs) in a red soil – application of 14C-labelling. Sci Total Environ. https://doi.org/10.1016/j.scitotenv.2020.137735

Zhang S, Xu X, Wu Y, Ge J, Li W, Huo X (2014) Polybrominated diphenyl ethers in residential and agricultural soils from an electronic waste polluted region in South China: distribution, compositional profile, and sources. Chemosphere 102:55–60

Zheng X, Zhu Y, Liu C, Liu H, Giesy JP, Hecker M, Lam MHW, Yu H (2012) Accumulation and biotransformation of BDE-47 by Zebrafish Larvae and teratogenicity and expression of genes along the hypothalamus–pituitary–thyroid axis. Environ Sci Technol 46:12943–12951

Zou M-Y, Ran Y, Gong J, Mai B-X, Zeng EY (2007) Polybrominated diphenyl ethers in watershed soils of the Pearl River Delta, China: occurrence, inventory, and fate. Environ Sci Technol 41:8262–8267
Acknowledgements
This work was supported by the National Natural Science Foundation of China (NSFC) (Grant No. 21661132004, 21237001, 21876079), the Science and Technology Bureau of Quanzhou City (No. 2018C006), and European Commission Horizon 2020 program Electra (No. 826244).
Additional information
Publisher's Note
Springer Nature remains neutral with regard to jurisdictional claims in published maps and institutional affiliations.
About this article
Cite this article
Yao, Y., Wang, L., Corvini, P.FX. et al. Accumulation and Transformation of 2,2',4,4'-Tetrabrominated Diphenyl Ether (BDE47) by the Earthworm Metaphire vulgaris in Soil. Bull Environ Contam Toxicol 104, 701–706 (2020). https://doi.org/10.1007/s00128-020-02834-9
Received:

Accepted:

Published:

Issue Date:
Keywords
2,2',4',-tetrabrominated diphenyl ether (BDE47)

Earthworm

Bioaccumulation

Biotransformation

Polybrominated diphenyl ethers (PBDEs)