Abstract
The effects of sepiolite and biochar on the enzymatic activities of the soil in Cd- and atrazine-contaminated soils were studied. During the growth of pakchoi, the activities of acid phosphatase, sucrase, acid protease, and cellulase decreased, catalase activity increased, and urease activity decreased first and then increased. At the first harvest, compared with that for the control group, the soil pH after treatment with remediation materials increased from 5.41 to 7.43; the activities of urease, acid protease, and catalase increased by 62.8%, 38.6%, and 86.1%, respectively. And the activities of sucrase and acid phosphatase decreased by 17.3% and 24.7%, respectively. At the second harvest, the activities of acid phosphatase, acid protease, and cellulase continued to increase, but those of sucrase and catalase decreased. The results showed that soil enzyme activity was closely related to the type and addition of remediation materials, as well as the type of the enzyme.
Access options
Buy single article
Instant access to the full article PDF.
USD 39.95
Price includes VAT (USA)
Tax calculation will be finalised during checkout.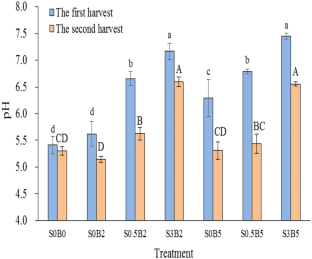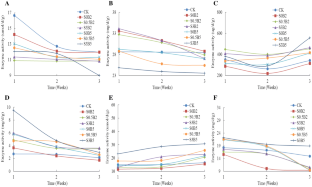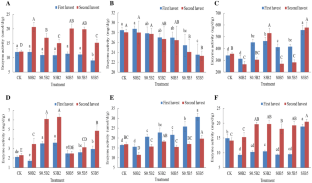 References
Aboim MCR, Coutinho HLC, Peixoto RS, Barbosa JC, Rosado AS (2008) Soil bacterial community structure and soil quality in a slash-and-burn cultivation system in Southeastern Brazil. Appl Soil Ecol 38:100–108

Ameloot N, Graber ER, Verheijen FGA, De Neve S (2013) Interactions between biochar stability and soil organisms: review and research needs. Eur J Soil Sci 64:379–390

Bhattacharyya P, Tripathy S, Kim K, Kim SH (2008) Arsenic fractions and enzyme activities in arsenic-contaminated soils by groundwater irrigation in West Bengal. Ecotox Environ Safe 71:149–156

Cai ZQ, Li SS, Zhang WJ, Ma JT, Wang J, Cai JY, Yang GH (2015) Effects of the novel pyrimidynyloxybenzoic herbicide ZJ0273 on enzyme activities, microorganisms and its degradation in Chinese soils. Environ Sci Pollut R 22:4425–4433

Cui HB, Zhou J, Zhao QG, Si YB, Mao JD, Fang GD, Liang JN (2013) Fractions of Cu, Cd, and enzyme activities in a contaminated soil as affected by applications of micro- and nanohydroxyapatite. J Soil Sediment 13:742–752

Frankenberger WT Jr, Johanson JB (1982) Effect of pH on enzyme stability in soils. Soil Biol Biochem 14:433–437

Gao Y, Zhou P, Mao L, Zhi Y, Shi W (2010) Assessment of effects of heavy metals combined pollution on soil enzyme activities and microbial community structure: modified ecological dose–response model and PCR-RAPD. Environ Earth Sci 60:603–612

García-Ruiz R, Ochoa V, Hinojosa MB, Carreira JA (2008) Suitability of enzyme activities for the monitoring of soil quality improvement in organic agricultural systems. Soil Biol Biochem 40:2137–2145

George TS, Richardson AE, Simpson RJ (2005) Behaviour of plant-derived extracellular phytase upon addition to soil. Soil Biol Biochem 37:977–988

Gianfreda L, Antonietta Rao M, Piotrowska A, Palumbo G, Colombo C (2005) Soil enzyme activities as affected by anthropogenic alterations: intensive agricultural practices and organic pollution. Sci Total Environ 341:265–279

Gu HH, Qiu H, Tian T, Zhan SS, Deng THB, Chaney RL, Wang SZ, Tang YT, Morel JL, Qiu RL (2011) Mitigation effects of silicon rich amendments on heavy metal accumulation in rice (Oryza sativa L…) planted on multi-metal contaminated acidic soil. Chemosphere 83:1234–1240

Gu Y, Wang P, Kong CH (2009) Urease, invertase, dehydrogenase and polyphenoloxidase activities in paddy soil influenced by allelopathic rice variety. Eur J Soil Biol 45:436–441

Hussain S, Siddique T, Saleem M, Arshad M, Khalid A (2009) Chapter 5 Impact of pesticides on soil microbial diversity, enzymes, and biochemical reactions. Adv Agron 102:159–200.

Jin Y, Liang XQ, He MM, Liu Y, Tian GM, Shi JY (2016) Manure biochar influence upon soil properties, phosphorus distribution and phosphatase activities: a microcosm incubation study. Chemosphere 142:128–135

Lee SH, Lee JS, Choi YJ, Kim JG (2009) In situ stabilization of cadmium-, lead-, and zinc-contaminated soil using various amendments. Chemosphere 77:1069–1075

Maarit Niemi R, Heiskanen I, Ahtiainen JH, Rahkonen A, Mäntykoski K, Welling L, Laitinen P, Ruuttunen P (2009) Microbial toxicity and impacts on soil enzyme activities of pesticides used in potato cultivation. Appl Soil Ecol 41:293–304

Marzadori C, Ciavatta C, Montecchio D, Gessa C (1996) Effects of lead pollution on different soil enzyme activities. Biol Fert Soils 22:53–58

Pan J, Yu L (2011) Effects of Cd or/and Pb on soil enzyme activities and microbial community structure. Ecol Eng 37:1889–1894

Oleszczuk P, Jośko I, Futa B, Ρasieczna-Ρatkowska S, Pałys E, Kraska P (2014) Effect of pesticides on microorganisms, enzymatic activity and plant in biochar-amended soil. Geoderma 214–215:10–18

Qin X, Liu YT, Huang QQ, Liu YY, Zhao LJ, Xu YM (2019) In-situ remediation of cadmium and atrazine contaminated acid red soil of south China using sepiolite and biochar. B Environ Contam Tox 102:128–133

Shen GQ, Lu YT, Zhou QX, Hong JB (2005) Interaction of polycyclic aromatic hydrocarbons and heavy metals on soil enzyme. Chemosphere 61:1175–1182

Singh A, Ghoshal N (2013) Impact of herbicide and various soil amendments on soil enzymes activities in a tropical rainfed agroecosystem. Eur J Soil Biol 54:56–62

Stępniewska Z, Wolińska A, Ziomek J (2009) Response of soil catalase activity to chromium contamination. J Environ Sci 21:1142–1147

Subedi R, Taupe N, Ikoyi I, Bertora C, Zavattaro L, Schmalenberger A, Leahy JJ, Grignani C (2016) Chemically and biologicallymediated fertilizing value of manure-derived biochar. Sci Total Environ 550:924–933

Sun YB, Sun GH, Xu YM, Wang L, Lin DS, Liang XF, Shi X (2012) In situ stabilization remediation of cadmium contaminated soils of wastewater irrigation region using sepiolite. J Environ Sci 24:1799–1805

Sun YB, Sun GH, Xu YM, Wang L, Liang XF, Lin DS (2013a) Assessment of sepiolite for immobilization of cadmium-contaminated soils. Geoderma 193–194:149–155

Sun YB, Sun GH, Xu YM, Wang L, Liang XF, Lin DS, Hu FZ (2013b) Assessment of natural sepiolite on cadmium stabilization, microbial communities, and enzyme activities in acidic soil. Environ Sci Pollut R 20:3290–3299

Tripathi S, Chakraborty A, Chakrabarti K, Bandyopadhyay BK (2007) Enzyme activities and microbial biomass in coastal soils of India. Soil Biol Biochem 39:2840–2848

Wang JH, Ding H, Lu YT, Shen GQ (2009) Combined effects of cadmium and butachlor on microbial activities and community DNA in a paddy soil. Pedosphere 19:623–630

Wang JH, Lu YT, Shen GQ (2007) Combined effects of cadmium and butachlor on soil enzyme activities and microbial community structure. Environ Geol 51:1221–1228

Wang ME, Zhou QX (2006) Joint stress of chlorimuron-ethyl and cadmium on wheat Triticum aestivum at biochemical levels. Environ Pollut 144:572–580

Zhang YL, Wang YS (2006) Soil enzyme activities with greenhouse subsurface irrigation. Pedosphere 16:512–518

Zhang W, Zhang M, An S, Xiong B, Li H, Cui CZ, Lin KF (2012) Ecotoxicological effects of decabromodiphenyl ether and cadmium contamination on soil microbes and enzymes. Ecotox Environ Safe 82:71–79

Zhao YP, Tan YY, Guo Y et al (2013) Interactions of tetracycline with Cd(II), Cu(II) and Pb(II) and their cosorption behavior in soils. Environ Pollut 180:206–213

Zhu QH, Huang DY, Zhu GX, Ge TD, Liu GS, Zhu HH, Liu SL, Zhang XN (2010) Sepiolite is recommended for the remediation of Cd-contaminated paddy soil. Acta Agric Scand B 60:110–116
Acknowledgments
This study was supported by the National Natural Science Foundation of China (No. 41571322) and the Transformation and Popularization Project of Agricultural Scientific and Technological Achievements of Tianjin, China (No. 201502290).
Additional information
Publisher's Note
Springer Nature remains neutral with regard to jurisdictional claims in published maps and institutional affiliations.
About this article
Cite this article
Qin, X., Liu, Y., Huang, Q. et al. Effects of Sepiolite and Biochar on Enzyme Activity of Soil Contaminated by Cd and Atrazine. Bull Environ Contam Toxicol 104, 642–648 (2020). https://doi.org/10.1007/s00128-020-02833-w
Received:

Accepted:

Published:

Issue Date:
Keywords
Sepiolite

Biochar

Soil pH

Soil enzymes

Compound pollution remediation