Abstract
The increasing concentration of surface ozone (O3) was observed during recent decades in the world, which affects tree roots and forest soils. Meanwhile, the impact of ozone on tree roots is greatly affected by soil condition. However, there is a lack of knowledge about the possible effects of ozone on tree roots and soil processes. In this study, The influences of surface ozone (O3) stress on the root biomass, morphology, nutrients, soil properties, and soil enzyme activity of Elaeocarpus sylvestris and Michelia chapensis seedlings were examined at four O3 concentrations (charcoal-filtered air, 1 × O3 air, 2 × O3 air, and 4 × O3 air). Elevated O3 concentrations were found to significantly increase the root C content, N content, C/P ratio, and N/P ratio, and significantly decrease the root biomass, number of root tips, and root C/N ratio of both species. The soil organic matter content, pH, total N content, and urease and catalase activities of both species tended to increase. The limitation in root growth and responses in the root structure of E. sylvestris induced by elevated O3 concentrations led to increased bulk density and decreased soil porosity and void ratio. These profound effects of O3 concentrations on the roots and soil characteristics of these two species underscore the importance of research in O3 science.
Access options
Buy single article
Instant access to the full article PDF.
USD 39.95
Price includes VAT (USA)
Tax calculation will be finalised during checkout.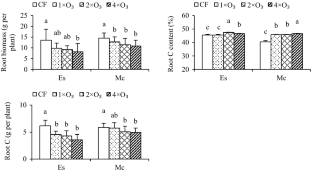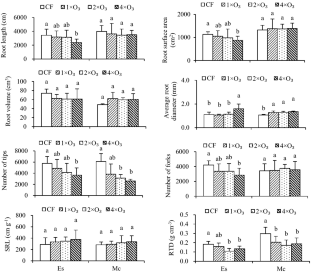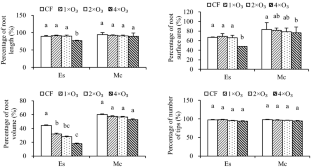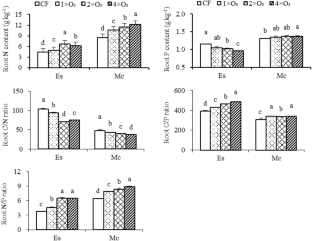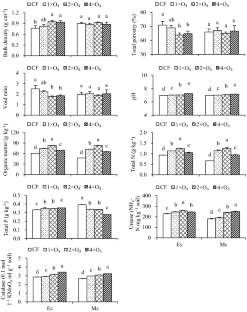 References
Andersen CP (2003) Source-sink balance and carbon allocation below ground in plants exposed to ozone. New Phytol 157:213–228

Aneja MK, Sharma S, Fleischmann F, Stich S, Heller W, Bahnweg G, Munch JC, Schloter M (2007) Influence of ozone on litter quality and its subsequent effects on the initial structure of colonizing microbial communities. Microb Ecol 54:151–160

Birouste M, Zamora-Ledezma E, Bossard C, Pérez-Ramos IM, Roumet C (2014) Measurement of fine root tissue density: a comparison of three methods reveals the potential of root dry matter content. Plant Soil 374(1–2):299–313

Broberg MC, Uddling J, Mills G, Pleijel H (2017) Fertilizer efficiency in wheat is reduced by ozone pollution. Sci Total Environ 607:876–880

Cape JN (2008) Surface ozone concentrations and ecosystem health: past trends and a guide to future projections. Sci Total Environ 400:257–269

Chen Z, Wang X, Feng Z, Xiao Q, Duan X (2009) Impact of elevated O3 on soil microbial community function under wheat crop. Water Air Soil Poll 198:189–198

Fagnano M, Maggio A (2018) On the interactions among tropospheric ozone levels and typical environmental stresses challenging Mediterranean crops. Environ Sci Pollut R 25:8174–8180

Guan SY (1986) Soil enzyme and its research methods (in Chinese). Chinese Agriculture Press, Beijing

Haberer K, Grebenc T, Alexou M, Gessler A, Kraigher H, Rennenberg H (2007) Effects of long-term free-air ozone fumigation on δ15N and total N in Fagus sylvatica and associated mycorrhizal fungi. Plant Biology 9:242–252

Haberer K, Herbinger K, Alexou M, Rennenberg H, Tausz M (2008) Effects of drought and canopy ozone exposure on antioxidants in fine roots of mature European beech (Fagus sylvatica). Tree Physiol 28:713–719

Hoshika Y, Carrari E, Zhang L, Carriero G, Pignatelli S, Fasano G, Materassi A, Paoletti E (2018) Testing a ratio of photosynthesis to O3 uptake as an index for assessing O3-induced foliar visible injury in poplar trees. Environ Sci Pollut R 25:8113–8124

Inclán R, Gimeno BS, Dizengremel P, Sanchez M (2005) Compensation processes of Aleppo pine (Pinus halepensis Mill.) to ozone exposure and drought stress. Environ Pollut 137:517–524

Inclán R, Gimeno BS, Peñuelas J, Gerant D, Quejido A (2011) Carbon isotope composition, macronutrient concentrations, and carboxylating enzymes in relation to the growth of Pinus halepensis Mill. when subject to ozone stress. Water Air Soil Poll 214:587–598

Institute of Soil Sciences, Chinese Academy of Sciences (ISSCAS) (1978) Physical and chemical analysis methods of soils (in Chinese). Shanghai Science Technology Press, Shanghai

Karnosky D, Skelly J, Percy K, Chappelka A (2007) Prospectives regarding 50 years of research on effects of tropospheric ozone air pollution on US forests. Environ Pollut 147:489–506

Kohler-Milleret R, Le Bayon RC, Chenu C, Gobat JM, Boivin P (2013) Impact of two root systems, earthworms and mycorrhizae on the physical properties of an unstable silt loam Luvisol and plant production. Plant Soil 370:251–265

Matyssek R, Sandermann H (2003) Impact of ozone on trees: an ecophysiological perspective. In: Esser K, Lüttge U, Beyschlag W, Hellwig F (eds) An ecophysiological perspective. Progress in botany, vol 64. Springer, Berlin, pp 349–404

Matyssek R, Karnosky DF, Wieser G, Percy K, Oksanen E, Grams TEE, Kubiske M, Hanke D, Pretzsch H (2010) Advances in understanding ozone impact on forest trees: messages from novel phytotron and free-air fumigation studies. Environ Pollut 158:1990–2006

Nikolova PS, Andersen CP, Blaschke H, Matyssek R, Häberle KH (2010) Belowground effects of enhanced tropospheric ozone and drought in a beech/spruce forest (Fagus sylvatica L./Picea abies [L.] Karst). Environ Pollut 158:1071–1078

PRDAIR (2016) Guangdong-Hong Kong-Macao Pearl River Delta Regional Air Quality Monitoring Network: a report of monitoring results in 2015; Report Number: PRDAIR-2015–5. https://www.epd.gov.hk/epd/sites/default/files/epd/english/resources_pub/publications/files/PRD_2015_report_en-1.pdf. Accessed 27 Jan 2020

Rasheed MU, Kasurinen A, Kivimäenpää M, Ghimire R, Häikiö E, Mpamah P, Holopainen JK, Holopainen T (2017) The responses of shoot-root-rhizosphere continuum to simultaneous fertilizer addition, warming, ozone and herbivory in young Scots pine seedlings in a high latitude field experiment. Soil Biol Biochem 114:279–294

Ribas A, Peñuelas J, Elvira S, Gimeno BS (2005) Ozone exposure induces the activation of leaf senescence related processes and morphological and growth changes in seedlings of Mediterranean tree species. Environ Pollut 134:291–300

Samuelson LJ, Kelly JM, Mays PA, Edwards GS (1996) Growth and nutrition of Quercus rubra L. seedlings and mature trees after three seasons of ozone exposure. Environ Pollut 91:317–323

Serengil Y, Augustaitis A, Bytnerowicz A, Grulke N, Kozovitz AR, Matyssek R, Müller-Starck G, Schaub M, Wieser G, Coskun AA, Paoletti E (2011) Adaptation of forest ecosystems to air pollution and climate change: a global assessment on research priorities. iForest 4:44–48

Wang YL, Tang JW, Zhang HL, Gao ZQ, Kou TJ (2014) Aggregate-associated organic carbon and nitrogen impacted by the long-term combined application of rice straw and pig manure in red soils in South China. Soil Sci 179:522–528

Wang X, Agathokeleous E, Qu L, Watanabe M, Takayoshi K (2016) Effects of CO2 and O3 on the interaction between root of woody plants and ectomycorhizae. J Agric Meteorol 72:95–105

Xu J, Xue L, Su Z (2016) Impacts of forest gaps on soil properties after a severe ice storm in a Cunninghamia lanceolata stand. Pedosphere 26:408–416

Zhan X, Wu W, Zhou L, Liang J, Jiang T (2010) Interactive effect of dissolved organic matter and phenanthrene on soil enzymatic activities. J Environ Sci 22:607–614

Zhang B, Zhang TL, Zhao QG (1996) Soil erosion in various farming systems in subtropical China. Pedosphere 6:225–234
Acknowledgements
This study was partially supported by Foundation of the Special Research Project of Forestry Public Welfare Industry (No. 201004042) and Ecological Forest project of Guangdong province (4400-F19065).
Additional information
Publisher's Note
Springer Nature remains neutral with regard to jurisdictional claims in published maps and institutional affiliations.
About this article
Cite this article
Pan, L., Lin, Wq., Yu, M. et al. Effects of Elevated Ozone Concentrations on Root Characteristics and Soil Properties of Elaeocarpus sylvestris and Michelia chapensis. Bull Environ Contam Toxicol 104, 682–688 (2020). https://doi.org/10.1007/s00128-020-02832-x
Received:

Accepted:

Published:

Issue Date:
Keywords
Ozone

Root biomass

Root system morphology

Root nutrient

Soil property

Soil enzyme activity