Abstract
The effects of copper (Cu) exposure on growth and physiological characteristics of three genotypes (CN-12, Cim-Sanjeevani and Cim-Arogya) of Artemisia annua L. were elucidated. The plants were grown under naturally illuminated greenhouse conditions and were harvested after physiological maturity (120 days after sowing). Results suggest that 10 mg kg− 1 Cu significantly enhanced the growth and physiological parameters like enzyme activities, photosynthesis. At higher concentrations, Cu inhibited the growth, biomass, photosynthetic parameters; while increased lipid peroxidation in all the genotypes. The activities of antioxidant enzymes viz. catalase, peroxidase and superoxide dismutase were upregulated by the Cu stress. The highest applied concentration of Cu (60 mg kg− 1) proved most toxic for plants. Moreover, artemisinin content was increased upto 10 mg kg− 1 of Cu treatment, compared with control, however, the artemisinin accumulation decreased at higher doses of Cu in all the genotypes. On the basis of studied parameters, Cim-Arogya was found to be most tolerant among all for Cu toxicity.
Access options
Buy single article
Instant access to the full article PDF.
USD 39.95
Price includes VAT (USA)
Tax calculation will be finalised during checkout.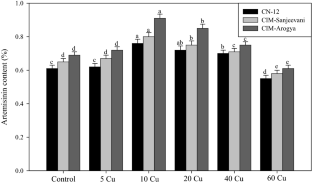 References
Adrees M, Ali S, Rizwan M, Ibrahim M, Abbas F, Farid M, Zia-Ur-Rehman M, Irshad MK, Bharwana SA (2015) The effect of excess copper on growth and physiology of important food crops: a review. Environ Sci Pollut Res Int 22:8148–8162

Aftab T, Khan MMA, Idrees M, Naeem M, Ram M (2010) Boron induced oxidative stress, antioxidant defence response and changes in artemisinin content in Artemisia annua L. J Agron Crop Sci 196:423–430

Aftab T, Khan MMA, Idrees M, Naeem M, Hashmi N, Moinuddin (2010) Effect of salt stress on growth, membrane damage, antioxidant metabolism and artemisinin accumulation in Artemisia annua L. Plant Stress 4:36–43

Aftab T, Khan MMA, Teixeira da Silva JA, Idrees M, Naeem M, Moinuddin (2011) Role of salicylic acid in promoting salt stress tolerance and enhanced artemisinin production in Artemisia annua L. J Plant Growth Regul 30:425–435

Aftab T, Khan MMA, Naeem M, Idrees M, Moinuddin, Teixeira da Silva JA, Ram M (2012) Exogenous nitric oxide donor protects Artemisia annua from oxidative stress generated by boron and aluminium toxicity. Ecotoxicol Environ Saf 80:60–68

Aftab T, Naeem M, Idrees M, Khan MMA, Moinuddin, Varshney L (2016) Simultaneous use of irradiated sodium alginate and nitrogen and phosphorus fertilizers enhance growth, biomass and artemisinin biosynthesis in Artemisia annua L. J Appl Res Med Aromat Plant 3:186–194

Ahsan N, Lee DG, Lee SH, Kang KY, Lee JJ, Kim PJ, Yoon HS, Kim JS, Lee BH (2007) Excess copper induced physiological and proteomic changes in germinating rice seeds. Chemosphere 67(6):1182–1193

Ali S, Rizwan M, Ullah N, Bharwana SA, Waseem M, Farooq MA, Abbasi GH, Farid M (2016) Physiological and biochemical mechanisms of silicon-induced copper stress tolerance in cotton (Gossypium hirsutum L.). Acta Physiol Plant 38:262

Azooz MM, Abou-Elhamd MF, Al-Fredan MA (2012) Biphasic effect of copper on growth, proline, lipid peroxidation and antioxidant enzyme activities of wheat (Triticum aestivum cv. Hasaawi) at early growing stage. Aust J Crop Sci 6:688–694

Baszynski T, Tukendorf A, Ruszkowska M, Skorzynska E, Maksymieci W (1998) Characteristics of the photosynthetic apparatus of copper non-tolerant spinach exposed to excess copper. J Plant Physiol 132(6):708–713

Bates LS, Walden RP, Teare ID (1973) Rapid determination of free proline for water stress studied. Plant Soil 39:205–207

Beauchamp CO, Fridovich I (1971) Superoxide dismutase: improved assays and an assay applicable to acrylamide gels. Anal Biochem 44:276–287

Cakmak I, Horst J (1991) Effect of aluminium on lipid peroxidation, superoxide dismutase, catalase and peroxidase activities in root tips of soybean (Glycine max). Physiol Plant 83:463–468

Chandlee JM, Scandalios JG (1984) Analysis of variants affecting the catalase development program in maize scutellum. Theor Appl Genet 69:71–77

Chen J, Shafi M, Li S, Wang Y, Wu J, Ye Z, Peng D, Yan W, Liu D (2015) Copper induced oxidative stresses, antioxidant responses and phytoremediation potential of Moso bamboo (Phyllostachys pubescens). Sci Rep 5:13554

Christhuuthayam M, Vijayarengan P, Natarajan A, Maheshwari M (2018) Changes in biochemical constitution of radish (Raphanus sativus L.) under copper toxicity. J Plant Stress Physiol 4:22–24

Devi SR, Prasad MNV (1998) Copper toxicity in Ceratophyllum demersum L. (Coontail), a free floating macrophyte: response of antioxidant enzymes and antioxidants. Plant Sci 138:157–165

Doncheva S, Stoyanova Z (1997) Plant response to copper and zinc hydroxidesulphate and hydroxidecarbonate used as an alternative copper and zinc sources in mineral nutrition. Rom Agric Res 7–8:15–20

Dwivedi RS, Randhawa NS (1974) Evaluation of rapid test for hidden hunger of zinc in plants. Plant Soil 40:445–451

Fageria VD (2001) Nutrient interactions in crop plants. J Plant Nutr 24(8):1269–1290

Feigl G, Kumar D, Lehotai N, Pető A, Molnár Á, Rácz É, Ördög A, Erdei L, Kolbert Z, Laskay G (2015) Comparing the effects of excess copper in the leaves of Brassica juncea (L. Czern) and Brassica napus (L.) seedlings: growth inhibition, oxidative stress and photosynthetic damage. Acta Biol Hung 66:205–221

Ferreira JFS (2007) Nutrient deficiency in the production of artemisinin, dihydroartemisinic acid, and artemisinic acid in Artemisia annua L. J Agric Food Chem 55:1686–1694

Ferreira JFS, Luthria DL, Sasaki T, Heyerick A (2010) Flavonoids from Artemisia annua L. as antioxidants and their potential synergism with artemisinin against malaria and cancer. Molecules 15:3135–3170

Georgios A, Dimou M, Flemetakis E, Plati F, Katinakis P, Drossopoulos JB (2004) Immunolocalization of carbonic anhydrase and phosphoenolpyruvate carboxylase in developing seeds of Medicago sativa. Plant Physiol Biochem 42:181–186

Gill SS, Tuteja N (2010) Reactive oxygen species and antioxidant machinery in abiotic stress tolerance in crop plants. Plant Physiol Biochem 48(12):909–930

Gupta UC, Kalra YP (2006) Residual effect of copper and zinc from fertilizers on plant concentration, phytotoxicity and crop yield response. Commun Soil Sci Plant Anal 37(15–20):2505–2511

Gururani MA, Venkatesh J, Tran LSP (2015) Regulation of photosynthesis during abiotic stress-induced photoinhibition. Mol Plant 8(9):1304–1320

Habiba U, Ali S, Farid M, Shakoor MB, Rizwan M, Ibrahim M, Abbasi GH, Hayat T, Ali B (2015) EDTA enhanced plant growth, antioxidant defense system, and phytoextraction of copper by Brassica napus L. Environ Sci Pollut Res 22:1534–1544

Hasanuzzaman M, Nahar K, Alam MM, Roychowdhury R, Fujita M (2013) Physiological, biochemical and molecular mechanisms of heat stress tolerance in plants. Int J Mol Sci 14(5):9643–9684

Hasanuzzaman M, Alam MM, Rahman A, Hasanuzzaman M, Nahar K, Fujita M (2014) Exogenous proline and glycine betaine mediated upregulation of antioxidant defense and glyoxalase systems provides better protection against salt-induced oxidative stress in two rice (Oryza sativa L.) varieties. BioMed Res Int.https://doi.org/10.1155/2014/757219

Jaworski EG (1971) Nitrate reductase assay in intact plant tissue. Biochem Biophys Res Commun 43:1274–1279

Keller C, Rizwan M, Davidian J-C, Pokrovsky OS, Bovet N, Chaurand P, Meunier J-D (2015) Effect of silicon on wheat seedlings (Triticum turgidum L.) grown in hydroponics and exposed to 0 to 30 µM Cu. Planta 241:847–860

Khalil RR, Moustafa AN, Bassuony FM, Haroun SA (2017) Kinetin and/or calcium affect growth of Phaseolus vulgaris L. plant grown under heavy metals stress. J Environ Sci 46(2):103–120

Kumar KB, Khan PA (1982) Peroxidase and polyphenol oxidase in excised ragi (Eleusine coracana cv. PR 202) leaves during senescence. Indian J Exp Bot 20:412–416

Lanaras M, Ssymeonidi SL, Diomantoglou S, Karatagli SS (1993) Plant metal content, growth responses and some photosynthetic measurements of field-cultivated wheat growing on ore bodies enriched in Cu. Physiol Plant 88:307–314

Lange B, Ent AVD, Baker AJM, Echevarria G, Mahy G, Malaisse F, Meerts P, Pourret O, Verbruggen N, Faucon MP (2017) Copper and cobalt accumulation in plants: a critical assessment of the current state of knowledge. N Phytol 213:537–551

Lichtenthaler HK, Buschmann C (2001) Chlorophylls and carotenoids: measurement and characterization by UV–Vis spectroscopy. Curr Protoc Food Anal Chem 1(1):F4–F3

Mazhoudi S, Chaoui A, Ghorbal MH, El Ferjani E (1997) Response of antioxidant enzymes to excess copper in tomato (Lycopersicon esculentum Mill). Plant Sci 127:129–137

Meers E, Van Slycken S, Adriaensen K, Ruttens A, Vangronsveld J, Du Laing G, Witters N, Thewys T, Tack FMG (2010) The use of bio-energy crops (Zea mays) for 'phytoattenuation'of heavy metals on moderately contaminated soils: a field experiment. Chemosphere 78(1):35-41

Meloni DA, Oliva MA, Martinez CA, Cambraia J (2003) Photosynthesis and activity of superoxide dismutase, peroxidase and glutathione reductase in cotton under salt stress. Environ Exp Bot 49(1):69–76

Metwally A, Safronova VI, Belimov AA, Dietz KJ (2005) Genotypic variation of the response to cadmium toxicity in Pisum sativum L. J Exp Bot 56:167–178

Minnich M, McBride M, Chaney R (1987) Copper activity in soil solution: II. Relation to copper accumulation in young snapbeans. Soil Sci Soc Am J 51:573–578

Mittler R, Vanderauwer S, Gollery M, Breusegem FV (2004) Abiotic stress series. Reactive oxygen gene network of plants. Trends Plant Sci 9:490–498

Naeem M, Nabi A, Aftab T, Khan MMA (2019) Oligomers of carrageenan regulate functional activities and artemisinin production in Artemisia annua L. exposed to arsenic stress. Protoplasma.https://doi.org/10.1007/s00709-019-01475-y

Ouzounidou G, Eleftheriou EP, Karataglis S (1992) Ecophysical and ultrastructural effects of copper in Thlaspi ochroleucum (Cruciferae). Can J Bot 70(5):947–957

Ouzounidou G, Ciamporova M, Moustakas M, Karataglis S (1995) Responses of maize (Zea mays L.) plants to copper stress—I. Growth, mineral content and ultrastructure of roots. Environ Exp Bot 35(2):167–176

Ouzounidou G, Moustakas M, Strasser RJ (1997) Sites of action of copper in the photosynthetic apparatus of maize leaves: kinetic analysis of chlorophyll fluorescence, oxygen evolution, absorption changes and thermal dissipation as monitored by photoacoustic signals. Aust J Plant Physiol 24:81–90

Pu GB, Ma DM, Chen JL, Ma LQ, Wang H, Li GF, Ye HC, Liu BY (2009) Salicylic acid activates artemisinin biosynthesis in Artemisia annua L. Plant cell Rep 28(7):1127–1135

Saleem MH, Ali S, Seleiman MF, Rizwan M, Rehman M, Akram NA, Liu L, Alotaibi M, Al-Ashkar I, Mubushar M (2019) Accessing the correlation between different traits in copper-sensitive and copper-resistant varieties of jute (Corchorus capsularis L.). Plants 8:1–12

Stepien P, Klbus G (2006) Water relations and photosynthesis in Cucumis sativus L. leaves under salt stress. Biol Plant 50:610

Stohs SJ, Bagchi D (1995) Oxidative mechanisms in the toxicity of metal ions. Free Radic Biol Med 18(2):321–336

Verma S, Dubey RS (2003) Lead toxicity induces lipid peroxidation and alters the activities of antioxidant enzymes in growing rice plants. Plant Sci 164:645–655

Von Wiren N, Gazzarini S, Gojon A, Frommer WB (2000) The molecular physiology of ammonium uptake and retrieval. Curr Opin Plant Biol 3:254–261

Wallaart TE, Pras N, Beekman AC, Quax WJ (2000) Seasonal variation of artemisinin and its biosynthetic precursors in plants of Artemisia annua of different geographical origin: proof for the existence of chemotypes. Planta Medica 66(01):57–62

World Health Organization (2017) Artemisinin and artemisinin-based combination therapy resistance: status report. World Health Organization. https://apps.who.int/iris/handle/10665/255213

Younis ME, Tourky SMN, Elsharkawy SEA (2018) Symptomatic parameters of oxidative stress and antioxidant defense system in Phaseolus vulgaris L. in response to copper or cadmium stress. S Afr J Bot 117:207–214

Yruela I (2005) Copper in plants. Braz J Plant Physiol 17(1):145–156

Zhao SS, Zeng MY (1986) Determination of qinghaosu in Artemisia annua L. by high performance liquid chromatography. Chin J Pharm Anal 6:3–5
Acknowledgements
Ms. Andleeb Zehra and Ms. Sadaf Choudhary would like to thank University Grants Commission (UGC), New Delhi, India for providing financial support in the form of Non-NET Fellowship to conduct this research.
Additional information
Publisher's Note
Springer Nature remains neutral with regard to jurisdictional claims in published maps and institutional affiliations.
About this article
Cite this article
Zehra, A., Choudhary, S., Mukarram, M. et al. Impact of Long-Term Copper Exposure on Growth, Photosynthesis, Antioxidant Defence System and Artemisinin Biosynthesis in Soil-Grown Artemisia annua Genotypes. Bull Environ Contam Toxicol 104, 609–618 (2020). https://doi.org/10.1007/s00128-020-02812-1
Received:

Accepted:

Published:

Issue Date:
Keywords
Artemisia annua

Cim-Sanjeevani

Cim-Arogya

Copper