Abstract
The saflufenacil herbicide has been applied in the agricultural areas as an efficient alternative for the control of resistant weeds to glyphosate. However, the environmental risks from the use of saflufenacil, especially in tropical soil, is not yet clearly known. We evaluated if the organic matter addition into the soil influences the sorption of saflufenacil in samples of a sandy and clayey texture soils. The sugarbeet was used as a species indicating the presence of saflufenacil in the solution of the substrates. We estimated the required dose of saflufenacil responsible for causing 50% of sugarbeet intoxication (C50) and the sorption ratio (SR) of this herbicide. The addition of organic matter increased the C50 and SR of saflufenacil in both soils. Here it is demonstrated that the soil organic matter content increases saflufenacil sorption in tropical soils and, consequently influences the dose of this herbicide to be applied in pre-emergence of weeds.
Access options
Buy single article
Instant access to the full article PDF.
USD 39.95
Price includes VAT (USA)
Tax calculation will be finalised during checkout.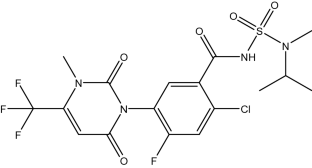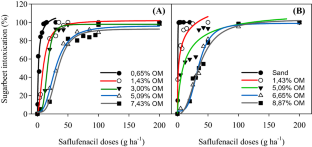 References
Alekseeva T, Kolyagin Y, Sancelme M, Besse-Hoggan P (2014) Effect of soil properties on pure and formulated mesotrione adsorption onto vertisol (Limagne plane, Puy-de-Dome, France). Chemosphere 111:177–183

Chirukuri R, Atmakuru R (2015) Sorption characteristics and persistence of herbicide bispyribac sodium in different global soils. Chemosphere 138:932–939

Dalazen G, Kruse ND, Machado SLO, Balbinot A (2015) Sinergismo na combinação de glifosato e saflufenacil para o controle de buva. Pesquisa Agropecuária Trop 45:249–256

Das S, Jeong ST, Das S, Kim PJ (2017) Composted cattle manure increases microbial activity and soil fertility more than composted swine manure in a submerged rice paddy. Front Microbiol 8:1–10

Davis VM, Kruger GR, Young BG, Johnson WG (2010) Fall and spring preplant herbicide applications influence spring emergence of glyphosate-resistant horseweed (Conyza canadensis). Weed Technol 24:11–19

Dennis M, Hembree KJ, Bushoven JT, Shrestha A (2016) Growth stage, temperature, and time of year affects the control of glyphosate-resistant and glyphosate-paraquat resistant Conyza bonariensis with saflufenacil. Crop Prot 81:129–137

Embrapa - Empresa brasileira de Pesquisa Agropecuária (1997) Centro Nacional de Pesquisa de Solos. Manual de métodos de análise de solo, 2nd edn. INFOTECA-E, Rio de Janeiro, p 212

EWRC (European Weed Research Council) (1964) Cite of methods in weed research. Weed Reseach 4:88

Fast BJ, Ferrell JA, MacDonald GE, Krutz LJ, Kline WN (2010) Picloram and aminopyralid sorption to soil and clay minerals. Weed Sci 58:484–489

Fushiwaki Y, Urano K (2001) Adsorption of pesticides and their biodegraded products on clay minerals and soils. J Health Sci 47:429–432

Gannon TW, Hixson AC, Keller KE, Weber JB, Knezevic SZ, Yelverton FH (2014) Soil properties influence saflufenacil phytotoxicity. Weed Sci 62:657–663

Grossmann K, Niggeweg R, Christiansen N, Looser R, Ehrhardt T (2010) The herbicide saflufenacil (KixorTM) is a new inhibitor of protoporphyrinogen IX oxidase activity. Weed Sci 58:1–9

Hale SE, Arp HPH, Kupryianchyk D, Cornelissen G (2016) A synthesis of parameters related to the binding of neutral organic compounds to charcoal. Chemosphere 144:65–74

Hixson AC (2008) Soil properties affect simazine and saflufenacil fate, behavior, and performance. Thesis, North Caroline State University

Islam F, Wang J, Farooq MA, Khan MSS, Xu L, Zhu J, Zhao M, Muños S, Li QX, Zhou W (2018) Potential impact of the herbicide 2,4-dichlorophenoxyacetic acid on human and ecosystems. Environ Int 111:332–351

Liebl RH, Walter SJ, Bowe TJ, Holt DE, Westberg (2008) BAS 800H: a new herbicide for preplant burndown and preemergence dicot weed control. Weed Science Society of America Conf. Abstract 120

Matallo MB, Franco DAS, Almeida SDB, Cerdeira AL (2014) Sorption and desorption of saflufenacil in two soils in the state of São Paulo with different physical and chemical attributes. Planta Daninha 32:393–399

Mudhoo A, Carg VK (2011) Sorption, transport and transformation of atrazine in soils, minerals and composts: a review. Pedosphere 21:11–25

Ololade IA, Alomaja F, Oladoja NA, Ololade OO, Oloye FF (2015) Kinetics and isotherm analysis of 2,4-dichlorophenoxyl acetic acid adsorption onto soil components under oxic and anoxic conditions. J Environ Sci Health Part B 50:492–503

Papiernik SK, Koskinen WC, Barber BL (2012) Low sorption and fast dissipation of the herbicide saflufenacil in surface soils and subsoils of an eroded prairie landscape. J Agric Food Chem 60:10936–10941

Parameswaran TG, Sivapullaiah PV (2017) Influence of sodium and lithium monovalent cations on dispersivity of clay soil. J Mater Civil Eng 29:04017042

Paszko T (2014) Modeling of pH-dependent adsorption and leaching of MCPA in profiles of Polish mineral soils. Sci Total Environ 495:229–240

Paszko T, Muszyński P, Materska M, Bojanowska M, Kostecka M, Jackowska I (2016) Adsorption and degradation of phenoxyalkanoic acid herbicides in soils: a review. Environ Toxicol Chem 35:271

Pereira LV, Carvalho LB, Magro TD (2016) Controle químico de buva resistente a glyphosate é mais eficaz no pré-florescimento ou no rebrote? Rev de Ciências Agrovet 15:277–280

Ren X, Wang F, Zhang P, Guo J, Sun H (2018) Aging effect of minerals on biochar properties and sorption capacities for atrazine and phenanthrene. Chemosphere 206:51–58

Salazar-Ledesma M, Mora L, Chávez B, Gómez D, Zamora O, Prado B (2018) Susceptibilidad del suelo al impacto humano: caso del herbicida atrazina. Boletín de la Soc Geol Mexicana 70:95–119

Seefeldt SS, Jensen SE, Fuerst EP (1995) Log-logistic analysis of herbicide dose-response relationship. Weed Technol 9:218–227

Souza AP (1994) Atividade de oxyfluorfen, 2,4-D e glifosate em solos de diferentes texturas na presença e na ausência de composto orgânico. Dissertation, Universidade Federal de Viçosa

Umphres AM, Steckel LE, Mueller TC (2018) Control of protoporphyrinogen oxidase inhibiting herbicide resistant and susceptible palmer amaranth (Amaranthus palmeri) with soil-applied protoporphyrinogen oxidase–inhibiting herbicides. Weed Technol 32:95–100

USEPA (2009) Pesticide fact sheet, saflufenacil; office of prevention, pesticides, and toxic substances. Washington DC

Wauchope RD, Yeh S, Linders JBHJ, Kloskowski R, Tanaka K, Rubin B, Unsworth JB (2002) Pesticide soil sorption parameters: theory, measurement, uses, limitations and reliability. Pest Manage Sci 58:419–445

Whalen JK, Chang C, Clayton GW, Carefoot JP (2000) Cattle manure amendments can increase the pH of acid soils. Soil Sci Soc Am J 64:962–966
Acknowledgements
The authors acknowledge the FAPEMIG, CNPq and CAPES. This study was financed in part by the Coordenação de Aperfeiçoamento de Pessoal de Nível Superior—Brasil (CAPES)—Finance Code 001.
Additional information
Publisher's Note
Springer Nature remains neutral with regard to jurisdictional claims in published maps and institutional affiliations.
About this article
Cite this article
Barcellos Júnior, L.H., Pereira, G.A.M., da Conceição de Matos, C. et al. Influence of Organic Matter in Sorption of the Saflufenacil in Ferralsols. Bull Environ Contam Toxicol 107, 263–268 (2021). https://doi.org/10.1007/s00128-020-02800-5
Received:

Accepted:

Published:

Issue Date:
Keywords
Retention

Behavior in soil

Herbicide

Environment