Abstract
Degradation coefficients for pollutants in water are important parameters that are significantly influenced by environmental conditions. In controlled experiments, the processes and trends of ammonia nitrogen (NH3–N) degradation in raw waters were studied under different flow conditions using a laboratory annular flume. Analysis of the observed change in NH3–N concentration with time under various flow conditions allowed calculation of a degradation efficiency (concentration change amount/initial concentration) which for NH3–N increased as the flow velocity increased. According to a first-order kinetic equation to fit the experimental data, the range of variation of the degradation coefficient of NH3–N at different flowrates was between 0.047 per day (0.01 m/s) and 0.203 per day (0.30 m/s). Dimensional analysis was used to analyze the relationship between the degradation coefficient and flow velocity (v), water depth (H), Froude number (Fr), and Reynolds number (Re), which was verified through field data collected in the Chishui River.
Access options
Buy single article
Instant access to the full article PDF.
USD 39.95
Price includes VAT (USA)
Tax calculation will be finalised during checkout.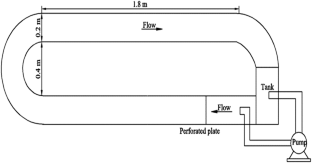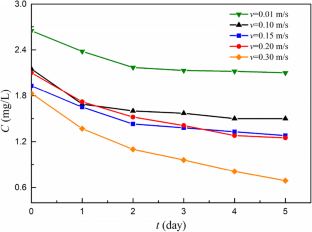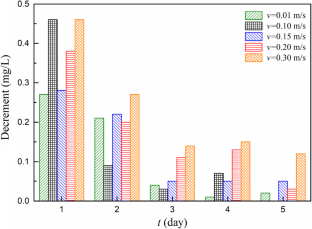 References
Beyer BC, Chen C, Gronewold J, Kolditz O, Bauer S (2010) Determination of first-order degradation rate constants from monitoring networks. Ground Water 45(6):774–785. https://doi.org/10.1111/j.1745-6584.2007.00348.x

Bockelmann BN, Fenrich EK, Lin B, Falconer R (2004) Development of an ecohydraulics model for stream and river restoration. Ecol Eng 22(4–5):227–235. https://doi.org/10.1016/j.ecoleng.2004.04.003

Huang B, Hong C, Du H, Qiu J, Liang X, Tan C (2017) Liu, D (2017) Quantitative study of degradation coefficient of pollutant against the flow velocity. J Hydrodyn 29:118–123. https://doi.org/10.1016/S1001-6058(16)60723-0

Markesbery WR, Ehmann WD, Alauddin M, Hossain TIM (1984) Brain trace element concentrations in aging. Neurobiol Aging 5(1):19–28. https://doi.org/10.1016/0197-4580(84)90081-2

Obaja D, Macé S, Costa J, Sans C, Mata-Alvarez J (2003) Nitrification, denitrification and biological phosphorus removal in piggery wastewater using a sequencing batch reactor. Biores Technol 87(1):103–111. https://doi.org/10.1016/s0960-8524(02)00229-8

Okoniewska E, Lach J, Kacprzak M, Neczaj E (2007) The removal of manganese, iron and ammonium nitrogen on impregnated activated carbon. Desalination 206(1–3):251–258. https://doi.org/10.1016/j.desal.2006.04.055

Panda US, Mahanty MM, Rao VR, Patra S (2015) Mishra, P (2015) Hydrodynamics and water quality in chilika lagoon-a modelling approach. Procedia Eng 116:639–646. https://doi.org/10.1016/j.proeng.2015.08.337

Shields FD, Cooper CM, Knight SS, Moore MT (2003) Stream corridor restoration research: a long and winding road. Ecol Eng 20(5):441–454. https://doi.org/10.1016/j.ecoleng.2003.08.005

Theriault EJ (1926) The rate of deoxygenation of polluted waters. Public Health Rep 41(6):207–217

Vayenas DV, Pavlou S, Lyberatos G (1997) Development of a dynamic model describing nitritification and nitratification in trickling filters. Water Res 31(5):1135–1147. https://doi.org/10.1016/S0043-1354(96)00355-7

Wang CY, Sample DJ (2013) Assessing floating treatment wetlands nutrient removal performance through a first order kinetics model and statistical inference. Ecol Eng 61:292–302. https://doi.org/10.1016/j.ecoleng.2013.09.019

Wang PF, Wang XR, Wang C (2007) Experiment of impact of river hydraulic characteristics on nutrients purification coefficient. J Hydrodyn 19(3):387–393. https://doi.org/10.1016/S1001-6058(07)60074-2

Yu Y, Wu J, Wang XY, Zhang ZM (2012) Degradation of inorganic nitrogen in Beiyun river of Beijing, China. Procedia Environ Sci 13:1069–1075. https://doi.org/10.1016/j.proenv.2012.01.100
Acknowledgements
This work was supported by the Major Project for Specialized Science and Technology Fund of Sichuan Province (Grant Nos. 2019YFS0505 and 2018SZDZX0027).
About this article
Cite this article
Pan, X., Tang, L., Feng, J. et al. Experimental Research on the Degradation Coefficient of Ammonia Nitrogen Under Different Hydrodynamic Conditions. Bull Environ Contam Toxicol 104, 288–292 (2020). https://doi.org/10.1007/s00128-019-02781-0
Received:

Accepted:

Published:

Issue Date:
Keywords
Ammonia nitrogen

Degradation coefficient

Hydrodynamic conditions

Field monitoring