Abstract
The amendment of biochar in soils contaminated with persistent organic pollutants (POPs) is an environmentally friendly in situ remediation measure. Numerous studies focused on the application of biochars to reduce the uptake of POPs by plants in soils. In this review, we summarized the role of biochar in reducing the migration of POPs in soil–plant systems. The mechanisms of biochar reducing the bioavailability of POPs in the soil, i.e. immobilization and promoted biodegradation, and the influencing factors are fully discussed. Especially in rhizosphere amended with biochar, the synergistic effect of POPs–root exudates–microorganisms on the reduced bioavailability of POPs is analyzed. This paper suggests that future researches should focus on the long-term environmental fate of POPs sorbed on high-temperature biochars and the long-term impacts of low-temperature biochars on the interaction of POPs–root exudates–rhizosphere microorganisms. All the above are necessary for efficient and safe use of biochar for remediating POP-contaminated farmland soils.
Access options
Buy single article
Instant access to the full article PDF.
USD 39.95
Price includes VAT (USA)
Tax calculation will be finalised during checkout.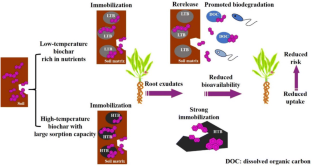 References
Ahmad M, Lee SS, Dou X, Mohan D, Sung J (2012) Effects of pyrolysis temperature on soybean stover- and peanut shell-derived biochar properties and TCE adsorption in water. Bioresour Technol 118:536–544

Ahmad M, Rajapaksha AU, Lim JE, Zhang M, Bolan N, Mohan D (2014) Biochar as a sorbent for contaminant management in soil and water: a review. Chemosphere 99:19–33

Akhter A, Hage-Ahmed K, Soja G, Steinkellner S (2015) Compost and biochar alter mycorrhization, tomato root exudation, and development of Fusarium oxysporum f. sp. lycopersici. Front Plant Sci 6:529

Anyika C, Majid ZA, Ibrahim Z, Zakaria MP, Yahya A (2015) The impact of biochars on sorption and biodegradation of polycyclic aromatic hydrocarbons in soils—a review. Environ Sci Pollut Res 22(5):3314–3341

Brennan A, Jiménez EM, Alburquerque JA, Knapp CW, Switzer C (2014) Effects of biochar and activated carbon amendment on maize growth and the uptake and measured availability of polycyclic aromatic hydrocarbons (PAHs) and potentially toxic elements (PTEs). Environ Pollut 193:79–87

Bruun EW, Hauggaard-Nielsen H, Ibrahim N, Egsgaard H, Ambus P, Jensen PA, Dam-Johansen K (2011) Influence of fast pyrolysis temperature on biochar labile fraction and short-term carbon loss in a loamy soil. Biomass Bioenergy 35(3):1182–1189

Bushnaf KM, Puricelli S, Saponaro S, Werner D (2011) Effect of biochar on the fate of volatile petroleum hydrocarbons in an aerobic sandy soil. J. Contam Hydrol 126(3–4):208–215

Dai Y, Zhang N, Xing C, Cui Q, Sun Q (2019) The adsorption, regeneration and engineering applications of biochar for removal organic pollutants: a review. Chemosphere 223:12–27

Dong CD, Chen CW, Tsai ML, Chang JH, Lyu SY, Hung CM (2019) Degradation of 4-nonylphenol in marine sediments by persulfate over magnetically modified biochars. Bioresour Technol 281:143–148

Ennis CJ, Evans AG, Islam M, Ralebitso-Senior TK, Senior E (2012) Biochar: carbon sequestration, land remediation, and impacts on soil microbiology. Crit Rev Environ Sci Technol 42(22):2311–2364

Fu H, Wei C, Qu X, Li H, Zhu D (2018) Strong binding of apolar hydrophobic organic contaminants by dissolved black carbon released from biochar: a mechanism of pseudomicelle partition and environmental implications. Environ Pollut 232:402–410

Gámiz B, Velarde P, Spokas KA, Celis R, Cox L (2019) Changes in sorption and bioavailability of herbicides in soil amended with fresh and aged biochar. Geoderma 337:341–349

Gao Y, Hu X, Zhou Z, Zhang W, Wang Y, Sun B (2017) Phytoavailability and mechanism of bound PAH residues in filed contaminated soils. Environ Pollut 222:465–476

Gregory SJ, Anderson CWN, Arbestain MC, McManus MT (2014) Response of plant and soil microbes to biochar amendment of an arsenic-contaminated soil. Agric Ecosyst Environ 191:133–141

Guo M, Gong Z, Miao R, Su D, Li X, Jia C, Zhuang J (2017) The influence of root exudates of maize and soybean on polycyclic aromatic hydrocarbons degradation and soil bacterial community structure. Ecol Eng 99:22–30

Hua S, Gong JL, Zeng GM, Yao FB, Guo M, Ou XM (2017) Remediation of organochlorine pesticides contaminated lake sediment using activated carbon and carbon nanotubes. Chemosphere 177:65–76

Huang S, Bao J, Shan M, Qin H, Wang H, Yu X, Xu Q (2018) Dynamic changes of polychlorinated biphenyls (PCBs) degradation and adsorption to biochar as affected by soil organic carbon content. Chemosphere 211:120–127

Jia H, Lu HL, Dai MY, Hong HL, Liu JC, Yan CL (2016) Effect of root exudates on sorption, desorption, and transport of phenanthrene in mangrove sediments. Mar Pollut Bull 109(1):171–177

Jiang S, Xie F, Lu H, Liu J, Yan C (2017) Response of low-molecular-weight organic acids in mangrove root exudates to exposure of polycyclic aromatic hydrocarbons. Environ Sci Pollut Res 24(13):12484–12493

Joseph SD, Camps-Arbestain M, Lin Y, Munroe P, Chia CH, Hook J, Zwieten L, Kimber S, Cowie A, Singh BP, Lehmann J, Foidl N, Smernik RJ, Amonette E (2010) An investigation into the reactions of biochar in soil. Soil Res 48(7):501–515

Khan S, Wang N, Reid BJ, Freddo A, Cai C (2013) Reduced bioaccumulation of PAHs by Lactuca satuva L. grown in contaminated soil amended with sewage sludge and sewage sludge derived biochar. Environ Pollut 175:64–68

Khan S, Waqas M, Ding F, Shamshad I, Arp HPH, Li G (2015) The influence of various biochars on the bioaccessibility and bioaccumulation of PAHs and potentially toxic elements to turnips (Brassica rapa L.). J Hazard Mater 300:243–253

Kong L, Gao Y, Zhou Q, Zhao X, Sun Z (2018) Biochar accelerates PAHs biodegradation in petroleum-polluted soil by biostimulation strategy. J Hazard Mater 343:276–284

Košnář Z, Částková T, Wiesnerová L, Praus L, Jablonský I, Koudela M, Tlustoš P (2019) Comparing the removal of polycyclic aromatic hydrocarbons in soil after different bioremediation approaches in relation to the extracellular enzyme activities. J Environ Sci 76:249–258

Li H, Qu R, Li C, Guo W, Han X, He F, Xing B (2014) Selective removal of polycyclic aromatic hydrocarbons (PAHs) from soil washing effluents using biochars produced at different pyrolytic temperatures. Bioresour Technol 163:193–198

Li H, Dong X, da Silva EB, de Oliveira LM, Chen Y, Ma LQ (2017a) Mechanisms of metal sorption by biochars: biochar characteristics and modifications. Chemosphere 178:466–478

Li H, Mahyoub SAA, Liao W, Xia S, Zhao H, Guo M, Ma P (2017b) Effect of pyrolysis temperature on characteristics and aromatic contaminants adsorption behavior of magnetic biochar derived from pyrolysis oil distillation residue. Bioresour Technol 223:20–26

Li Y, Liu X, Wu X, Dong F, Xu J, Pan X, Zheng Y (2018) Effects of biochars on the fate of acetochlor in soil and on its uptake in maize seedling. Environ Pollut 241:710–719

Liu Q, Zhang YH, Liu BJ, Xie ZB (2018) How does biochar influence soil N cycle? A meta-analysis. Plant Soil 426:211–225

Lv T, Carvalho PN, Casas ME (2017) Enantioselective uptake, translocation and degradation of the chiral pesticides tebuconazole and imazalil by Phragmites australis. Environ Pollut 229:362–370

Ma Z, Yang Y, Ma Q, Zhou H, Luo X, Liu X, Wang S (2017) Evolution of the chemical composition, functional group, pore structure and crystallographic structure of bio-char from palm kernel shell pyrolysis under different temperatures. J Anal Appl Pyrolysis 127:350–359

Martin BC, George SJ, Price CA, Ryan MH, Tibbett M (2014) The role of root exuded low molecular weight organic anions in facilitating petroleum hydrocarbon degradation: current knowledge and future directions. Sci Total Environ 472:642–653

Ni N, Song Y, Shi R, Liu Z, Bian Y, Wang F, Yang X, Gu C, Jiang X (2017) Biochar reduces the bioaccumulation of PAHs from soil to carrot (Daucus carota L.) in the rhizosphere: a mechanism study. Sci Total Environ 601:1015–1023

Ni N, Wang F, Song Y, Bian Y, Shi R, Yang X, Gu C, Jiang X (2018) Mechanisms of biochar reducing the bioaccumulation of PAHs in rice from soil: degradation stimulation vs immobilization. Chemosphere 196:288–296

Odabasi M, Ozgunerge Falay E, Tuna G, Altiok H, Kara M, Dumanoglu Y, Bayram A, Tolunay D, Elbir T (2015) Biomonitoring the spatial and historical variations of persistent organic pollutants (POPs) in an industrial region. Environ Sci Technol 49(4):2105–2114

Oleszczuk P, Godlewska P, Reible DD, Kraska P (2017) Bioaccessibility of polycyclic aromatic hydrocarbons in activated carbon or biochar amended vegetated (Salix viminalis) soil. Environ Pollut 227:406–413

Qi YB, Wang CY, Lv CY, Lun ZM, Zheng CG (2017) Removal capacities of polycyclic aromatic hydrocarbons (PAHs) by a newly isolated strain from oilfield produced water. Int J Environ Res Public Health 14(2):215

Randolph P, Bansode RR, Hassan OA, Rehrah D, Ravella R, Reddy MR, Watts DW, Novak JM, Ahmedna M (2017) Effect of biochars produced from solid organic municipal waste on soil quality parameters. J Environ Manag 192:271–280

Ren J, Wang XP, Gong P, Wang C (2019) Characterization of Tibetan soil as a source or sink of atmospheric persistent organic pollutants: seasonal shift and impact of global warming. Environ Sci Technol 53(7):3589–3598

Rohrbacher F, St-Arnaud M (2016) Root exudation: the ecological driver of hydrocarbon rhizoremediation. Agronomy 6(1):19

Safaei Khorram M, Fatemi A, Khan MA, Kiefer R, Jafarnia S (2018) Potential risk of weed outbreak by increasing biochar's application rates in slow-growth legume, lentil (Lens culinaris Medik.). J Sci Food Agric 98:2080–2088

Sander M, Pignatello JJ (2005) Characterization of charcoal adsorption sites for aromatic compounds: insights drawn from single-solute and bi-solute competitive experiments. Environ Sci Technol 39(6):1606–1615

Soja G (2016) Interactions of biochar and biological degradation of aromatic hydrocarbons in contaminated soil. Biochar application. Elsevier, Amsterdam, pp 247–267

Song Y, Li Y, Zhang W, Wang F, Bian Y, Boughner LA, Jiang X (2016) Novel biochar-plant tandem approach for remediating hexachlorobenzene contaminated soils: proof-of-concept and new insight into the rhizosphere. J Agric Food Chem 64(27):5464–5471

Steinauer K, Chatzinotas A, Eisenhauer N (2016) Root exudate cocktails: the link between plant diversity and soil microorganisms? Ecol Evol 6(20):7387–7396

Taherymoosavi S, Joseph S, Place B, Munroe P (2018) A comparison between the characteristics of single- and mixed-feedstock biochars generated from wheat straw and basalt. J Anal Appl Pyrolysis 129:123–133

Trinh BS, Werner D, Reid BJ (2017) Application of a full-scale wood gasification biochar as a soil improver to reduce organic pollutant leaching risks. J Chem Technol Biotechnol 92(8):1928–1937

Vázquez-Cuevas GM, Stevens CJ, Semple KT (2018) Enhancement of 14C-phenanthrene mineralisation in the presence of plant-root biomass in PAH-NAPL amended soil. Int Biodeterior Biodegrad 126:78–85

Wagner CC, Amos HM, Thackray CP, Zhang Y, Lundgren EW, Forget G, Sunderland EM (2019) A global 3-D ocean model for polychlorinated biphenyls (PCBs): benchmark compounds for understanding the impacts of global change on neutral persistent organic pollutants. Glob Biogeochem Cycles 33(3):469–481

Wang Y, Wang L, Fang G, Herath HM, Wang Y, Cang L, Xie Z, Zhou D (2013) Enhanced PCBs sorption on biochars as affected by environmental factors: humic acid and metal cations. Environ Pollut 172:86–93

Wang F, Ren X, Sun H, Ma L, Zhu H, Xu J (2016a) Sorption of polychlorinated biphenyls onto biochars derived from corn straw and the effect of propranolol. Bioresour Technol 219:458–465

Wang Y, Wang L, Wang YJ, Fang GD, Zhou DM (2016b) Measuring the bioavailability of polychlorinated biphenyls to earthworms in soil enriched with biochar or activated carbon using triolein-embedded cellulose acetate membrane. J Soils Sediment 16(2):527–536

Waqas M, Khan S, Qing H, Reid BJ, Chao C (2014) The effects of sewage sludge and sewage sludge biochar on PAHs and potentially toxic element bioaccumulation in Cucumis sativa L. Chemosphere 105:53–61

Waqas M, Li G, Khan S, Shamshad I, Reid BJ, Qamar Z, Chao C (2015) Application of sewage sludge and sewage sludge biochar to reduce polycyclic aromatic hydrocarbons (PAH) and potentially toxic elements (PTE) accumulation in tomato. Environ Sci Pollut Res 22(16):12114–12123

Xiang L, Sheng HJ, Xu M, Redmile-Gordon M, Bian YR, Wang F (2019) Reducing plant uptake of a brominated contaminant (2, 2′, 4, 4′-tetrabrominated diphenyl ether) by incorporation of maize straw into horticultural soil. Sci Total Environ 663:29–37

Xu Y, He Y, Zhang Q, Xu J, Crowley D (2015) Coupling between pentachlorophenol dechlorination and soil redox as revealed by stable carbon isotope, microbial community structure, and biogeochemical data. Environ Sci Technol 49(9):5425–5433

Xu Y, Liu J, Cai W, Feng J, Lu Z, Wang H, Xu J (2019) Dynamic processes in conjunction with microbial response to disclose the biochar effect on pentachlorophenol degradation under both aerobic and anaerobic conditions. J Hazard Mater. https://doi.org/10.1016/j.jhazmat.2019.121503

Zhalnina K, Louie KB, Hao Z, Mansoori N, da Rocha UN, Shi S, Cho H, Karaoz U, Loqué D, Bowen BP, Firestone MK, Northen TR, Brodie EL (2018) Dynamic root exudate chemistry and microbial substrate preferences drive patterns in rhizosphere microbial community assembly. Nat Microbiol 3:470–480

Zhang H, Lin K, Wang H, Gan J (2010) Effect of Pinus radiata derived biochars on soil sorption and desorption of phenanthrene. Environ Pollut 158(9):2821–2825

Zhang X, Wang H, He L, Lu K, Sarmah A, Li J, Huang H (2013) Using biochar for remediation of soils contaminated with heavy metals and organic pollutants. Environ Sci Pollut Res 20(12):8472–8483

Zhang F, Li Y, Zhang G, Li W, Yang L (2017) The importance of nano-porosity in the stalk-derived biochar to the sorption of 17β-estradiol and retention of it in the greenhouse soil. Environ Sci Pollut Res 24(10):9575–9584

Zhang L, Jing Y, Xiang Y, Zhang R, Lu H (2018) Responses of soil microbial community structure changes and activities to biochar addition: a meta-analysis. Sci Total Environ 643:926–935

Zheng H, Guo W, Li S, Chen Y, Wu Q, Feng X, Chang JS (2017) Adsorption of p-nitrophenols (PNP) on microalgal biochar: analysis of high adsorption capacity and mechanism. Bioresour Technol 244:1456–1464

Zhu X, Wang Y, Zhang Y, Chen B (2018) Reduced bioavailability and plant uptake of polycyclic aromatic hydrocarbons from soil slurry amended with biochars pyrolyzed under various temperatures. Environ Sci Pollut Res 25(17):16991–17001
Acknowledgements
This study was supported by the Special Project of Basic Scientific Research Operating Expenses, Central-Level Public Welfare Research Institute of China (GYZX190302); and the Basic Research Program of Jiangsu Province of China (BK20190141); and the Consulting and Research Project of the Chinese Academy of Engineering (2019-XZ-24); and the National Key Research and Development Program of China (2016YFD0200201); and the Environmental Protection Scientific Research Project of Jiangsu Province, China (201704); and the Special Project of Soil Remediation of Yunnan Province, China (YNZDZB[2017]002); and the National Natural Science Foundation of China (41671236).
Additional information
Publisher's Note
Springer Nature remains neutral with regard to jurisdictional claims in published maps and institutional affiliations.
About this article
Cite this article
Ni, N., Kong, D., Wu, W. et al. The Role of Biochar in Reducing the Bioavailability and Migration of Persistent Organic Pollutants in Soil–Plant Systems: A Review. Bull Environ Contam Toxicol 104, 157–165 (2020). https://doi.org/10.1007/s00128-019-02779-8
Received:

Accepted:

Published:

Issue Date:
Keywords
Soil

Pops

Biochar

Bioavailability

Rhizosphere