Abstract
The application of pyrogenic materials in immobilization processes of metalloids represents a burning issue in environmental and waste applications and management. The main objective of this study was to characterize the effect of biomass pretreatment by Cu, Fe and Mg blending and pyrolysis temperature on As sorption efficiency as a model of anionic metalloids from model solutions and As immobilization in old mine soil by pyrogenic materials. The physico-chemical characterization of engineered materials produced in slow pyrolysis process at 400 and 700°C from metal-blended hard wood chips (30% w/w) showed increasing of surface areas (1.4–1.8-fold), changes in pH, and more than 50% decrease in total C content. The batch sorption processes of As ions by Cu-modified pyrogenic materials (CuPM), Fe-modified pyrogenic materials (FePM), and Mg-modified pyrogenic materials (MgPM) showed increasing uptake in order CuPM700 (Qmax 2.56 mg g−1) < CuPM400 (Qmax 3.88 mg g−1) < FePM700 (Qmax 5.90 mg g−1) < MgPM700 (Qmax 7.42 mg g−1) < MgPM400 (Qmax 9.59 mg g−1) < FePM400 (Qmax 10.55 mg g−1). Engineered pyrogenic materials produced at 400°C showed higher immobilization effect on soluble As in soil pore water of old mine site soil from Mediterranean area. FePM400 reduced mobility of arsenic > 3.2 times and MgPM400 > 5 times compared to control. Promising pyrogenic material MgPM400 showed immobilization effect also on additional heavy metals (Cd, Cu, Fe, Mn, Pb, Sr, Zn) present in studied soil.
Access options
Buy single article
Instant access to the full article PDF.
USD 39.95
Price includes VAT (USA)
Tax calculation will be finalised during checkout.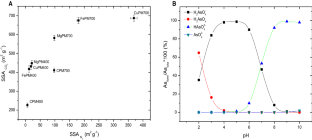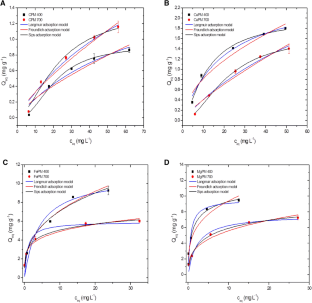 References
Akgűl G, Maden TB, Diay E, Moreno-Jiménez E (2018) Modification of tea biochar with Mg, fe, Mn and Al salts for efficient sorption of PO3-4 and Cd2+ from aqueous solutions. J Water Reuse Desal 9:57–66. https://doi.org/10.2166/wrd.2018.018

Bhattacharya P, Welch AH, Stollenwerk KG, McLaughlin MJ, Bundschuh J, Panaullah G (2007) Arsenic in the environment: biology and chemistry. Sci Total Environ 379:109–120. https://doi.org/10.1016/j.scitotenv.2007.02.037

Bucheli TD, Bachmann HJ, Blum F, Bűrge D, Giger R, Hilber I (2014) On the heterogeneity of biochar and consequences for its representative sampling. J Anal Appl Pyrol 107:25–30. https://doi.org/10.1016/j.jaap.2014.01.020

Choppala G, Bolan N, Kunhikrishnan A, Bush R (2016) Differential effect of biochar upon reduction-induced mobility and bioavailability of arsenate and chromate. Chemosphere 144:374–381. https://doi.org/10.1016/j.chemosphere.2015.08.043

Dang VM, Joseph S, Van HT, Main TLA, Duong TMH, Weldon S, Munroe P, Mitchel D, Taherymoosavi S (2018) Immobilization of heavy metals in contaminated soil after mining activity by using biochar and other industrial by-products: the significant role of minerals on the biochar surfaces. Environ Technol. https://doi.org/10.1080/09593330.2018.1468487

Dieguez-Alonso A, Anca-Couce A, Frišták V, Moreno-Jiménez E, Bacher M, Bucheli TD, Cimò G, Conte P, Hagermann N, Haller A, Hilber I, Husson O, Kammann C, Kienz N, Leifeld J, Rosenau T, Soja G, Schmidt HP (2019) Designing biochar properties through the blending of biomass feedstock with metals: impact on oxyanions adsorption behavior. Chemosphere 214:743–753. https://doi.org/10.1016/j.chemosphere.2018.09.091

Enders A, Lehmann J (2012) Comparison of wet-digestion and dry-ashing methods for total elemental analysis of biochar. Commun Soil Sci Plan 43:1042–1052. https://doi.org/10.1080/00103624.2012.656167

Flora SJS (2015) Arsenic: chemistry, occurence and exposure. Handbook of arsenic toxicology. Elsevier Inc, Amsterdam, pp 1–49

Fresno T, Moreno-Jiménez E, Peñalosa JM (2016) Assessing the combination of iron sulfate and organic materials as amendment for an arsenic and copper contaminated soil. A chemical and ecotoxicological approach. Chemosphere 165:539–546. https://doi.org/10.1016/j.chemosphere.2016.09.039

Frišták V, Micháleková-Richveisová B, Víglašová E, Ďuriška L, Galamboš M, Moreno-Jiménez E, Pipíška M, Soja G (2017) Sorption separation of Eu and As from single-component systems by Fe-modified biochar: kinetic and equlibrium study. J Iran Chem Soc 14:521–530. https://doi.org/10.1007/s13738-016-1000-1

Hu X, Ding Z, Zimmerman AR, Wang S, Gao B (2015) Batch and column sorption of arsenic onto iron-impregnated biochar synthesized through hydrolysis. Water Res 68:206–216. https://doi.org/10.1016/j.watres.2014.10.009

Komárek M, Vaněk A, Ettler V (2013) Chemical stabilization of metals and arsenic in contaminated soils using oxides – a review. Environ Pollut 172:9–22. https://doi.org/10.1016/j.envpol.2012.07.045

Lehmann J, Joseph S (2015) Biochar for environmental management: science, technology and implementation. Earthscan from Routledge, London

Micháleková-Richveisová B, Frišták V, Pipíška M, Ďuriška L, Moreno-Jiménez E, Soja G (2017) Iron-impregnated biochars as effective phosphate sorption materials. Environ Sci Pollut Res 24:463–475. https://doi.org/10.1007/s11356-016-7820-9

Mohan D, Pittman CU Jr (2007) Arsenic removal from water/wastewater using adsorbents – a critical review. J Hazard Mater 142:1–53. https://doi.org/10.1016/j.jhazmat.2007.01.006

Moreno-Jimenéz E, Manzano R, Esteban E, Peñalosa J (2010) The fate of arsenic in soils adjacent to an old mine site (Bustarviejo, Spain): mobility and transfer to native flora. J Soils Sedim 10:301–312. https://doi.org/10.1007/s11368-009-0099-4

Sips R (1948) The structure of a catalyst surface. J Chem Phys 16:490–495. https://doi.org/10.1063/1.1746922

Viglašová E, Galamboš M, Danková Z, Krivosudský L, Lengauer CL, Hood-Nowotny R, Soja G, Rompel A, Matík M, Briančin J (2018) Production, characterization and adsorption studies of bamboo-based biochar/montmorillonite composite for nitrate removal. Waste Manag 79:385–394. https://doi.org/10.1016/j.wasman.2018.08.005

Vithanage M, Herath I, Joseph S, Bundschuh J, Bolan N, Ok YS, Kirkham MB, Rinklebe J (2017) Interaction of arsenic with biochar in soil and water: a critical review. Carbon 113:219–230. https://doi.org/10.1016/j.carbon.2016.11.032

Wang S, Gao B, Zimmerman AR, Li Y, Ma L, Harris WG, Migliaccio KW (2015) Removal of arsenic by magnetic biochar prepared from pinewood and natural hematite. Bioresour Technol 175:391–395. https://doi.org/10.1016/j.biortech.2014.10.104

Wu C, Cui M, Xue S, Li W, Huang L, Jiang X, Qian Z (2018) Remediation of arsenic-contaminated paddy soil by iron-modified biochar. Environ Sci Pollut Res 25:20792–20801. https://doi.org/10.1007/s11356-018-2268-8

Wu J, Lu J, Zhang C, Zhang Z, Min X (2019) Adsorptive removal of tetracyclines and fluoroquinolones using yak dung biochar. Bull Environ Contam Toxicol 102:407–412. https://doi.org/10.1007/s00128-018-2516-0

Yao Y, Gao B, Chen J, Yang L (2013) Engineered biochar reclaiming phosphate from agueous solutions: Mechanisms and potential application as a slow-release fertilizer. Environmen Sci Technol 47:8700–8708. https://doi.org/10.1021/es4012977

Yin D, Wang X, Peng B, Tan Ch, Ma L (2017) Effect of biochar and Fe-biochar on Cd and As mobility and transfer in soil-rice system. Chemosphere 186:928–937. https://doi.org/10.1016/j.chemosphere.2017.07.126

Yoon K, Cho DW, Tsang DCW, Bolan N, Rinklebe J, Song H (2017) Fabrication of engineered biochar from paper mill sludge and its application into removal of arsenic and cadmium in acidic water. Bioresour Technol 246:69–75

Zhang M, Gao B (2013) Removal of arsenic, methylene blue, and phosphate by biochar/AlOOH nanocomposite. Chem Eng J 226:286–292. https://doi.org/10.1016/j.cej.201304.077

Zhu Q, Wu J, Wang L, Yang G, Zhang X (2016) Adsorption characteristics of Pb2+ onto wine lees-derived biochar. Bull Environ Contam Toxicol 97:294–299. https://doi.org/10.1007/s00128-016-1760-4
Acknowledgements
The authors are thankful M.Sc David Erwin Berthold for language proof. This work was financially supported by Trnava University in Trnava (Project Number 2/TU/2019), Scientific Grant Agency of ministry of Education, Science, Research and Sport of the Slovak Republic (Project Number VEGA 1/0110/19) and European Cooperation in Science and Technology (COST Action TD1107).
Additional information
Publisher's Note
Springer Nature remains neutral with regard to jurisdictional claims in published maps and institutional affiliations.
About this article
Cite this article
Frišták, V., Moreno-Jiménez, E., Bucheli, T.D. et al. Engineered Pyrogenic Materials as Tools to Affect Arsenic Mobility in Old Mine Site Soil of Mediterranean Region. Bull Environ Contam Toxicol 104, 265–272 (2020). https://doi.org/10.1007/s00128-019-02778-9
Received:

Accepted:

Published:

Issue Date:
Keywords
Engineered pyrogenic material

Pyrolysis

Arsenic

Immobilization

Sorption