Abstract
Soil arsenic (As) pollution has become a global problem. It is urgent to improve the phytoextraction efficiency of soil As. This study found chemical activators (Span 80/SDS and GSH/Span 80/SDS) that can significantly improve the availability of As and the phytoextraction efficiency of As by Pteris vittata L. in As-contaminated soil. Compared with the control, in the soil screening experiment, Span 80/SDS and GSH/Span 80/SDS significantly increased available As in soil by 73.4% and 81.4%, respectively. And in the soil pot experiment, the Span 80/SDS and GSH/Span 80/SDS significantly increased the As concentration in the pinnae of Pteris vittata L. by 53.4% and 41.2%, respectively, and the total As amount extraction by Pteris vittata L. increased significantly by 31.7% and 94.2%, respectively. The results suggest that adding Span 80/SDS and GSH/Span 80/SDS to As-contaminated soil can be considered as an effectively method to improve the efficiency of phytoextraction.
Access options
Buy single article
Instant access to the full article PDF.
USD 39.95
Price includes VAT (USA)
Tax calculation will be finalised during checkout.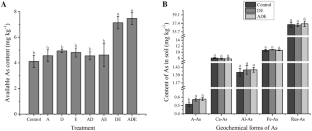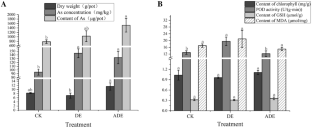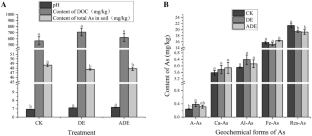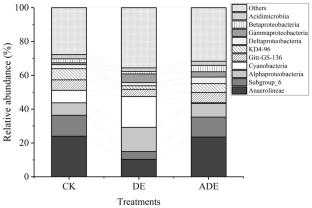 References
Barrachina AAC, Jugsujinda A, Burlo F, Delaune RD Jr, Patrick WH (2000) Arsenic chemistry in municipal sewage sludge as affected by redox potential and pH. Water Res 34(1):216–224. https://doi.org/10.1016/S0043-1354(99)00127-X

Cai Y, Cao FB, Wei K, Zhang G, Wu F (2011) Genotypic dependent effect of exogenous glutathione on Cd-induced changes in proteins, ultrastructure and antioxidant defense enzymes in rice seedlings. J Hazard Mater 192(3):1056–1066. https://doi.org/10.1016/j.jhazmat.2011.06.011

Cao HL, Xie XJ, Wang YX, Pi KF, Li JX, Zhan HB, Liu P (2018) Predicting the risk of groundwater arsenic contamination in drinking water wells. J Hydrol 560:318–325. https://doi.org/10.1016/j.jhydrol.2018.03.007

Chao YY, Hsu YT, Kao CH (2009) Involvement of glutathione in heat shock-and hydrogen peroxide-induced cadmium tolerance of rice (Oryza sativa L.) seedlings. Plant Soil 318(1–2):37–45. https://doi.org/10.1007/s11104-008-9815-x

Chen T, Wei C, Huang Z, Huang Q, Lu Q, Fan Z (2002) Arsenic hyperaccumulator Pteris vittata L. and its arsenic accumulation. Chin Sci Bull 47(11):902–905. https://doi.org/10.1360/02tb9202

Chen TB, Zhang BC, Huang ZC, Liu YR, Zheng YM, Lei M, Liao XY, Piao SJ (2005) Geographical distribution and characteristics of habitat of As-hyperaccumulator Pteris vittata L. in China. Geogr Res 24(6):825–833. https://doi.org/10.3321/j.issn:1000-0585.2005.06.001(in Chinese)

Finnegan PM, Chen WH (2012) Arsenic toxicity: the effects on plant metabolism. Front Physiol 3:1–18. https://doi.org/10.3389/fphys.2012.00182

Garbisu C, Alkorta I (2001) Phytoextraction: a cost-effective plant-based technology for the removal of metals from the environment. Bioresour Technol 77:229–236. https://doi.org/10.1016/S0960-8524(00)00108-5

Han YH, Fu JW, Xiang P, Cao Y, Rathinasabapathi B, ChenYS Ma LQ (2017) Arsenic and phosphate rock impacted the abundance and diversity of bacterial arsenic oxidase and reductase genes in rhizosphere of As-hyperaccumulator Pteris vittata. J Hazard Mater 321:146–153. https://doi.org/10.1016/j.jhazmat.2016.08.079

Hartley W, Dickinson NM, Clemente R, French C, Piearce TG, Sparke S, Lepp NW (2009) Arsenic stability and mobilization in soil at an amenity grassland overlying chemical waste (St. Helens, UK). Environ Pollut 157(3):847–856. https://doi.org/10.1016/j.envpol.2008.11.017

Hossain MA, Piyatida P, Silva JATD, Fujita M (2012) Molecular mechanism of heavy metal toxicity and tolerance in plants: central role of glutathione in detoxification of reactive oxygen species and methylglyoxal and in heavy metal chelation. J Bot 2012:1–37. https://doi.org/10.1155/2012/872875

Li H, Miao JL, Cui FX, Liu XG, Li GY (2005) Effects of exogenous Ca2+ on the membrane permeability, MDA and SH group content of Alexandrium sp. LC3 under surfactant stress. J Environ Sci China 17(3):499–502. https://doi.org/10.3321/j.issn:1001-0742.2005.03.033

Li Y, Guo HM, Hao CB (2014) Arsenic release from shallow aquifers of the Hetao basin, Inner Mongolia: evidence from bacterial community in aquifer sediments and groundwater. Ecotoxicology 23(10):1900–1914. https://doi.org/10.1007/s10646-014-1313-8

Li TK, Guo ZL, Kou CL, Lv JL, Zhang XN, Yang XL (2017) Effects of extraction conditions on the test results of soil dissolved organic carbon. Ecol Environ Sci 26(11):1878–1883 (in Chinese)

Lin HT, Wang MC, Seshaiah K (2008) Mobility of adsorbed arsenic in two calcareous soils as influenced by water extract of compost. Chemosphere 71(4):742–749. https://doi.org/10.1016/j.chemosphere.2007.10.022

Lombi E, Zhao FJ, Fuhrmann M, Ma LQ, Mcgrath SP (2002) Arsenic distribution and speciation in the fronds of the hyperaccumulator Pteris vittata. New Phytol 156(2):195–203. https://doi.org/10.1046/j.1469-8137.2002.00512.x

Mandal A, Purakayastha TJ, Patra AK, Sanyal SK (2012) Phytoremediation of arsenic contaminated soil by Pteris Vittata L. I. Influence of phosphatic fertilizers and repeated harvests. Int J Phytoremediat 14(10):978–995. https://doi.org/10.1080/15226514.2011.649433

Mukhopadhyay S, Hashim MA, Sahu JN, Yusoff I, Gupta BS (2013) Comparison of a plant based natural surfactant with SDS for washing of As (V) from Fe rich soil. J Environ Sci China 25(11):2247–2256. https://doi.org/10.1016/S1001-0742(12)60295-2

Pei LM, Che RH, He LL, Gao XX, Li WJ, Li H (2018) Role of exogenous glutathione in alleviating abiotic stress in maize (Zea mays L.). J Plant Growth Regul 38(1):199–215. https://doi.org/10.1007/s00344-018-9832-9

Pierattini EC, Francini A, Raffaelli A, Sebastiani L (2017) Surfactant and heavy metal interaction in poplar: a focus on SDS and Zn uptake. Tree Physiol 38(1):109–118. https://doi.org/10.1093/treephys/tpx155

Qiu BY, Zeng FR, Cai SG, Wu XJ, Haider SI, Wu FB, Zhang GP (2013) Alleviation of chromium toxicity in rice seedlings by applying exogenous glutathione. J Plant Physiol 170(8):772–779. https://doi.org/10.1016/j.jplph.2013.01.016

Rahman I, Kode A, Biswas SK (2006) Assay for quantitative determination of glutathione and glutathione disulfide levels using enzymatic recycling method. Nat Protoc 1(6):3159–3165. https://doi.org/10.1038/nprot.2006.378

Rebello S, Asok AK, Mundayoor S, Jisha MS (2014) Surfactants: toxicity, remediation and green surfactants. Environ Chem Lett 12(2):275–287. https://doi.org/10.1007/s10311-014-0466-2

Seth CS, Remans T, Keunen E, Jozefczak M, Gielen H, Opdenakker K, Weyens N, Vangronsveld J, Cuypers A (2011) Phytoextraction of toxic metals: a central role for glutathione. Plant, Cell Environ 35(2):334–346. https://doi.org/10.1111/j.1365-3040,2011.02338.x

Shanmugam V, Verma R, Rajkumar S, Naruka DS (2011) Bacterial diversity and soil enzyme activity in diseased and disease free apple rhizosphere soils. Ann Microbiol 61(4):765–772. https://doi.org/10.1007/s13213-010-0193-2

Shi ZT, Chen JJ, Liu JF, Wang N, Sun Z, Wang XW (2015) Anionic-nonionic mixed-surfactant-enhanced remediation of PAH-contaminated soil. Environ Sci Pollut R 22(16):12769–12774. https://doi.org/10.1007/s11356-015-4568-6

Singh R, Singh S, Parihar P, Singh VP, Prasad SM (2015) Arsenic contamination, consequences and remediation techniques: a review. Ecotox Environ Saf 112:247–270. https://doi.org/10.1016/j.ecoenv.2014.10.009

Soriano MDCH, Degryse F, Smolders E (2011) Mechanisms of enhanced mobilisation of trace metals by anionic surfactants in soil. Environ Pollut 159(3):809–816. https://doi.org/10.1016/j.envpol.2010.11.009

Tartar GMK, Ma LQ, Tu C, Chirenje T (2006) Phytoremediation of an arsenic-contaminated site using Pteris Vittata L.: a two-year study. Int J Phytoremediat 8(4):311–322. https://doi.org/10.1080/15226510600992873

Tu SX, Ma L, Luongo T (2004) Root exudates and arsenic accumulation in arsenic hyperaccumulating Pteris vittata and non-hyperaccumulating Nephrolepis exaltata. Plant Soil 258(1):9–19. https://doi.org/10.1023/B:PLSO.0000016499.95722.16

Wu FB, Zhang GP, Dominy P (2003) Four barley genotypes respond differently to cadmium: lipid peroxidation and activities of antioxidant capacity. Environ Exp Bot 50(1):67–78. https://doi.org/10.1016/s0098-8472(02)00113-2

Xu Y, Wang XF, Zhou T, You LJ, Wang N, Guo H (2014) Research progress of disposal technology for hyperaccumulator. Adv Mater Res 955–959:2851–2858. https://doi.org/10.4028/www.scientific.net/amr.955-959.2851(in Chinese)

Yamaguchi N, Nakamura T, Dong D, Takahashi Y, Amachi S, Makino T (2011) Arsenic release from flooded paddy soils is influenced by speciation, Eh, pH, and iron dissolution. Chemosphere 83(7):925–932. https://doi.org/10.1016/j.chemosphere.2011.02.044
Acknowledgements
This project was supported by the Special Plan in the Major Research & Development of the 13th Five-Year Plan of China (Grant No. 2016YFD0800802).
About this article
Cite this article
Xiang, D., Liao, S., Tu, S. et al. Surfactants Enhanced Soil Arsenic Phytoextraction Efficiency by Pteris vittata L.. Bull Environ Contam Toxicol 104, 259–264 (2020). https://doi.org/10.1007/s00128-019-02777-w
Received:

Accepted:

Published:

Issue Date:
Keywords
As-contaminated soil

SDS

Span 80

GSH

Pteris vittata L.